Tamiya's 1/48 scale Mustang III
Heavy Weathering a Big Mac
by Raúl Corral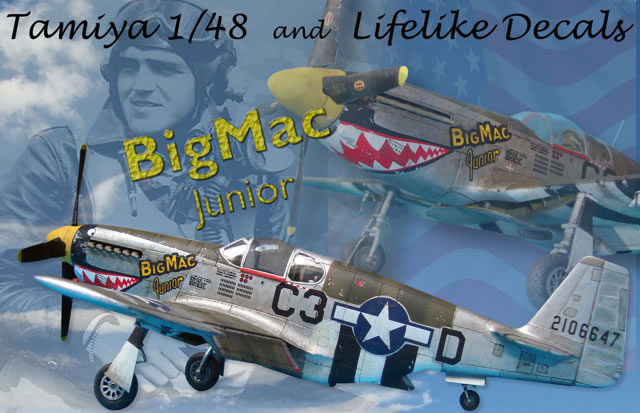 North American P-51B Mustang

Tamiya's 1/48 scale RAF Mustang Mk.III is available online from Squadron
I have read fantastic reviews of this model. I liked the idea of having one on my shelves, standing close to my 1/48 Luftwaffe fighters.
Then, after a while, for whatever reason, the project was parked waiting for a better moment of inspiration...
A few months later, by coincidence, I found my "motivator": the P-51 decal sheet of Lifelike Decals (Ref. 48-023) that included the beautiful and rarely seen before in this scale, P-51B "Big Mac Junior", flown by Captain John Brown Junior, of 363FG/382FS, that unfortunately went missing in action while flying this plane over Combrit, France, on August 8th, 1944.
This Mustang has everything one modeler can dream of: natural metal finish on all the surfaces, invasion stripes in the lower surfaces of wings and fuselage, US Olive Drab covering the invasion stripes on the upper surfaces, kill markings painted under the cockpit, further sortie marks are visible under the cockpit too, nickname "Big Mac Junior" painted in big yellow letters... and even a shark mouth and eyes in the front of the fuselage, just behind a nice yellow colored spinner, and also not the standard framed canopy but a good looking Malcolm Hood Canopy... What else can you wish for?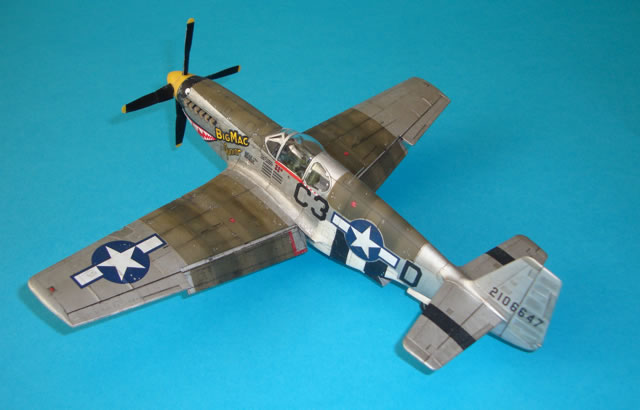 Once confirmed that these markings, as far as I could see, have been never published before on a step by step article (yes, I am one of those crazy modelers that hates building a plane that has been already finished for 1,000 times with the same markings) I was firmly decided to build the "Big Mac Junior" for my little web in Spanish www.webmodelismo.com and started with the usual research in internet (forums) and in books & magazines. I could find three photographs of this plane (both in B&W in the book "Seven months over Europe: The 363rd Fighter Group in World War Two" by Kent D Miller), showing two of them a dirty appearance and chipped paint all around, being especially visible in the shark head, that shows evident peeling on the black areas just under the shark eyes. So another plus for this project: a heavy weahtering finish on a NMF... that is a challange, isn't it!
And now just a word to describe Tamiya's RAF Mustang III in 1/48 - masterpiece.
The fit is outstanding and no putty is needed at all. All fits perfect, and sometimes you have the feeling that even no glue is required to join the different parts! This is one of those few kits, where modelers will have to take it serious, if they want to make it wrong.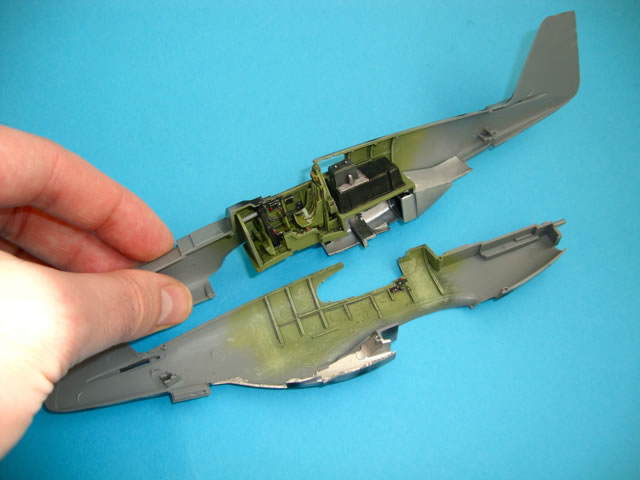 However... Does someone know why Tamiya does not offer the possibility of leaving the Malcolm Hood Canopy open? This is only posible for the framed canopy, also provided in this kit. Might it be for the fact that they knew the kit had a wrong cockpit floor for a Merlin powered Mustang? The question is still in the air.

I wanted to build this kit straight out of the box, without any addition, apart from the Lifelike decals (yes, you know, we are in a global economic crisis, time to save money amigo!). Again, the fit is great and the fantastic overall level of detail means that a carefully painting job will give you a very good looking Mustang, without having to spend xxx $/£ in aftermarket supplies.
Painting and weathering were achieved using the following colors:
US Interior Green from Aircraft Colors, Ref. 3049 (Cockpit)

US Interior Yellow from Aircraft Colors, Ref. 3050 (wheel wells)

Humbrol 27002 Polished Aluminium & 191 Metallic Chrome Silver (for the NMF)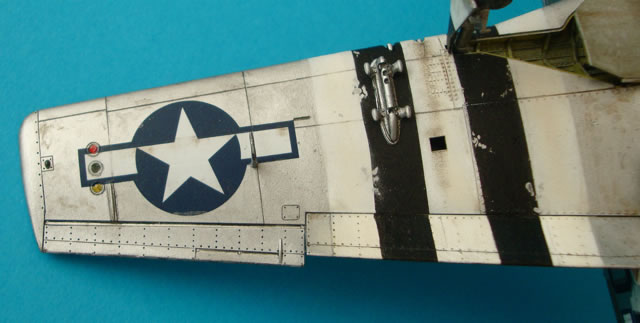 Testor's US Olive Drab (anti-glare panel and over of the invasion stripes on upper section of the fuselage and wings)

Humbrol Gunmetal, Ref. 27004 (for weathering some panels)

Tamiya XF-16 Flat Aluminium (to get some paint chipping on the previous shades of NMF)

Humbrol Red Brown and Black (for the washes over the panel lines)


Tamiya Clear X-22 and

Humbrol Matt Varnish
In the end, I think that I have achieved a realistically dirty looking NMF aircraft that saw heavy use according to the sources I found.
So here you have it, a heavy weathered Big Mac for the collection - hope you like it.

Hasta la vista!
---
Model, Text and Images Copyright © 2011 by Raúl Corral
Page Created 13 June, 2011
Last Updated 13 June, 2011
Back to HyperScale Main Page