Spitfire Mk.II LR
& Hurricane Mk. IID
conversions and decals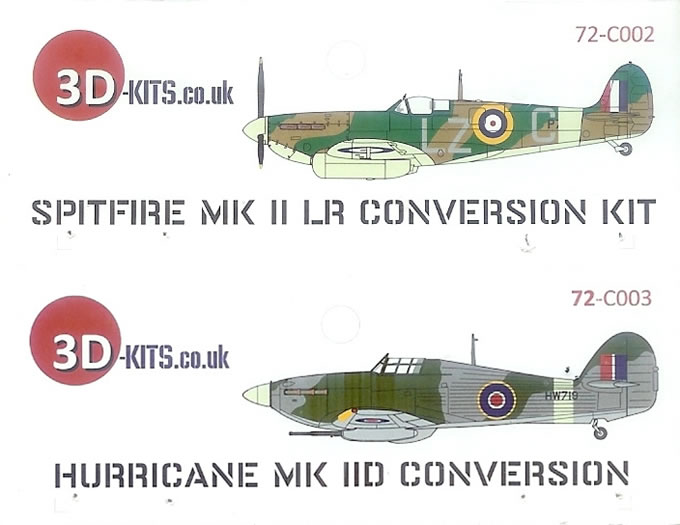 3D-Kits, 1/72 scale
S u m m a r y :

Catalogue Number:

3D-Kits:
Item No. 72-C002 Spitfire Mk. II LR
Item No. 72-C003 Hurricane Mk. IID

Scale:

1/72

Contents & Media

72-C002 2 x injected styrene parts.
72-C003 10 x injected styrene parts,

Price:

Available on-line from

Item #

3D-Kits

Hannants

Review Type:

First Look

Advantages:

Excellent production quality and good subject choices.

Disadvantages:

No Coffman starter bulge to convert Spitfire Mk. I kits to Mk. II's.

Conclusions:

Good quality, simple to use conversion sets with clear instructions, and decals round out the packages nicely - Recommended.
Reviewed by

Mark Davies

HyperScale is proudly sponsored by Squadron.com
The two conversion sets examined here come packaged in a zip-lock plastic bag and with a header card that also provides instructions plus painting and decaling guides. They provide clear guidance and dimensional advice as to where to locate the assembled conversion parts on the airframe to be converted.
The parts are very clean injection-moulded items and extremely simple to assemble. Decals produced by Fantasy Printshop come with both sets and look to be well produced. In each case national insignia are not provided, but these should be readily available from the donor kit or other sources. The provision of decals and colour scheme guides is however a nice touch, providing a good all-in-one conversion solution.
---
Spitfire Mk. II LR
Long range was never the Spitfire's forte (specialist PR versions aside), and one of the least elegant attempts to extend its operational radius was the use of large a fixed tank on the port wing. Whilst range was improved handling and speed deteriorated, and only about 100 Mk. II LR (for long Range) aircraft were modified with the fixed tank.
The 3D-Kits conversion enables the modeller to convert a Spitfire Mk I to a MK II LR version. The parts are optimised for either of the two Airfix Mk I kits (box numbers A01701A or A02010). The instructions advise that for use with the Tamiya Mk. I kit that the slot for the leading edge will need to be enlarged slightly. No other brands of Spitfire Mk I are mentioned.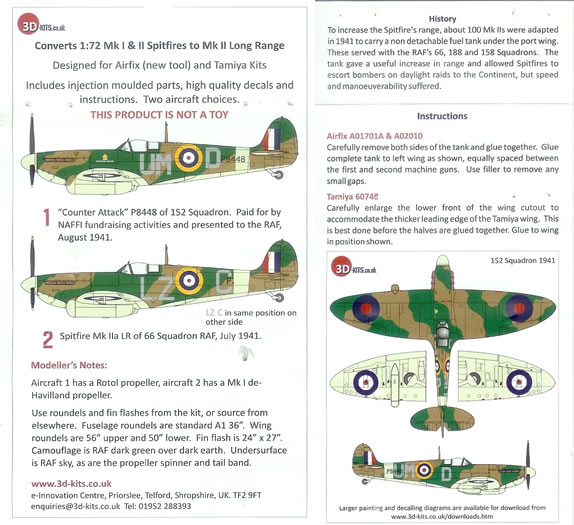 One small point is that there is no bulge for the Coffman stater applicable to the Spitfire Mk. II. This does not matter in the case of the later Airfix kit (A02010) because it has the bulge as it can be built as Mk II, but the older Airfix and Tamiya Spitfire Mk. I kits lack the small bulged fairing. It's not hard to make one, but the conversion set should have addressed it in my opinion.
The decals provide squadron codes and serial numbers for two aircraft.
---
Hurricane Mk. IID
After sterling service during the Battle of Britain the Hurricane's development potential was increasingly focussed on its ground attack potential, although it would continue to serve in the fighter role for some time. One development was to fit two 40 mm Vickers guns to provide considerable punch in the ground-attack role as the Mk. IID. The IID became famous for its anti-armour exploits in the Western Desert.
The conversion set consists of two guns, their cowls and two ground ammo boxes. The guns should be able to be fitted to any Hurricane IIC kit, and the instructions identify both locations for fitment and the location of the spotting machine gun's barrel aperture. They also advise to remove the bulges in the upper wing associated with the four 20-mm cannons of the Mk. IIC.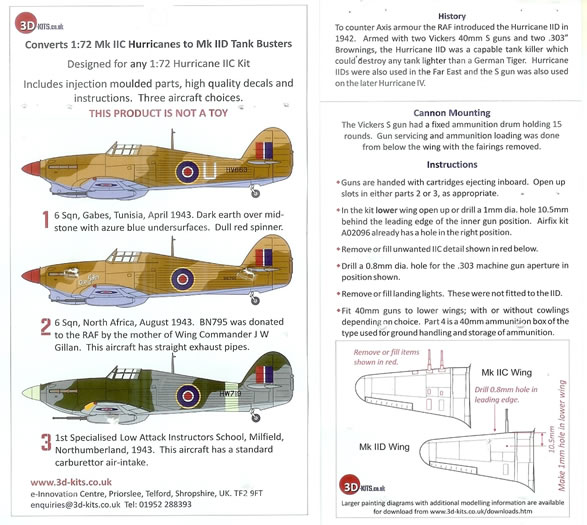 Some may wish to drill out the gun barrels, and if leaving the cowls off there is room for additional scratch-built detail around the breeches. But used as supplied with cowls fitted this set provides a quick and convenient solution for those who want a Hurricane Mk. IID.
Decals providing squadron codes, serial numbers and aircraft name for three aircraft.
These are both well-produced and very simple conversion sets. Ironically they have arrived just after a Czech manufacturer has released kits of both Spitfire Mk. II LR and Hurricane Mk. IID. However should be plenty of modellers with Spitfire MkI's or Hurricane Mk. IIC's from other brands that will benefit from these new sets by 3D-Kits.
These are good quality, simple to use conversion sets with clear instructions, and decals round out the packages nicely - Recommended.
Thanks to 3D-Kits for this sample.
---
Review Text & Images Copyright © 2011 by Mark Davies
Page Created 29 September, 2011
Last updated 29 September, 2011
Back to HyperScale Main Page