Prior to writing I had not seen Airframe resin accessories. My first impressions are positive, and it is obvious from the samples covered here that the range leans towards relatively modern British subjects. They are a product of The Aviation Workshop.
The Sets
All but one of the sets reviewed here come supplied in a plastic bag attached to a card header, and sometimes further enclosed in a second bag. In some cases instructions are included where warranted. The quality of the sets is very good, with one small exception detailed later, and all will only require minimal cleaning up of small pour stubs.
I can make no representations regarding the accuracy of the sets, as such judgements on generally lie outside the time and scope of the 'First Look" review format, and in my case with some unfamiliar modern subjects would take more time than I can offer. However in several cases I did quickly compare the resin items to photos of the real items, and they looked right to me.
---
SS-72701 Royal Navy Deck Crew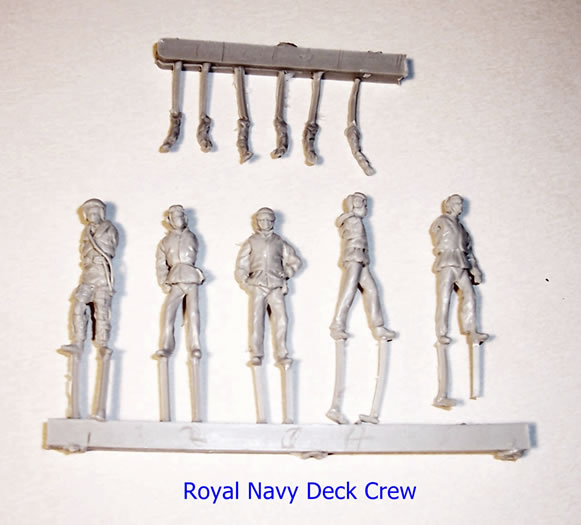 This set provides a very useful colour guide for painting the figures to reflect different deck crew trades and specialities. It also includes several colour images of real decal crew which is most helpful. The figures themselves are very nicely mastered in a variety of poses and are crisply cast. Four of the five have separate right arms. Airframe has in done a very good job of mastering the figures which are also cleanly cast.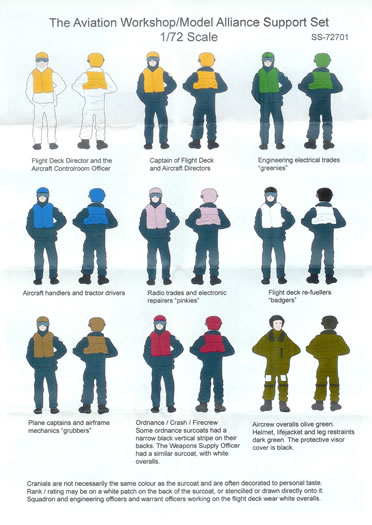 The deck crew were supplied for review labelled as "Chopper Crew", and the chopper crew labelled as "Deck Crew". Both sets were in virgin packets so far as I could tell. Hopefully the wrong labelling was an isolated incident; otherwise they may need to improve packaging quality control.
---
SS-72702 Royal Chopper Crew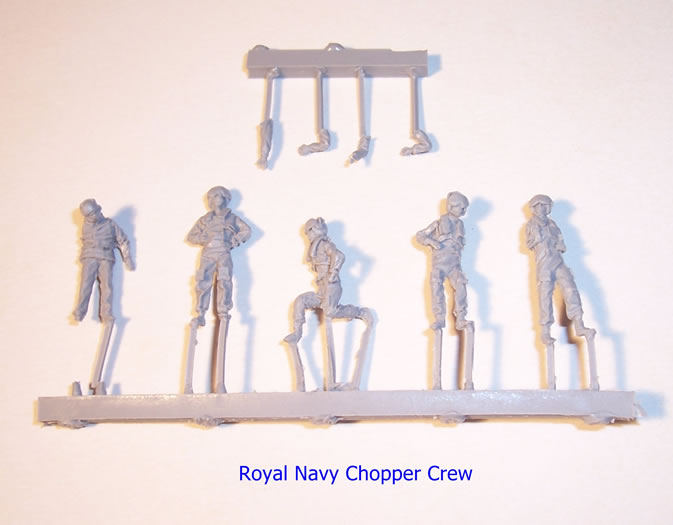 This set provides the same colour guide for painting the figures as provided with the deck crew set but with different colour images of real aircrew. These figures are also very nicely mastered in a variety of poses and are crisply cast. Three of the five three have separate right arms, and one a left arm.
---
CS-142 Brimstone Missiles & Launcher Rail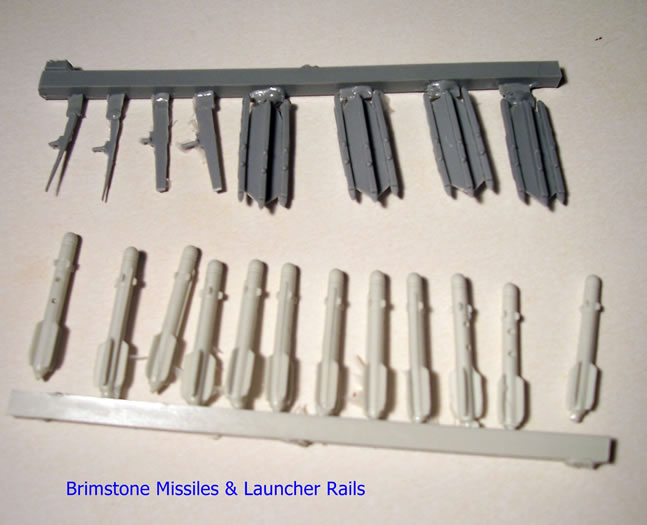 This set provides quite comprehensive instructions on how to mount the missiles on Tornadoes and Harriers, with several colour images of the real missiles fitted to aircraft. The missiles are cleanly cast with a small attachment point at the rear that will need to be cleaned up (easily done).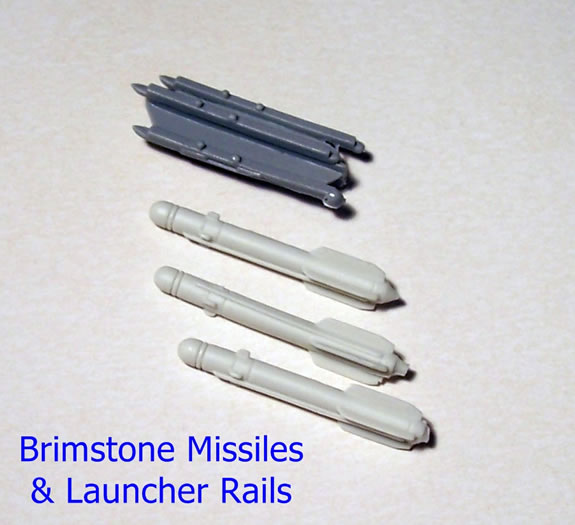 As you would expect with all-resin missiles in this scale, the fins are just a little thick, but I think most modellers will live with this limitation.PE fins would be a little finer, but in this case I prefer the simplicity of one-piece resin missiles. PE would also increase cost. The launchers are also cleanly cast, with easily removed attachment points
---
CS-143 Sniper Pod

I thought that parts were missing at first as the packaging illustration with my sample was for a Sniper & Launch Rails, whereas all mine had was the pod. Then I noticed that illustration insert was for BSC-717 1/48 scale Sniper Pod & Launch Rails, whereas the card header on the packet was for CS-143 Sniper Pod in 1/72 scale. Such packaging errors do happen, but don't help stockists and customers to pick the right item.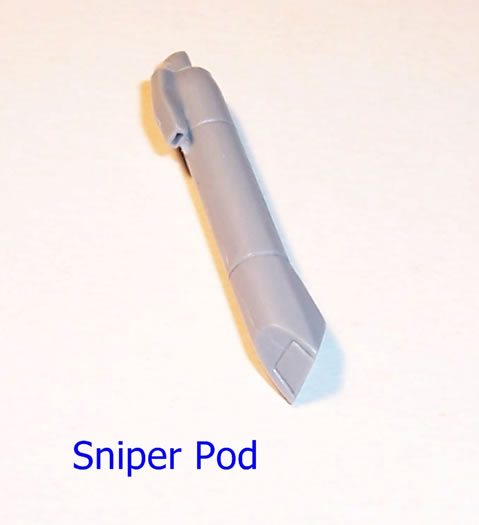 Anyway the pod is nicely cast with a delicate air intake. I'm unsure why the 1/48 edition is offered with rails and the 1/72 is not.
---
CS-144 Litening III Targeting Pod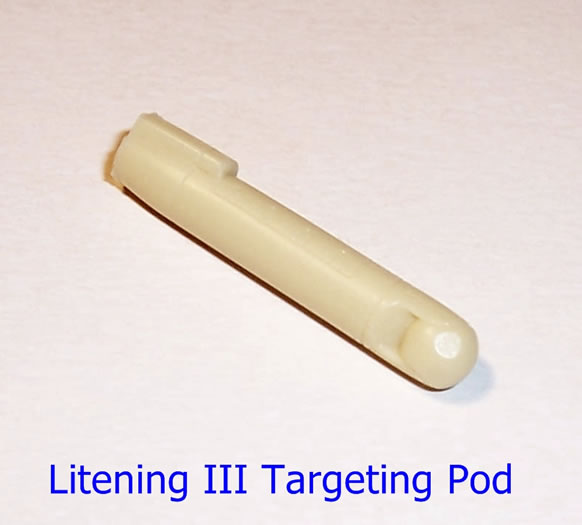 Crisply cast with minimal casting block to clean up at the rear.
---
CS-145 Flight Refueling Mk 20 FR Pod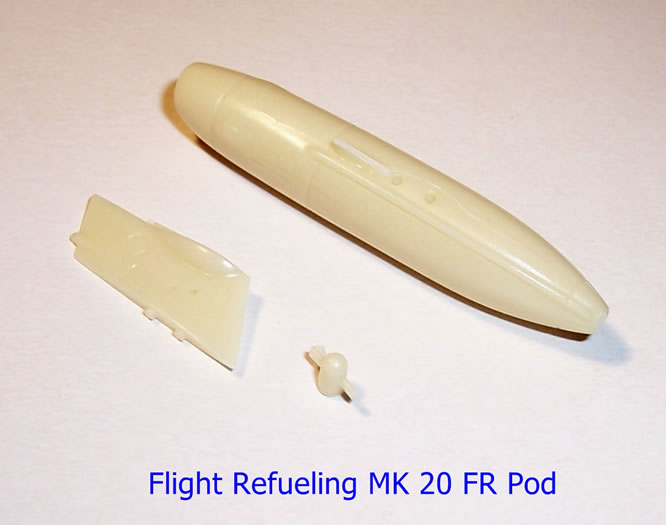 Very nicely done with a nicely rendered stowed drogue basket, and intended for use with Scimitar, Sea Vixen and Buccaneer kits. A pylon is provided for the latter to replace one of the aircraft's slipper tanks (as the instructions explain). There is a slight mould seam which will be easily removed. This fine seam is unavoidable as the piece could not have a pour stub at the base where the drogue basket is, and so the finished item is extracted from the silicon-rubber mould through a longitudinal cut.
---
CS-146 Douglas FR Pod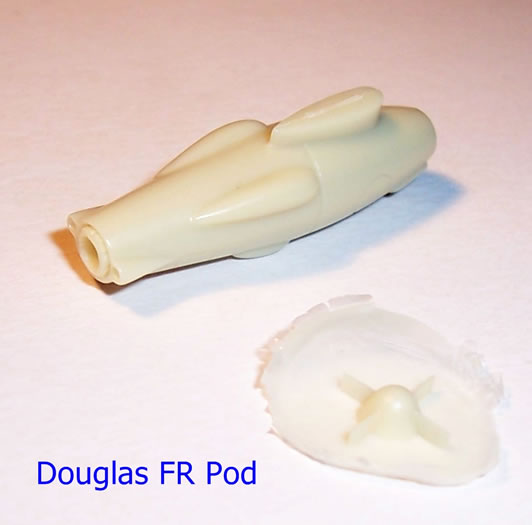 This is nicely executed with a separate impeller on a scab casting, although this is very thin and will be easily cleaned up. I should think that this will be a welcome accessory for many.
---
CS-147 Buccaneer Rotary Weapons Bay with Red Beard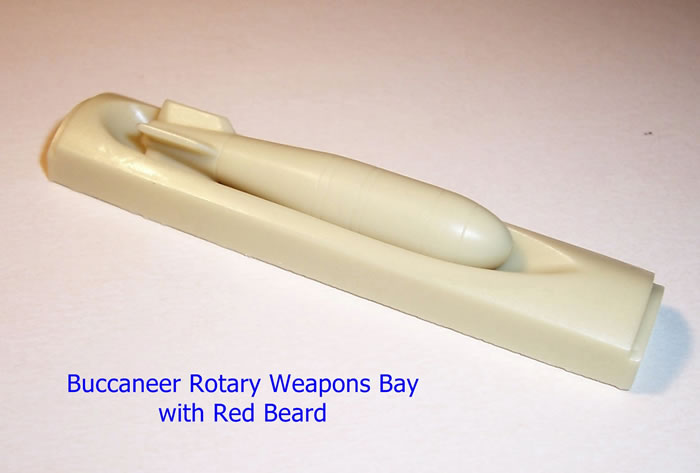 Nicely cast, the instructions explain how it fits the Airfix kit where the large casting block will be hidden inside the fuselage. They also provide some handy painting notes.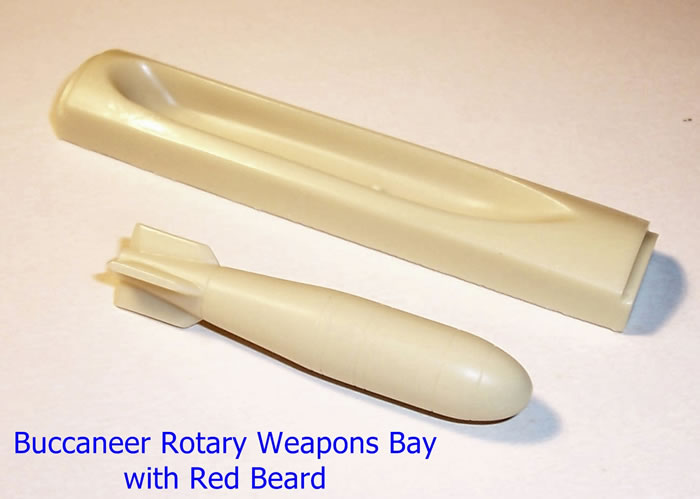 As an aside, I cannot help but think what an interesting nuclear armed Buccaneer model would result from using this set.
---
CS-148 HS Buccaneer Reconnaissance Pack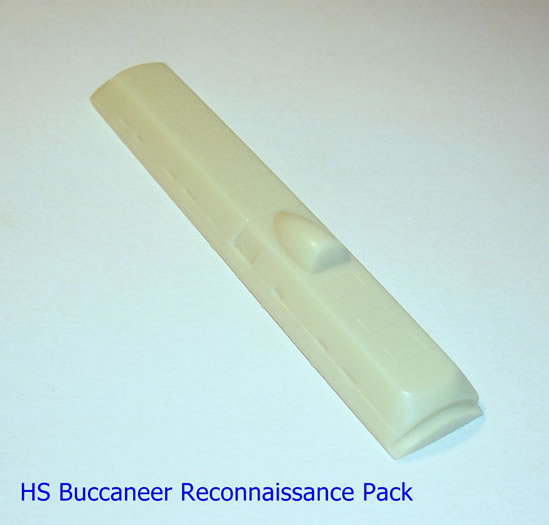 Nicely cast, although there is no mention of the intended kit. But as you would expect it's a perfect fit for the Airfix kit (checked against mine), where the large casting block will be hidden inside the fuselage.
---
CS-149 Sea King AERW.1/AsaC.7 Deflated Radome, Recommended for Revell & Airfix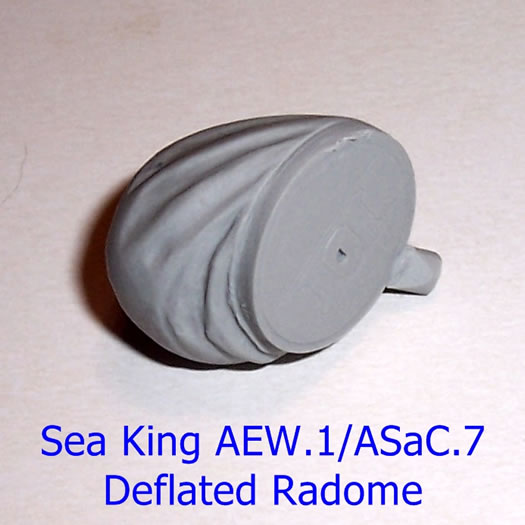 A reasonably well cast resin radome is provided along with written instructions which include a colour illustration of the real thing. I write reasonably well cast as the rim is just a little uneven in places, and the radome retaining strap is not really represented, Also the way the Revell kit's mounting plate has been used in the master is uneven. It's okay, but I feel that the leading central European resin companies would have done it better. Despite this it should be quite useable, and is clearly designed to fit straight onto the Revell kit's rotating arm (I have the Revell kit and compared the parts).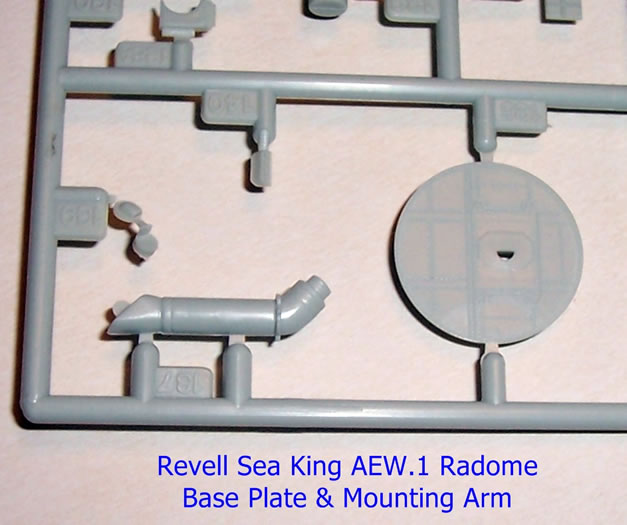 The instructions advise that the resin set includes the correct backing plate for the radome and will fit directly to the rotating arm which is included with both kits. This is just as you would expect. But then they say: "The radome will need the rear mounting block removed and hollowed out by 1 mm leaving a 1mm rim around the edge. Study the kit parts for the position of the plate and then drill out a 3mm deep by 1.5mm wide hole behind the locating arm hole." (not called rotating arm as earlier). The instructions then give advice on filling around the rim with Squadron White Putty. These instructions are confusing and contradict the initial advice that the radome will fit either kit.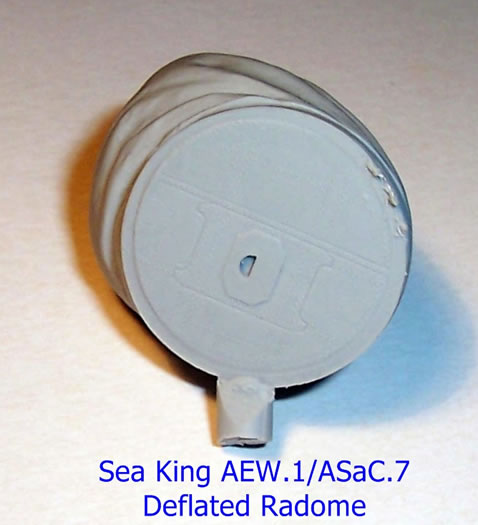 I can only think that the first paragraph's instructions apply to the item as provided by Airframe with the backing plate cast in place. The contradictory instructions seem to be for radome that does not include the backing plate cast with it, in which case it would be necessary to rebate the casting to receive the kit's backing plate. Since a backing plate is provided these additional instructions make no sense to me.
Overall this is still a good item, but I feel the mastering and production quality is less refined than the other sets, and it has very confusing instructions.
I found this to be a group of very interesting subjects to review. It made me look at other items in the Airframe range, and although many items do not fall in my main areas of interest I can see that some really useful accessories are being offered. With is in mind I'd encourage readers to check out Airframe's range.
The figures are the standout items in my view as they are really well mastered and cast with helpful painting guides (just check that you have the right contents in the pack you have chosen!).
The various aircraft weapons and stores are also well produced and offer several interesting variations over standard kit items. The Sea King AEW deflated radome is worth buying, I just felt obliged to point out it was not quite as good as could have been with a little more care in mastering. Also the radome instructions are very contradictory, and I recommend Airframe delete the paragraphs advising the modeller to hollow and drill out the radome.
There were three packaging errors out of ten items, two being serious in my view as the items were completely mislabelled. If these sets were plucked randomly from production they may just be unfortunate errors. If the sets were hand-picked with reviews in mind then it is more surprising. Either way, Airframe may need to improve packaging quality control.
Despite these niggles I have no hesitation in recommending all of the items reviewed here.