P-51D Mustang
Resin Upgrades & Decals
PREVIEW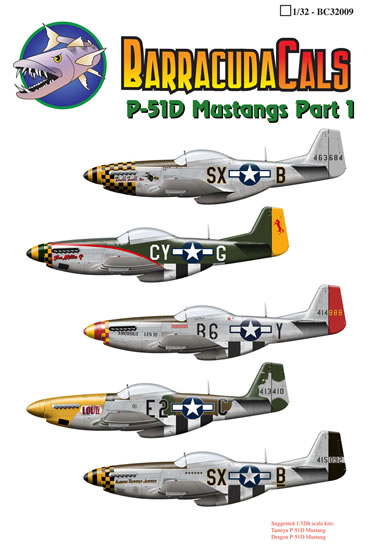 Barracuda Studios, 1/32 scale


HyperScale is proudly supported by Squadron.com
R e s i n U p g r a d e P r e v i e w
Roy Sutherland has sent the following information and images on more releases in his new range of resin accessories:
Barracuda Studios is pleased to announce a number of new releases designed for the new Tamiya P-51D Mustang in 1/32nd scale.
This new kit follows in the tradition of Tamiya's other superb 1/32nd scale aircraft kits, such as the A6M Zero family and the two stage Merlin powered Spitfire series (Mk IX, Mk VIII and MK XVI). It is an astounding piece of model design and engineering, that once again raises the bar of what can be achieved in plastic modelling. We are in development of a number of new detail and upgrade sets for the P-51D and they will be available very soon. Some may question the need for upgrade sets for what is arguable the best model airplane kit ever produced. Our sets are not a criticism of the kit in any way. They just help the modeller push their build to even higher heights by supplying details that just are not possible to achieve with even the best injection molded tooling.
Here's a quick look at the first sets to be released:
BR32012 P-51D Mustang Cockpit Sidewalls 1:32nd scale
This set consists of replacement resin cockpit sidewalls with separate small parts such as levers and handles that add a level of detail not possible in the kit parts. Much new detail such as wiring has been added, and the switches and knobs have much more relief and are much more detailed and accurate looking. A simple upgrade that will make a real difference in this big and very visible cockpit. Designed for the Tamiya kit, but will work in any 1/32 D model Mustang kit.
---
BR32013 P-51D Mustang Instrument Panel 1:32 scale
This set features a new multi-media instrument panel, with both photoetched parts and film dials that will reproduce the fine details of the instrument faces much more sharply and finely than is possible with preprinted photoetched parts or printed decal faces. Fine details such as the fuel tank selector panel have a separately molded selector switch so that the decal panel (found on the cockpit stencil and placard sheet announced below) can be applied without having to try and go over and around this sizable switch. Knobs and switches, as with the cockpit sidewalls, are much more detailed and realistic. Designed for the Tamiya kit, but will work in any 1/32 D model Mustang kit.
---
BR32014 P-51D Cockpit Upgrade Set 1:32 Scale
This set will provide such details as a new K-14 gunsight, throttle quadrant, rudder pedals with logos, radio and battery. This set is still in progress, so other details may be added before it is released. Watch this space for more details. Designed for the Tamiya kit, but will work in any 1/32 D model Mustang kit.
---
All three of these sets will be released later in August. they are not ready for pre-order yet. They will be announced later, complete with images of the production parts, when they are.
To be debuted (as in available for sale) for the 1/32nd scale P-51D Mustang at the IPMS Nationals in Omaha, Nebraska later this week, are the following 2 brand new products:
BC32009 P-51D Mustangs Part 1 1:32nd scale
This sheet provides complete markings for one of five different P-51D Mustangs. A full suite of accurate D model airframe stencils and National Markings are included.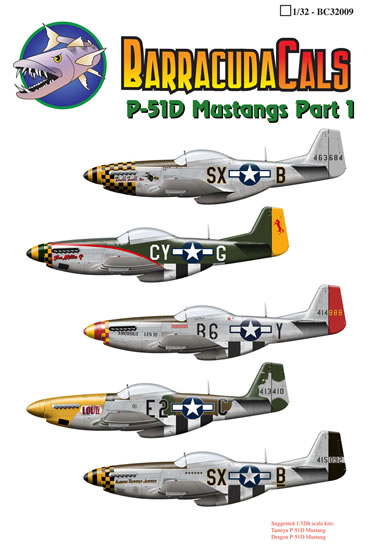 The first, BC32009 P-51D Mustangs Part I, is designed for the just released P-51D Mustang in 1/32nd scale from Tamiya. There is great excitement over this new kit. I have a copy, and I can assure you that it is superb. This new decal sheet provides markings for five European Theater P-51Ds. The markings are supported by a full suite of external stencils. The sheets are thoroughly researched, and are printed by Cartograf in Italy, so you know they will be of the highest quality.
The subjects are as listed below:
Double Trouble Two. S/N 44-63684 of the 353rd Fighter Group, 352nd Fighter Squadron, 8th Air Force. Flown by Lt. Colonel "Wild" Bill Bailey (3 air-to-air, 3 strafing victories) from Raydon Airfield in 1944-45. The beautiful nose checks and yellow outlined codes really set off this Mustang.

The Millie G. S/N 44-14985 attached to the 55th Fighter Group, 343rd Fighter Squadron, 8th Air Force. Flown by Major Edward Giller (3 air-to-air, 6 strafing victories) from Wormingford Airfield, 1944-45. This sheet depicts the Millie G accurately, probably for the first time. There are actually two different aircraft, and both can be modelled with markings on this sheet. One had diagonal red trim stripes and no invasion stripes, while the other one had red diagonal trim stripes, under fuselage invasion stripes, and a narrow red trim stripe to the nose checks. The Nose checks are green and yellow as previously represented, but the green in reality is a much darker green.

Amorous Len III. S/N 44-14888 with the 357th Fighter Group, 363rd Fighter Squadron, 8th Air Force. Flown by Captain Reager from Yoxford Airfield, England, 1944-45. This fictional airplane can be easily adapted to represent another well known aircraft of this unit.

Lou IV. S/N 44-13410 of the 361st Fighter Group, 375th Fighter Squadron, 8th Air Force. Flown by Lt. Col. Thomas Christian (KIA August 12, 1944 with no victories) out of Bottisham Airfield, summer 1944. This is a much loved and extremely hotly debated aircraft, color scheme wise. You can paint it as you see fit, but this sheet accurately captures the correct size, style and dimensions of the markings it wore. The Tamiya 48th and 72nd kit markings are incomplete and incorrect, with considerably undersized fuselage codes. The "Athelene" marking is included for the Starboard cowling, which most earlier decals for Lou IV missed.

Alabama Rammer Jammer. S/N 44-15092 of the 353rd Fighter Group, 352nd Fighter Squadron, 8th Air Force. Flown by Lt. Arthur Cundy (5 aerial victories) from Raydon Airfield in 1944-45. This aircraft can be built in two ways, as shown on the sheet with the three rows of nose checks, or slightly later, when the checks were extended as seen on Double Trouble Two.
---
BC32010 P-51D Mustang Cockpit Stencils and Placards
This decal sheet is just too cool! This thoroughly researched and beautifully printed decal sheet provides just about every single stencil and placard found in the P-51D cockpit. From the North American data plate down to the microscopic PULL on the droptank release handle... it's all there. Over 100 teeny tiny little decals will transform a rather standard looking cockpit into a living, breathing fighter pilot's office! Many hours of research has gone into this sheet. It has been produced as a decal sheet, as photoetched placards are often too thick, and not easy to attach. Now, if applying 100 decals in an area about 3 inches long and less than an inch wide does not seem like fun, this set may not be for you! Even the radio and batteries are covered on this sheet, so you are going to need to set some time aside for this little upgrade!

Both of these sets will be available for sale starting Wednesday evening in the Vendor room at the show in Omaha. For those of you not attending, pre-orders will also be accepted this Wednesday, August 3rd, with shipment to start on Wednesday, August 10th.
More New Mustang stuff is coming in September. Go to www.barracudacast.com for information or ordering.
Happy modelling! Roy
Thanks to Barracuda Studios for the images and information
---
Barracuda Studio products are available online from their website
---
Text and Images Copyright © 2011 by Barrcuda Studios
This Page Created on 1 August, 2011
Last updated 2 August, 2011
Back to HyperScale Main Page