S u m m a r y

Publisher and Catalogue Details:
JaPo – Luftwaffe Over Czech Territory 1945 Series No. III
Messerschmitt Me 262s of KG and KG(J) Units
by David E. Brown, Ales Janda, Tomas Poruba and Jan Vladar
Media and Contents:
Soft cover, 180 pages plus decals in either 1/72 or 1/48 scales.
Price:
Around USD$44.00 - see website for local distributor details
Review Type:
FirstRead
Advantages:

First class research and presentation; fascinating first-hand battle accounts; detailed examination of camouflage and markings in 11 case studies; gorgeous artwork; includes decals for all 11 subjects in either 1/48 or 1/72 scales.

Disadvantages:
Recommendation:
A fabulous reference for modellers, Luftwaffe fans and camouflage buffs alike..

Reviewed by Brett Green

HyperScale is proudly supported by Sq
uadron.com
JaPo is a Czech publisher that has traditionally focused on Luftwaffe aircraft and military aviation over Czech territory. Their latest title combines both of these areas of interest.
JaPo's "Luftwaffe Over Czech Territory 1945" series has already delivered two fascinating titles on late version Messerschmitt Bf 109s. In this series, Japo takes another relatively specialised subject area and puts it under the microscope. Now it is the turn of the Messerschmitt Me 262.
With 180 pages between its soft covers, "Messerschmitt Me 262s of KG and KG(J) Units" is the most amibtious in this series yet in terms of size and detail.
The bomber faction within the Luftwaffe's heirachy increased their influence during 1944. One of the important changes at this time was the retraining of bomber pilots for new jet fighter/bomber units within the Kampfjagdverbande. This was vehemently opposed by the fighter wing, but the establishment of these new Me 262 equipped KG and KG(J) units not only continued, but in fact was expanded in late 1944 and the beginning of 1945 at the expense of fighter units.
JaPo's new book picks up the story at this point in history, describing the transition of Messerschmitt Me 262s to these new units under bomber command, the hasty and inadequate retraining of bomber pilots, and the deployment of IX. Fliegerkorps (J) in Bohemia.
What follows is a remarkable day to day account of the Me 262's air battle record over Czech territory from 16 April to 8 May 1945. The majority of these compelling accounts are taken from the first hand observations of Allied bomber and fighter crews, as well as Czech eye witnesses and Luftwaffe records.
The bulk of the balance of the book is a series of detailed case studies of specific camouflage schemes. The colours and markings of each of 11 aircraft - including two two-seater Me 262 Bs - is described in detail, with all of them featuring high quality four-view colour illustrations, plus art profiles of every one of the subjects featuring subtle light and shade. A number of the subjects have the full artwork profiles for both sides of the aircraft. The very attractive style of artwork, combined with useful labels and thought-provoking interpretations, will be familiar to readers who already own other JaPo books in this series. Very nice indeed.
The book is peppered with captioned wartime photos, many of which are new to me, plus various tables and diagrams. An all-colour walkaround of the Me 262 A-2a, Black X, is also included, as are several wartime colour photos. In total, nearly 300 photos are included.
---
Decals
As a welcome bonus, JaPo also includes decals for all eleven aircraft in either 1/72 or 1/48 scales. Instructions are not included, as all the information you could ever wish for is provided between the pages of the accompanying book.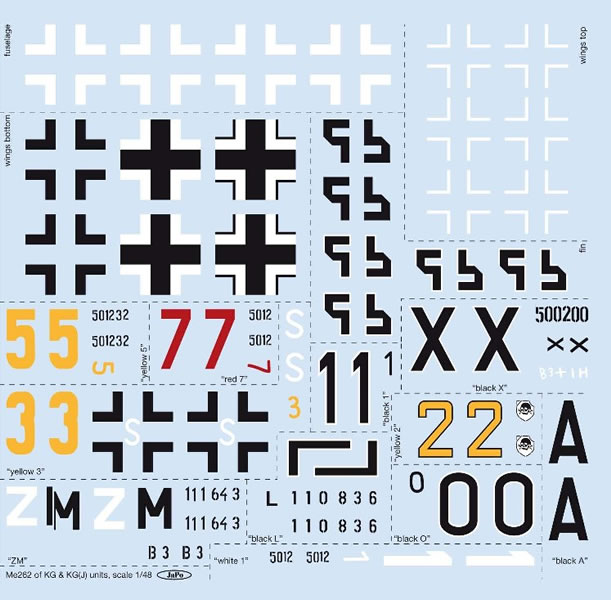 Full national markings for a minimum of two aircraft are included (although there are actually three sets of fin Hakenkreuz, upper wing and lower wing crosses).
The decals are printed by Aviprint. The film is thin and glossy, and my samples are in perfect register.
It is always a treat to see JaPo's newest projects, and this title continues in their traditions of thorough research, first-class presentation and gorgeous artwork.
JaPo's "Messerschmitt Me 262s of KG and KG(J) Units" is a fascinating analysis of this iconic jet aircraft over Czech territory in the final weeks of the war. It also delivers an excellent examination of the colours and markings of the Me 262.
With more than double the number of pages of its immediate predecessor in the Czech Territory series, this book has more of a feel of Japo's hardcover Focke-Wulf Fw 190 D books.
The included decals in either 1/72 or 1/48 scales rounds out the package beautifully.
"Messerschmitt Me 262s of KG and KG(J) Units" will be greatly appreciated by modellers, Luftwaffe fans and camouflage buffs alike.
Heartily Recommended.
Thanks to JaPo for the review sample
---
Review Copyright © 2011 by Brett Green
Page Created 6 June, 2011
Last updated 7 June, 2011
Back to HyperScale Main Page