Orange Series No 811
Gloster Grebe and Gamecock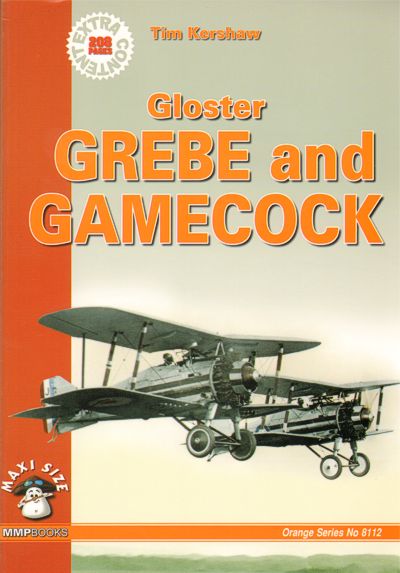 Mushroom Model Publications
S u m m a r y

Publication Details:

Mushroom Model Publications
Gloster Grebe and Gamecock.
by Tim Kershaw.
Orange Series No 811

ISBN: 978-83-61421-17-7

Media and Contents:

208 pages in B5 format, a host of period B&W photos, 1/48th scale plans and colour profiles by Krzysztof W. Wolowski plus a colour walk-round.

Price:

GBP£17.99 available online from Mushroom Model Publications' website

Review Type:

FirstRead

Advantages:

It not only covers the two titled aircraft but those that led to them and those developed from them.

Disadvantages:

Conclusion:

The twenty years between the two world wars was a very interesting period not least because of the progression from WWI biplane to WWII monoplane but one that has been almost ignored by the modeling manufacturers. Perhaps this book will help to redress this situation.
Reviewed by Glen Porter

HyperScale is proudly supported by Squadron
The Orange series books by MMP are the smaller sized publications generally given to aircraft types. This one, No. 8112 by Tim Kershaw, covers the Gloster Grebe and Gamecock, the Grebe being the first new fighter for the RAF after the armistice and the Gamecock was the RAF's last wire braced wooden framed fighter. The two are very similar, the main difference being the engines and both were designed by Henry Folland who also designed the SE.5A. This heritage can be seen in the tail feathers of both.
The book begins with an "Introduction" detailing Follands movements from the Royal Aircraft Factory to The Gloucestershire Aircraft Co (Gloster) and the aircraft he designed along the way.
The next chapter is the first on a specific aircraft titled "Grouse". The Gloster Grouse was designed to test Follands invention of a "High Lift Biplane" wing which would be used on both the Grebe and Gamecock. The aircraft was a two seater with a Bentley BR2 motor and only one was built.
"Grebe", 'Prototypes and testing'. Looking very similar to the two-seat Grouse but with a 14 cylinder radial engine, the single-seat Grebe was the first commercial success for Gloster. 'Into Production' describes the differences between the prototypes and those for production, sub-contracting parts from Hawker, de Havilland and AV Roe plus hiring staff to increase production. "Grebes in squadron service' details the introduction of Gloster Grebes into the RAF beginning in September 1924. Sub-chapters 'Navy Grebes', 'Experimental Grebes' and 'New Zealand Grebes etc., complete the chapter and this is followed by photos and diagrams from the hand book and finally five pages of 1/48th scale plans.
"Gamecock". Beginning with 'Gamecock Prototypes', continuing through 'Test Pilots', 'Construction', 'Gamecocks II & III, 'Gamecocks for Finland' and 'Summery of Gamecock mods' plus many more and then more photos and diagrams from the manual and 1/48th scale plans.
"Grebe and Gamecock Developments" covers the follow-on aircraft such as the 'Gorcock', 'Goldfinch' and finally the 'Gambet for Japan'. Again we have some 1/48th scale plans to round off this chapter.
A brief biography of Henry Folland is followed by those of some of the test pilots involved with these aircraft and then "Appendices" covering many subjects but one stands out for me because it is often overlooked by these books.
'Model Kits' lists past and present kits in the three main scales but I could only find two. Czech Master Resin do a 1/72nd scale resin Gamecock but unfortunately with no decals and Montex do a very complex and complete resin kit of again the Gamecock in 1/32n scale. Both are highly recommended. Aeroclub did both the Grebe and Gamecock in 1/72nd and 1/48th scales but since one of the owners died sometime ago we don't know if they will be back.
The final chapter is of the "Gamecock Reproduction" and is the "Jet Age Museums" work on a Gamecock replica with many interesting full colour photographs.
Last of all are 35 pages of gorgeous colour profiles by Krzysztof W. Wolowski who died just before the book went to print.
The between wars period has not been served well by the model industry but this book and others may help to show the way. Come on Airfix, if this is not right up your alley, then I don't know what is.
Thanks to Mushroom Model Publictions for the sample.
---
All Mushroom Model Publications books are available direct from the publishers, who now accept credit cards (Visa, MC, Amex, Switch)
North American distributors are MMD, Australian distributors are Platypus Publications. In Europe, the books are available from any good bookshop (via our UK distributors, Orca). Contact MMP direct in case of difficulties.
Thanks to Roger at Mushroom Model Magazine for the sample.
---
Review Copyright 2011 by Glen Porter
This Page Created on 1 August, 2011
Last updated 1 August, 2011
Back to HyperScale Main Page
Back to Reviews Page