SR-71 / YF-12 Blackbirds
Parts 1 and 2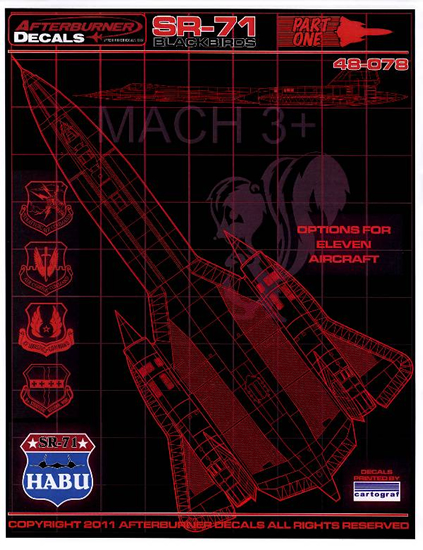 Afterburner Decals, 1/48 scale
S u m m a r y :

Catalogue Number:

Afterburner Decals Item No. AD 48-078 – SR-71 Blackbirds Part 1
Afterburner Decals Item No. AD 48-079 – SR-71/YF-12 Blackbirds Part 2

Scale:

1/48

Contents and Media:

Waterslide decals plus instructions and notes

Price:

Each Sheet US$20.00 Available from Afterburner Decals

Review Type:

FirstLook

Advantages:

An unusual but welcome subject from Afterburner. A myriad of schemes with clear instructions.

Disadvantages:

Base kit not in current release but can be obtained via Ebay or second hand

Conclusion:

For an aircraft that is usually regarded as being a bland very dark blue with minimal markings, Afterburner has found a range of nose (should that be tail) art and interesting variations on a theme that will result in some very different Blackbirds.

Reviewed by Ken Bowes


HyperScale is proudly supported by Squadron
Earlier this year I read the Osprey volume on SR-71 operations in the Far East and was intrigued by the humorous and irreverent tail art depicted, especially that associated with the Kadena Detachment (OL-8) when conducting operations over North Vietnam. They seemed passingly interesting and therefore when Afterburner announced two new sheets for the Blackbird in their US Nationals release batch I was keen to see what was on offer. I have to say that upon first examination they have not let me down with a range of different and unusual Blackbirds.
As with many of Afterburner's recent releases, these two sets consist of large format A4 size decal sheets with some supplementary sheets providing wing walk markings and the like. In breaking up the two sheets Afterburner have grouped later schemes in Part 1 and the earlier more colourful schemes in Part 2. Between them that provides 25 options for the Testors/Italeri kit.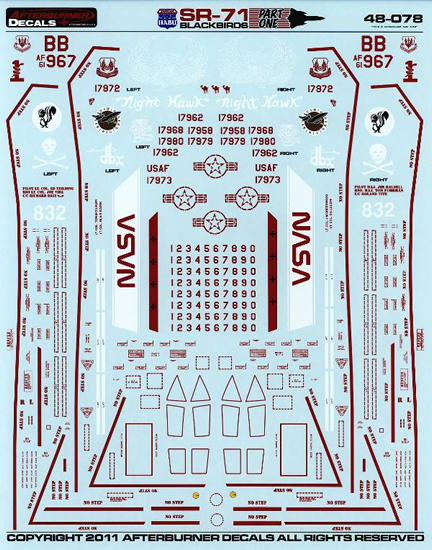 Schemes covered in Part 1 are:
SR-71A 61-7980 during Operation Eldorado Canyon in 1986, with three camel mission markers

SR-71A 61-7980 as seen in 1990

SR-71A 61-7962 in 1990 and as displayed at the Imperial War Museum at Duxford

SR-71A 61-7972 in 1990 after setting the LA to Washington Air Speed record and displayed at NASM in the Udvar-Hazy Center

SR-71A 61-7967 in 1997 in the markings of the 9th SRW at Beale AFB

SR-71A 61-7971 in service with NASA in 1993

SR-71A 61-7973 in 1985 with trial lo-viz red markings that were not adopted across the fleet

SR-71A 61-7968 in 1989 as displayed at the Virginia Aviation Museum

SR-71A 61-7979 in 1990 with large "Night Hawk" tail art

SR-71A 61-7962 in 1990 with skull and cross-bones tail art

SR-71A 61-7958 in 1990 with cobra tail art
All depicted schemes are the final overall midnight blue (essentially black) scheme with red lo visibility markings and assorted tail art. Many are record setters, including for both speed and endurance.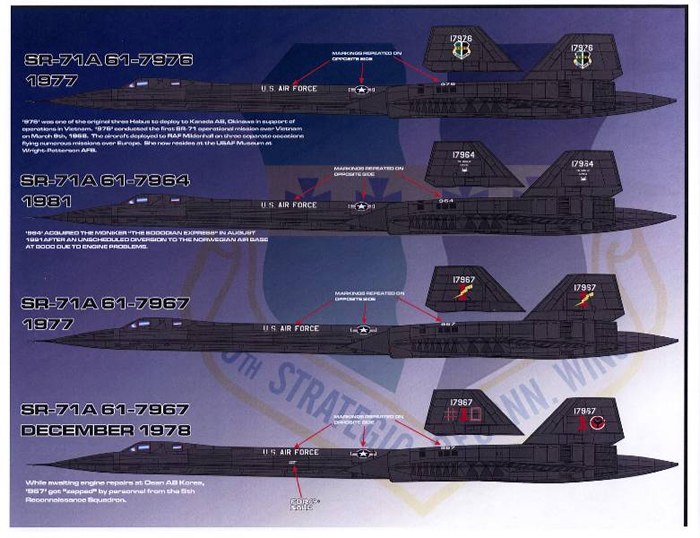 Schemes in Part 2 are more esoteric and include some YF-12 fighters and a two seat SR-71B. Subjects are:
YF-12 60-6934 in 1964 in black and titanium scheme

YF-12 60-6934 in an overall black scheme

SR-71A 61-7976 the first aircraft to fly over North Vietnam but depicted in 1977 and now in the National Museum of the Air Force at WPAFB

SR-71A 61-7964 in 1981 with tail art commemorating a divert to Bodo Norway

SR-71A 61-7967 in 1977 with large tail art (seen in a later guise in Part1)

SR-71A 61-7967 in Dec 1978 with large modified (zapped) tail art

SR-71A 61-7978 in 1968 with Playboy Bunny tailart as one of the first three jets deployed to Kadena for operations in South-East Asia

SR-71A 61-7961 in 1968 with "Bald but Bold" tail art

SR-71A 61-7970 in 1968 with Pink Panther "Super Skater" tail art

SR-71B 61-7965 a two seat trainer with markings applied on January 15 1982 to celebrate 1000 sorties

SR-71A 61-7964 in 1970, known as Ichi Ban (Number 1) details are provided to depict its 1968 and 1970 mission scoreboards

SR-71A 61-7972 as seen in 1975 with "Charlie's Problem" tail art, perhaps my favourite. A multiple record holder also depicted in Part 1

SR-71A 61-7955 in 1968 as a Lockheed testbed with "Skunk Works" emblem

SR-71A 61-7975 in 1969 again with tailart.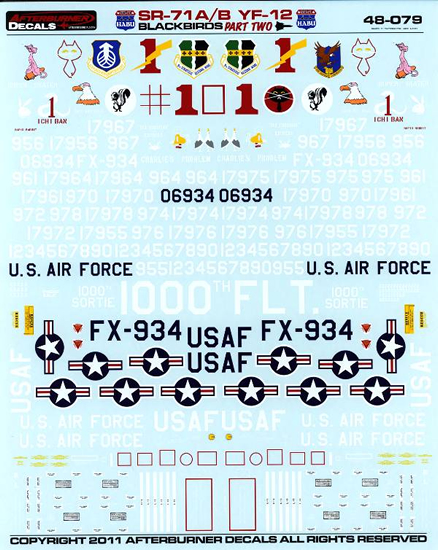 As with all the Afterburner sheets I have reviewed, this one is well researched and in comparison to the photos in the aforementioned Osprey book, accurately depicts its subjects. All options are covered in the usual full colour instructions with four view diagrams for stencil placement. Being printed by Cartograf has also been, in my experience, a guarantee of high quality decals. With Fisher Model and Pattern promising some much needed upgrades, I would certainly use them on a future Blackbird project.
Thanks to Afterburner Decals for the sample
---
Review Copyright © 2011 by Ken Bowes
This Page Created on 19 September, 2011
Last updated 20 September, 2011
Back to HyperScale Main Page
Back to Reviews Page