US Navy Phantoms
VF-84 "Jolly Rogers" F-4B/J/N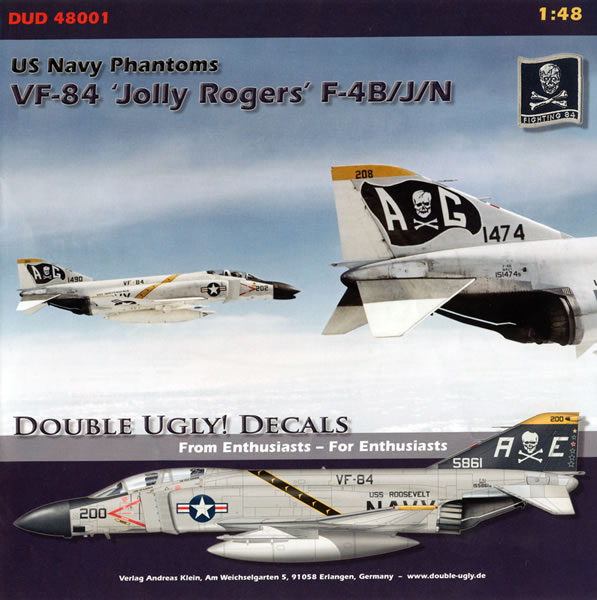 Double Ugly! Decals, 1/48 scale
S u m m a r y

Catalogue Number and Description:

Double Ugly! Decals Item No. DUD 48001 - US Navy Phantoms VF-84 "Jolly Rogers" F-4B/J/N

Scale:
1/48
Contents and Media:
Decal sheet and comprehensive eight page instruction booklet
Price:
Euro 19.95 available online from Double Ugly! website
Review Type:
FirstLook
Advantages:
Excellent decal sheets; comprehensive eight page booklet in full colour
Disadvantages:
Conclusion:

This is an impressive entry into the decal world by Double Ugly. It enables you to model any of the different type F-4s operated by VF-84 between 1965 and 1970.

Reviewed by Rodger Kelly

Yellow Wings Decals
are available online from Squadron
Double Ugly Decals are a subsidiary of AirDOC, the German based publisher of high quality aviation books whose focus is modern (post 1950) military aviation.
Previously, Double Ugly had produced just books but they have now branched out into the decal business as well. To date they have released just two sheets, both of them for F-4 Phantoms of the United States Navy, although the parent company AirDOC does have over 40 decal releases.
Firstly, let me tell you that these are very good decals sheets indeed. For your money you get two excellent quality sheets and very complete supporting information to enable you the option of modelling seven different airframes and enough decals to realise any two of them.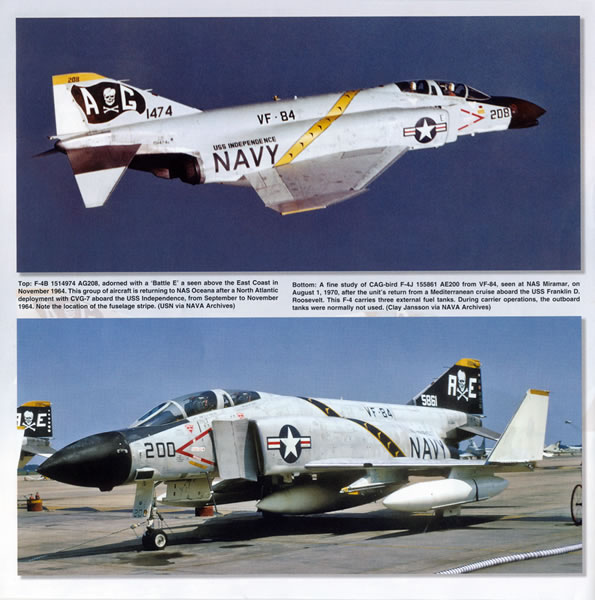 This sheet is for machines of the Atlantic Fleet's VF-84 Jolly Rogers, one of the iconic operators of the F-4. Details of the individual options on the sheet are as follows:
F-4B Bureau number 151474, modex 208, operating from the USS Independence in 1964. This machine (as well as all of the others on the sheet) is finished in the then standard colour scheme for U.S. Navy aircraft comprising light gull grey upper surfaces over insignia white undersides and control surfaces. A note here – the placement guide advises that the light gull grey is FS 16440 –i.e. a glossy light gull grey. I might be wrong but my understanding is that glossy light gull grey did not come into use until 1970. It wears the earlier "flag" style of squadron insignia on the vertical stabiliser and the earlier style yellow fuselage chevron and yellow tips to its vertical stabiliser, missile rails, triple ejector racks and wings. Other points to note is that it wears "Battle Es" on its intakes and its modex on top of the fin cap.
F-4B Bureau number 151471, modex 205, operating from the USS Independence, in 1964. This machine is marked as per the previous option.
F-4B Bureau number 151516, modex 200, the Jolly Rogers' CAG Bird. The markings depict it when it was operating from the USS Independence between May and December of 1965 when the squadron carried out a WESTPAC deployment and operations over Vietnam. The machine wears the later style squadron markings comprising a black painted vertical stabiliser with the skull and crossbones painted on it in white as well as the later style black with chevron over the fuselage. It also wears Tonkin Gulf Yacht Club insignia on its intakes as well as a "bomb log" on its starboard spiller plate. Notes on the placement guide advise that the machine was lost in combat on 1 September 1965.
F-4J Bureau number 157274, modex 204, operating from the USS Roosevelt between January and July of 1971. This option is finished as same as the previous one sans the "Battle Es" and the Tonkin Gulf Yacht Club shield. It also wears a white radome instead of a black one worn by their F-4Bs and yellow painted rectangles on the canopy rails with crew names in black lettering.
F-4N Bureau number 150438, modex 200, the squadron's CAG bird as it appeared during a visit to North Island on 6 September 1974. It wears a black anti-glare panel on its white radome as well as black painted canopy rails with crew names in yellow lettering. The tips to the external wing tanks have also been painted yellow and have black concentric rings.
F-4N Bureau number 150489, modex 206 from the September of 1975. It wears the same markings as the previous option sans the concentric rings on the external tanks.
F-4J Bureau number 155361, modex 200 the squadrons CAG aircraft depicted in the August of 1970 following the VF-84s return from a Mediterranean cruise aboard the USS Roosevelt. It wears a full black radome with a black anti-glare panel as well as multi coloured stars on the rudder. The stars have been painted in the different colours used by each squadron in the air wing. These stars have a thin white outline and Double Ugly have provided this as a two-part marking of white stars over which you apply the coloured ones to leave a thin white outline.
You get two large decal sheets (one measuring 7½" x 7¾" and the other 6½" x 7¾").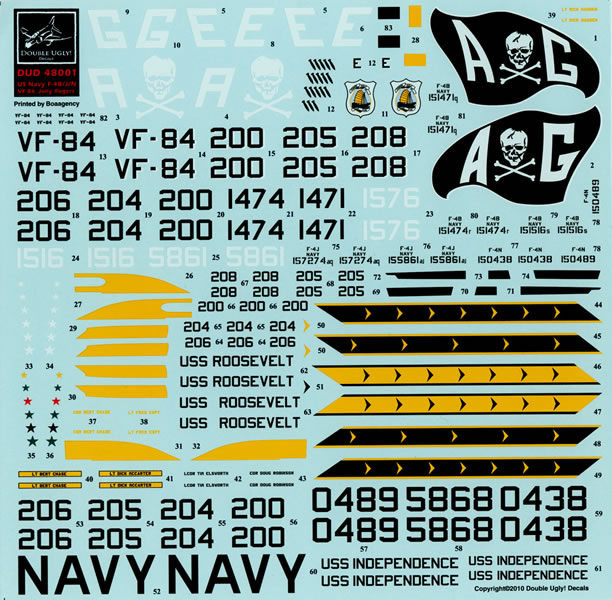 The larger sheet carries the squadron specific designs whilst the other carries generic designs including national insignia, stencil data and walkways. My bet is that this second sheet will feature in all of their subsequent F-4 issues. The yellow tips for the wings and vertical stabilisers are included as decals as are the black canopy rails.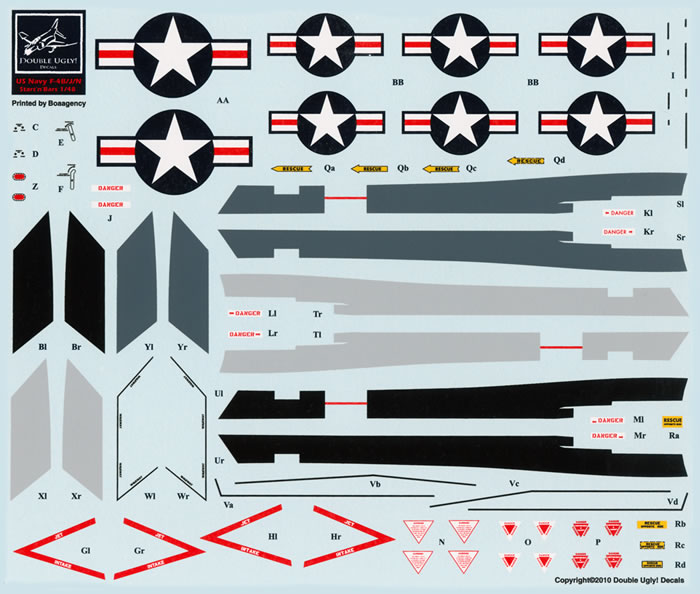 The decals themselves have been printed by a company named Boaagency. I have not run across this company before and can not advise how well their decals work but can say that the printing is first rate with no out of register issues present on my sample sheet. They are thinly printed and have negligible carrier film around each design. The supplied stencil data is minimal and confined to two sets of national insignia, three sets of walkways – black, light grey and dark grey and an outline only wing walk one– two sets of intake warnings and two sets of the various rescue triangles and arrows as well as exhaust warnings.
The placement guide comes in the form of an eight page booklet that is printed in full colour. It shows left hand side profiles of each option (except for Bureau number 151516 which has a left hand side profile and Bureau number 155361 which has left and right hand side profiles) and a single generic upper and lower plan. Comprehensive notes for each option are provided and the decals are numbered to show their location. Scrap views of the wings are also included to show the variations that existed between airframes. The final two pages of the placement guide show period full colour images of four of the machines that are featured on the sheet whilst the back page provides you with written instructions on how to go about using the decals, and listings of suggested F-4 kits, and aftermarket products in both 1/72 and 1/48 scale.
The placement guide and the two decal sheets come packed in a clear plastic zip-loc bag.
This is an impressive entry into the decal world by Double Ugly. It enables you to model any of the different type F-4s operated by VF-84 between 1965 and 1970.
Thanks to Double Ugly Decals for the review sample.
---
Review Copyright © 2011 by Rodger Kelly
This Page Created on 25 August, 2011
Last updated 26 August, 2011
Back to HyperScale Main Page
Back to Reviews Page