Blackhawks
Workhorse of the Army
Blackhawk Stencils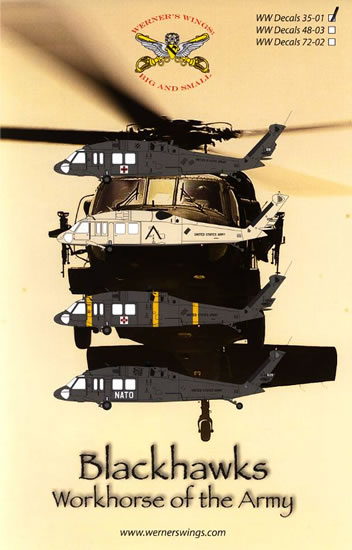 Werner's Wings, various scales
S u m m a r y :

Catalogue Number:

Werners Wings
Blackhawks: Workhorse of the Army (1/72,1/48,1/35)
Blackhawk Stencils (1/48,1/35)

Scale:

All major scales, stencils only in 1/48 and 1/35

Contents and Media:

Waterslide decals plus instructions and notes

Price:

Review Type:

FirstLook

Advantages:

A well researched and executed set of decals covering a range of interesting airframes. Should be considered by anyone who is planning to build a US Army Blackhawk.

Disadvantages:

Some options require modifications or conversion kits. The modeller should ensure that the correct kit is chosen as appropriate for the subject eg with HIRSS or ESSS included in the box.

Conclusion:

This is the first comprehensive set of decals for a US Army type that I can recall. Given the range of subjects the modeller is no longer limited to what is in the box to come up with an interesting model of the major UH-60 variants.

Reviewed by Ken Bowes


HyperScale is proudly supported by Squadron
Floyd Werner is a name probably known to many modellers, certainly I have seen much of his work on Hyperscale and other well known websites, with a focus primarily on the Bf109. That said Floyd is a former US Army aviator and police helicopter pilot so it should not be a surprise that he also produces conversions and decal sheets to improve models of aircraft flown by the US Army. In these latest releases Floyd and decal artist Mason Doupnik have produced a comprehensive sheet of decals for the US Army UH-60 Blackhawk transport and utility helicopter covering its service history from introduction into service to the present day.
This has been produced in all the mainstream scales in which kits are available (1/72, 1/48 and 1/35) along with a companion set of maintenance stencils for the Blackhawk in both 1/48 and 1/35 (note not 1/72).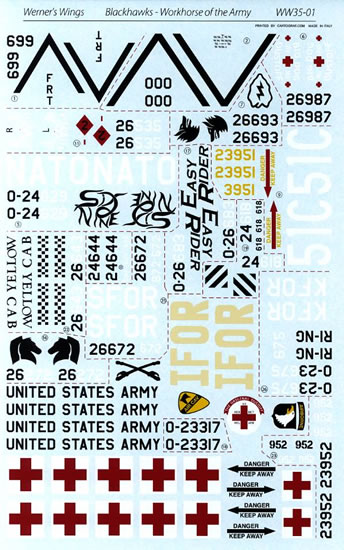 The intent of this set of decals was it seems to provide representative examples of the UH-60 across its service life and an examination of options provided seems to bear this out. Included on the sheet are:
UH-60A 82-23699 2nd Armored Cavalry Regiment Operation Desert Storm 1991 with the usual olive drab over painted in a desert sand colour

UH-60A 87-26000 2nd Armored Cavalry Regiment Operation Desert Storm 1991 similar to above but with HIRSS and a patchwork of olive drab panels and mission scoreboard

UH-60A 87-24629 West Virginia National Guard Bosnia 2006

HH-60L 03-26987 West Virginia National Guard with a FLIR turret and ESSS fitted for the dust off roll

UH-60L 96-26693 25th Aviation Brigade, 25ID Afghanistan 2004

UH-60A 84-23951 1-212th Aviation Bn Fort Rucker with large hi-vis panels and buzz number for pilot training

UH-60L 93-26535 101st Combat Aviation Brigade Afghanistan 2010

UH-60A Unknown – Medevac helicopter during operations in Grenada 1983. The 57th Med Det were the first Blackhawk operators and first to use it in combat

UH-60L 96-26272 101st Combat Aviation Brigade Iraq

UH-60L 96-26683 101st Combat Aviation Brigade Iraq 2007 with improved engine dust barrier system installed

UH-60A 79-23317 Det 1C/1-169th Aviation. Generic medevac aircraft of the National Guard

UH-60A 87-24618 3rd Aviation Brigade, 3ID Iraq 2008 in the latest medevac configuration

UH-60A 87-24644 68th Medevac Company Afghanistan 2004-05

UH-60L 95-26643 101st Combat Aviation Brigade Iraq 2007

UH-60A 84-23952 377th Medical Company South Korea 2007, with large yellow stripes to designate an aircraft authorised to enter the DMZ

UH-60L 95-26672 3rd Aviation Brigade, 3ID, Bosnia 2000 with SFOR markings

UH-60A 82-23675 Rhode Island National Guard, Austria 2007 with KFOR markings

UH-60A Unknown 227th Aviation Battalion, 1 Armored Division Bosnia 1996 with large IFOR markings
With the exception of the first two options, all are in the generic overall US Army Helicopter olive drab. That said none are standard, with the addition of red crosses for the medevac role or some artwork on the engine bay cover.
Although the serials for certain aircraft were unknown to the decal designers they have supplied additional numbers to allow the correct serial number to be applied if it can be determined. One interesting point is that the instructions give decal options numbered 1 through 26 although only 18 options are actually provided.
Early in design options for Australian S-70A-9 Blackhawks amongst others were considered but it was determined that these would be produced separately (here's hoping), which perhaps explains the gaps.
Although each subject gets a single side profile, Werner's Wings provides a generic four view drawing to show the placement of markings such as medevac red crosses as well as a detailed page to show stencil placement in the 1/48 and 1/35 sets.
This same sheet acts as the instructions for the separate Blackhawk stencils sets. Whilst these instructions are sufficient for 99% of all options, some minor details are easy to miss. For example whilst noted in text it is not immediately obvious that the Desert Storm aircraft retained olive drab undersides whilst the second Desert Storm option had a mission scoreboard whose placement had me stumped until a very close examination of the instructions revealed its location between the pilot's door and gunner's window. This is an example where clearer instructions would have been of use to the modeller. However these are small gripes when the overall quality and attention to detail put into these sheets is considered.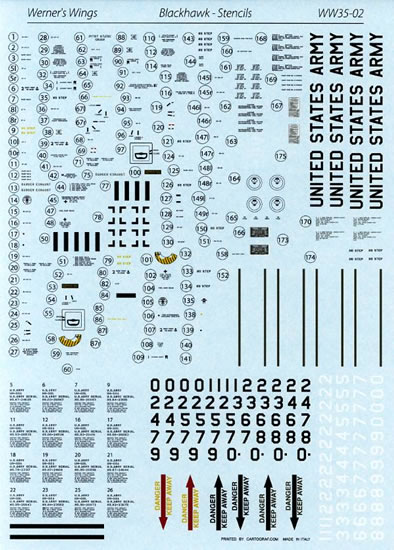 The actual sheets are printed by Cartograf which is, in my experience, a guarantee of high quality decals. Close examination of the sheets shows very crisp printing with no obvious flaws. Given the large number of medevac options include, the modeller should also seek out the Werner's Wings conversion previously reviewed on Hyperscale by Phil Parsons to really make the most of these. Overall these decals form a well-executed package that should be considered by anyone wanting to model a US Army Blackhawk.
e
---
Review Copyright © 2011 by Ken Bowes
This Page Created on 20 September, 2011
Last updated 20 September, 2011
Back to HyperScale Main Page
Back to Reviews Page