PZL P.24B/E
"Over Danube"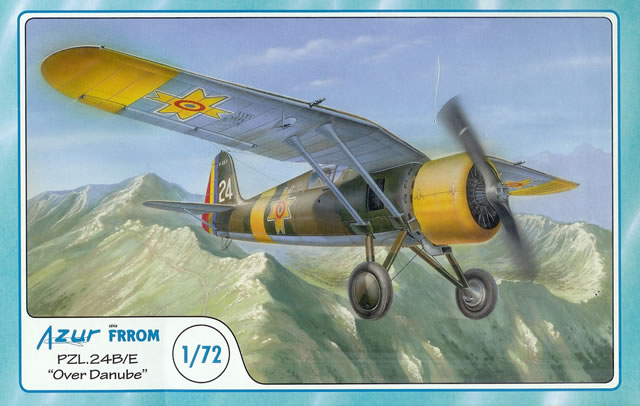 Azur serie FrRom, 1/72 scale
S u m m a r y :

Catalogue Number:

Azur serie FrRom Kit No. FR011 - PZL P.24B/E "Over Danube"

Scale:

1/72

Contents & Media:

27 x grey styrene airframe parts, 25 x resin & 42 x PE detail parts, 1 x clear styrene & 2 x vac-form canopies, plus decals for three subjects.

Price:

Available on-line from Hannants for £14.99 and Great Models Webstore for US$28.75.

Review Type:

First Look.

Advantages:

Very nicely moulded with good levels of detail and scale finesse.

Disadvantages:

The engine cylinders and heads are rather crude. No engine pushrods or instructions to scratch-build them. The instructions may be wrong regarding elongated ejection chutes not being used on P.24E – Check your references.

Conclusion:

The lack of engine push-rods can be overcome without much inconvenience. The kit itself is very well executed and has really nice scale finesse and good levels of detail. It has the potential to build into a superb model. Recommended.
Reviewed by Mark Davies


Valom's 1/48 scale An-2 Colt is available online from Squadron.com

Background

The PZL P.24 was the last in a line of fighters designed by Zigmunt Pulawski for Pantswowe Zaklady Lotnicze (PZL, or National Aircraft Works). However Wsiewolod Jakimiuk undertook the development work on the P.24 because Pulawski died in 1931.

Like its predecessors in the P-series of fighters it had an elegant gull wing with double tapered plan-form that narrowed towards both wing tip and root. This wing shape was very influential in the early 1930's and was referred to as the "Pulawski or Polish Wing". It was widely copied by numerous aircraft manufacturers from several nations. Another innovative feature of Pulwaski's designs was the scissors undercarriage with levered shock absorbers hidden inside the fuselage. This low-drag design is still used on modern light planes with fixed undercarriages.

PZL moved away from using British Bristol engines with the P.24 to the new French Gnome-Rhone 14K Mistral twin-row radial. This change enabled licence restrictions on exporting fighters with the British engine to be overcome. This suited Gnome-Rhone very well as they were happy to have their new engine demonstrated on a modern fighter, particularly at a time when many French designs were powered by Hispano-Suiza water-cooled V-12's.

Much of the airframe was initially derived from the P.7, although 450 mm was added between the wing and cockpit for C-of-G reasons, and the undercarriage legs were changed slightly. The lack of gaps between cylinders on the twin-row engine also required a change to the gun mountings compared to the P.7's which had fired through the engine. Other unusual features for the time included twin 20-mm cannons and the use of flaperons. During development the P.24/III prototype changed to using the slightly longer span wing and tail of the P.11, along with some detail changes and the adoption of a fully enclosed cockpit canopy. The P.24/III was effectively a pre-production prototype.

The prototype first flew in May 1933. The PZL.24 was in fact possibly the fastest, and in some versions, the most heavily armed fighter of its day. But such was the pace of fighter development in the mid-1930's it would be outdated in only a matter of a few years.

Despite approaching obsolescence the P.24 was purchased by four nations. Romania bought five and built 25 more under licence. Greece purchased at 36. Bulgaria ordered 12, whilst Turkey had 40, some purchased from Poland and others produced under a licence to assemble sub-assemblies. Interest in the P.24 was also expressed by Hungary, Spain, Yugoslavia, Finland and Estonia but did not result in any exports.

Interestingly the Polish Air Force did not operate the P.24 despite its export success. This was in part because the Polish Air Force did not want to be dependent on an imported engine. Also the P.24's performance offered little over the in-service P.11 which would go on to face the German invasion of Poland in 1939. However by 1939 there were plans to use the P.24 when engine supply seemed assured, but none were produced. There are accounts of a P-24 defending Poland, but this is thought to have been a PZL 11G which had an enclosed cockpit and 840-hp Bristol Mercury engine.

The Romanians, who already operated 50 of the earlier P.11b, had decided to build the P.24f under licence. PZL supplied five P.24's in October 1936 for final assembly by IAR in Brasov, along with a licence for them to build 25 additional planes. The use of the K-14 engine in the P.24f led to severe vibration problems. The problem was finally solved by using a wooden two-bladed airscrew in place of the intended three-bladed metal one. They also had to fit a ? reduction gear to the engine along with a new NACA cowling. The P.24 entered Romanian service in early 1940. At beginning of Operation Barbarossa they protected Bucharest and Ploiesti oil fields from Soviet bombers. Then, from 28 July 1941, the P.24's progressively moved to the Odessa front providing close support to both German and Romanian troops. They also scored some victories when confronted by Soviet fighters. The 23 surviving P.24's were transferred to training units early in 1942.
Bulgaria bought 12 PZL P.24B's which entered operational service in 1938. They were fitted with a three-bladed metal propeller which was standard for all P.24's other than the Romanian version.

The Greeks used three versions of the P.24, the A, E & F, and these fought with some notable successes against Italian invaders in 1940, but were overwhelmed by the later German bailout of the failed Italian venture. The last airworthy Greek P.24's are thought to have withdrawn to Crete in April 1941.

Turkey operated P.24A's, C's & G's, the first aircraft entering service in 1936. Turkish P.24's used Czechoslovak Letov rather than French Gnome-Rhone 3-blade propellers. By 1940 the remaining aircraft were in fighter training schools. AS it happens the only remaining P.24 is an ex-Turkish training school example.
---
Previous 1/72 P.24 Kits
I'm aware of nine previous P.24 kits in 1/72-scale, and these are listed below. Comments, where made are generally based on modelling magazine reviews or my assessment of based on photos of kit parts:
Resin:
A S-Model – Can be built into a beautiful model as seen here on Hyperscale by Piotr Dmitruk.

Artur Resin – Early generation resin kit, small parts provided as a scab-casting.
Limited-Run Injected Styrene:
Broplan - Apparently builds well after clean-up.

RPM - Needs a lot of clean-up.

Certi - No information.

Stankowski - Apparently some nice surface detail let down by overly heavy panel lines.

Encore - A Squadron-brand re-box with good decals of I think possibly the RPM kit (but maybe by Certi or Stankowski. All of the photos I've seen of these brands look similar to the Encore kit I built a decade or so ago). Whatever, Encore's kit is very crude needing a lot of clean-up and refinement.
Vac-Forms:
Modelland - Not outstanding but a nice enough model can result.

Vacu-Model - No information.
If 1/72-scale is not your bag, then Warrior and more recently Mirage have offered 1/48-scale kits. But for those of us committed to the "One True Scale" a modern injected multi-media PZLp.24 is most welcome.
The kit comes packed in a typically Czech end-opening box, with attractive art-work on the front and colour schemes on the rear. Azur FrRom is a French concern, but the kit is produced by the MPM-Group of the Czech Republic. The styrene parts, canopies, decals & PE fret are each enclosed in their own plastic bags. The instructions are A5 format with a brief aircraft history in French and English. The diagrammatic assembly instructions are generally clear and easy to follow. Detail colour call-outs are given as generic colour names in English and French, but include Gunze Sangyo and another brand's colour numbers.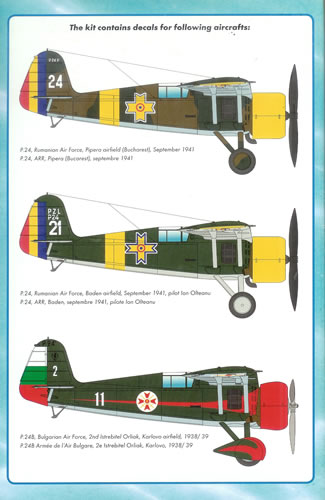 The first thing I focused on when examining the sprues was the surface detail applied to the flying surfaces. This is very nicely done with the delicate corrugations well captured. The fuselage has refined recessed panel lines, just a few recessed rivets and delicate raised reinforcing strips running along the fuselage sides.
The engine consists of two banks of styrene cylinders that are a bit crude, with just a few overly thick cooling fins (a resin engine would have been nice). However the delicately cast resin exhaust manifolds have really fine open exhaust pipe outlets. There is a resin reduction gear housing for the Romanian version with 2-blade wooden prop. The Bulgarian version has a streamlined fairing between the 3-blade prop and first row of cylinders. There are no push-rods, nor is there any mention to scratch-build these in the instructions. However they are a real feature of the Gnome-Rhone 14-series engines because the paired push rods for both front and rear cylinders emerge from the front of the engine. This means there are 28 pushrods and 14 ignition wires all making for quite a "spider's web" of detail that needs to be captured (see accompanying image of real engine).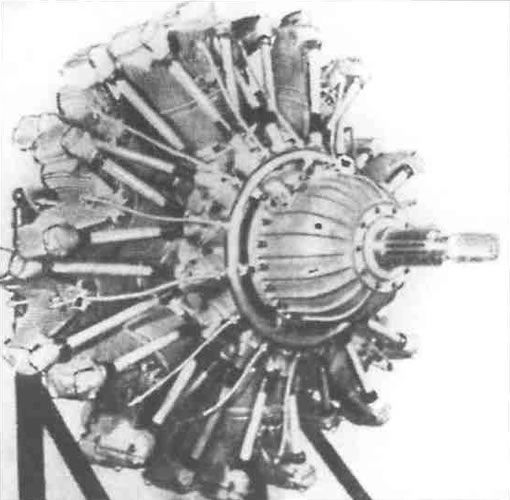 Both the wooden 2-blade and metal 3-blade props are quite reasonable. Two styles of cowl for the B and E versions are provided.
Cockpit detail is good for the scale and more than adequate for such a small enclosed canopy. There is a styrene floor, bulkhead, instrument panel, control column, rudder bar and seat. This last item is enhanced by PE seat-belts and resin diagonal braces. There are PE rudder pedals too. The instrument panel also has a PE brace and two suspended resin dials, plus a resin gun sight. The interior faces of the fuselage have internal structure moulded in the area of the cockpit, and a PE throttle and other small PE details are included to fix to the cockpit walls.
A nice touch I've noticed in other recent Azur releases is the option of injected or vac-formed canopies (you get one injected and two vac-formed examples). Both types are well produced and clear, although obviously the vac-form one has less optical distortion. Providing this choice of media is something other manufacturers could learn from.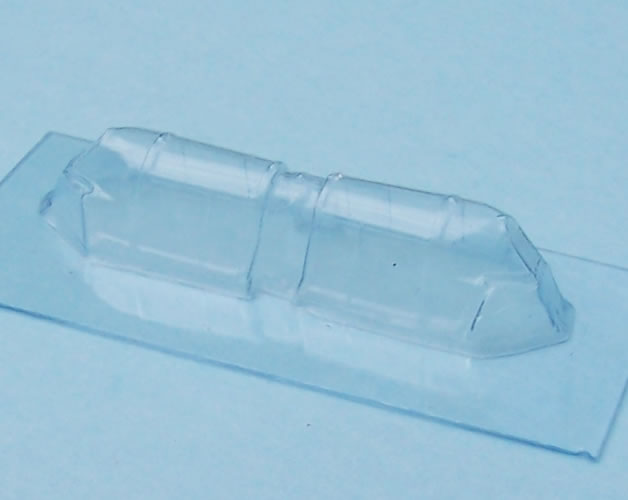 There are quite a few other resin and PE details provided. I shall discuss the resin parts first. These provide the ejection ports for the wing guns and include a choice of elongated chutes ion the inboard guns which the instructions advise are for the P.24B However two excellent books on the P.24 by Ace Publications and Kagero have plans that show these elongated chutes fitted to P.24E's as well (the images of P.24E's I have seen are unclear on this point). The very prominent oil coolers have separate PE retaining straps, although I'm surprised that these were not cast in place. There is a nicely cast scoop for the carburettor air intake and some very delicate machine gun barrels are also provided. Watch out for these before you empty the resin part's zip-lock bag, as I have now last a few small parts that had detached from mine. There is also a resin under-wing pitot and small insulators to mount the antenna wires on. The PE detail parts I have yet to mention include aileron actuators, and aileron trim tabs. There are also two rather small pieces that must be folded to serve what I think are heat-shields behind the exhaust outlets. These will be fiddly, but well worth the effort as the exhaust has such nice scale refinement.
The struts and undercarriage legs all look good; and there is a choice of spats or open wheels. The spats are cleverly engineered in that the almost solid spat halves have a rebated area into which the partial wheel is inserted. This gives a realistic opening within the spat, but enables the wheels and tyres to be painted separately from the spats.
Overall construction should be straightforward and conventional, provided care is used with some of the very small detail parts. It's worth mentioning that there are a number of parts clearly intended for other versions, the first of which has been released under the "straight" Azur label offering a Greek PZL P.24G/F.
Two Romanian and one Bulgarian air force options are offered. The Romanian aircraft both date to 1941 with dark green and dark earth camouflage over light blue undersides with yellow cowl and fuselage recognition band.
The Bulgarian option is for an aircraft dating from 1938/39. This aircraft is overall dark green over light blue; it features a red cowl with a tapering red stripe down the length of the fuselage.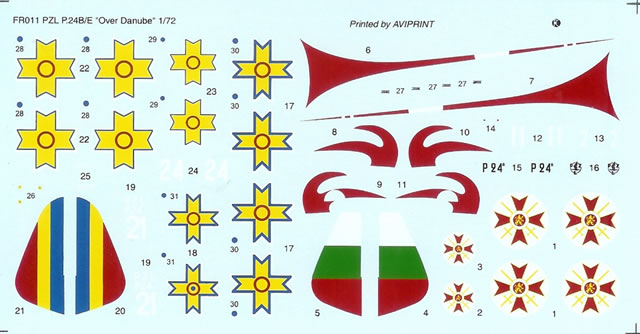 The wheel spats also have prominent red shapes tapering towards their rear. The decals look to be excellent, with good registration and colour density.
---
Azur serie FrRom Stockists
Azur serie FrRom is a niche line of kits produced under the umbrella of the Azur label, which is an MPM-group brand. FrRom stands for France & Romania, and refers to the types of subjects originally envisaged for this series; although it has quickly expanded beyond subjects from these two nations.
I have noticed is that various on-line shops list Azur serie FrRom either under Azur, or separately as FrRom or FrRom-Azur. Also established Azur stockists do not necessarily carry Azur serie FrRom (probably because of the different distribution channel). So if you are looking to buy Azur FrRom kits be sure to check out all combinations of the brand name, and also suppliers you might not normally associate with Azur & MPM-group products.
This looks to be a very good kit of the last version of a significant line of 1930's fighters.
The engine cylinders and heads are adequate but not moulded with the same finesse as the rest of the kit, and will need scratch-built push-rods to look authentic. Builders should also check their references regarding whether or not P.24E's had extended case ejection chutes on their inboard guns.
Despite my engine criticisms, the general execution is excellent, with good levels of detail and scale finesse. Sensible use of mixed media, whilst rather fiddly at times, only serves to enhance this. The choice of canopy media and the way the wheel spats are moulded are nice touches.
A potentially stunning result is possible with this kit .
Highly recommended.
Thanks to Azur serie FrRom for the sample kit.
---
Review Text and Images Copyright © 2011 by Mark Davies
Page Created 25 August, 2010
Last updated 13 September, 2011
Back to HyperScale Main Page
Back to Reviews Page