Vickers Vildebeest Mk.III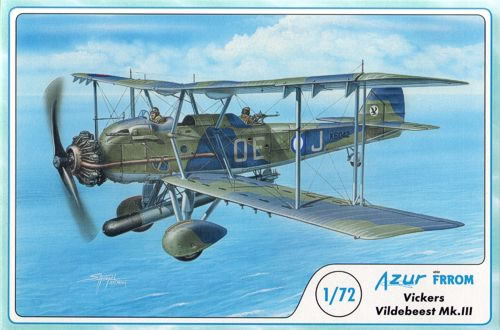 Azur serie FrRom, 1/72 scale
S u m m a r y :

Catalogue Number:

Azur serie FrRom Kit No. FR017 - Vickers Vildebeest Mk.III

Scale:

1/72

Contents & Media

61 x styrene airframe parts, 5 x styrene transparencies, 8 x resin engine & detail parts, 1 x PE fret of 36 detail pieces, plus decals for 4 aircraft.

Price:

Available on-line from Hannants for £24.99, Aviation Megastore for €33.57 and West Coast Hobbies for CAD$39.00 and other Azur serie FrRom stockists.

Review Type:

First Look

Advantages:

Very nice surface detail, crisp moulding, good cockpit detail, plenty of small external details and attractive colour schemes.

Disadvantages:

Centre crewmember's cockpit hatch is moulded shut. The lack of bomb-racks and bombs is a pity.

Conclusions:

A very good kit of an interesting and long overlooked subject. The two disadvantages identified above can be overcome with a little scratch building. It seems a lot of research and attention has gone into developing this kit, and it has the potential to be made into an excellent model.
Reviewed by Mark Davies

Valom's 1/48 scale An-2 Colt is available online from Squadron.com
I first became aware of the Vildebeest as a 10-year old reading Airfix Magazine in the early 1960's. I remember being both repelled and deeply intrigued by it's lumbering flying-brick looks and "crudely" exposed engine (As it happens 1930's French aircraft hold a similar sick fascination for me). Several therapies have failed to cure me from being drawn to subjects that make others avert their eyes and retch. So I for one am thrilled that Azur, under their serie FrRom, have released an injected multi-media kit of the Vildebeest. I apologise if this enthusiasm a led to a over-lengthy preamble.
---
Background
The Vildebeest had a somewhat protracted development. It was Vickers response to specification 24/25 for a land-based coastal defence aircraft capable of carrying bombs or a torpedo. The winning design would replace the hawker Horsely that had been fulfilling this role.
Vickers' 24/25 proposal was favourably received. The Vildebeest's Afrikaans name was suggested by Vickers' South African consultant, the official convention at the time being to name this type of aircraft after a mammal beginning with "V" for Vickers. I've always thought naming rather ungainly looking aeroplane after rather ungainly looking animal really was most appropriate. However there were all manner of misspellings in even official documents, including Vldebeeste in RNZAF service.
The Vildebeest's specified radial engine was the Bristol Jupiter VI, which was to be followed by the Bristol Orion. But the Orion did not materialise, and instead a Jupiter VIII was installed in the prototype. This first flew in April 1928. The Jupiter VIII had continual over-heating problems, and a further change to a Jupiter XF gave no improvement.
Re-engined with a Jupiter XIF which was enclosed with a Townend ring, the Vildebeest prototype was displayed at the 1930 Paris Aero Show. It was here that the Spanish showed strong interest in the type. Meanwhile a second prototype, although intended to have a Jupiter XIF, was fitted with an Armstrong-Siddely Panther IIA. It was planned to use this second prototype for demonstrations to potential export customers in addition to Spain who had also sown interest. These included Argentina, Romania, Yugoslavia, Turkey and Switzerland who had also shown interest.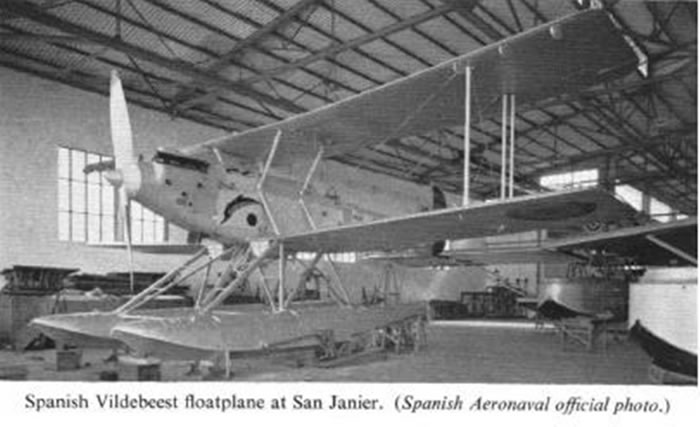 At one point a Hispano-Suiza 12Lbr in-line engine was fitted at the suggestion of the Spanish (which as in my opinion improved the aeroplane's appearance). After watching trials of this aircraft in floatplane-form Spain obtained a licence to build 25 Hispano-Suiza powered versions. The CASA-built Spanish aircraft were known as Type 245 Vildebeests. The in-line-engined prototype then went on a tour of Baltic States. But like previous overseas expressions of interest it seems little resulted from this trip. After returning to England the aircraft was sold to Spain.
The Vildebeest was fitted with yet another version of the Jupiter engine, the XFBM, which used mineral rather than vegetable oils. This engine resolved the over-heating problems. It was trialled in this form by the RAF and favourably received by all who flew it. A production order for nine aircraft under a re-written specification 22/31 was issued in October 1931. A development of the Jupiter XFBM engine was to be used in the production aircraft, and became the well-known and very successful Bristol Pegasus.
Vildebeest Mk I's entered service with No 100 Sqn, and would later fly the 6,500 miles to Singapore. In December 1933 the Vildebeest MK II powered by the Pegasus IIM3 of 645 hp was ordered into production. Various detail improvements were made; including the adoption of a square cut fin. One Mk II had floats added for a possible Latvian order, but this seems to have amounted to nothing, and the aircraft was converted back to a wheeled undercarriage.
After 30 Mk II's had been built Vickers was requested to develop a three-seat version to specification 15/34. As torpedo-dropping techniques developed the RAF came to consider that a third crewmember was needed. The resulting aircraft was the Vildebeest Mk III. In 1935 New Zealand ordered 12 Mk III's and further 15 later on. The kiwi Vildebeestes (sic) had folding wings. Maybe RNZAF hangars were too narrow for the Vildebeest's 49-foot span at that time?
There was still yet another engine change in the Vildebeest story. A cowled 845 hp Bristol Perseus sleeve-valve radial was fitted to what became the MK IV. The MK III's third crewman's cockpit was faired over as the Mk IV reverted to a twin-seat configuration. Its performance was enhanced significantly by the Perseus, and 18 or so were manufactured or converted from MK IIII's. I have read that the Perseus engine was ill-suited to hot climates, so that may be why all Mk IV's served in the UK.
Three Mk I's were modified to evaluate the type's potential in other roles. These were a 3-seat Torpedo/Spotter/Reconnaissance (TSR), General Purpose Aircraft (see below) and a night bomber. Then in 1930 a MK II was converted to meet the Torpedo/Spotter/Reconnaissance (TSR) specification M1/30, to replace the Blackburn Rippon. As it happens the famous Fairey Swordfish went on to fulfil the TSR role.
In 1932 a MK I was sent on tour of the Middle East, the Sudan and East Africa. The purpose was to trial the Vildebeest as a General Purpose Aircraft to replace the Fairey IIIF and Westland Wapiti. The Vildebeest was successful, but it was considered that a different name was needed for reflect the new role, as the torpedo gear was to be replaced by a large external fuel tank and Army cooperation gear was to be fitted. This included message hook, ground equipment, extra ground radio and emergency rations etc. The name Vincent was adopted in honour of Admiral Rodney's victory at Cape St. Vincent over the Spanish in 1780. Production and Vildebeest conversions led to 197 Vincents being produced.
At the beginning WW2 Vildebeests were the only torpedo bombers in Coastal Command. They were also to face the Japanese attacks on Malaya and Singapore. They helped destroy several Japanese ships and opposed Japanese amphibious landings. But despite brave resistance the Japanese annihilated the Vildebeests and their crews. Two briefly fought on in Java before they too were destroyed. Vincents enjoyed a somewhat less hazardous time bombing Italian forces in North Africa, and in also undertook operations in Iraq.
---
Previous 1/72 Scale Vildebeest Kits
I'm aware of at least two previous brands of 1/72 Vildebeest kits. One was from long ago by Contrail with the option to build a Vincent (they offred a 1/48 kit too). The other much more recent releases have been resin kits of the Mk's I to IV and CASA Type 245 by Kiwi Resins, and predictably they offer a Vincent too. The Contrail kits still appear on auction sites, but you'd have to be keen to take that path to satisfy a Vildebeest craving. The Kiwi Resin kit received a good review in SAMI January 2007 which said "...a challenging but very rewarding kit to build. Not quite state of the art, it's nevertheless very well cast with great detail, and while preparation and finishing is time consuming, the resulting model is a delight."
---
Azur serie FrRom Branding
Before proceeding I should explain that Azur serie FrRom is a niche line of kits under the umbrella of the Azur label. FrRom stands for France & Romania, and refers to the types of subjects originally envisaged for this series; although it has quickly expanded beyond subjects from these two nations. The now wider choice of subjects selected for production will remain ones that appeal to the people behind serie FrRom, and are unlikely to be produced by bigger players. They aim to provide good quality limited run kits at more affordable prices than the resin brand alternatives we would otherwise expect to kit such subjects.
One thing I have noticed is that various on-line shops list Azur serie FrRom either under Azur, or separately as FrRom or FrRom-Azur. Also Azur stockists do not necessarily carry Azur serie FrRom (e.g. MPM's own CMK E-shop). So if you are looking to buy check out all combinations of the brand name.
Frankly I think it's somewhat awkward and confusing branding. The original French-Romanian linkage has quickly become diluted, and it's an real "mouthful" to say let alone type repeatedly in a review! Therefore for ease of reading I shall from here on use Azur* to refer to "Azur serie FrRom".
It is pleasing that the kit comes in a top-opening box rather than the more typical of Azur* end-opening type. The kit parts are sealed in three plastic bags that serve to keep different media parts separate from each other. The instructions are in English and French. They have a brief type history, and provide a parts map plus diagrammatic assembly guide in A5 format. Colour call-outs are cross-referenced to FS 595B; Gunze Sangyo and I think Mr Color paint codes.
The styrene parts are cleanly moulded limited run items on three sprues. All parts are well moulded and to a standard typical of recent Azur* and Special Hobby releases. There is a hint of flash on most parts where the mould halves join, but this will be easily removed. The small clear sprue of five parts is likewise to a good standard.
The resin items provide an engine, oil cooler, fixed gun barrels (one spare I think), two leading edge navigation lights, a control column and rudder bar.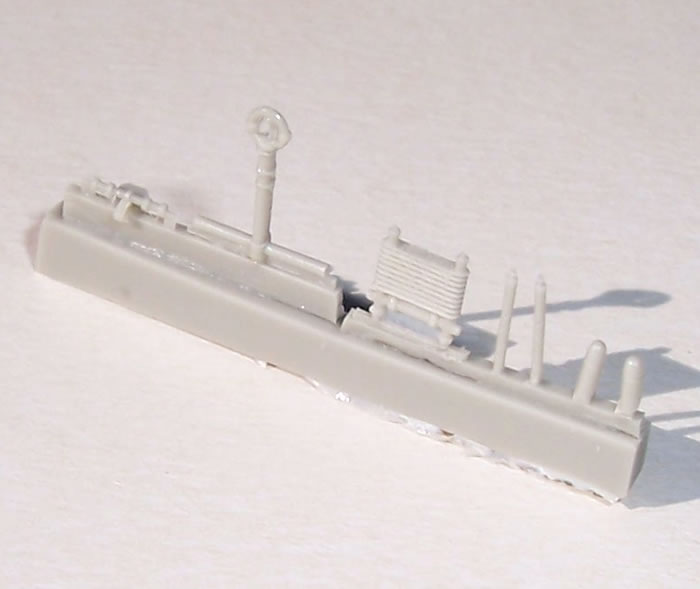 The PE fret provides no less than 36 detail parts, several of which dress up the cockpit. There are also tailplane struts, leading edge slat hinges and control linkages. The remainder is mainly torpedo-related; being fins, screws and the rather elaborate looking sling and mounting set up.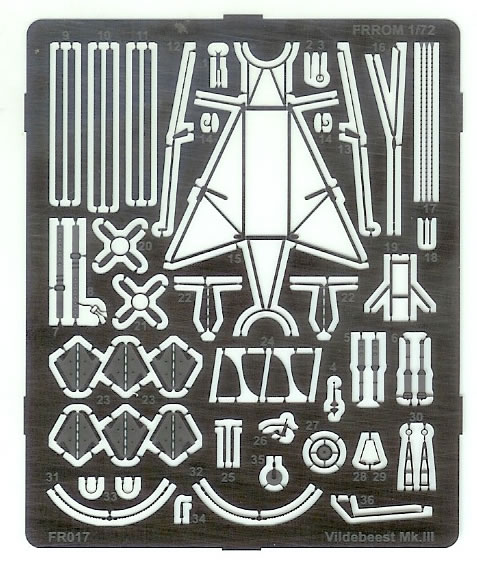 Taking a look at the main parts I was struck by how the wings are particularly nicely tooled with a realistic taught fabric effect. They also capture the variations in surface levels around the fuel tanks and the way the aileron's section tapers where the hinge on the rear spars. The leading edge slats are moulded shut with the upper wing. I think this is acceptable because photos show them frequently closed on the ground as well as deployed. To cater for deployed slats more PE and resin parts would have been needed, and no doubt have added to cost.
The fuselage has restrained recessed surface detail, and correctly has the side and bottom fabric covering very taught and smooth. The inside of the fuselage halves features the metal frame structure for the length of the cockpit and beyond. The cockpit interior itself is very well catered for through a combination a styrene, resin and PE parts. These include more tubular structure, instrument panel, pilot's controls including throttle and trim wheel, seat belts and obviously seats, the rear gun, its mount and spare ammo drums. The kit also provides the several clear small porthole windows and a windscreen.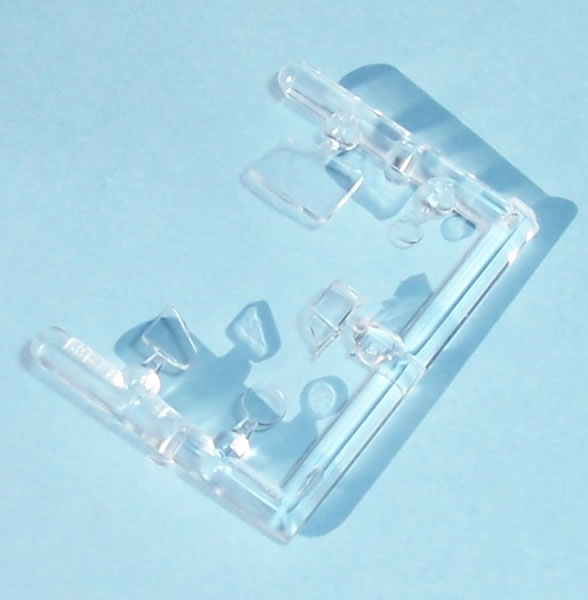 The Mk III was the most produced version and introduced a third crewmember. However in the kit the middle crewmember's seat and cockpit paraphernalia is not provided, as the sliding hatch in the decking over his position is moulded shut. This is a pity as many photos of MK III's show this hatch open in service use. I can only think that this is tooling and cost compromise because other versions of Vildebeest have only two crew positions. It should not be too hard to open with some scratch-building if desired.
There is a choice of spatted or exposed wheels to cater for different decals options provided with the kit. The spats are moulded with their wheels, which is not an unusual compromise in this scale, and should look okay.
The torpedo which is applicable to three of the four kit decals option has two styrene halves, for PE fins and two PE screws. It mounts to the fuselage underside on an elaborate and very fine PE framework, which, like the real thing, establishes the correct angle for the torpedo to enter the water upon release. There are also a couple of PE slings to retain the torpedo in place. I'm sure this will for most builders be amongst the last items to be fitted, unlike the instructions suggest. I have struggled to find a good image of the real release gear, and so cannot comment on the suitability of PE to represent it in scale terms, as I don't know if it was flat like the PE or more rounded in section.
The angled carriage of the torpedo adds a lot of interest to the aircraft's appearance, and will no doubt be a popular payload choice with modellers. However it's unfortunate that bomb-racks & bombs were not included as these were carried too.
I would expect this kit to build well in a fashion typical of late Azur* or Special Hobby kits. As 1/72 biplanes go this one has a couple of constructional advantages; it is reasonably large, has only one pair of inter-plane struts per wing and there's no wing stagger. The strut mounting holes are there, but a bit difficult to see. They may need to be enlarged a little. The instructions direct the modeller to drill holes for the aileron linkages and provide dimensional locations for these. I can only think that the tooling for their holes was overlooked.
There is a choice indicated in the instructions regarding the tailplane, dependent on the decal option selected. I had to study this point several times before I realised what the choice was. It concerns the rearmost pair of tailplane PE bracing struts. There is a tiny difference in length, barely 1mm, so all I'd say is keep this point in mind and don't get the three pairs of struts mixed up.
The resin is nicely done; as it needs to be with this subject since it is fully exposed. The inlet and exhaust manifolds are styrene as are the long exhaust pipes. The only major flash on the kit was on part of the exhaust manifold, but this does not present any real difficulties. There is also a resin oil cooler.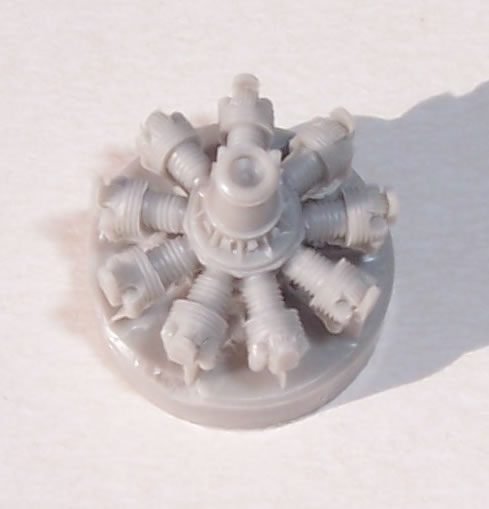 The power plant is finished off with a large two-blade styrene propeller. Propellers, especially those in limited-run kits, can be a pet-hate of mine. This kit's is better than many, but somehow to my eye it's still too slab-like and lacking the subtle changes of curvature apparent across the face of the blades. It may look better when painted, but could perhaps benefit from some re-shaping.
The kit has numerous very small and carefully addressed PE details, these include little aileron mass balances (at least that's what I think they are), aileron actuators, boarding step, gun ring elevation arms and so. All are details that add to this character of the resultant model, and suggest a good deal of research has gone into this kit.
Four attractive decal options are provided:
An overall aluminium machine based in Singapore in 1936 of No 36 Sqn RAF. It has attractive red spat flashes and a large letter B in a black-outlined red square on the upper wing. An errata decal is provided separately because the square printed on the main decal sheet is too large.
Another overall aluminium machine is of the RNZAF's Flying Training School with blue fuselage bars and spat flashes.
Two camouflaged machines, both based in Singapore in 1941 belonging to No 36 and No 100 Sqns. Each has a very interesting camouflage scheme of Mediterranean Blue & Extra Dark Sea Green Upper wing, tail and fuselage, with Light Mediterranean Blue & Dark Sea Green lower wing. Undersurfaces are Sky Blue.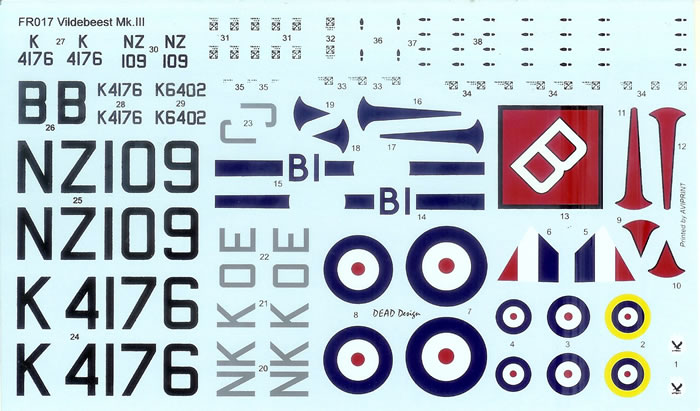 The decals also provide the prominent footprint silhouettes applied to the lower wing to guide ground crew where to walk along the spars, plus quite a number of stencils. The instructions provided a separate page of diagrams dedicated to placement of these decals. The decal sheet appears to be of very good quality.
---
Other Versions?
Azur* have also announced a Mk IV kit in addition to the Vildebeest Mk III reviewed here. A Vincent kit from them would not be a surprise either. Alternatively, since the kit is produced by the MPM-Group, Special Hobby might offer a Vincent as they have shared moulds with Azur previously. As to Mk's I & II or Type 245, well I guess they remain slim possibilities.
I feel that this kit is scores good marks in terms of research and execution. It has nice levels of detail, sensible kit design and use of different media, plus attractive colour schemes.
However I think that enclosing the centre crewmember's station is a pity, and might reflect some penny pinching on the MK III's tooling. This said it shouldn't be too hard to cut it open and dress up the rather small cockpit that will be revealed. Likewise the absence of bombs and their racks is a little disappointing
The moulding and surface detail is very nicely done, and the centre crew station aside, cockpit detail is more than adequate for the scale and the size opening s it is to be viewed through.
Some care will be needed in assembly, not only because it's biplane, but also because there are quite a number of fiddly and delicate PE parts. Also the instructions require careful study just to determine where some things go and what choices are being identified.
The Vildebeest was a significant aircraft to serve the inter-war RAF, and unfortunately for the crews concerned, it was still around to face the Japanese onslaught too. So a good quality injection moulded multi-media kit of this type is very welcome (I've waited 40 years for one!). Almost perversely, AZ Models has also announced a 1/72 injected kit of the Vildebeest Mk III – go figure!
Having kitted the Vildebeest Mks III & IV, and with a follow-on Vincent likely, I am hoping that Azur* may consider offering the Type 245 Vildebeest with the Hispano-Suiza V-12 engine. This really would make for a distinctly different looking version. It seems to me that a resin replacement nose and external radiators would do the trick, but then life is rarely that simple! (And by the way, the Type 245 on floats is even more impressive - In for penny in for a pound….)
It should come as no surprise that I am recommending this kit very highly.
Thanks to Azur serie FrRom for the review sample.
---
Review Text and Images Copyright © 2011 by Mark Davies
Page Created 19 July, 2010
Last updated 19 July, 2011
Back to HyperScale Main Page
Back to Reviews Page