Boeing Model 40C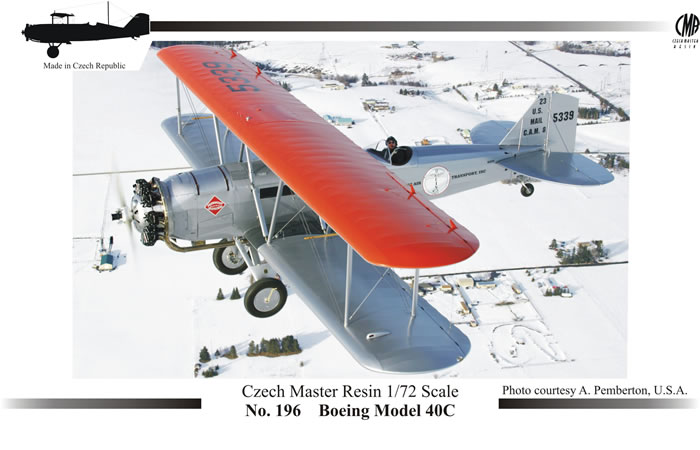 Czech Master Resin, 1/72 scale
S u m m a r y :

Catalogue Number:

Czech Master Resin Kit No. CMR196 - Boeing Model 40C

Scale:

1/72

Contents & Media

39 x Green resin airframe parts,
23 x Black (extra-strength)resin struts & undercarriage,
4 x Clear resin windows & doors,
1 x Coloured Eduard photo-etch (PE) fret of 8 parts,
1 x Plain PE fret of 45 x detail parts,
2 x Clear films with windscreen outlines,
1 x Eduard pre-cut paint mask, and
4 x Decal options.

Price:

Available online from Hannants for £33.00, Westcoast Hobbys for Can$49.00 and various other CMR stockists.

Review Type:

First Look

Advantages:

Highly detailed and very comprehensive kit.

Disadvantages:

None identified.

Conclusions:

A superb example of just how good resin kit can be. Very well researched, comprehensive detail, sensible use of different media and top quality production – Highly recommended.
Reviewed by Mark Davies


HyperScale is proudly supported by Squadron.com
The Boeing Model 40 was designed to compete for a 1925 US mail plane contract and was Boeing's first passenger plane, but it lost out to the Douglas M-2. The design was revived two years later as part of Boeing's tender for newly privatised airmail routes. The use of a lighter air-cooled engine compared to its competitor's water-cooled engines, and generally more efficient design, enabled Boeing to win the contract.
For its time the Model 40 was a very successful design with 81 airframes being built. The details of the various models are a little convoluted due to conversions and model redesignations, but the following lists the models, their key differences and where applicable the numbers built in parenthesise:
Model 40: Liberty V-12 water-cooled engine and laminated wood fuselage (1).

Model 40A: Two passengers, with a 420 hp Wasp air-cooled radial engine, doors both sides (25).

Model 40B: Conversion of Model 40A by repowering with a 525 hp Hornet air-cooled radial engine.

Model 40B-4: Four passengers, 525 hp Hornet engine, doors only on the left (38).

Model 40B-2: Redesignation of Model 40Bs to indicate two passengers after the Model 40B-4 was introduced.

Model 40B-4A: Model 40B-4 converted for use as an engine test-bed by Pratt & Whitney.

Model 40C: Four passengers, Wasp powered, although seven would be later converted to Model 40B-4's with Hornet engines (10).

Model 40H-4: Same as the Model 40B-4 but built in Canada (5).

Model 40X: Built for Associated Oil Co., with two cockpits and two passengers, Wasp-powered and door on left side only (1).

Model 40Y: Like the Model 40X but Hornet-powered, built for Stanavo Aviation Fuels & Lubricants (1).
Nine of the ten 40C's built went to Pacific Air Transport (PAT) which was formed in 1926. They had Airmail Route CAM8 carrying mail from Seattle to Los Angeles. The other 40C went to National Park Airways. PAT merged with Boeing Air transport in December 1928, but continued to operate under its own identity.
In 1928 one of PAT's Model 40C's, NC5339, crashed near Canyonville, Oregon. The pilot survived but its sole passenger did not. In 1993 the Oregon Aviation Historical Society salvaged the remains of NC5339. Two years later Addison Pemberton purchased NC5339, and by February 2008 his company, Pemberton & Sons Aviation, had restored it to flying condition after 18,000 man-hours of effort. This made it the oldest operational Boeing aircraft. Click on these highlighted links to see images and video of this aircraft. There are also three Boeing Model 40 museum exhibits in the USA:
The Henry Ford Museum in Dearborn, Michigan has a Model 40B-2.

The Museum of Science and Industry in Chicago, Illinois has a Model 40-B.

The Museum of Flight in Seattle, Washington has a full-scale replica and two partially finished replica fuselages on display, showing what the original Boeing factory would have looked like circa 1928-29.
---
Previous 1/72 Model 40 kits
A few years ago Czech Master Resin (CMR) released a superb 1/72-scale kit of the Model 40B-4, which unsurprisingly shares much in common with the Model 40C kit reviewed here.
Over 20 years ago a resin Model 40 kit was released by Czech Master Kits (CMK) before it split in two in 1990, to become CMR which continued producing resin aircraft kits, and the MPM-Group which retained the CMK brand-name but branched out into styrene kits as well as resin kits and accessories. It also seems likely that there may have been vac-form kits of the Model 40, but I have no details of them.
The kit comes in CMR's standard very sturdy top-opening box, and it features a photographic image of Pemberton & Sons Aviation's restored aircraft. All of the contents come in various heat-sealed plastic bags. A characteristic of most CMR kits that is unequalled by all but a few injected kit makers, is the comprehensive and high quality nature of the kit contents. There are no less than twelve A4 pages of walk-around images. Five A4 pages of diagrammatic assembly instructions with some of the best graphics you will find. This clarity of graphics carries over to the painting and markings guides consisting of four colour pages. Add to this superbly cast resin parts, excellent decals, plus Eduard pre-coloured PE and pre-cut paint masks (with its own instructions), and you really are dealing with a Rolls-Royce quality resin kit.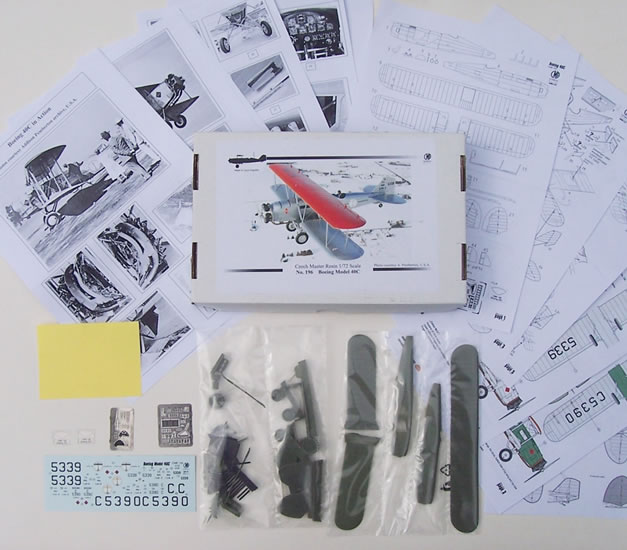 I've largely covered describing the instructions, but in addition to a parts map and superb graphics it's worth mentioning that all text is in English and that the colour call-outs use both colour names and FS-595 codes. A Model 40 aircraft history is provided along with separate notes on NC5339's history. There is an accompanying page of notes dealing with walk-round images of the restored Model 40C which also identifies concessions to modern regulations.
CMR has recently changed from cream to a fairly dark green resin, as the darker colour makes fine details more apparent in their unpainted state. The quality of casting is superb, with no pin-holes apparent and very fine casting blocks.
The surface detail is exquisitely done with just the right representation of fabric and metal surfaces for this scale in my opinion. All control surfaces are cast in their neutral positions. A stronger black resin is used for undercarriage and inter-plane struts. This resin type seems to have a slightly different surface finish to the green used for most of the airframe. Some may choose just to give it the slightest sand with fairly fine-grade wet & dry paper such as 800 or 1,000-grit.
The cockpit is nicely detailed with the internal structure cast with the fuselage halves onto which a PE throttle quadrant, fuel selector and other controls are fitted. There is a choice of resin or PE rudder bar and pedals. The resin seat can have either a 1920's seat harness, or a modern one as required by FAA regulations if you are modelling the restored NC5339. Both harnesses are from the pre-coloured PE fret and look great. A pre-coloured instrument panel and resin control column round this area out. The results should look very good as far as open cockpits in this scale go.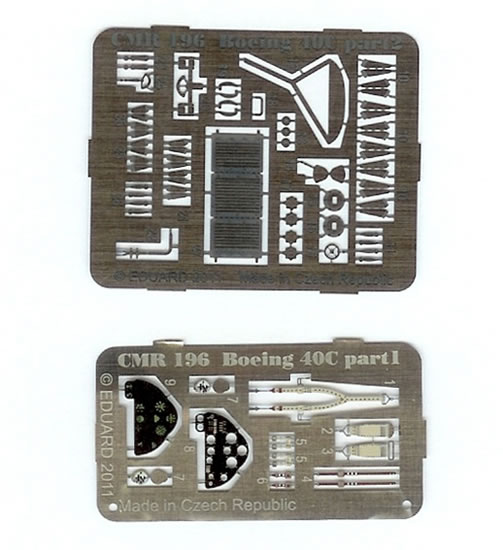 If you clicked the link to the restored Model 40C you will have seen that the passenger cabin is a fairly simple affair with modest furnishings. The kit reflects this, but still includes details like the in-flight intercom handsets cast into the fuselage sides, along with seats, floor, bulkheads and cabinet. The PE fret offers a choice of door handle styles and a floor to ceiling brace that locates between the seat rows. Clear resin is used for the windows and doors, and the latter can be modelled open if desired. The Clear resin is good, but a light polish and treatment with Future will enhance its appearance.
The simple windscreen is provided as a clear film with the shape printed on. It does not need to be folded, but instead needs to be made into a smooth curve. My approach would be to curl and secure the uncut acetate around a suitably dowel or other rounded former for immersion in hot water. Having moulded the curvature into the film I would then cut out the windscreen. If my first attempt failed I would scan or copy the outline shape of the second film supplies as a backup for further attempts.
I have already mentioned the quality of resin casting, but nowhere is this more apparent than with the Wasp engine. Incredibly the pushrods are cast as part of the engine, but with a clear space between the push-rod and cylinders. I have seen some very good after-market resin engines, but these either require the push-rods to be scratch-built or are cast solid with the cylinders. The engine is finished off with a delicately cast dish-shaped fairing that comes in its own tiny plastic bag for protection, an exhaust manifold with two long exhaust pipes, and a fine two-blade prop.
Construction is entirely conventional for a biplane of this size, and the kit does have locating holes cast for the struts. Care will of course be needed, and ideally a jig should be used for the wings at least. Rigging is not too extensive, but the Model 40 had a lot of paired parallel wires which makes things a bit more challenging.
There are numerous small resin and PE details. The resin parts include venturi, optional foldaway landing lights, flare chutes, navigation lights, what looks like an oil cooler fitted to the restored example, as well as a tail-wheel option for this version in place of the original's skid. There is also a choice of main wheels as the restored example's have brakes fitted. PE details include what I think is ribbed protection for the fuselage just behind the mail compartment, some leather straps to secure the mail compartment covers, numerous control horns, a pitot and as some very nice two-part fuel filler caps.
Don Hinton, a mutual friend of CMR's Petr Buchar & Addison Pemberton, provided much valuable research information to CMR. It is very evident from looking at the restoration photos and the kit parts to see how much the superb Pemberton & Sons Aviation restoration has contributed to the accuracy and detail of this kit.
---
Painting & Decal Options
Four decal options are provided for covering two aircraft at different points in their service lives. Paint colour names and FS-595 paint codes are provided.
The first is for C3559 in either Pacific Air Transport scheme of May 1928, and as restored by Pemberton & Sons Aviation to flying condition in February 2008. Both feature overall aluminium dope with International Orange upper surfaces to the top wing.
The other is for C5390 in two styles of Pacific Air Transport livery, these being:
The original scheme of May 1928 with aluminium dope fuselage, top wing with International Orange upper surfaces and aluminium dope under surfaces, bottom wing with aluminium upper surfaces and International Orange under surfaces.

The later scheme of September 1928 with a very striking green fuselage, with International Orange top wing upper surfaces, and all remaining wing surfaces in aluminium dope. This aircraft also has a French Grey empennage with very thin green line encompassing its leading and trailing edges. CMR thoughtfully supplies pre-cut Eduard paint masks to make this otherwise tricky job a breeze to complete.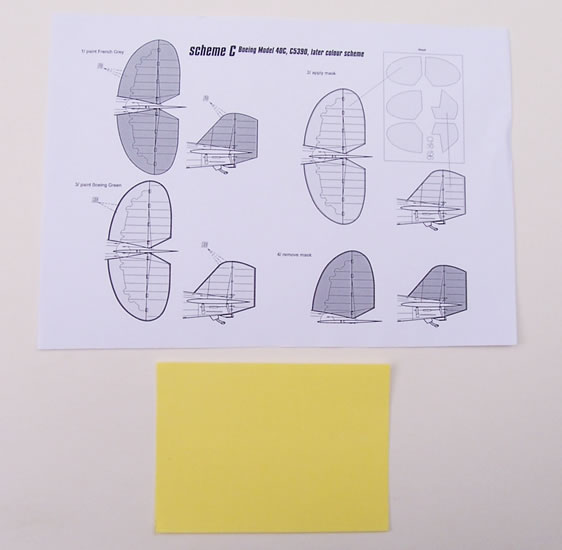 The decals are produced by Stanislav Mach, and look to be of very good quality.
The kit really captures the look of the original and clearly benefits from the information Don Hinton provided on the Pemberton & Sons Aviation restoration. This accuracy combined with the quality we have come to expect of CMR simply makes for a superbly executed kit of an interesting subject.
The kit has excellent level of detail through a sensible use of different media. The Eduard pre-coloured PE works very well in 1/72 and serves to give a real "lift" to the cockpit, and the other PE details are only used where resin would be less suitable. The quality of resin casting is some of the best I've seen, and I remain amazed at the integrally cast engine push-rods that remain separate from the cylinders.
Despite some tiny details the greatest challenges are likely to remain those that apply to most biplanes when fitting the upper wing and completing rigging. All the other constructional challenges differ little from those needed for a good quality limited run injected kit with mixed media detail parts.
If it seems to the reader that I'm enraptured with this kit, then you're right. I would really struggle to find fault with this kit, it just such a good example of the resin kit-maker's art. And whilst Golden Age subjects may not be the most marketable, they do hold a strong appeal to me, and I suspect for many others even if they would not choose to build models form this period of aviation. So this kit in many ways deserves more success than it might otherwise achieve, given that it does not have Bf, Fw or P in its name! It should be no surprise then that I highly recommend this kit.
Thanks to Czech Master Resin for this review sample.
---
CMR Models are available online from Hannants in the UK,
Red Roo Models in Australia and quality specialist model retailers worldwide.
---
Text Copyright © 2011 by Mark Davies
This Page Created on 20 September, 2011
Last updated 20 September, 2011
Back to HyperScale Main Page
Back to Reviews Page