Sukhoi Su-25 Frogfoot A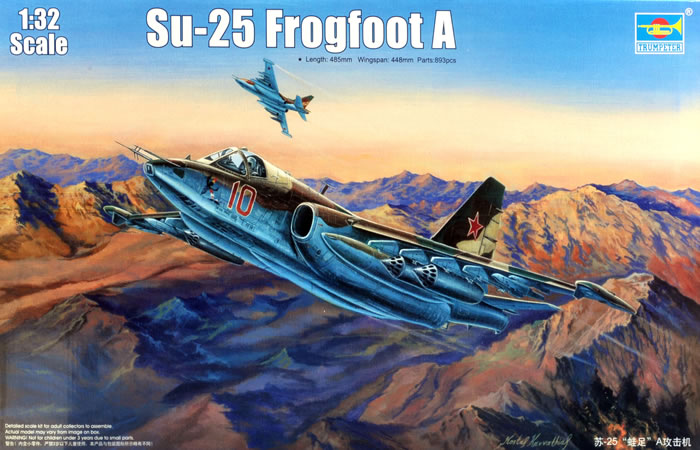 Trumpeter, 1/32 scale
S u m m a r y

Catalogue Number and Description:

Trumpeter kit No 02276 - Sukhoi Su-25 Frogfoot A

Scale:
1/32
Contents and Media:

893 parts (see below for details); markings for four aircraft.

Price:
Around AUD$172.00, distributed in Australia by J.B. Wholesalers
Available through specilalist hobby shops worldwide
Review Type:
FirstLook
Advantages:

Crisp surface detail; Exceptional detail; Excellent instruction sheet; Massive range of weapons; Good decals; Clear transparencies .

Disadvantages:
Conclusion:

Trumpeter's 1/32 scale Su-25 Frogfoot is a nicely detailed and beautifully moulded kit. The colourful Frog scheme will be a great talking point when complete, as will most of the other schemes,
Reviewed by Mick Evans


Trumpeter's 1/32 scale Su-25 Frogfoot is available online from Squadron for $89.99!

When I first heard that Trumpeter was releasing an Su-25 Frogfoot in 1/32 scale I thought to myself, this is going to be big and I will need to purchase a Trumpeter 1/32 scale Soviet weapons set. My first thought was correct. My second thought was wrong. Trumpeter has supplied almost every Soviet weapon possible for the Frogfoot to carry.
So what do we get in the box?
The box is huge and heavy. It contains around 35 large parts sprues, all in individual plastic bags. I think this is the largest number of sprues I have seen in a model kit. The fuselage halves are packaged separately along with the engine nacelle halves, six sprues of clear parts, three rubber tires, a fret of photo-etched details and the white metal landing gear struts.
The total parts count stated on the box top is 893. I have taken Trumpeter's word for it as I was not going to count them.
24 of the 35 sprues are dedicated to possible weapons and pylon fit for the aircraft so this means even if you fitted the maximum loadout for the aircraft a lot of parts are going into the spares box. Approximately 360 parts are dedicated to the basic kit, meaning around parts are applicable to weapons and pylons. If you unpack the contents of the box, memorise the layout otherwise it won't fit back in - the box really is jam packed!
The cockpit looks great and is made up of 15 parts. Decals are provided for the sidewall detail, consoles and instrument detail. The decals are very good, but most modellers would probably use a combination of decals and paint for the console detail. The instrument panel is moulded clear with the instrument detail being supplied as a decal to be applied to the rear of the panel. I usually fill the instrument faces with masking solution and paint airbrush the front of the panel and highlight the details prior to removing the masks and applying the decals.
The K-36D ejection seat is nicely detailed with 11 plastic parts and is finished off with a photo etched harness.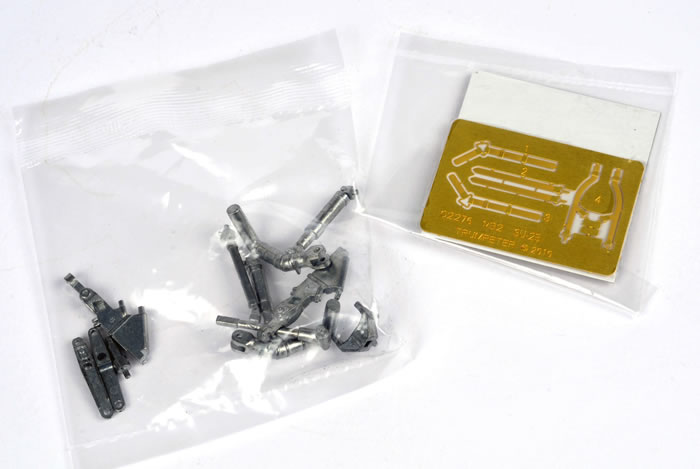 The seat cushion detail is a vast improvement after the Lightning kit, which was very flat with little detail. This moulding seems to capture the seat cushion detail very well.
The undercarriage is nicely detailed and sandwiches metal struts that will allow the undercarriage to support the rather heavy weight of the completed kit. I am a bit worried about the vinyl tyres as they may flatten over time to a point that is not realistic due to the weight of the kit.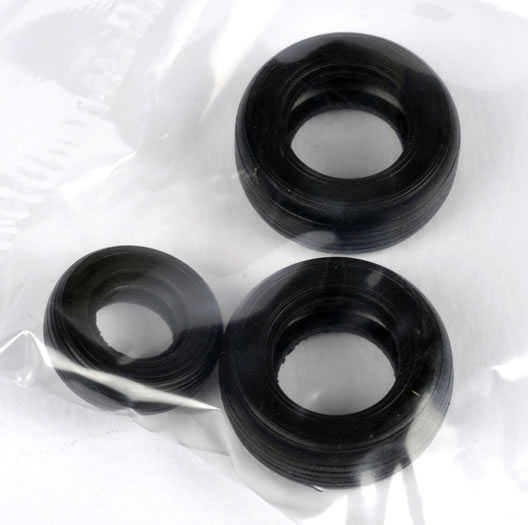 The undercarriage wells have good detail and should suffice for most modellers, but as usual there will be aftermarket wheel wells available shortly. The engines are nicely detailed, and ancillary gearbox detail is provided that can be made visible on the completed kit. The compressor face and turbine detail is provided along with full intake ducting from the intake lip to the compressor face, kudos to Trumpeter for this. I noticed Quickboost have released aftermarket resin compressor faces, which are an improvement but to me they are located almost 6cm down the intake trunk. You will almost need a torch and telescope to see them so I would recommend saving your money.
The nose avionics bays are provided and can be displayed in the open position. The detail is sufficient but a bit sparse for 1/32 scale. My favourite in modern kits is dirty wings. The flaps slats, ailerons and speeds brakes are all able to be positioned in the open or dropped positions. The same is applicable to the horizontal stabilisers and rudder.
The GSh-30 gun is nicely detailed and is provided with access doors that can be positioned in the opened position.
The canopy can also be positioned in the open position to show off the nicely detailed cockpit. The pilot's boarding ladder can also be positioned in the extended position.

As I stated before the array of weapons included in this kit is nothing short of stunning. Trumpeter provides a very nice weapons load out chart for eight hard points. I am sure that the Frogfoot has ten hard points under its wings so check your references.
The weapons include the following:
8 x R-60MK Infra Red guided air to air missiles

8 x R-77

2 x Kh-25MP

2 x Kh-25ML4 x Kh-29L

2 x Kh-29T

2 x FAB-100 bombs

4 x FAB-250 bombs

2 x FAB-500 bombs


2 x ZB-500

4 x B-17L rocket pods4 x UB-32-57 rocket pods


x B8M1 rocket pods

4 x S-24 240mm rockets

4 x S-25 rockets w/three warhead options each

4 x UPK-23/250 gun pods

2 x KMGU-2

2 x PTB-1150 fuel drop tanks

2 x KAB-500L LGBs

2 x KAB-500Kr

2 x 9M120 missile launchers
---
Decal options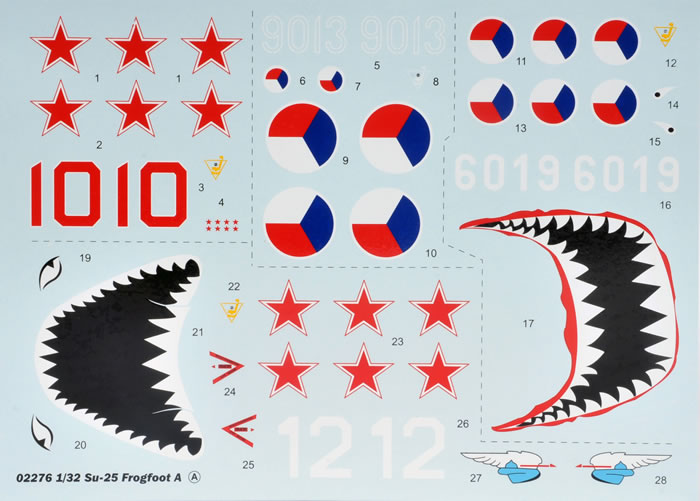 Six decal sheets are provided for the following:
The aircraft and weapons schemes are laid out on glossy colour sheets, the data decal placement is busy so take your time. The aircraft schemes provided are
Su-25, Sno 9013, "Zabak" Czech AF, distinctive 'Frogfoot' markings and paint scheme

Su-25, Sno White 12, Russian AF, sharkmouth

Su-25, Sno Red 10, Russian AF based in Afghanistan, with noseart

Su-25, Sno 6019, Czech AF, sharkmouth with noseart
Trumpeter's 1/32 scale Su-25 Frogfoot is a nicely detailed and beautifully moulded kit. I almost cried consigning 500 parts to my spares box, but on reflection I may do a load display around the completed kit.
I am really looking forward to building this model. Initial test fitting looks great and it appears that Trumpeter's engineering ensures a good fit.
The colourful Frog scheme will be a great talking point when complete, as will most of the other schemes, but the weapons load is hugely impressive.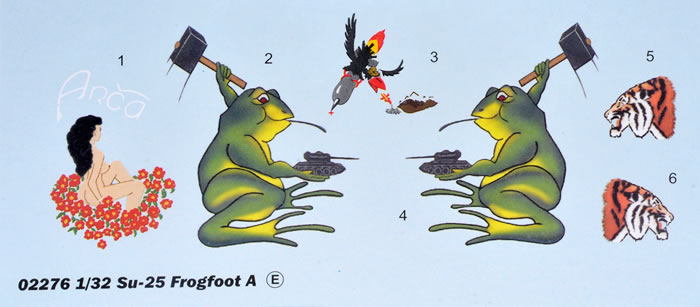 A build review will follow when I have completed the kit.
---
Text Copyright © 2011 by Mick Evans
Images Copyright © 2011 by Brett Green
Page Created 23 June, 2011
Last updated 23 June, 2011
Back to HyperScale Main Page