Porsche 911 GT1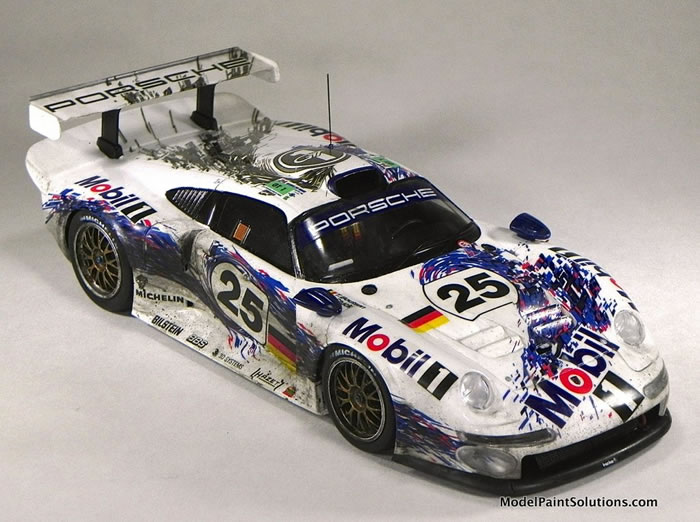 Tamiya, 1/24 scale
By Evan Smith


Hobby Boss' 1/72 P-61A Black Widow is available online from Squadron.com
This project was born out of my love of cars and GT racing. It started, like many things do, with a Tamiya kit. In this case it was Porsche's lovely 911 GT1 from the 1996 24 Hours of Le Mans. This particular car finished first in its class and second overall, followed closely by the other three 911's entered that year.
I had a few issues during this build, working with new techniques and materials led to a few lessons that I'll definitely take to heart on the next project. A big thank you goes it to Mike Rinaldi for his excellent Tank Art books, which provided the guidelines I used for all of the oil weathering on this build.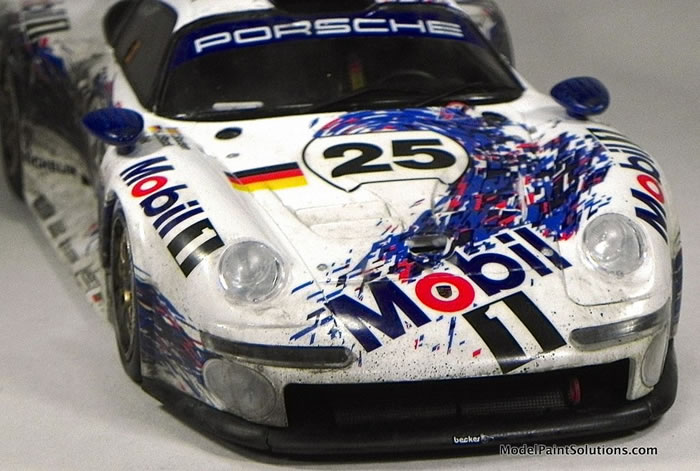 The build itself was a breeze, everything fit, as one would expect from Tamiya.
Paint was very simple, White primer with MRP White sprayed over to get the tone I wanted. This was all out of my Harder-Steenbeck AL+ with a 0.20mm needle.
The kit decals are quite good and laid down nicely compared to the usual stubborn aircraft decals I'm used to seeing in Tamiya aircraft kits. A bit of Solvaset and Micro Sol did the trick with no drama.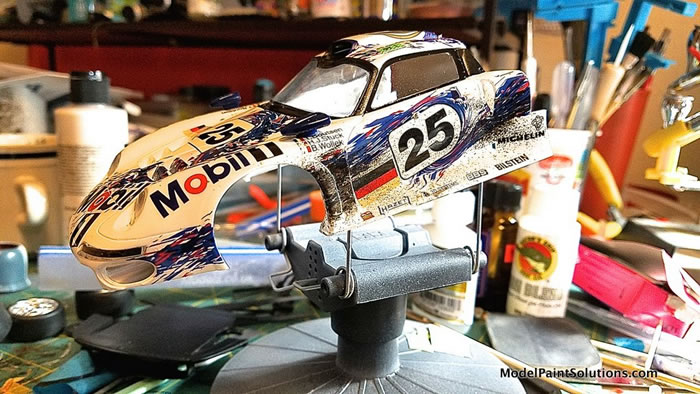 Next up was the clear coat, a two-part gloss from Gravity Colors USA. This gives a beautiful and (nearly) bulletproof finish after it hardens up over a few days. I used two mist coats and then a wet coat to build up the surface. This was where I ran into my first issue.
Lesson one: clean your model before clear coating!
It turns out that something in decal setting fluids repels clear coats, creating nasty "fish eye" effects where the clear will not stick. This trouble led to a lot of work sanding, re-spraying and leveling the finish to get it back where it needed to be. Polishing was done with wet Alpha Abrasives sandpaper in successive grits of 3000 up to 12000, followed by Gravity Colors polishing compounds.
Next I tried to be clever by masking and painting the black trim sections after finishing the clear coat. This led to a minor disaster. It turns out that even with a two part clear, surfaces with large decals can still lift off the paint.
Lesson two: always de-tack your masking tape!
I got lazy there and it cost me: lifting a section of decal on the driver's side. Three seconds of prep would have stopped this from happening.
At this point I decided to go a different route and instead of depicting the car at the beginning of the race, I would show it at the end; covered in brake dust, bits of tire, and road grime.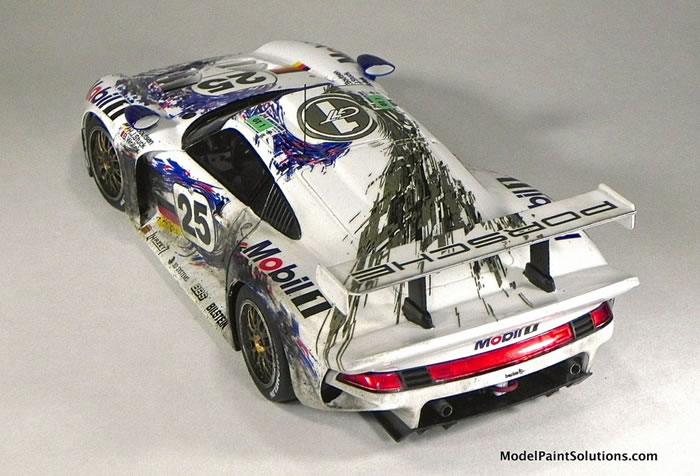 Armed with a reference photo and a selection of Abteilung 502 oil paints, I went to work on covering my mistakes. It was shocking how easy this process was. All it takes is a bit of cardboard to use as a palette to leach out the oils, some mild odorless thinner (I used AK's, as it is less aggressive than the hardware store stuff), and a few brushes.
Why Abteilung? Any mid range oil paint will do, I happen to like the colors on offer from them and find they thin into washes very smoothly. Many of the student range oils that you find in the cheap sets are too grainy for modeling purposes, and aren't quite the bargain they seem.
I started with some smoke and bitumen for the brake dust and tire stains, following the pattern the real car showed in reference photos. All this took was dabbing the paint on along the streak and carefully pulling it along with a soft wide brush. When the paint started to set and dry, a tiny amount of thinner on the brush made it malleable again and let me continue the process. A thinned wash of these colors toned down the gold wheels and helped unify the colors.
I added a small section of green stain along one wheel well to show some of the character of Circuit de la Sarthe's unforgiving grassy edge along the track, and to break up the pattern a bit.
Next was the fun part, spattering black oil paint on the side for the various chunks of tire a racecar collects. All this took was slightly thinned paint, a stiff brush and a stirring stick to flick it onto the surface in tiny dots in line with the arc of the tires.
My final takeaway is this: don't be afraid of trying techniques from other realms of the hobby, as you never know what trick may prove to be just what you're looking for.
Cheers!
Evan
For more on this build visit Modelpaintsolutions.com.
---
Text Copyright © 2018 by Evan Smith
Images Copyright © 2018 by John Miller
Page Created 17 September, 2018
Last updated 17 September, 2018
Back to HyperScale Main Page
Back to Reviews Page