S u m m a r y :

Catalogue Number, Description and ISBN:

Kagero Publishing
TopDrawings Number 45
Henschel Hs 126 A-0, A-1, B-1
by Srecko Bradic

ISBN 978-83-65437-60-0

Contents & Media:

A4 size, softcover, semigloss quality paper of 20 pages

Price:

GBP£18.10 plus shipping available online from Casemate Publishing

Review Type:

First Look

Advantages:

Detailed drawings of all versions with all views for 1/72, 1/48 & 1/32.

Disadvantages:

Conclusion:

A really good reference for the modeller wishing to ensure their Hs 126 model is correct. Excellent quality of drawings with associated colour profiles.

Reviewed by David Couche


HyperScale is proudly supported by Squadron

The Henschel Hs 126 was a German two-seat reconnaissance and observation aircraft of World War II that was derived from the Henschel Hs 122. The pilot was seated in a protected cockpit under the parasol wing and the gunner in an open rear cockpit. The prototype aircraft frame was that of a Hs 122A fitted with a Junkers engine. The Hs 126 was well received for its good short take-off and low-speed characteristics which were needed at the time. It was put into service for a few years, but was soon superseded by the general-purpose, STOL Fieseler Fi 156 Storch and the medium-range Focke-Wulf Fw 189 "flying eye".
By the time the Hs 126 A-1 joined the Luftwaffe, the re-equipping of reconnaissance formations was already well advanced, and by the start of World War II in September 1939, Germany already had several good short range observation and long range recon aircraft. Late in the war, it was used in glider tug and night ground attack roles, but production of the Hs 126 ended in 1941 and the type was retired from the front line in 1942.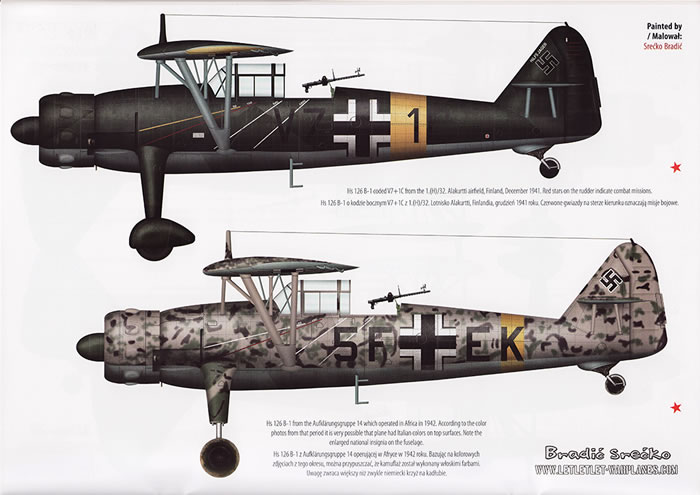 On 12 September 1943 Henschel 126s were used to tow 10 DFS 230 attack gliders from Pratica Di Mare airfield near Rome to the Gran Sasso on a raid to rescue Benito Mussolini. Mussolini had been imprisoned there after being deposed by the Grand Council of Fascism, followed by a decree from the King of Italy. The Henschel was a smaller tow plane compared the usual Junkers Ju 52 three-engine tow plane and struggled to gain altitude to clear the mountains on the way. This led to confusion when the lead Kette of three gliders turned to gain altitude allowing Otto Skorzeny's group of three gliders to assume the lead.
*Extract courtesy of Wikipedia
The book is a dual language presentation in English and Polish. It opens with a fairly brief introduction to the Hs 126 aircraft with some historical references to various operations and theatres of operation.
15 of the 20 pages is dedicated to well produced, accurate drawings of all versions of the Hs 126. They are presented with all possible views, side elevations of both port and starboard views, top and bottom views as well as front and rear views. They are also presented in 1/72 and 1/48 in the book. There are 3 inserted loose, A2 sheets with the same views in 1/32 scale. Whilst there are quite a number of kits in both 1/72 and 1/48 of the Hs 126, my research failed to find any mention of a 1/32 kit. If I'm wrong I apologise in advance but there may be a rare vacform kit etc that is out of production. Also included with the book, stuck inside the front cover is a set of black vinyl masks in 1/72 and 1/48 for the Matchbox and ICM kits. No picture included as the scan just gave a black square as did the photo.
There are 10 colour profile of various versions of the HS 126 included, varying from the Spanish Civil War, through Luftwaffe use in a variety of schemes, to aircraft in captured schemes and even an aircraft that flew to Sweden with refugees on it in 1944 and was bought flown as a privately own civil aircraft.
This is a lovely book of drawings of the Henschel Hs 126 in all possible scales. Whilst the Hs 126 is not in my genre of model building, the quality of the drawings and the wealth of detail would see me hunting up other volumes for aircraft I am interested in. For the early Luftwaffe modeller, this would be a very useful addition to the library.
Thanks to Casemate Publishing for the sample.
---
Review Copyright © 2018 by David Couche
This Page Created on 22 November, 2018
Last updated 22 November, 2018
Back to HyperScale Main Page
Back to Reviews Page