Vietnam Ace
Capt. Steve Richie & Friends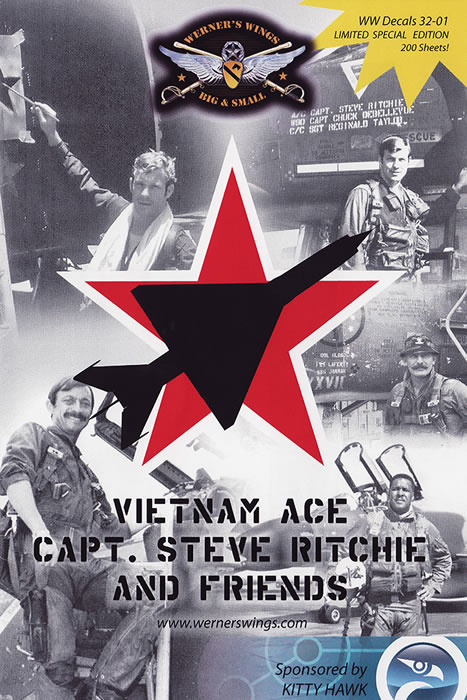 Werner's Wings,1/32 scale
Summary

Catalogue Number and Price:

Werner's Wings Item No. 32-01 - Vietnam Ace Capt. Steve Richie and Friends

USD$25 plus shipping available online from Werner's Wings website

Scale:

1/48

Contents and Media:

2 x A5 decal sheets and 5 x A4 pages of profiles and associated notes.

Review Type:

FirstLook

Advantages:

The first 1/32 offerings of these historical Vietnam pilots machines. Decals in perfect register and appear to be thin.

Disadvantages:

Conclusion:

Here's your chance for the large scale modellers to create models of these pilots iconic aircraft, suitable for the Tamiya and Revell kits.
Reviewed by David Couche


Xtradecal's 1/48 P-51 Mustang Collection will be available online from Squadron.com
The Vietnam War only produced a small number of aces on either side of the conflict. There were 18 on the North Vietnamese side and 5 on the US forces.
Of these 5 only 2 were actually pilots being Capt Steve Richie and Lt. Randall "Duke" Cunningham. The other were all Weapon Systems Officers (USAF) or Radar Intercept Officers (Navy). Col Robin Olds was a triple ace but only 4 of his kills were from Vietnam, the remaining were from WWII.
This set is a limited special edition set with only 200 sets printed. The set consists of two A5 sheets of beautifully printed, perfectly registered decals for 12 different aircraft. One of these aircraft, F-4D 66-7463, has marking options for 5 different splitter plates with different kill markings and another aircraft with 2 different kill marking options. All the aircraft that Capt. Richie used to shoot down his 5 aircraft are included in this set.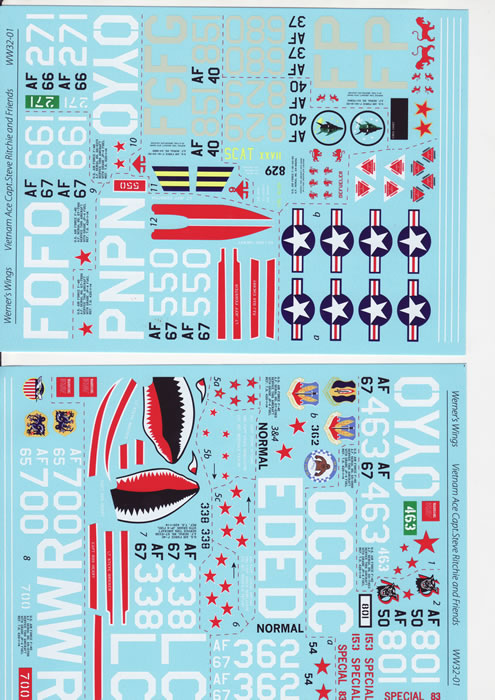 Included in the set as well are MIG aces, Capt. Feinstein and Capt. DeBellevue, the leading ace of the war with six kills.
Markings for the AN/ALQ-101(V) and AN/ALQ-71(V) SPECIAL ECM pods are included.
Please note that some of the stars have white backgrounds and they aren't centred. They were designed that way because the original real aircraft ones were that way. Such is the research quality of Floyd Werner and team.
Also in the set is a single A4 sheet of notes to go with each of the options. Included in these notes is information on that aircrafts load out of weapons, fuel and pods as well as other marking details you need to know. This is a very useful sheet to the modeller.
The aircraft included are;
F-4D, 66-7463, 10 May 1972, Ritchie/DeBellevue WSO 1st kill Mig-21, OYSTER Flight.

F-4D, 65-0801, 31 May 1972, Ritchie/Pettit WSO 2nd kill Mig-21, ICEBAG Flight

F-4D, 68-0362, 8 July 1972, Ritchie/DeBellevue WSO 3rd  kill Mig-21, PAULA Flight.

F-4D, 68-0362, 8 July 1972, Ritchie/DeBellevue WSO 4th  kill Mig-21 PAULA, Flight

F-4D, 66-7463, 28 August 1972, Ritchie/DeBellevue WSO 5th  kill Mig-21, BUICK Flight. (With options for 3 different representations of this aircraft around this time)

F-4D, 66-7463, 15 October 1972, McCoy/Brown WSO 6h  kill for this aircraft, Mig-21.

F-4E, 67-0338, 1972, DaNang, Tahkli & Udorn, Linebacker 1 & II, Capt. Steve Bricker, a friend of Floyd's father's aircraft.

F-4D, 65-0700, 1974, RAF Bentwaters, England, Capt. Steve Bricker.

F-4D, 66-7661, 12 February 19682, Williams/Feigny WSO?, Mig-17.

F-4D, 66-0271, 18 July & 29 July 1972, Bailey/Feinstein WSO, 2 x Mig-21.

F-4C, 64-0851, 2 January 1967, Chappie/?, Operation Bolo, FORD flight.

F-4D, 66-7550, 16 April 1972, Cherry/Feinstein WSO, Mig-21, BASCO flight

F-4C, 63-7680, 2 January 1967, Old/Clifton WSO, Operation Bolo, OLDS flight, Mig-21.

F-4C, 64-0829, May 1967, Old/Croker WSO. (3 extra options for this aircraft)
This number of options must give you the Vietnam ace of aircraft you surely want…….
This is a particularly comprehensive decal set for the USAF Vietnam Aces. I would highly recommend it for any large scale modellers with an interest in the F-4 C/D/E Phantoms of the Vietnam War.
Thanks to Werner's Wings for the sample.
---
Review Text and Images Copyright © 2018 by David Couche
This Page Created on 4 October, 2018
Last updated 4 October, 2018
Back to HyperScale Main Page