Westland Sea King HAR.3/Mk.43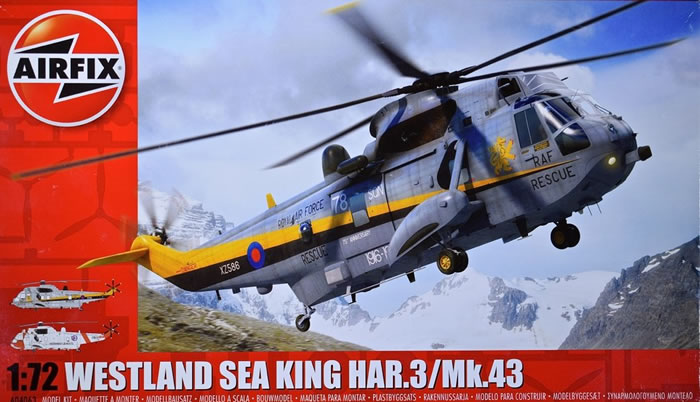 Airfix, 1/72 scale
S u m m a r y :

Description and Item No.:

Airfix Kit No. A04063 - Westland Sea King HAR.3/Mk.43

Contents and Media:

117 light, grey-blue, injected parts on 5 sprues, 18 clear parts, and one decal sheet with markings for 2 airframes.

Price:

£15.83 plus shipping available online at Hannants

USD$21.99 plus shipping available online from Squadron

Scale:

1/72

Review Type:

First Look

Advantages:

Surface details are scale appropriate with little-to-no flash. The kit has small, well-placed sprue-attach points, amazingly clear canopy parts, simple engineering, and a low parts count. Crisp, quality decals are provided for two colorful Search and Rescue schemes.

Disadvantages:

The overall level of detail is adequate but a bit soft in some areas. This is a large kit in a small box causing the rotor blades to be warped in my example.

Recommendation:

This is a simply engineered kit with quality decals that will build into a very nice model right out of the box.
Reviewed by John Miller


Airfix's 1/72 scale Sea King is available online from Squadron.com
The Westland WS-61 Sea King is a British license-built version of the American Sikorsky S-61 helicopter of the same name. The aircraft differs considerably from the American version, with Rolls-Royce Gnome engines (derived from the US General Electric T58), British-made anti-submarine warfare systems, and a fully computerized flight control system. The Sea King was primarily designed for performing anti-submarine warfare (ASW) missions however a variant was adapted by Westland as a troop transport known as the Commando.
In British service, the Westland Sea King provided a wide range of services in both the Royal Navy and the Royal Air Force. As well as wartime roles in the Falklands War, the Gulf War, the Balkans conflict, the Iraq War and the Afghanistan War, the Sea King is perhaps most well known in its capacity as a Royal Navy Search and Rescue (red and grey livery) and RAF Search and Rescue Force (yellow livery) helicopter. The Sea King was also adapted to meet the Royal Navy's requirement for a ship-based airborne early warning platform.
On 26 September 2018, the last remaining Sea King variant in Royal Navy service was retired. Most operators have replaced, or are planning to replace, the Sea King with more modern helicopters, such as the NHIndustries NH90 and the Agusta Westland AW101. HeliOperations continue to operate the Mk 5 Sea Kings, based at RNAS Portland, training Federal German Navy pilots.
---
Origins:
Westland Helicopters, which had a long-standing license agreement with Sikorsky Aircraft allowing it to build Sikorsky's helicopters, extended the agreement to cover the Sikorsky SH-3 Sea King soon after the Sea King's first flight in 1959. Westland proceeded to independently develop the Sea King, integrating a significant proportion of components from British suppliers. Key changes include the use of a pair of Rolls-Royce Gnome turbo shaft engines and the implementation of an automatic flight control system. On this matter, authors Jim Thorn and Gerald Frawley stated that: "Despite appearances, Westland's Sea King [is a] very different aircraft from Sikorsky's". Many of the differences between the Westland-built Sea King and the original helicopter were as a result of differing operational doctrine. While the U.S. Navy Sea Kings were intended to be under tactical control of the carrier from which they operated, the Royal Navy intended its helicopters to be much more autonomous, capable of operating alone, or coordinating with other aircraft or surface vessels. This resulted in a different crew arrangement, with operations being controlled by an observer rather than the pilot, as well as fitting a search radar.
The Royal Navy selected the Sea King to meet a requirement for an anti-submarine warfare (ASW) helicopter to replace the Westland Wessex, placing an order with Westland for 60 SH-3D Sea Kings in June 1966. The prototype and three pre-production aircraft were built by Sikorsky at Stratfor, Connecticut and shipped to the United Kingdom to act as trials and pattern aircraft. The first of the SH-3Ds was initially fitted with General Electric T58s and, after being shipped from the United States, was flown in October 1966 from the dockside at Avonmouth to Yeovil airfield. The other three were delivered from the docks, by road to Yeovil, for completion with British systems and Rolls-Royce Gnome engines. The first Westland-built helicopter, designated Sea King HAS1, flew on 7 May 1969 at Yeovil. The first two helicopters were used for trials and evaluation by Westland and the Aeroplane and Armament Experimental Establishment. Subsequent Sea Kings were delivered to the Royal Navy's 700 Naval Air Squadron from August 1969 onwards.
By 1979, the Royal Navy had ordered 56 HAS1s and 21 HAS2s to meet the anti-submarine requirements. These were also configured for the secondary anti-ship role. The Westland Sea King was updated and adapted for numerous roles with subsequent variants including the HAS2, HAS5 and HAS6. Changes from initial production aircraft included an expansion of the cabin and upgraded engines.
---
Search and Rescue:
A dedicated search and rescue (SAR) version, the HAR3, was developed for the RAF Search and Rescue Force. The type entered service in 1978 to replace the Westland Whirlwind HAR.10. A 16th helicopter was ordered shortly after, and following the Falklands War of 1982, three more examples were purchased to enable operation of an SAR flight in the islands, initially from Navy Point on the north side of Stanley harbor, and later from RAF Mount Pleasant. In 1992, six further helicopters were ordered to replace the last remaining Westland Wessex helicopters in the SAR role, entering service in 1996. The six Sea King HAR3As featured updated systems, including a digital navigation system and more modern avionics.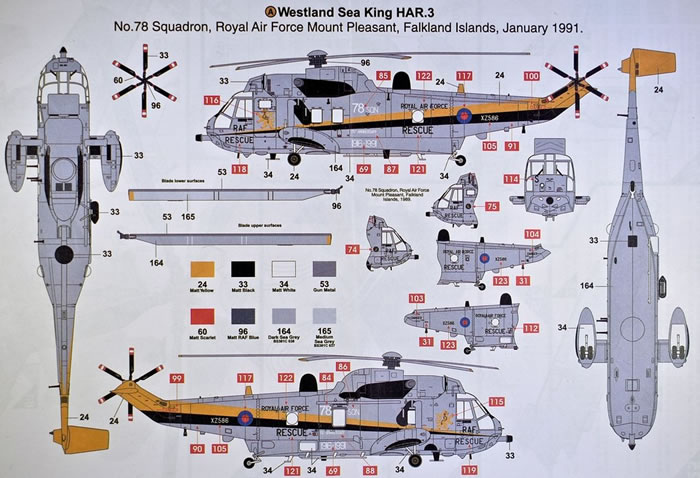 Westland also manufactured SAR versions of the Sea King for the Royal Norwegian Air Force, the German Navy and the Belgian Air Force. On SAR variants, the cabin was enlarged by a stretch of the fuselage behind the door; another key feature, used for additional flotation in the unusual event of a water landing, inflatable buoyancy bags were housed inside the aircraft's sponsons. Upgrades and changes made to SAR Sea Kings include the addition of radar warning receivers, a cargo hook for the carriage of goods, and the redesigning of the cockpit for compatibility with night vision goggles.
As of 2006, up to 12 HAR3/3As were dispersed across the UK, a further two HAR3s were attached to the Falkland Islands, providing 24-hour rescue coverage. Some Royal Navy HAS5 ASW variants were adapted for the SAR role and served with 771 Naval Air Squadron, Culdrose and HMS Gannet SAR Flight at Prestwick Airport in Scotland. As of 2009, they are expected to remain in service until 2016, being replaced with civilian operated SAR rotorcraft. Both Prince Andrew, Duke of York and Prince William, Duke of Cambridge have flown SAR Sea Kings in front-line roles.
---
Norway
The Norwegian Ministry of Justice owns 12 Mk43B Sea Kings, which are operated by the Royal Norwegian Air Force's 330 Squadron. The aircraft are used for SAR and air ambulance missions and are under the command of the Joint Rescue Coordination Centre of Southern and Northern Norway. Introduced in May 1973, they were originally stationed at Bodø Main Air Station, Ørland Main Air Station, Sola Air Station, and Station Group Banak. In 1997, the squadron conducted 237 SAR and 747 air ambulance missions. From 1995 to 1998, one helicopter was stationed at Ålesund Airport, Vigra, and since 1999, one has been stationed at Rygge Air Station. Florø Airport became a station for one helicopter from 2009.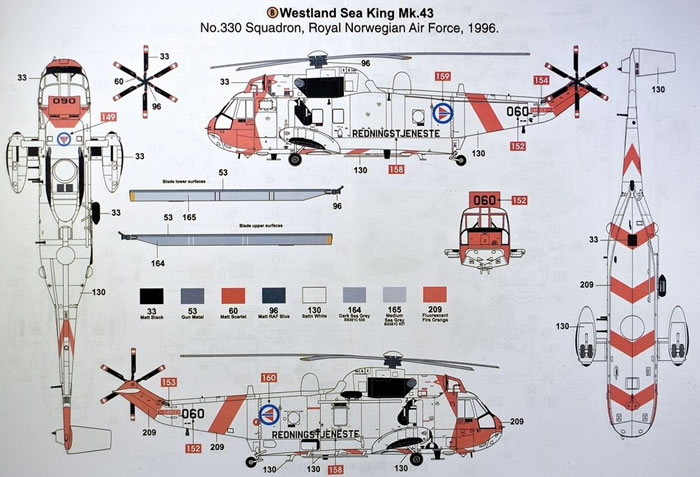 The helicopters are to be replaced by AgustaWestland AW101 Merlin under the Norwegian All-Weather Search and Rescue Helicopter (NAWSARH) program.
---
SAR Sea King Variants Covered by the Kit Decals:
Sea King HAR.3
SAR version for the Royal Air Force. Fitted with relocated rear cabin bulkhead giving greater cabin length, extra fuel and additional observation windows; 19 built.
Sea King Mk.43A
Uprated version of the Sea King Mk.43 for the Royal Norwegian Air Force, with airframe of Mk.2 but engines of Mk.1; single example built.
(Edited from Wikipedia)
Well, it happened again this Saturday in pretty much the same sequence as last Saturday: Coffee, Walk the dog, Skyway Model Shop, Loss of self control, Orphaned models "rescued," and Rescued models spirited past my wife into the anonymity of my model-filled workshop.
This time it's the new Airfix 1/72 Westland Sea King. This is a nice kit but not without it's issues (more below). I'm struck (again) by the size of the Sea King. It's a big helicopter and this new-mold Airfix version will be a quick and easy way to get one of these big hummers on your display shelf. I suspect some Sea King purists won't find the level of detail sufficient. Not being a Sea King experten, I'll leave a detailed analysis for those with the required knowledge. That said it looks like a 1/72 Sea King to me and despite some rather uninspiring internal details, appears to be a fast and enjoyable build as well.
---
In the Box
The light grey-blue styrene is a bit soft but is easy to work with. The sprue attach points are small and positioned to facilitate damage-free removal. There is practically no flash anywhere: nice. In addition, the model can be built to incorporate a small electric motor that turns the main rotor. Since I'm a static-build kinda guy, I'm going to forego mentioning any of the changes/modifications required to motorize the model.
The build starts with the cockpit and cabin (imagine that) and it's here that the level of detail is a bit of a let down. The cockpit and cabin seats are well molded but rather plain. Of particular note is the absence of the quilted, fabric side paneling so prevalent in pics of 1:1 Sea Kings.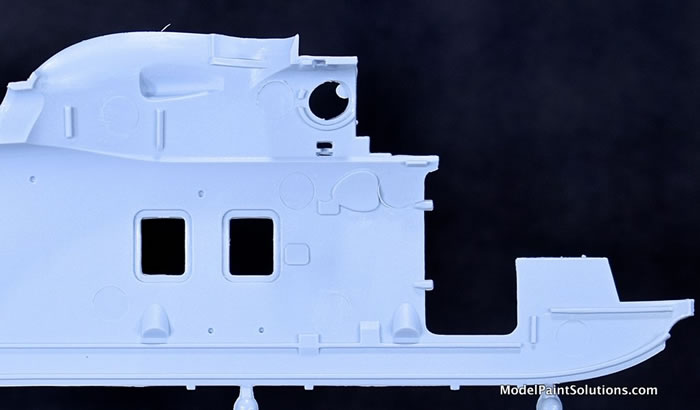 If you intend to build your Sea King "zipped up", I suspect the provided details are sufficient. If however, the aft-sliding fuselage door or the port cabin door (complete with steps) are posed open, additional detailing will be required for a really convincing build.
During construction, the completed cockpit and additional structural parts are trapped between the fuselage halves that have very nice surface details.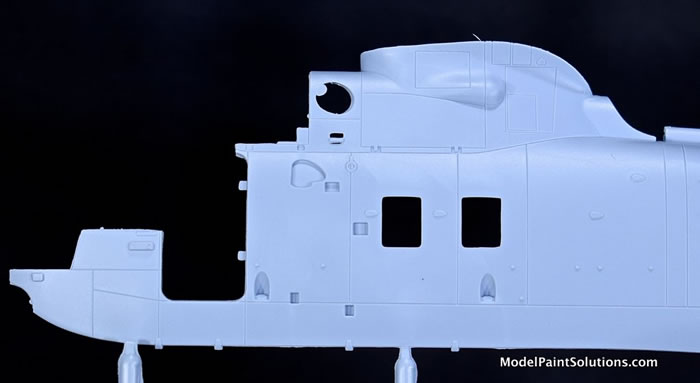 A nice bit of engineering is the single-piece lower hull that, when fitted, has the appropriate seam around it's periphery. The engine intakes are nicely molded but shallow and will require careful painting to achieve a look of appropriate depth.
The nicely molded main gear fit into the sponson wheel wells that are, devoid of any detail. The gear can be fitted raised or lowered.
The aft section of the Sea King fuselage is hinged for better stowage aboard ship. Parts are provided to pose this section folded or extended. Once the sponsons and aft fuselage piece are in place, the fuselage is largely complete and you're on to the clear parts.
The windscreen, upper canopy, access door window, and cabin windows are made of some of the most crystal-clear styrene I've ever seen.
As shown in the accompanying photo, the kits clear parts performed amazingly well in the patented Model Paint Solutions "Ye Olde Model Magazine Test."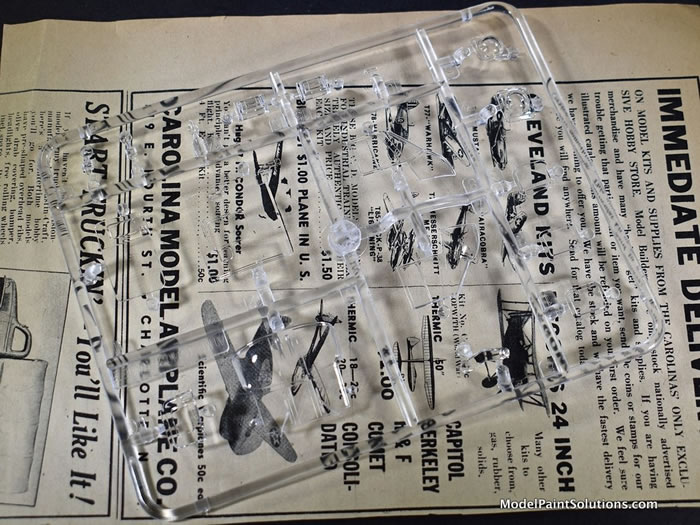 These parts are so clear that when I build this hummer, the windscreen/canopy parts will be glued in place without the usual dip in a clear coat: not needed here. With this much clear plastic enveloping a rather large cockpit, extra effort in the form of detailing would be well rewarded here.
Assembly of the nicely molded main rotor is sequenced next and here you're given the option posing the blades in the stowed or in-flight configuration: very nice.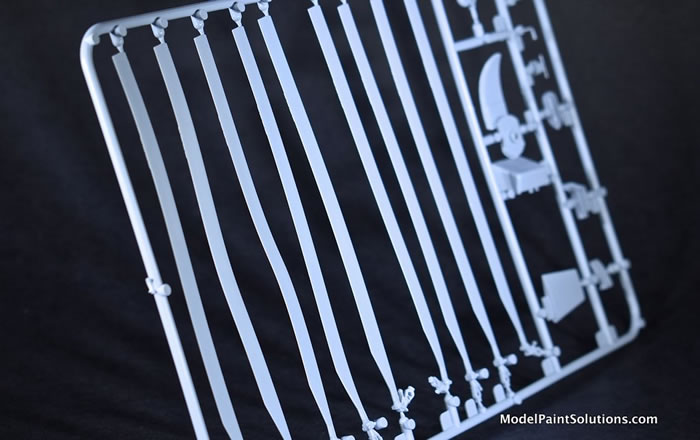 It's important to note that a 1/72nd Sea King is surprisingly large. That fact, combined with a respectably thick instruction booklet all packaged into a rather small box, makes for a tight fit indeed. The result is warped main rotor blades in my example that will have to be straightened prior to use.
---
Markings
The very nice decal sheet is printed by Airfix.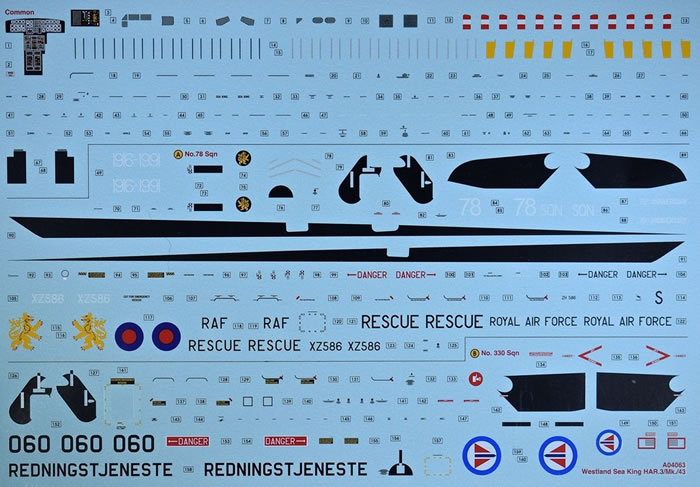 This provides markings and stencil data for two colorful Search and Rescue (SAR) Sea Kings from the Royal Air Force and the Royal Norwegian Air Force as follows:
Westland Sea King HAR.3 - No. 78 Squadron, Royal Air Force Mount Pleasant, Falkland Islands, January 1991.

Westland Sea King Mk.43 - No. 330 Squadron, Royal Norwegian Air Force, 1996.
This is a nice kit. Between the low parts count and the simple engineering this should be a fast and painless build. Recommended for whirly bird fans everywhere!
For more on this review visit Modelpaintsolutions.com.
Kit purchased by the reviewer
---
Review Text and Images Copyright © 2018 by John Miller
Page Created 24 October, 2018
Last updated 24 October, 2018
Back to HyperScale Main Page
Back to Reviews Page