Fokker D.VIII ProfiPACK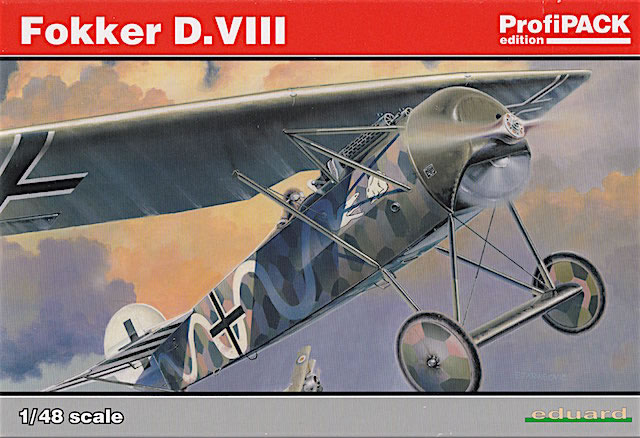 Eduard, 1/48 scale
S u m m a r y :

Catalogue Number:

Eduard Kit No. 8085 – Fokker D.VIII ProfiPACK

Scale:

1/48

Contents & Media:

Approximately 67 grey coloured plastic parts; 1 fret of photo-etched brass parts; 1 sheet of die-cut tape masks; 2 decal sheets containing markings for 5 different aircraft; 12 page A5 full colour instruction booklet.

Price:

USD$33.96 plus shipping available online from Eduard's website

GBP£25.99 EU Price (GBP£21.66 Export Price) plus shipping available online from Hannants

and specialist hobby retailers worldwide.

Review Type:

First Look

Advantages:

High quality plastic and photo-etched parts complemented by interesting marking schemes and good instructions.

Disadvantages:

Conclusion:

The combination of quality mouldings, fine detail, ease of assembly, and interesting markings make Eduard's 1/48 Fokker D.VIII the definitive 1/48 kit of Fokker's last World War I fighter, and probably the best available kit of this aircraft in any scale.

Reviewed by Brad Fallen


Eduard's 1/48 scale Albatros D.V
is available online from Squadron.com for only USD$31.99!

The E.V/D.VIII was the last Fokker aircraft to enter service with the German Air Force in World War I. The dual nomenclature reflects the type's troubled operational history: the first E.Vs reached the front in late July 1918, but deadly wing failures saw them quickly grounded. Poor construction techniques were to blame; once these were addressed, production resumed under the D.VIII designation. However with fewer than 100 examples reaching the front before 11 November 1918, the D.VIII had no influence on the outcome of the war.
Its historical (in)significance aside, the parasol-winged D.VIII is a good-looking aircraft and popular modelling subject, with kits released in all three main scales. The first 1/48 kit appears to be an Aurora release from the late 1950s, which was later issued by K&B. This kit was very much of its era, but modellers wanting something better would need to wait nearly 30 years before Koster Aero Enterprises released a full multi-media kit, with the main parts provided in vac-formed plastic.
The mid-1990s saw two new injection-moulded kits: one from DML/Dragon, and the other from Eduard as one of that company's first-generation kit releases. I haven't seen either, but Tom Cleaver over at Modeling Madness noted in 2006 that the
original Eduard release, of which I have made two, was one of those models that gave limited-run World War I kits a reputation for being "difficult", with its all-photoetch cockpit interior and plastic parts that needed lots of test fitting to come together.
Meanwhile in a 2006 review for Internet Modeler, Jim Schubert described the Dragon kit as
very good but the two-piece wing suffers from two fairly serious span-wise sink marks, which must be filled and sanded out. Dragon, peculiarly, provides PE wing struts. The Dragon kit includes markings for only one plane and their lozenge is unbelievably bright and contrasty. It's a very good kit but Eduard's are both better.
The second Eduard kit Jim refers to is the company's new-tool release from 2006, which – as it had done with the Albatros D.V – was the result of Eduard taking a popular back-catalogue item and re-tooling it using more up-to-date technology. The result was a gem of a kit that Eduard has since released several times in both Profipack and Weekend Edition boxings.
Rob Baumgartner reviewed the latter in 2009, and concluded that
There are many reasons to like this kit. It's an ideal start for those wanting to build their first WWI aircraft, especially since there is only one wing and minimal rigging. The excellent fit of parts and positive location points mean a painless build, even for inexperienced modellers….The smaller items exhibit a high level of finesse and the scale struts are thin, yet strong enough to support the loads they'll have to carry.
Eduard has now re-issued this kit in a Profipack boxing that is similar, but not identical, to the original 2006 release.
1/32 is my preferred scale for World War I models, but if ever there was a kit that would make me consider a shift to 1/48, this is it. The combination of quality mouldings, fine detail, ease of assembly, and interesting markings makes Eduard's Fokker D.VIII a very tempting prospect.
The box art of a (likely) Jasta 8 D.VIII skirmishing with an RAF Sopwith Camel has been replicated from the 2006 release, and shows the type's distinctive parasol-wing layout to good effect.
Lifting the lid, the kit's simplicity is immediately apparent. There are just three sprues of plastic parts, and one of these holds two single-piece wings. These look the same, and initially I was stumped: why would Eduard include two identical wings? Looking back at Rob's review, I found the answer:
angling one of…[the wings] to the light…will reveal a "rippling" effect, something that can be seen on the ply covered originals. It essentially replicates the very slight sagging of the wood due to the gaps between the underlying structural members.
I followed Rob's advice and sure enough, the rippling effects are there on part A1. These are incredibly subtle, and I'm not sure how obvious they will be under paint – but it's a fantastic moulding effort by Eduard and this is definitely the wing I would use. However this isn't a criticism of the other, non-rippled wing, which is also very well executed.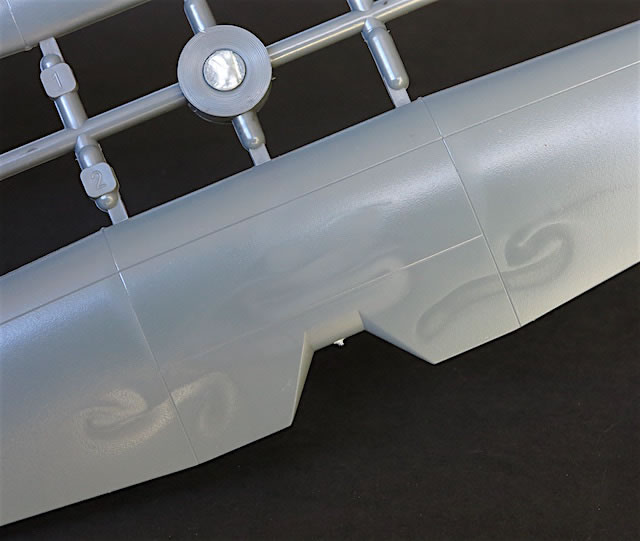 Moving on to Sprue B, this contains the fuselage, coaming, engine and cowling, control surfaces, propeller, axle wing, wheels and some interior details. All are well done. Highlights for me are the beautiful fabric effect on the tail surfaces and fuselage halves; the latter also feature an excellent depiction of the plywood cockpit formers pressing against the fabric covering. The Axial propeller is nicely shaped.
Having recently scratch-built many internal details for the old Revell 1/28 Fokker Dr.1, I also appreciate Eduard's representation of the cockpit floor and the fabric-covered frame immediately behind the pilot. Eduard has not quite captured the distinctive flared shape of the seat fitted to most late-war Fokker aircraft, but this has eluded most manufacturers and the seat provided is adequate.
Sprue C holds the cabane struts, undercarriage legs and a large number of small parts, many for the cockpit. Again these are finely moulded; I particularly like the tubular cockpit framing, which is delicate and will require careful removal and clean up to avoid distortion. Some of the smaller parts such as the rudder, elevator and aileron control horns are optional and can be replaced with photo-etched equivalents if you wish. The same applies for the cooling jackets of the twin Spandau machine guns.
Since this is a Profipack boxing, the photo-etched details extend to pre-painted seatbelts and cockpit instruments and placards. The largest PE part is a fuselage panel immediately below and behind the engine, which you will need to bend and carefully fit. I've experienced problems getting similar panels to fit on 1/32 Dr.1 models; I suspect that won't be an issue here but if anything does go wrong, Eduard has also moulded appropriate detail on to the plastic parts.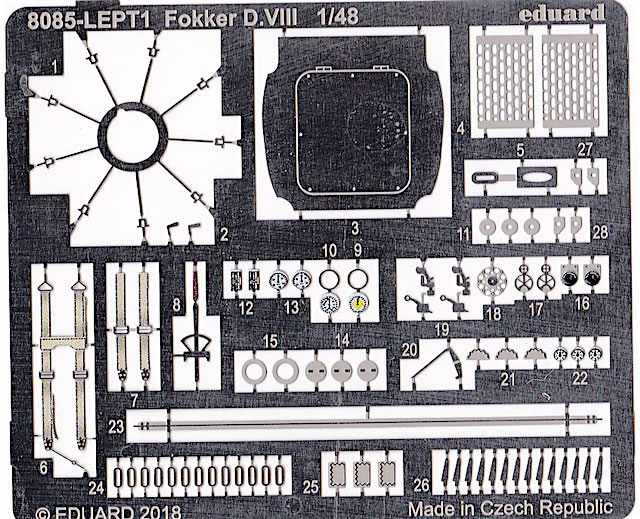 A small sheet of pre-cut tape masks is included to help with painting the wheels and also the front cowl plate of marking option E. Long strips of tape with an unidentified purpose, however, take up most of the space on the mask sheet. Looking through the instruction booklet, it looks like these may have been provided to help paint the stripes on the horizontal tailplane of marking option A, as an alternative to the decals supplied.
There are two sheets of decals. The first contains national and individual aircraft markings, and they look good. The fuselage decals for options A, C and E are complicated, with serial numbers overlaid by individual markings; however printing is crisp with good registration and no colour bleeding. The striped tailplane decals for options A and E include a lot of clear carrier film, so you'll need to apply them to a very smooth glossy surface to avoid silvering.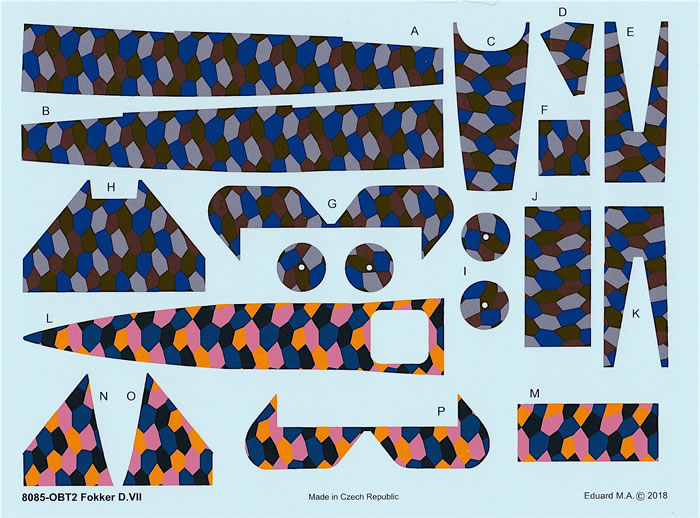 The second sheet is pre-cut four-colour upper and lower lozenge decals. As was the case with Eduard's recently reissued 1/48 Albatros D.V kit, I'm not sure the colour of the lozenge is quite right – especially for the lower surfaces, which seems overly bright. As I said in my review of that kit, however, there is no single valid perspective on World War I German lozenge colours. And Aviattic is promising to release some lozenge specifically for Eduard's D.VIII in the near future, which will make me very happy.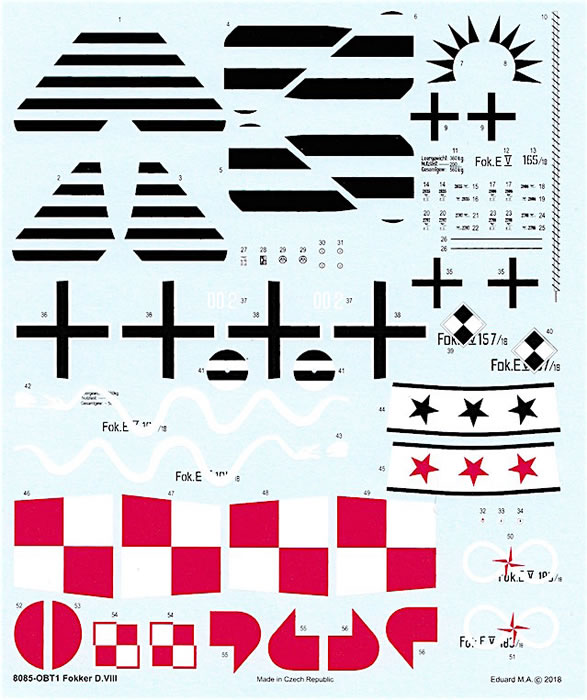 The 12-page instruction booklet is typically comprehensive. Construction sequences are logical and clearly illustrated. The all-important attachment of the struts to the fuselage, and the wing to the struts, is shown from three different angles. The wing-strut join looks difficult but a number of online build reviews have reassured me that it is not. When I build the kit I will likely glue the struts to the fuselage, wait until these connections are firm but not set, and then attach the upper wing; this will give me a little play I can use to ensure alignment is correct.
The instructions' painting and marking guide is excellent, with full colour four-view illustrations of each marking option. There are also drawings of the front of the engine cowling and propeller, and an alternative top wing finished in streaked (as opposed to solid) camouflage. The exception here is marking option E, which is shown in side profile only with full details available online.
---

Markings
Many Fokker E.Vs and D.VIIIs were quite colourful, albeit within a limited palette range.
Eduard has chosen a good variety of markings for this release (with less than 50 per cent shared with the original 2006 Profipack boxing).
Serial unknown, probably attached to Jasta 5, based at Mercy-le-Haut, France, October 1918. Along with options B, C and E, option A was finished in dark four colour lozenge on the fuselage top and sides, and light four colour lozenge on the fuselage undersurfaces. The cowling and wheel hubs of option A were likely finished in yellow, the rudder was white and the upper and tail surfaces were striped horizontally in black and white. The most dramatic feature of this machine, however, was the large white snake – about to eat an unfortunate rabbit – that stretched the entire length of each side of the fuselage.

Serial unknown, Jasta 36, France, October 1918. On this aircraft the lozenge fabric also covered the wheel hubs and upper and lower tailplane surfaces. The cowling was likely blue, and a thick white band with either black or red stars, bordered by two thin black lines, ran around the fuselage immediately behind the cockpit.

183/18, flown by Cpt. Stefan Bastyr, Eskadra Lotnicza, Polish Air Force, 1919. A welcome postwar example, 183/18 nonetheless sports standard D.VIII finish apart from the red-and-white Polish national markings on the wings, fuselage, rudder and elevators.

Serial unknown, flown by Ltn. Theo Osterkamp, Marine Feld Jagdstaffel II, Belgium 1918. Eduard suggests that this aircraft was finished in the striking black-and-yellow colours that some of Osterkamp's other aircraft are known to have worn; however my understanding is that this scheme is speculative only.

157/18, flown by Gefr. Kurt Blumener, Jasta 6, Bernes, France, August 1918. Another lozenge-camouflaged D.VIII with black-and-white striped tailplanes, 157/18 had similarly coloured wheel hubs and tulip markings on the engine cowling.
A separate sheet with lozenge decals is also included.
This is the definitive 1/48 kit of Fokker's last World War I fighter; in fact looking at available E.V/D.VII kits in the other main scales, it's the best available kit of this aircraft full stop. The only real criticism I have is of the lozenge decals, which don't look right to me. Overall, however, this kit is very highly recommended, including to modellers contemplating their first World War One aircraft build.
Thanks to Eduard for the sample.
---
Review Text Copyright © 2018 by Brad Fallen
Page Created 31 October, 2018
Last updated 1 November, 2018
Back to HyperScale Main Page
Back to Reviews Page