Focke-Wulf Fw 190 A-3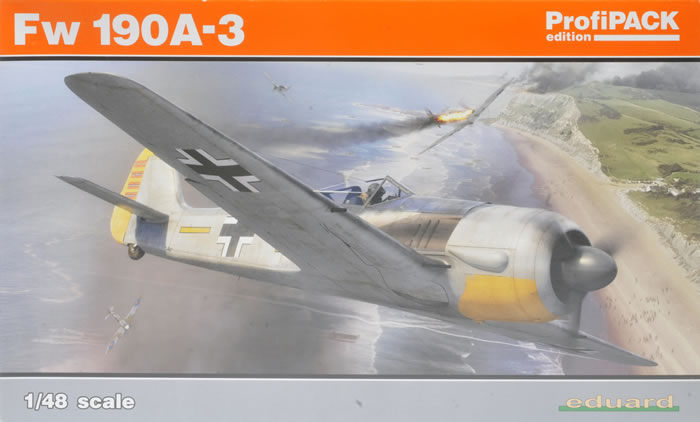 Eduard ProfiPACK, 1/48 scale
S u m m a r y

Catalogue Number:
Eduard ProfiPACK Kit No. 82144 - Fw 190 A-3
Scale:
1/48
Contents and Media:
Around 200 parts in grey coloured plastic (many not for use depending on the versions built); 10 parts in clear; one colour photo-etched fret; self-adhesive masks; markings for five varied options.
Price:

USD$49.95 plus shipping, available online from Eduard

GBP£32.30 (£26.92 Export Price) plus shipping available online from Hannants

Review Type:
FirstLook
Advantages:
Restrained surface featuring crisp panel lines and very fine rows of recessed rivets where appropriate; engineered without plugs/inserts; plenty of ordnance options; includes colour photo-etched parts for harness and instrument panel; masks supplied for wheels and canopies; clever design of clear parts with separate sliding sections for open and closed canopies; attractive marking options; very high quality plastic; narrow sprue attachments; excellent instructions and packaging; plenty of spare parts!
Disadvantages:
Recommendation:
An excellent kit of the first truly mass-produced Wurger variant.

Reviewed by Brett Green

Eduard's 1/48 scale Fw 190 A-3 is available online from Squadron.com

The Focke-Wulf Fw 190 Würger is a German single-seat, single-engine fighter aircraft designed by Kurt Tank in the late 1930s and widely used during World War II.
Along with its well-known counterpart, the Messerschmitt Bf 109, the Focke-Wulf 190 Würger became the backbone of the Luftwaffe's Jagdwaffe (Fighter Force).
The twin-row BMW 801 radial engine that powered most operational versions enabled the Fw 190 to lift larger loads than the Bf 109, allowing its use as a day fighter, fighter-bomber, ground-attack aircraft and, to a lesser degree, night fighter.
The Fw 190 A started flying operationally over France in August 1941, and quickly proved superior in all but turn radius to the Royal Air Force's main front-line fighter, the Spitfire Mk. V, especially at low and medium altitudes. The 190 maintained superiority over Allied fighters until the introduction of the improved Spitfire Mk. IX.

In November/December 1942, the Fw 190 made its air combat debut on the Eastern Front, finding much success in fighter wings and specialised ground attack units called Schlachtgeschwader (Battle Wings or Strike Wings) from October 1943 onwards.
The Fw 190 provided greater firepower than the Bf 109, and at low to medium altitude, superior manoeuvrability, in the opinion of German pilots who flew both fighters.
The Fw 190 A-3 was equipped with the BMW 801 D-2 engine, which increased power to 1,700 PS (1,677 hp, 1,250 kW) at takeoff by improving the supercharger and raising the compression ratio. Because of these changes, the A-3 model required a higher octane fuel—100 (C3) versus 87 (B4).
The A-3 retained the same weaponry as the A-2. The A-3 also introduced the Umrüst-Bausätze factory conversion sets.
The Fw 190 A-3/U1 and U2 were single experimental Fw 190s: U1 (W.Nr 130270) was the first 190 to have the engine mount extended by 15 cm (6 in), which would be standardized on the later production A-5 model.
The U2 (W.Nr 130386) had RZ 65 73 mm (2.87 in) rocket launcher racks under the wings with three rockets per wing. There were also a small number of U7 aircraft tested as high-altitude fighters armed with only two 20 mm MG 151 cannon, but with reduced overall weight.
The Fw 190 A-3/U3 was the first of the Jabo (Jagdbomber), using an ETC-501 centerline bomb rack able to carry up to 500 kg (1,100 lb) of bombs or, with horizontal stabilizing bars, one 300 L (80 US gal) drop tank. The U3 retained the fuselage-mounted 7.92 mm (.312 in) MG 17s and the wing-mounted 20 mm MG 151 cannon, with the outer MG FF being removed.
The Fw 190 A-3/U4 was a reconnaissance version with two RB 12.5 cameras in the rear fuselage and an EK 16 gun camera or a Robot II miniature camera in the leading edge of the port wing root. Armament was similar to the U3, however, and the ETC 501 was usually fitted with a 300 L (80 US gal) drop tank.
In autumn 1942, a political decision diverted 72 new aircraft to Turkey in an effort to keep that country friendly to the Axis powers. These were designated Fw 190 A-3a and delivered between October 1942 and March 1943. The Turkish aircraft had the same armament as the A-1: four 7.92 mm (.312 in) synchronized MG 17 machine guns and two 20 mm MG FF cannon. There was no FuG 25 IFF device in the radio equipment.
A combined total of 910 Fw 190 A-2 and A-3 airframes were produced.
Eduard continue to work through the variants of the Wurger family with this latest in their new-tool series, the Fw 190 A-3. This new series has no parts at all in common with Eduard's earlier 1:48 scale Fw 190 kits. Engineering and fit are greatly superior to the original kits too.
This is the first time that Eduard has offered the A-3 variant as a standalone kit, although the sprues did appear in the Royal Class boxing late last year.
The two differences between plastic parts of the the Fw 190 A-4 released in 2017 and this new A-3 are the cooling slots in the sides of the engine cowling and the flatter-style aerial wire anchor point on the top of the fin. These are not done by inserts - they are full new fuselage halves.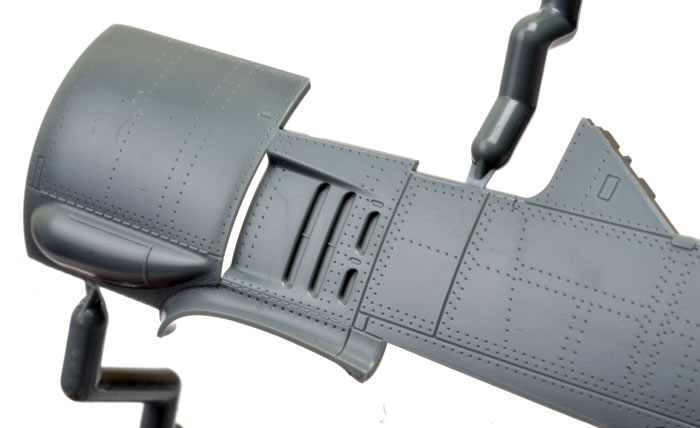 This 1/48 scale Fw 190 A-3 ProfiPACK release contains nearly 200 parts in grey plastic and 10 clear plastic parts, plus a colour photo-etched fret, canopy and wheel masks, markings for five nicely varied aircraft plus stencil decals. However, it is important to note that the total grey plastic parts actually used is only 111, and even some of these are options, so you will have plenty of fodder for your spares box!
The kit features superb surface textures comprising crisp panel lines and very fine rows of recessed rivets where appropriate.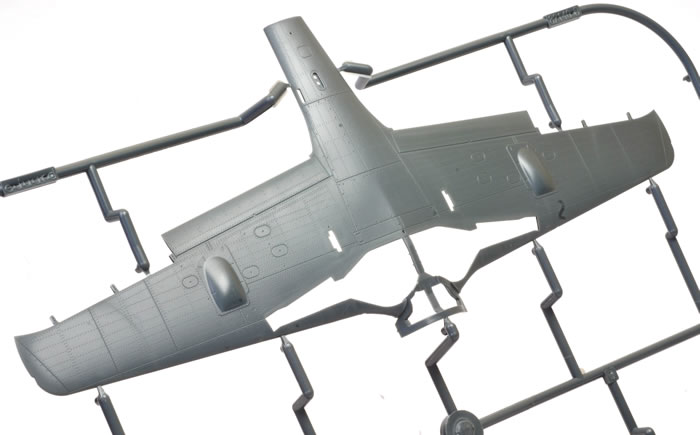 The new four-gun wing is supplied without inserts for bulges and panels - just a nice full span lower wing and two single-piece upper wing halves.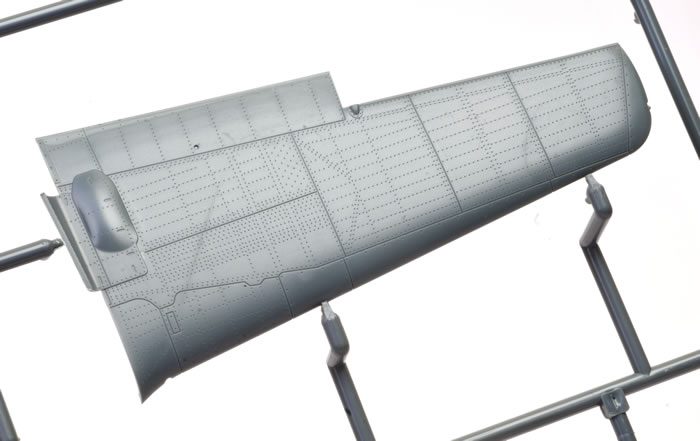 Eduard's Wurgers also boast a very high level of detail, particularly in the cockpit with colour photo-etched parts, and the opportunity to upgrade the basic engine provided in the kit with aftermarket parts.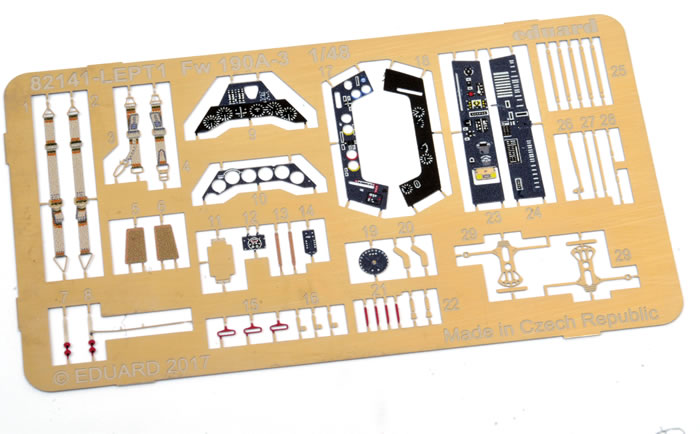 The photo-etched fret boasts the recent innovation of glossy curved lenses over the individual dials. You can't see it in the photo, but the effect looks great to the naked eye!
Two versions of the early flat canopy are included - one representing and open canopy and the other closed. On the real Würger, the canopy was somewhat flexible. This flexibility was further enhanced with a short hinge on the top. This was necessary because the canopy rails tapered inwards back along the fuselage, requiring the front bottom corners of the canopy to pinch inward when opening (ie, the width was narrower when the canopy was open).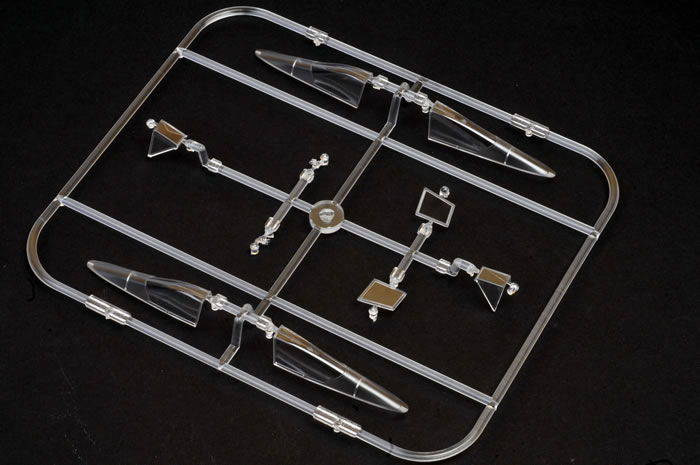 This attribute has been conveniently ignored by all Fw 190 models to date - an open canopy would simply overhang the sides of the canopy deck.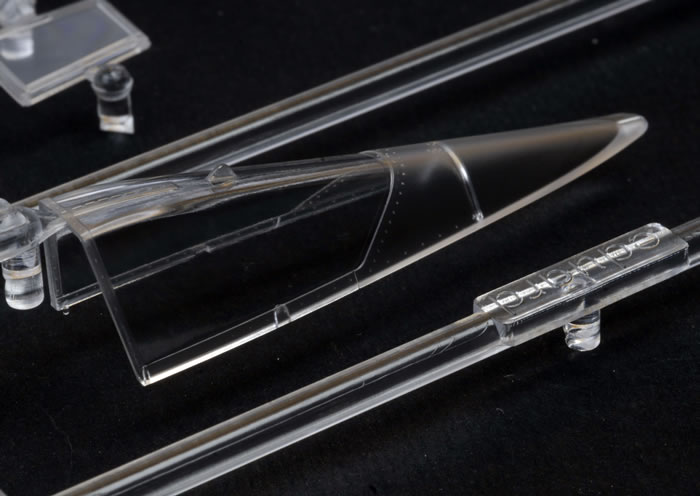 My clear parts are thin and free from distorion. The late blown canopy is included too, as is armoured glass for the Sturmbock version, but these will not be used in this instance.
The colour photo-etched frets add useful detail. In fact, it is difficult to imagine anyone being able to match the realism of these crisply printed parts with paint. This fret provides the harness, instrument panel and side consoles in full colour, plus supplementary metal detail parts for the cockpit and aircraft exterior. The instrument panel should look fantastic when assembled, incorporating all the tiny details of the dials and the characteristic coloured surrounds of the engine gauges.
Another nice touch is the inclusion of canopy and wheel masks in Eduard's thin flexible yellow masking material.
Instructions are supplied in a 16 page A-4 size colour booklet, with a detailed history on the front page followed by a parts list, construction steps, and full-colour marking guides for each of the five subjects, each with a four-view illustration, and finally a stencil placement guide.
---
Marking Options
Markings are provided for five varied and interesting aircraft.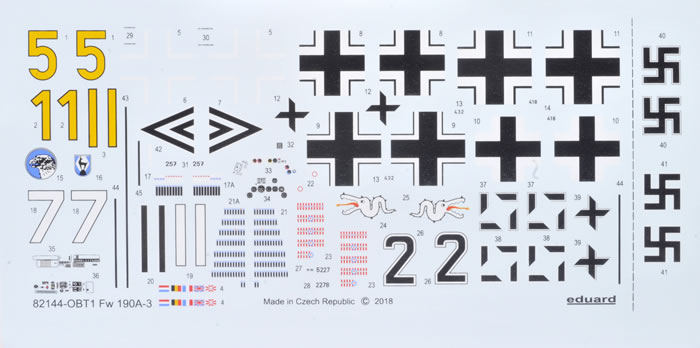 Details are as follows:
Fw 190 A-3 W. Nr. 2278, Uffz. Erich Pflaum, 2./ JG 51, Ljuban, Soviet Union, September 1942

Fw 190 A-3 W. Nr. 5227, Fw. Karl Willius, 3./ JG 26, Saint-Omer, France, August 1942

Fw 190 A-3 W. Nr. 257, Hptm. Joachim Müncheberg, CO of II./ JG 26, Abbeville-Drucat, France, May 1942

W. Nr. 432, Oblt. Erich Rudorffer, CO of 6./ JG 2, Beaumont-le-Roger, France, August 1942

Fw 190 A-3 W. Nr. 418, Oblt. Robert Olejnik, CO of 4./ JG 1, Woensdrecht, Netherlands, June 1942
The main decal sheet is satin in texture and printed by Eduard.
A set of decal stencils are also included.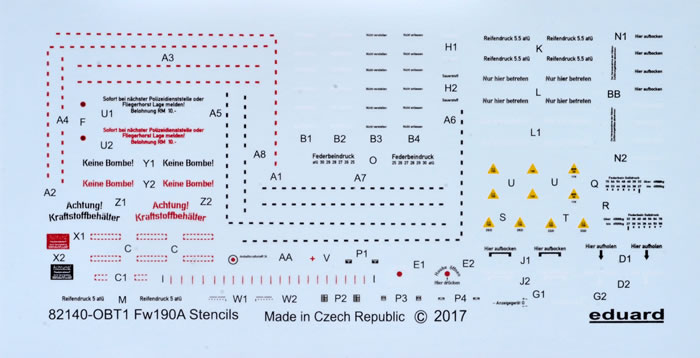 The stencil markings are printed in a flat finish and are also produced by Eduard.
Eduard has delivered an excellent kit of the first truly mass-produced Wurger variant.
I have built the Fw 190 A-4 in this new family of Eduard Wurgers and it was a delight - a fast build and excellent fit all round. I don't expect that this one will be any different.
Thanks to Eduard for the sample
---
Review Text Copyright © 2018 by Brett Green
Page Created 11 October, 2018
Last updated 11 October, 2018
Back to HyperScale Main Page
Back to Reviews Page