Messerschmitt
Bf 109 G-10 WNF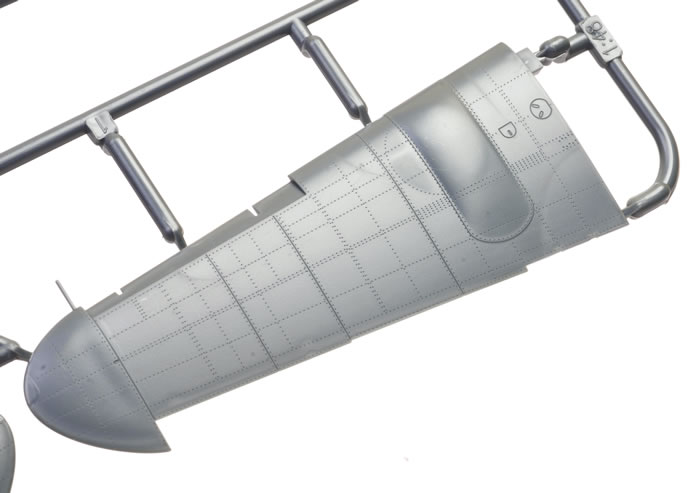 Eduard Overtrees
& Eduard BRASSIN Cockpit
& LooK Instrument Panel
1/48 scale
S u m m a r y

Catalogue Number:

Eduard Kit No. 82161X - Bf 109 G-10 WNF ProfiPACK. USD$19.95

Eduard BRASSIN Item No. 648 422 - Bf 109 G-10 Cockpit. USD$39.95

Eduard LooK Item No. 644 004 - Bf 109 G-10. USD$12.95

plus shipping available online from Eduard

Scale:
1/48
Contents and Media:

Overtrees Kit: 188 parts in grey coloured plastic (including more than 70 marked not for use); 10 parts in clear..

BRASSIN Cockpit: 24 parts in grey resin; colour and brass photo-ecthed frets; printed clear acetate.

LooK: One part in black resin (printed details) and one set of STEEL harness.

Review Type:
FirstLook
Advantages:
Accurate; high level of detail (even with the plastic parts alone); outstanding surface features including crisply recessed panels and subtle rivet lines where appropriate; separate control surfaces; many useful options.
Disadvantages:
Somewhat overheight exhaust stacks.
Conclusion:
Eduard's 1/48 scale Messerchmitt Bf 109 G-10 WNF is a very welcome addition to their re-tooled Gustav family and the Overtrees boxing is available at a bargain price. This will be the idea basis for the beautifully detailed multimedia BRASSIN Bf 109 G-10 cockpit.

Reviewed by Brett Green

Eduard's 1/48 scale Messerschmitt Bf 109 G-14 is available online from Squadron.com
The Messerschmitt Bf 109 G-10 was an attempt to improve the performance and extend the service life of this crucial German fighter. Increasing weight and the need for additional ordnance was taxing the capabilities of the standard Daimler Benz DB 605 A engine in the Messerschmitt Bf 109 G-6.
The DB 605 D would supply up to 1,800HP to the Bf 109 G-10 (2,000HP using emergency power), compared to 1,475HP available to the Bf 109 G-6 from the DB 605 A.
Externally, the new powerplant featured a larger supercharger, modified engine mounts, a deep oil cooler and a larger crankcase. The forward fuselage was redesigned to accommodate these changes. Large, streamlined bulges on both sides of the engine cowl replaced the familiar cowl gun breech blisters of the Bf 109 G-5 and G-6. A fairing was fixed to each fuselage side below the cockpit to improve airflow. These combined to give the nose of the new variant a more streamlined appearance. Two circular blisters were also added to the lower nose to permit clearance for the larger crankcase and oil lines. A deeper housing for the new oil cooler was another obvious change.
Raw materials were desperately short by the time production of the Bf 109 G-10 commenced in October 1944. The G-10 was therefore produced using components from earlier airframes. This led to many variations in production, including alternate configurations for the tail wheel, aerial, cockpit air intakes, main wheels, wing bulges and tail surfaces.
Typically, Bf 109 G-10s manufactured at the Messerschmitt Wiener Neustädter Flugzeugwerke (WNF factory) sported the larger, longer bulges on the upper wing to accommodate the wider 660 x 190 main wheels, the crescent shaped aerodynamic fairings on both sides of the fuselage, Erla clear vision canopy and tall fin and rudder.
Overtrees
For its first 1/48 scale Bf 109 G-10 release, Eduard chose to depict the variant produced at the Messerschmitt Regensburg factory. These typically were fitted with narrow main wheels, the small upper wing bulges and the new streamlined cowl to accomodate the larger supercharger and modified engine mounts. The tail wheel may have been the long or short variety.
Now Eduard has snuck in the definitive (to my eye) Bf 109 G-10 WNF with two unconventional kits - their Limited Edition Avia S-99 / C-10 kit and an Overtrees boxing.
The Avia S-99 / C-10 is essentially the post-war Czech designation for the Bf 109 G-10, and it has the same characteristics as the WNF factory version, including the long upper wing bulges.
What really surprised me though, was the release of an Overtrees version.
Eduard Overtrees kits are terrific value for a no frills package. As the Weekend Editions are becoming more sophisticated, often with multiple marking options or harness straps, the Overtrees are stripped right back to the basics - a plain white box, plastic sprues and that is all. No instructions, no decals.
This is ideal for the modeller who has an existing decal collection or has purchased a ProfiPACK version of the same subject that will have a bunch of markings left over.
In this instance though, it also gives the modeller who has really been looking forward to a WNF Gustav a head start.
Eduard's Bf 109 G-10 WNF Overtrees comprises 188 parts in grey plastic and 10 parts in clear. You will be able to source instructions from the Avia S-99 or Bf 109 G-10 Regensberg kit (they'll be close enough to figure out), either in hard copy or as a download from Eduard's website (a free PDF download is available). More than 70 of the parts will remain unused and there are a few optional parts too, so the actual number of parts used is quite modest.
The new parts in this kit are the wings.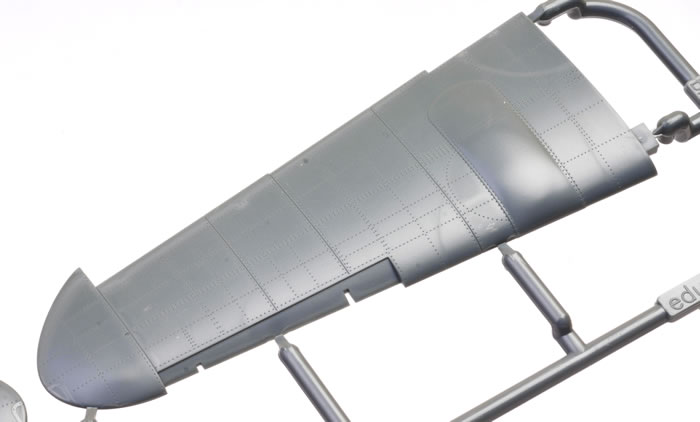 As usual with Eduard's Gustav family, the lower wing is full span and upper wings provided in port and starboard halves.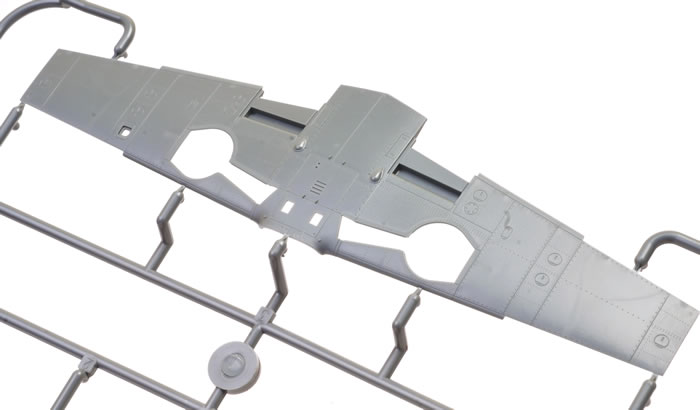 Structural detail is moulded on the inside of the upper wing, which will be visible from below as the wheel well ceiling.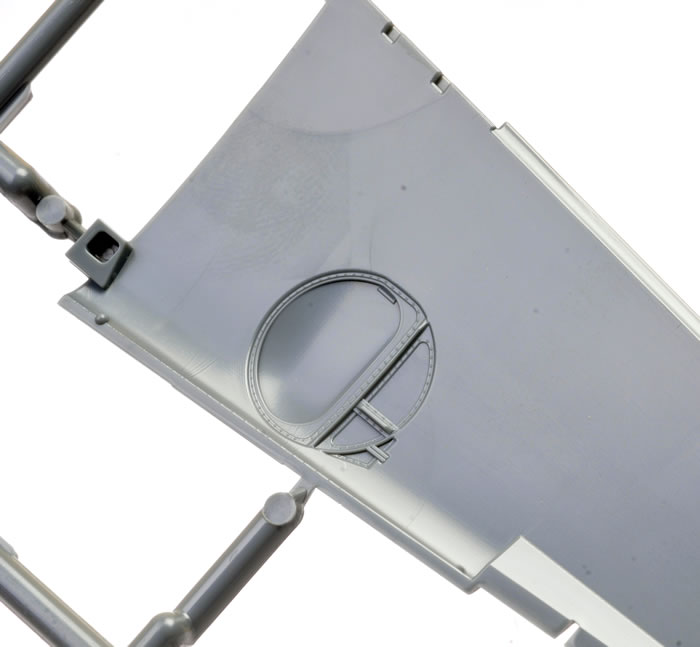 The fuselage is moulded with a separate fin, making it easy to cross-kit the tall and short vertical stabilisers.
The compound bulges of the new streamlined engine cowling of the G-10 are subtle, especially the port side that accomodates the larger supercharger and modified engine mounts. I think Eduard has done a pretty good job here.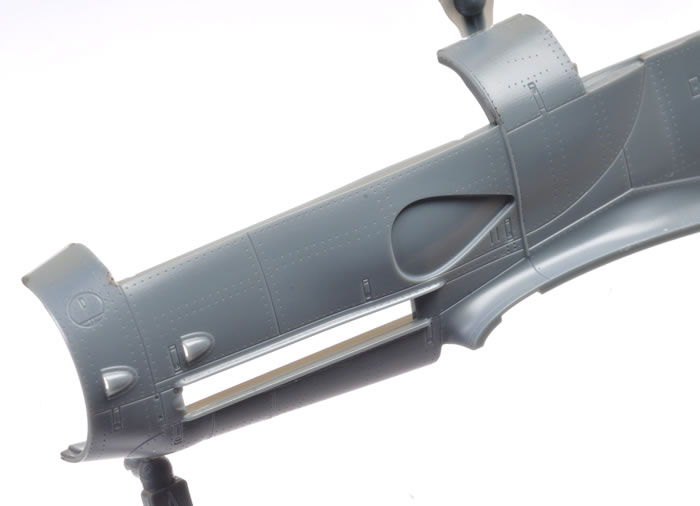 They have depicted the kinked bottom edge of the cowling and the compound bulge on the port side.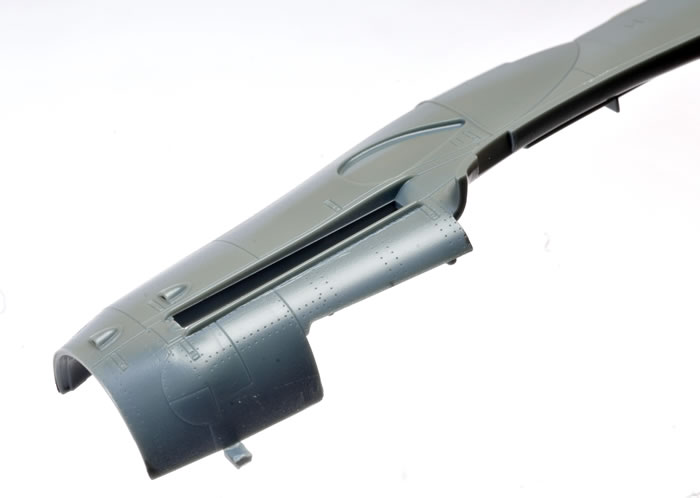 The fixed fairings are also moulded as part of the fuselage halves.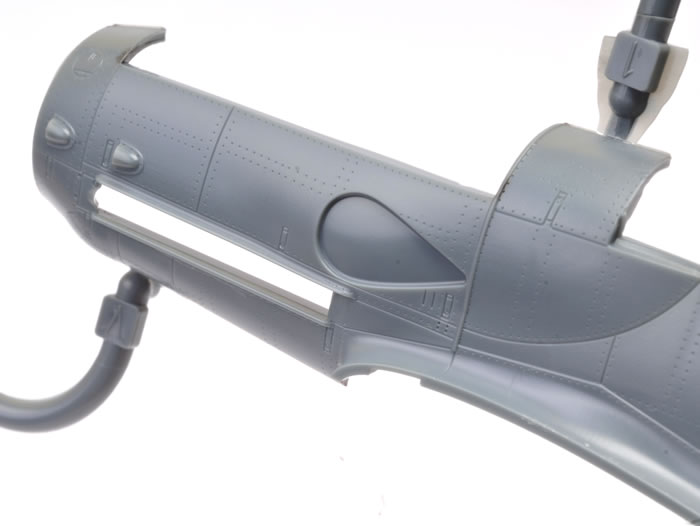 The armoured glass "Galland Panzer" and several optional windscreens and canopies are provided on the clear sprue. The inclusion of the clear fuel line is a nice touch. The inspection tube may be masked so that it remains clear after painting.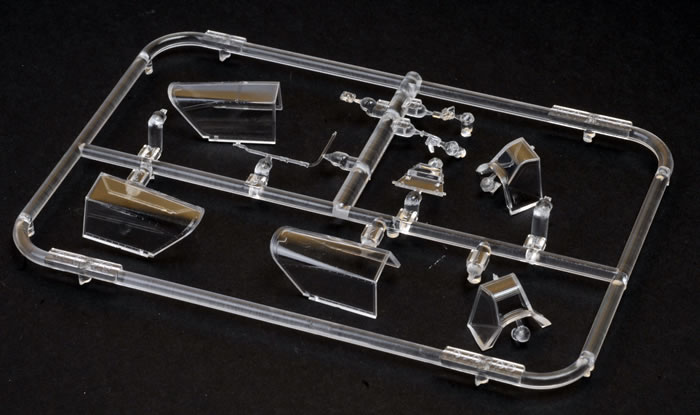 ---
BRASSIN Bf 109 G-10 Cockpit
If you want to spice up your budget Overtrees sprues, Eduard also has that option covered.
Eduard has released a number of related accessories in their BRASSIN range in conjunction with its recent Regensburg Bf 109 G-10. One of these is a replacement cockpit. This will be equally accurate for a WNF-built Bf 109 G-10.
The BRASSIN cockpit is a particularly effective to replace the all-plastic Overtrees cockpit.
Eduard's BRASSIN 1/48 scale Bf 109 G-10 cockpit comprises 19 pieces in grey resin, four clear resin pieces, two photo-etched frets (one coloured, one clear), one clear acetate sheet, plus instructions.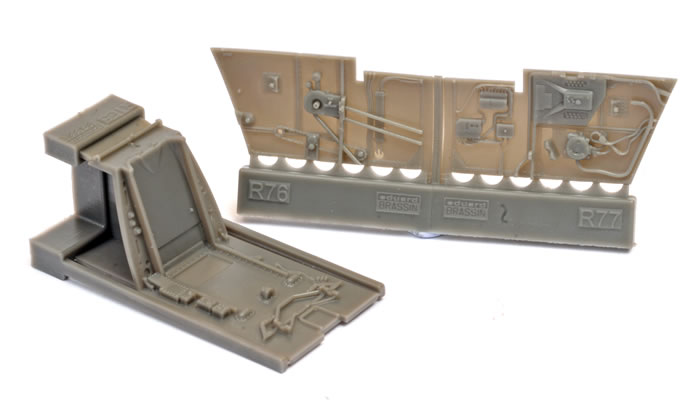 Casting quality is perfect on my sample. Cleanup is fairly straightforward as most parts are cast onto a resin strip, so a sharp knife and a swipe with a sanding stick is all that is required.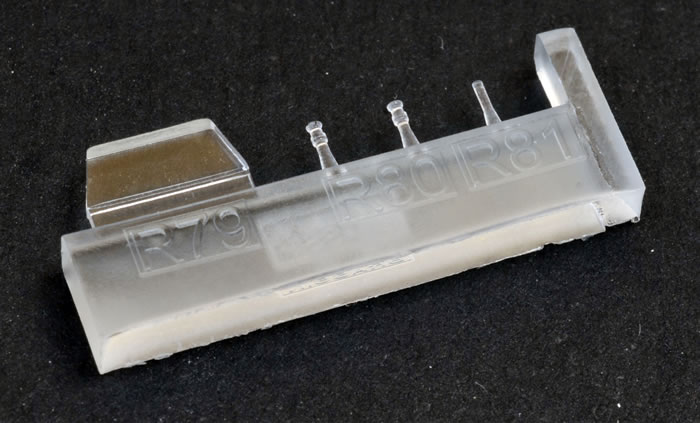 The seat tub, breech covers (choice of two) and the cockpit tub are cast on to more substantial blocks.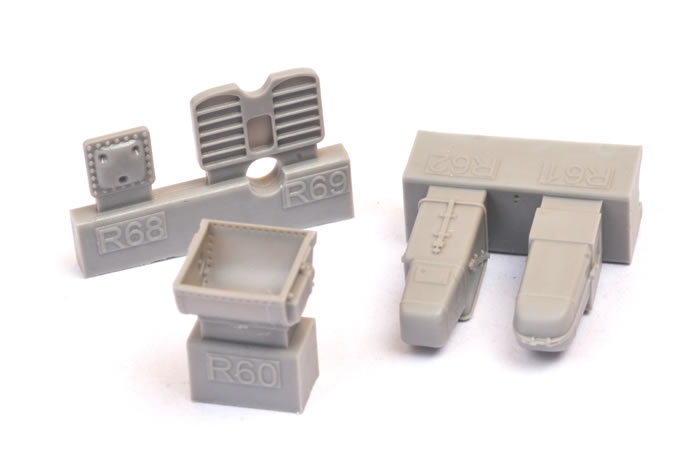 Alternative parts are supplied for the instrument panel (flat for the colour photo-etch or raised with a decal for instrument detail), breech covers and the pilot's stowage panel (early and late styles)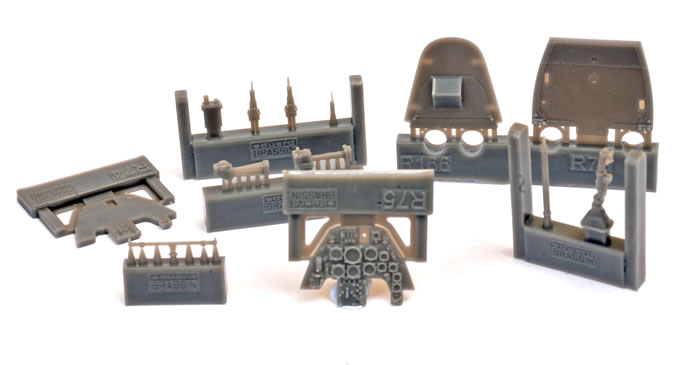 Colour photo-etched parts are supplied for the instrument panel, the harness straps and details.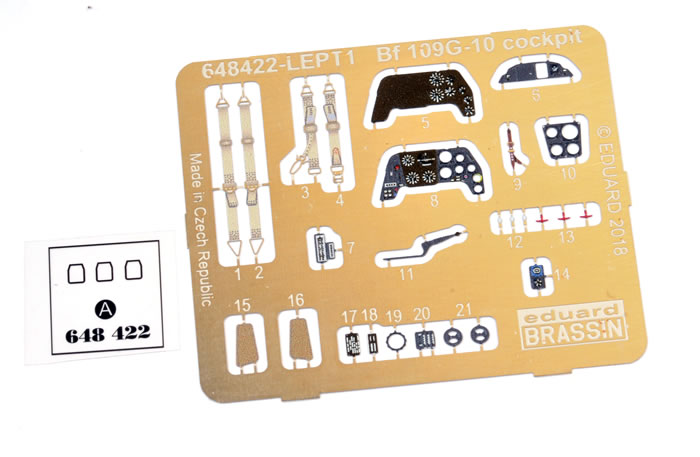 A second brass photo-etched fret adds more details.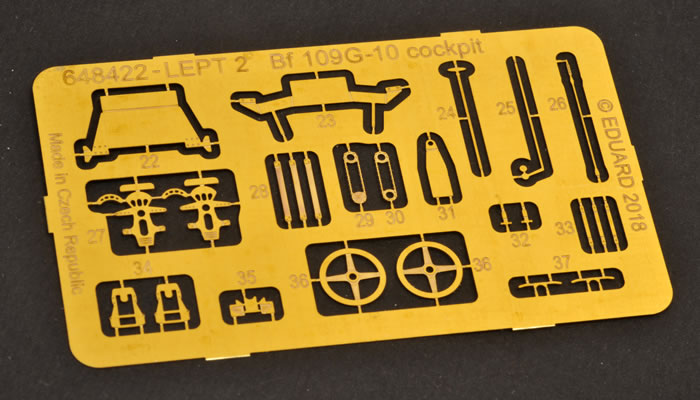 I have built Eduard's BRASSIN Bf 109 G-6 cockpit, which is very similar to this one in terms of detail and parts breakdown. The seat and covers may be removed with a razor saw, and I spent a few minutes with sprue cutters, a knife and a razor saw to free the main cockpit part. With the parts removed from their strips and blocks, assembly is very straightforward.
I particularly liked the multi-part photo-etched rudder pedals with their resin actuators.
---
LooK Instrument Panel and Harness
Eduard has added a number of new 1/48 scale LooK instrument panel sets to its range, including one for the Bf 109 G-10.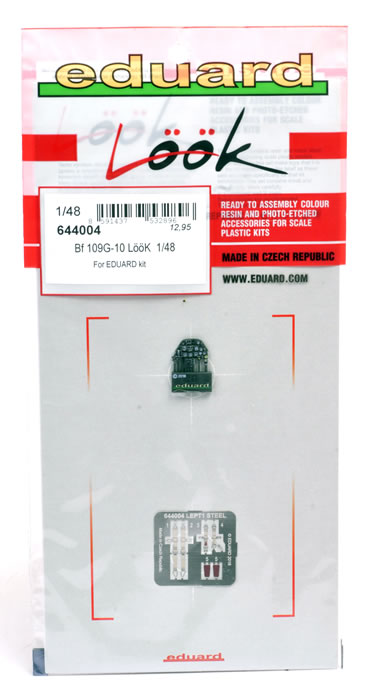 Installation could not be simpler. The three-dimensional resin part is already pre-painted. All you need to do it cut it from its narrow casting strips and glue it in place.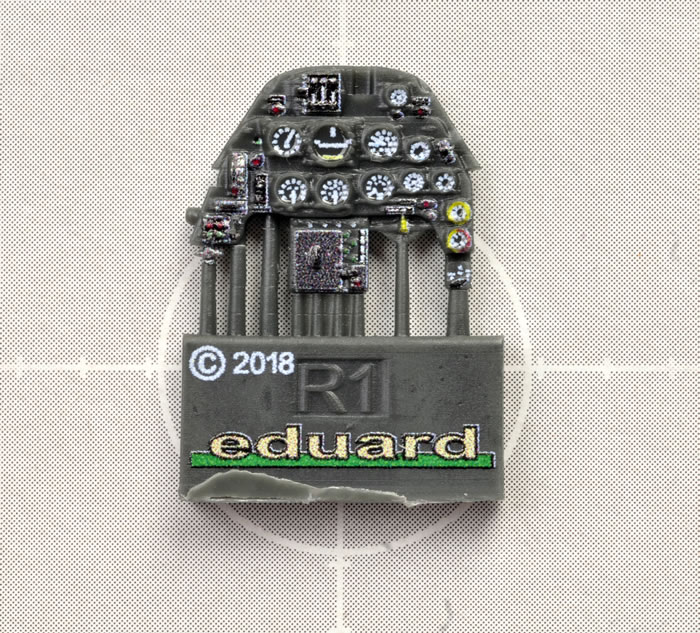 A set of STEEL harness straps is included too.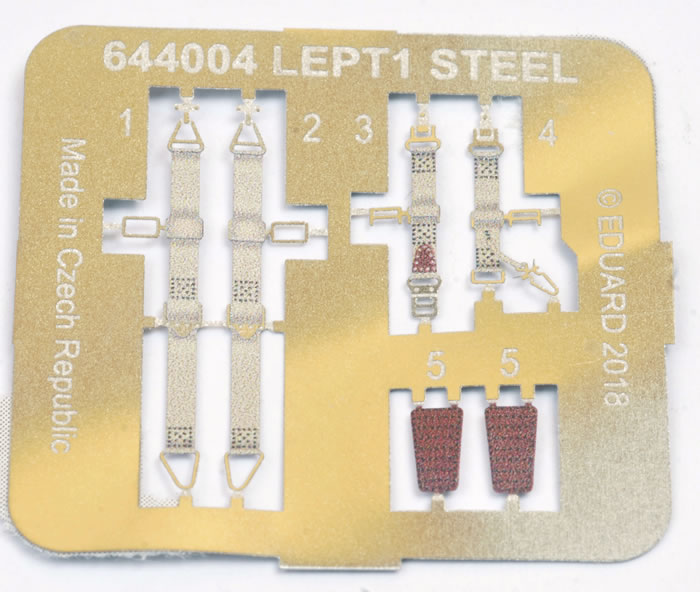 These are also very easy to install, and the soft metal is eminently poseable.
Eduard's 1/48 scale Messerchmitt Bf 109 G-10 WNF is a very welcome addition to their re-tooled Gustav family and the Overtrees boxing is available at a bargain price. This will be the idea basis for the beautifully detailed multimedia BRASSIN Bf 109 G-10 cockpit.
The LooK instrument panel will be nice enahancement option too.
I have built quite a lot of 1/48 scale Messerschmitt Bf 109 Gs over the last few years, mostly Eduard, and I reckon there'll be another on the desk before too long!
Thanks to Eduard for the samples
---
Text and Images Copyright © 2018 by Brett Green
Page Created 30 November, 2018
Last updated 30 November, 2018
Back to HyperScale Main Page
Back to Reviews Page