CASA C-212-100/300 'France'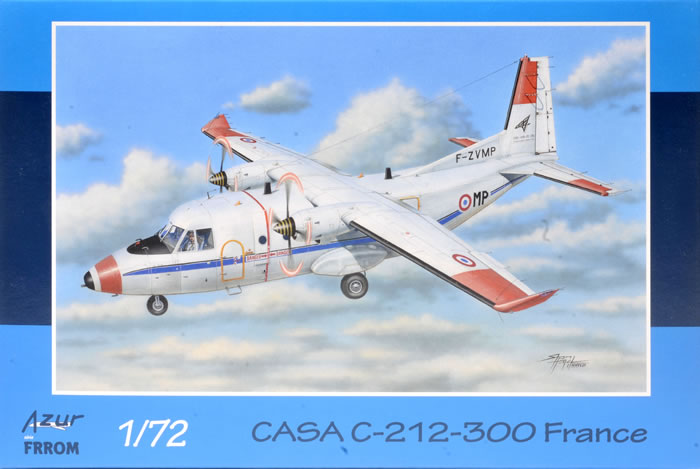 Azur FRROM, 1/72 scale
S u m m a r y :

Catalogue Number:

Azur FRROM Kit No. FR0040 - CASA C-212-100/300 'France'

Scale:

1/72

Contents & Media

Details below.

Price:

£26.99 EU Price (£22.49 Export Price) plus shipping available online from Hannants

Review Type:

First Look.

Advantages:

At last, a readily available kit of a globally successful light 'Jack of all trades' aircraft, nicely moulded, good instructions and decals and well presented in a strong box. .

Disadvantages:

Take care with parts choices and alignment as there are no locating pins, both minor issues to the experienced modeller.

Conclusions:

This is a very nice kit of a largely neglected light transport aeroplane and one that cries out for the decal manufacturers to provide us with a myriad of interesting schemes.

If this kind of aircraft rocks your boat then grab one or two now as we all know how quickly these great kits disappear.

Definitely recommended to the reasonably skilled modeller.
Reviewed by

Graham Carter

HyperScale is proudly sponsored by Squadron.com
A global success for Spanish firm CASA, the 212 is one of those aircraft that flies under the radar due to the nature of its employment. There were over 600 produced and still being produced in Indonesia under license after Spanish production ceased in 2010, serving military and civil operators in over ninety countries! It is widely known as the Aviocar, and in USAF service as the C-41A.
Designed to be a C-47/Ju52 replacement the Aviocar was flown in 1971 and entered service in 1974, its boxy shape , high wings, STOL performance, fixed undercart and rugged construction meant it could be simply modified for a number of roles such as communications, ambulance, paratrooping, navigation training, radio work, photo-recon, Maritime patrol , S&R and ASW. The provision of a rear ramp is especially useful for relief work and dropping chaps into the void.
Many have been produced as small airliners in the feeder-liner category with around 18-22 passengers, although the latest version can accommodate 28. The different series, 100, 200, 300 and 400, indicate engine upgrades, better avionics and interior layouts. Some aircraft in the 300 series have extended wingspans by way of pointed upwardly-curved extensions. About 250 are still in service around the world and the modeller has a plethora of users and schemes to chose from, so decal manufacturers can have a field day. Several found their way to Australia, including VH-ICJ of Lloyd Aviation in WA. Mining companies and feeder airlines operating in remote areas all over the world seem to find the 212 very attractive.
Dimensionally the Aviocar is just bit bigger than a Beaufighter.
(From Wikipedia and the kit instructions)
---
CASA 212 in Scale
This have been a couple of resin ( Scratchaeronautics ) and vacform ( Broplan ) kits of the Aviocar available over the years but I have not been able to look at these. I assume that this kit uses the Special Hobby moulds of a couple of years ago, a kit which has been produced in a number of boxings as the CASA 212-100 and C-41A, and an ELINT version. Comparison with these early sprue shots indicate that this kit has a new nose section on the main frame. CMK produce a set of replacement control surfaces and NH Details set NH72-069 do a PE set covering interior and exterior details. I could find no reference to after-market decal options but given the range of schemes available in the Special Hobby kits and this one, there is more than enough to keep the modeller happy.
Presented in the standard strong top-opening Azur-FFROM box, this is a very packed box of parts and your spares collection will come out on top as many parts are not used in this version. I counted 166 plastic parts in the box and for this version 75 of them go unused! The colourful lid 'painting' shows one of the four different French aircraft that can be built with the parts provided. The kit is clearly designed to allow the manufacturer(s) to produce a multitude of different versions and therefore extend the life of the mouldings.
The box is certainly packed, with five large sprues and one small one all in the familiar mid-grey plastic favoured by Eastern European manufacturers, packed in a re-sealable plastic bag. As well there is a sprue of clear parts, a double sheet of decals and a small PE set covering aerials and a pitot. A sixteen-page instruction booklet printed in colour completes the contents.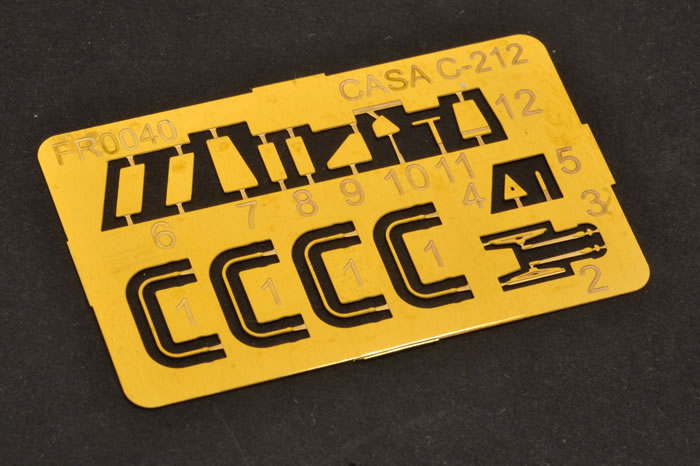 Parts are well moulded with fine surface detail and no evidence of flash. Seams are almost invisible but a light swish with a sanding stick should suffice.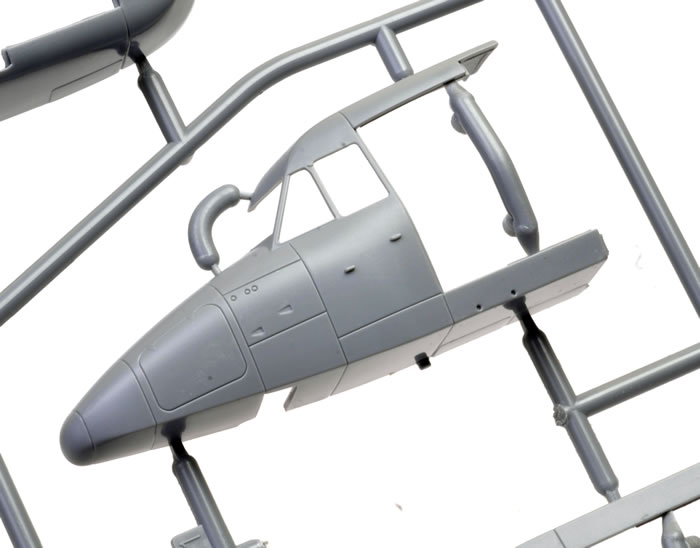 One propeller blade had come adrift but that will be an easy repair job. I am impressed with the finest of many small parts such as the undercarriage legs, aerials and control columns. Care will be needed in construction as this short-run kit has no locating pins as per usual practice. More care will be required in selecting the parts to be used for your chosen variant and the modeller will need to refer to the parts map and instructions constantly as there are numerous choices to be made such as four different noses, two fuselage fronts, four entrance doors , twelve different fuselage panel inserts, and several aerial fits to navigate around.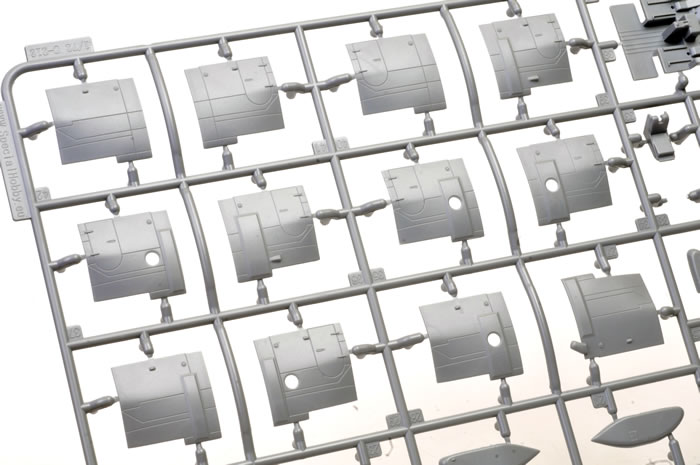 Fortunately the instructions are very clear as to which parts need to be used for the two versions in this kit, but this is one kit where the modeller will definitely need to follow the instructions.
If you are building the long-nose version I would suggest you combine steps 1 and 3 for the starboard fuselage half and steps 2,4 and 6 for the port side as you are required to cut a section from each half (there is a clear trench moulded inside each fuselage piece) and then add a new nose and insert panel. Doing all three in one go will reduce the chance of misaligning these. In step 10 make sure you add nose weight as this is definitely a tail-sitter! 20g is recommended, about an ounce in pounds, shillings and pence.
Transparencies appear to be very clear although the small size of the windows may mean you will use PVA or Kristalclear products rather than fiddle around with the plastic bits.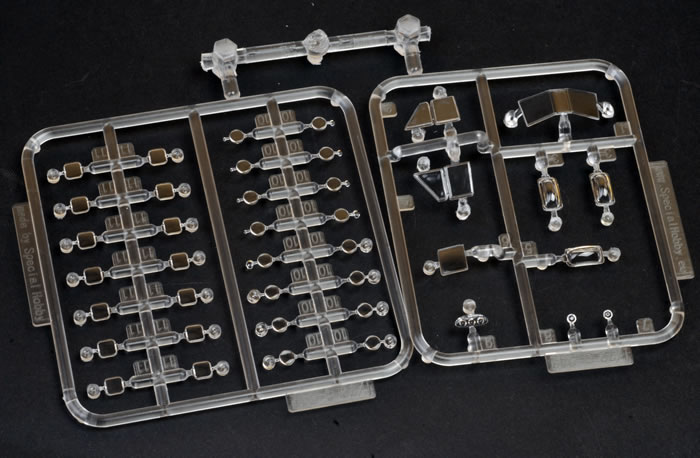 The cockpit area is nicely detailed but no seatbelts are included as mouldings or PE, and there is no fuselage interior at all - not even a floor! This opens up the field for the scratch-builder and the cottage industries as open doors and rear ramp could produce an interesting model. There are plenty of images on t'net of Aviocar interiors. However, any scratch-built interior work will require more weight in the nose.
Decals are nicely printed, colour alignment is great and four colourful French subjects are provided. I do think the French blue in the cocardes is too dark as they have been printed the same colour as the fuselage cheat-lines which do appear to be a slightly darker shade in the photos I have examined ( and we all know how hazardous that is! ).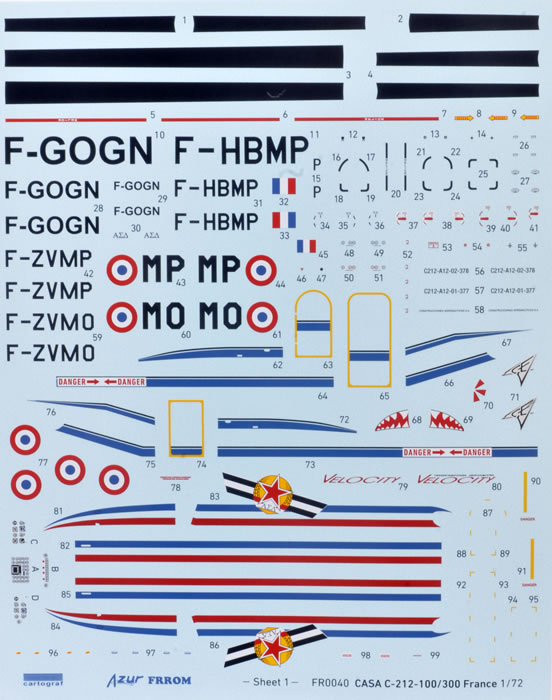 Still, I would replace them in my build. It is also a shame that the yellow spiral on the spinners is not provided on the sheet as it will be a bit of a pain to mask or freehand.
---
Colours & Markings
The four decal choices are all French aircraft.
Three overall white ones:
F-ZVMO and F-ZVMP which are 212-300s from the Armee de l'Air Flight Test Centre in Istres in 2015, both with the long noses and wings of the type 300, and it is interesting to note that these military aircraft carried cocardes, as well as areas of Dayglo orange,

F-GOGN , a types 100 with short wings and nose operated by Boogie Performance for film work in the James Bond movie "The World is not Enough" in 2009, and
And an interesting overall light grey type 300:
F-HBMP of CAE Aviation with a pattern of darker grey swirls across the fuselage, these being provided in decals to save some complex masking.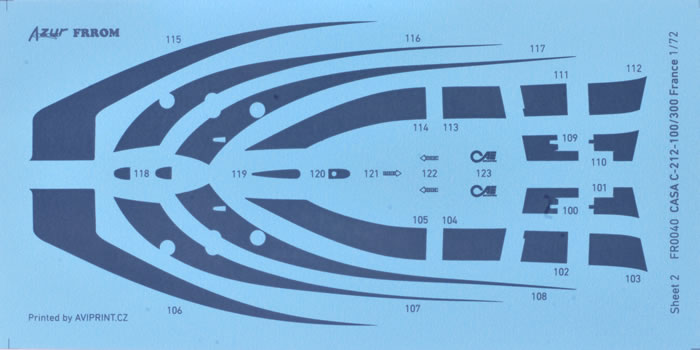 This is a very nice kit of a largely neglected light transport aeroplane and one that cries out for the decal manufacturers to provide us with a myriad of interesting schemes.
If this kind of aircraft rocks your boat then grab one or two now as we all know how quickly these great kits disappear.
Definitely recommended to the reasonably skilled modeller.
Thanks to Azur FRROM for the review sample.
---
Review Text & Images Copyright © 2018 by Graham Carter
Page Created 20 March, 2018
Last updated 26 November, 2018
Back to HyperScale Main Page