Avro Lancaster B.Mk.I
Test Shot Preview #2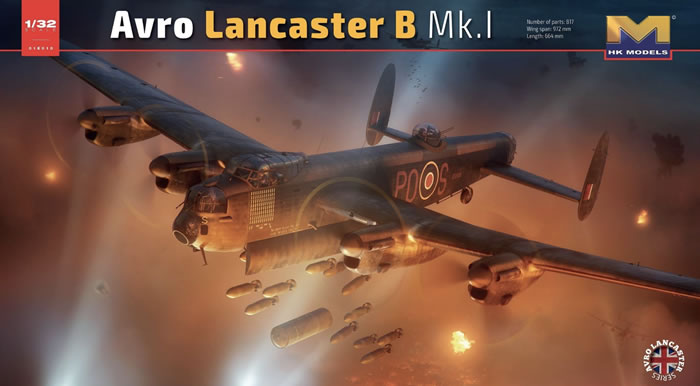 HK Models, 1/32 scale
S u m m a r y :

Catalogue Number, Description and Price:

HK Models Kit No. HKM01E10 - Avro Lancaster B.Mk.I

Contents & Media

817 plastic parts; decals for three options.

Review Type:

First Look

Advantages:

Big! Well detailed; includes four engines and full payload; exceptional clear parts.

Disadvantages:

No oilcanning effect.

Conclusions:

There's no doubt that this will be an impressive product, and certainly one that will make many a heavy-bomber fan very pleased indeed.

Eduard's Limited Edition 1/48 La-5 is available online from Squadron.com
Well, it's almost here. After a few short (some would say long!) years of delay, the gargantuan Hong Kong Models' 1/32 Avro Lancaster B Mk.I is soon to hit the shops, and is in final production as I write this. In a few weeks, the decals will be printed, as will the instruction manual and glossy box with its artwork by Piotr Forkasiewicz. There's no doubt that this will be an impressive product, and certainly one that will make many a heavy-bomber fan very pleased indeed.
HK's kit has 817 parts, a wingspan of 972mm and a length of 664mm, so you will need some decent place to display it when completed. The wings have been designed to detach in the same way as the B-17, with a slide and lock mechanism, and looking at the instructions, and parts, it does look like you may be able to also detach the substantial tail and fin assemblies. The final model will also come with three schemes, one of which is S-Sugar (PO-S) which adorns the box art. Stencil decals will also be supplied.
My test sample is by no means the final version. A small number of other modifications have already been applied since mine was pulled from the tooling, including an improved wing-locking system via tweaking the wing tools. Arriving by DHL Express from HK, the kit you see here arrived in a plain card box with all parts bound in a many layers of bubble-wrap. However, the clear fuselage/nose parts were actually ready in their heat-sealed packets, and these will be included in the Limited-Edition release. At this point, I expect that the standard grey parts will also be included with this Limited-Edition. The clear parts are also covered in a peelable protective film to lessen the chance of any scuffing on that crystal clear and shiny surface. A relatively small quantity of Limited-Edition kits will be released, and I imagine that a fair few of these will have been sold on kit pre-order.
HK's kit has 51 (55 for the Limited Edition) sprues, a number of which are interconnected on my sample, and may or may not be on the final production release. A number of these aren't sprues in the most literal sense, but are themselves large, single pieces, such as the fuselage, nose and wings.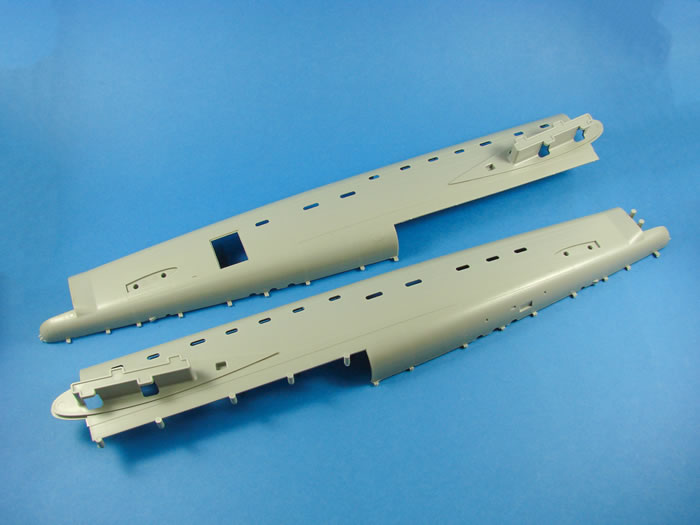 Two standard clear sprues are included, and everything else is moulded in light grey styrene. The fuselage is split at a joint just inboard of the wing leading edge, as per the actual aircraft, which was sort of built in modules. As for the wings, these are moulded as a single piece, so no need to glue upper and lower halves together. This is produced in the same way as the Mosquito's innovative single-piece wing. Wingtips are separate items, and these are again moulded as single-piece, hollow parts. Note the openings for the engine nacelle modules to be installed. The latter can be more or less completed and then plugged into the wing, complete with undercarriage for the inboard nacelles.
Whilst it was an original intention to depict oil-canning on the exterior surfaces, HK has decided not to take that approach, and have stuck to their fine panel lines and rivets finish as per today's standard.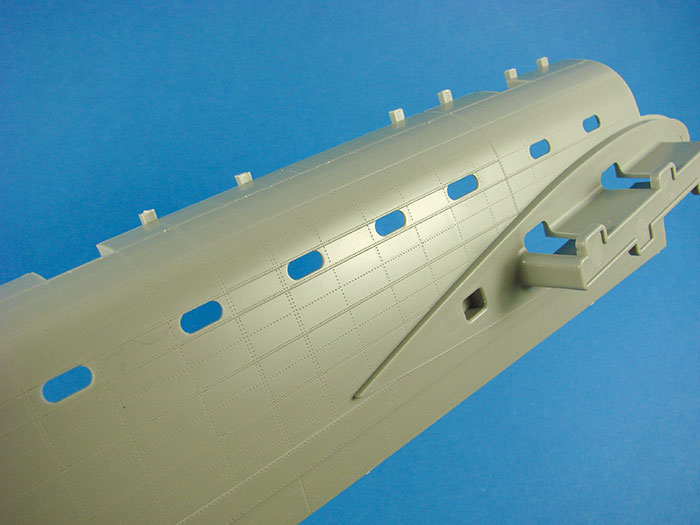 The WNW kit will have the quilted appearance on their release which is scheduled for late next year. Internally, the Lanc's fuse has a complete set of formers and stringers moulded in situ, with no pesky ejector pin marks that need removing. Instead, a series of tabs will need to be cut from the perimeter of these large parts, and a couple from selected windows. Fit of these large parts is excellent, and I can testify to the fit quality of the cockpit too as I built an early test shot just after Japan's Shizuoka show.
Internally, detail is excellent, with a fully fitted-out cockpit, radio operator, engineer, bomb aimer stations, as well as the infamous main spar which proved such an obstacle to crews which had to abandon their damaged aircraft. Ammunition containers, feed belts, doors to access rear turret, main hydraulics tank, flap jack, flare tube, turret hydraulic pressure recuperators, and even the Elsan toilet for those awkward in-flight moments! As you will imagine, the interior is spread around a number of sprues, and the completed model should look quite amazing. Note that the kit will come with some photo-etch, including such things as the seatbelts, but this test shot doesn't have that.
Those turrets are also nicely detailed within, and the joint lines on the forward and mid-upper follow a natural frame line.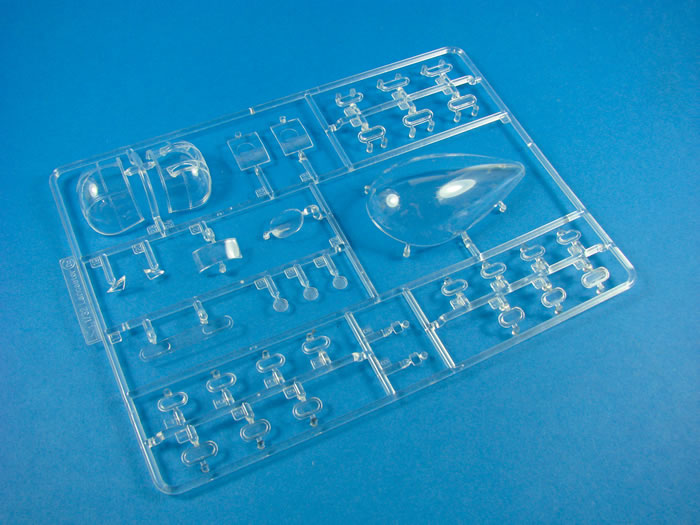 The rear turret glazing is moulded as a single piece item, and all turrets can be positioned/moved when installed. Barrels in this kit are moulded from styrene and the use of slide moulding has created hollow muzzles. Cooling slots are micely depicted. I do know that Master Model will produce a set of barrels specifically for this model. A small sprue contains the mid-upper fairing, and also a blanking plate, but the latter isn't for use with this release. Another key external part that isn't scheduled for use with this kit is the bulbous H2S housing that sits under the belly. So, it's obvious that HKM has plans for the Lanc, as alluded to on the box art (Avro Lancaster Series).
Four detailed engines are included in this kit, plus their respective oil tanks, mounts and firewalls. A little extra lead plumbing and wiring, and these will look very nice indeed. Of course, the intake radiators are included, with their very fine textured finish.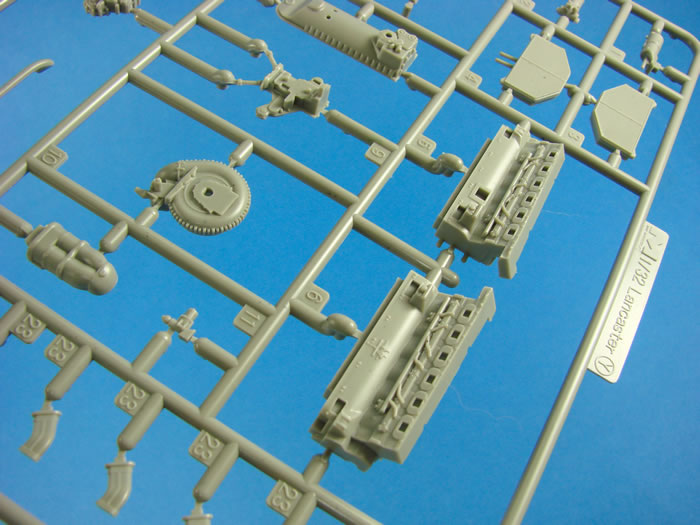 Looking at the engine nacelles, HK do seem to have got the shapes correct after a failed few first attempts, so kudos to them for persevering with that. The nacelles, undercarriage and engine installations can be completed as separate units and then installed later. The appearance of the gaping mouth of the intake looks correct, and of course, the engine panels can be posed off the model to reveal the workmanship within. Exhausts are separately moulded stubs with semi-hollow, detailed ends, thanks to slide-mould technology. You will notice that both paddle and needle type prop blades are included, and both look slated for use with this release.
The flying surfaces of the Lanc are pretty large. To strengthen the tail areas, the inside of the parts have a series of ribs that will stop any accidental compression from cracking the seams, and also provide more basic rigidity. Elevators and rudders are moulded separately and can be positioned.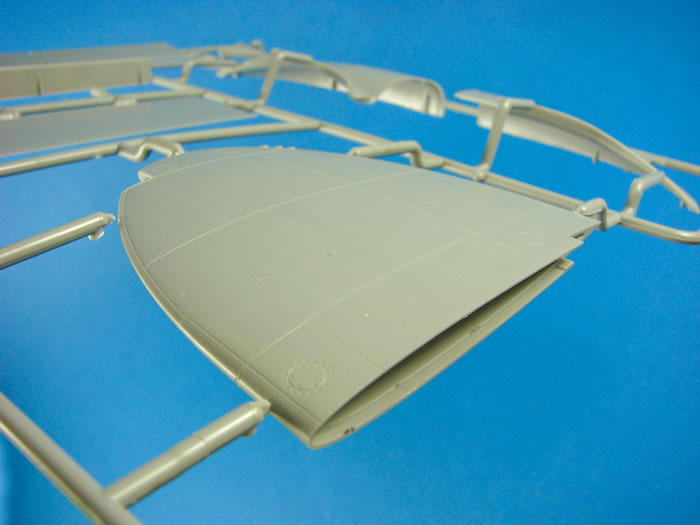 A large bomber needs a substantial payload, and this is supplied by means of 5 sprues of bombs and two which contain parts for the cookie. Plenty of construction work here to fit out the working face of the Lanc, but construction is very simple here. These are moulded with their plungers in situ, as well as fins, and you just need to add the ring to the fins. The instructions show the bomb bay doors and actuators being fitted at fuselage completion, which would be correct as the wings are separate modules which will install later.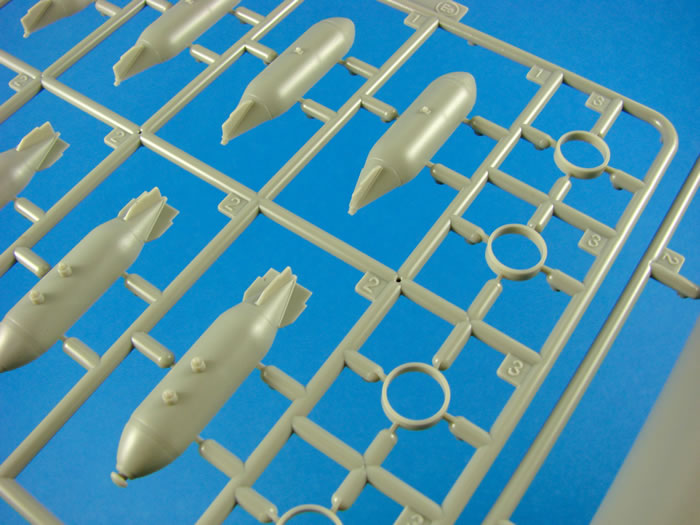 Clear parts are exceptional, with well-defined framing and no distortion, visually. Blisters are supplied to fit the main canopy sides, and the forward side canopy windows are separate too. Note that two different bomb aimer blisters are included in my sample, with only one for use with this specific release. I don't know whether these extra unused parts will be supplied in the general release.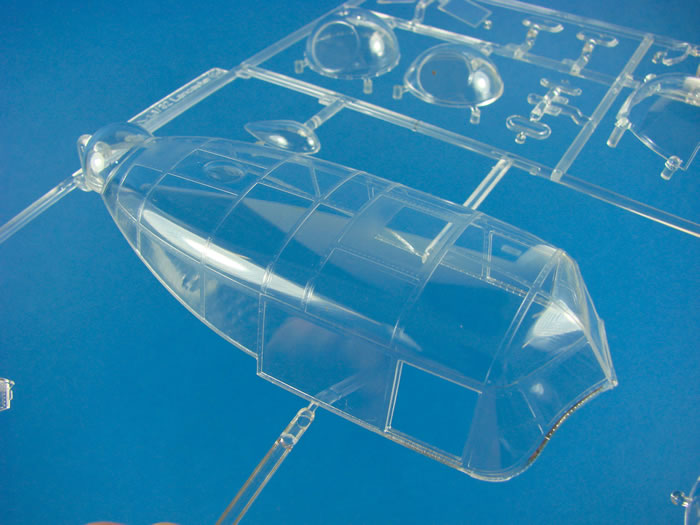 My sincere thanks to HK Models for sending out this test shot for this article, and to build for the Military Illustrated Modeller magazine. In the meantime, check out the Facebook page for building the 1:32 Avro Lancaster, here: https://www.facebook.com/groups/LancAssemblyLine/
Thanks to Neil Yan of HK Models for the sample.
---
Text and Images Copyright © 2018 by James Hatch
Page Created 9 October, 2018
Last updated 9 October, 2018
Back to HyperScale Main Page
Back to Reviews Page