Model T 1913 Speedster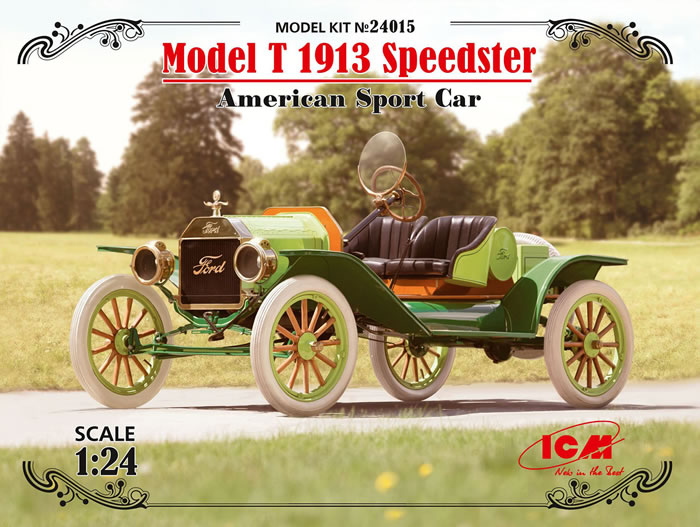 ICM, 1/24 scale
S u m m a r y :

Catalogue Number:

ICM Kit No. 24015 - Model T 1913 Speedster

Scale:

1/24

Contents & Media

Five sprues of grey plastic; two clear sprues; six off-white vinyl tyres.

Price:

Available online from these stockists:

Click here for currency conversion

Review Type:

First Look.

Advantages:

High quality plastic parts; high level of detail; crisp and fine surface textures; comprehensive instructions.

Disadvantages:

Conclusion:

Beautifully detailed and straightforward in construction, this model will look like a gem if you take all the right precautions when applying that paint scheme.

Reviewed by James Hatch

ICM's 1/24 Model T Speedster is available online from Squadron.com
The Ford Model T (colloquially known as the Tin Lizzie, Leaping Lena, or flivver) is an automobile produced by Ford Motor Company from October 1, 1908, to May 26, 1927. It is generally regarded as the first affordable automobile, the car that opened travel to the common middle-class American; some of this was because of Ford's efficient fabrication, including assembly line production instead of individual hand crafting. The Ford Model T was named the most influential car of the 20th century in the 1999 Car of the Century competition, ahead of the BMC Mini, Citroën DS, and Volkswagen Type 1. Ford's Model T was successful not only because it provided inexpensive transportation on a massive scale, but also because the car signified innovation for the rising middle class and became a powerful symbol of America's age of modernisation. With 16.5 million sold it stands eighth on the top ten list of most sold cars of all time as of 2012.
The Speedster was but one of many customs offered in 1913 by independent manufacturers, giving the owner a less expensive option to the very popular (and expensive) Stutz Bearcat and Mercer Raceabout. Usually the chassis was lowered four inches, called "underslinging", the wheelbase slightly extended, and the basic 40 HP motor "hopped up" with a Roof or RAJO Overhead Valve Conversion (OHV), a hot cam, balanced crankshaft with pressure oiling, and side-draft or up-draft carburettors. And of course, the stock body was replaced with a sharp looking "Speedster Body" complete with a monocle windshield, and the heavy wooden wheels were replaced with strong and lightweight wire wheels. Some cars retained standard Ford wings, and some did away with them altogether. A complete kit of radiator, hood, floorboards, rear gasoline tank, and body could be purchased for around $100. The Speedster body wasn't just for looks; it made the Model T go faster by making it lighter, cutting down the frontal area, and streamlining it. Just making these changes could add 10 to 15 miles an hour to the top speed.
Edit courtesy of Wikipedia and Speedsters.
The Model T 1913 Speedster is packaged into ICM's now familiar style, robust corrugated box with integral lid, covered by a separate glossy product lid that has an artwork of one of these beautiful little vehicles sat demurely on a path/road in either a country park or out in a rural area. The side of the box has three profiles of the vehicle. Removing the lid and opening the box, we find a single re-sealable clear sleeve containing FIVE sprues of light grey styrene (two sprues (A & B) are co-joined), two small sleeves each containing a clear sprue, and also a sleeve with the solid rubber tyres, moulded in an off-white/cream coloured vinyl. In the bottom of the box lies an instruction manual. No decals are supplied with this kit. They simply aren't needed. It'll be your painting job that will show this model off to its best advantage.
Assembly begins with the engine. I'm not sure how this compares with other versions, bearing in mind that the Speedster engine is technically different. I don't know how those changes would impact the exterior of the engine. This area comprises around a dozen parts, spread over the first two sprues. Construction of the engine centres around the main engine block which is assembled as halves, and then progresses to the cylinder head block, manifold, cooling fan and driver belt, and mounting lugs. Detail really is very fine and nice and sharp too, with sprue gates being thoughtfully placed so as not to interfere with any intricacy of any component.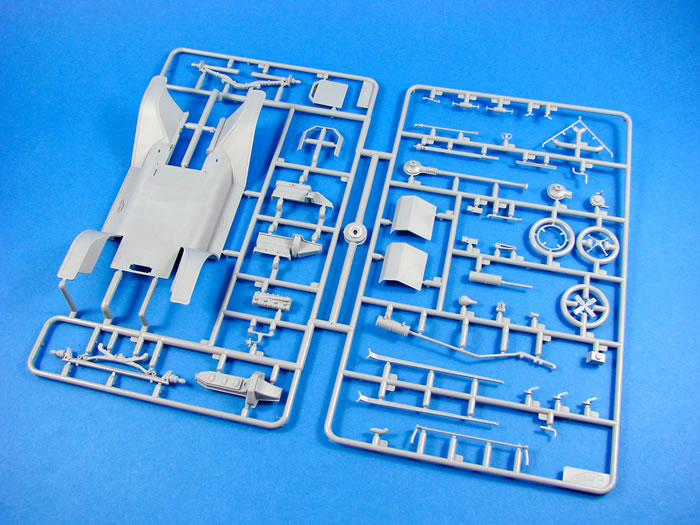 With the engine built, the characteristic FORD radiator is assembled and then secured to the forward leaf-spring suspension before being fitted to the Speedster's lower body.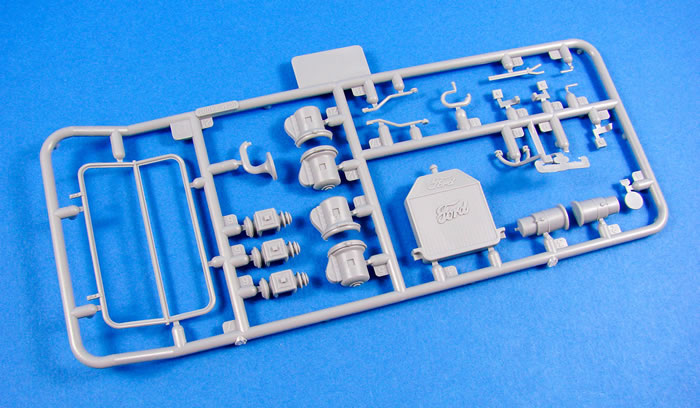 This latter part is moulded with the forward and rear mudguards, and also the running boards with the Ford company logo on them. The mudguards have a decorative trim to them, and the interior floor has a very fine grip detail moulded into it. The engine can now be mounted into the lower body, along with radiator cooling pipes and rear axle and leaf-spring suspension. A two-part exhaust system is them installed, as are the various drive bars and rear axle bars that lock the unit into place, so it doesn't move. Underneath the Model T, detail is quite rudimentary, but that is how the car was, and ICM has made a very nice job of recreating this.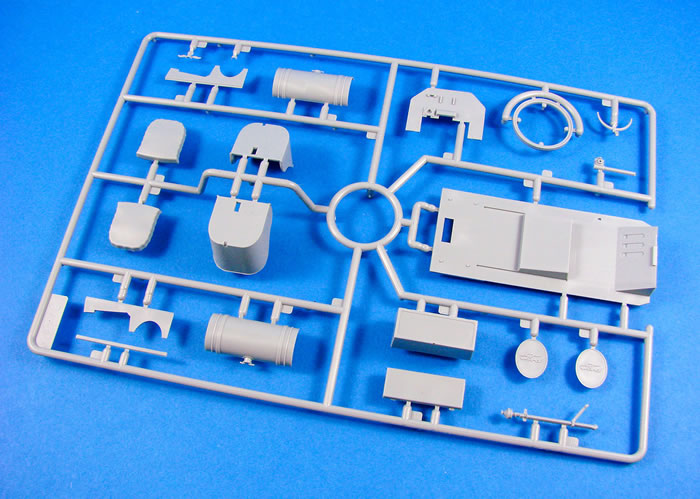 To cover the engine, a two-piece rear firewall is added to the chassis, followed by a hinge plate and two separate engine covers which look like they could be posed in an open position, albeit with no internal details.
One sprue contains the wheel hubs, with their wooden spokes and wood/metal rims. These were actually artillery wheels, with the metal equivalent being produced in the late 1920s. The central mounting hub plate is also present, along with securing bolts.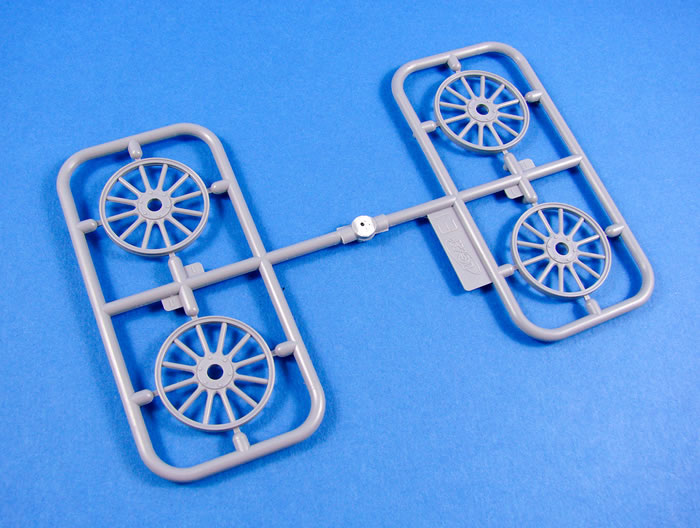 ICM has included three sets of cream/white vinyl tyres for this model, in roughly the correct colour as was used, and the tyres are different for front and back. The reason for three sets is that you'll need a tyre for the spare that's carried on the rear body. After all, you wouldn't want to break the law!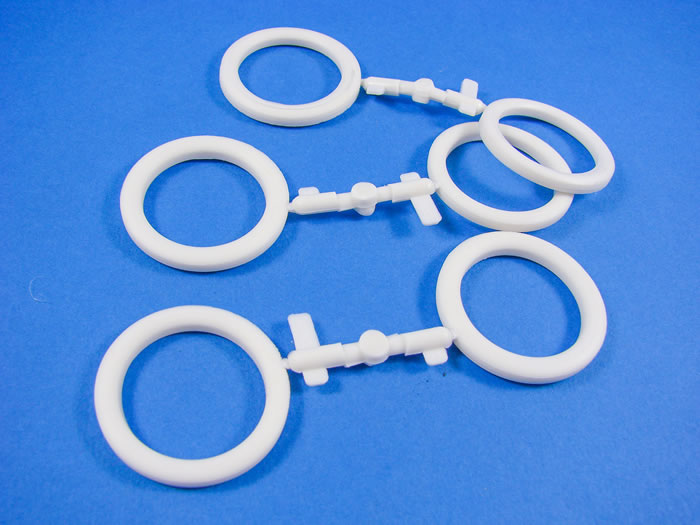 Covering over the moulded floor details of the lower body is a secondary car floor onto which is fitted the four-part fuel tank with Ford logo, and the driver and passenger seats. The latter are moulded as two-part items with realistic upholstery and uneven cushions from the application of many human bottoms!
With the floor and seating in place, the foot pedals and steering wheel can be added. This version doesn't have a windscreen per sé, but does have a clear round window mounted onto a frame which attaches to the steering wheel column. An unusual but very elegant solution.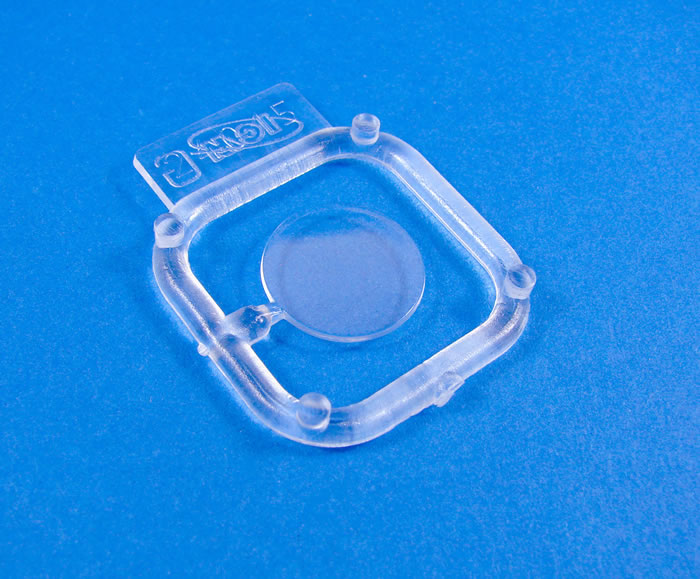 Final details include the forward headlamps, front lamps and tail lamp, plus the spare wheel etc.
Two clear sprues are included, with one of these being specific to this release (steering column-mounted window), and the other containing parts for the lamps etc. Most parts on the larger clear sprue aren't for use on this release.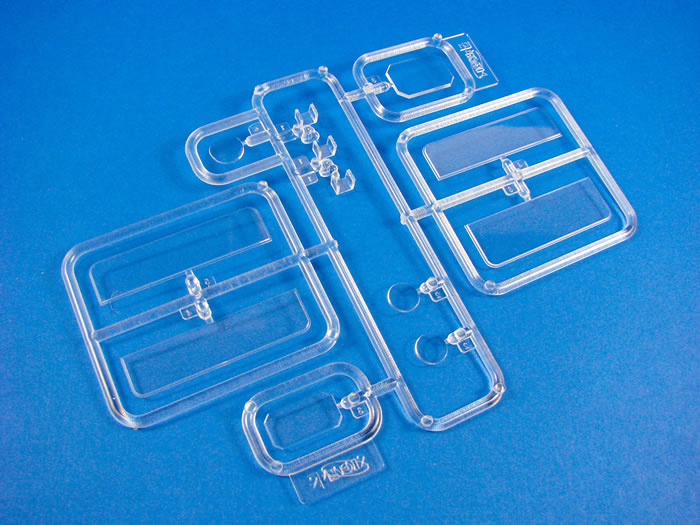 Instructions are provided as a glossy 12-page A4 booklet, starting with a history of the type, paints reference for Revell and Tamiya colours, and a parts map with shaded out parts for those not in plat. Over 50 clear constructional stages illustrate the building of this model, and there's nothing that should trip anyone up as everything looks nice and simple to build. The last page of the book shows the painting guide for this Speedster. Again, you should have no issues in completing this as the scheme looks straightforward. It may be easier to paint some parts before adding them to the overall kit.
ICM is making real headway with their range of Model T-based kits, and this is a little stunner. Beautifully detailed and straightforward in construction, this model will look like a gem if you take all the right precautions when applying that paint scheme. It will definitely benefit from some good high-gloss painting. One of the more attractive versions of Ford's iconic vehicle, this one should definitely be on your shopping list.
Thanks to ICM for the review sample.
---
Review Text and Images Copyright © 2018 by James Hatch
Page Created 29 October, 2018
Last updated 29 October, 2018
Back to HyperScale Main Page
Back to Reviews Page