Polikarpov I-153 Chaika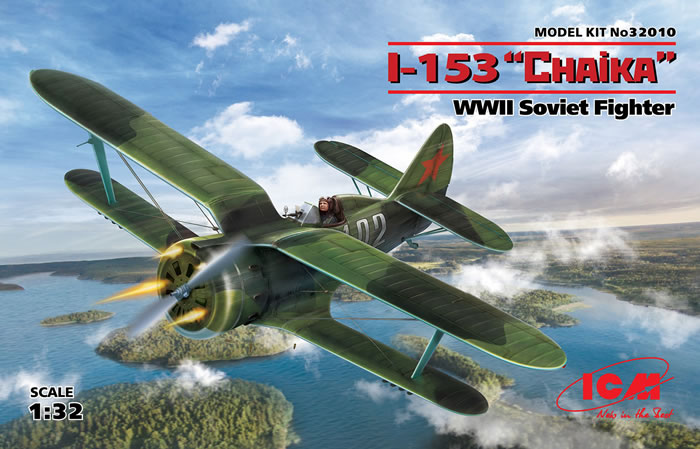 ICM, 1/32 scale
S u m m a r y :

Catalogue Number:

ICM Kit No. 32010 - Polikarpov I-153 Chaika

Scale:

1/32

Contents & Media

Three large sprues of light grey plastic; one sprue of clear plastic; instructions and a single decal sheet.

Price:

£35.99 (£29.99 Export) plus shipping available online from Hannants

USD$72.99 plus sipping available online from Squadron

Click here for currency conversion

Review Type:

First Look.

Advantages:

High quality plastic parts; high level of detail; crisp and fine surface textures; comprehensive instructions.

Disadvantages:

Conclusion:

Plenty of buildability and one of those kits that really excites me.

Reviewed by James Hatch

ICM's 1/32 scale I-153 Chaika
is available online from Squadron.com
The Polikarpov I-153 Chaika (Russian ?????, "Seagull") was a late 1930s Soviet biplane fighter. Developed as an advanced version of the I-15 with a retractable undercarriage, the I-153 fought in the Soviet-Japanese combats in Mongolia and was one of the Soviets' major fighter types in the early years of the Second World War. The aircraft was of mixed metal and wood construction, with the fuselage structure being based on chromium-molybdenum steel with duralumin skinning on the forward fuselage, and fabric covering on the fuselage aft of the front of the cockpit. The aircraft's wings were made of fabric covered wood, while the tail surfaces were of fabric covered duralumin. The aircraft was fitted with a tailwheel undercarriage, with the mainwheels retracting rearwards, rotating through 90 degrees to lie flat in the wing roots, being actuated by cables operated by a pilot-driven handwheel. The solid rubber tailwheel did not retract but moved in conjunction with the rudder.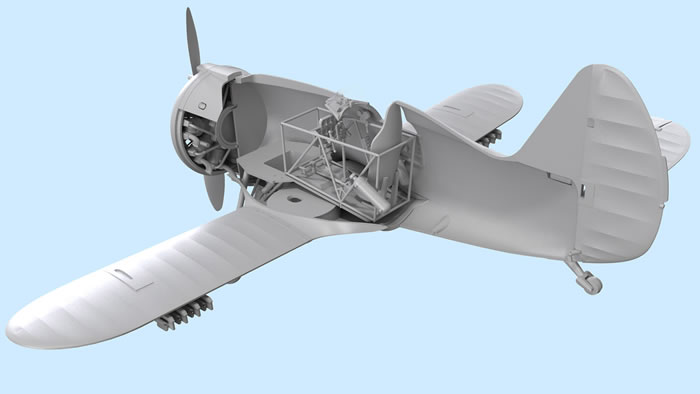 The I-153 first saw combat in 1939 during the Soviet-Japanese Battle of Khalkin Gol in Mongolia. The Japanese Army Air Forces' Type 97 Fighter (Nakajima Ki-27) Nate proved a formidable opponent for the I-15bis and I-16 but was more evenly matched with the I-153, which retained agility inherent to biplanes while featuring improved performance. While the overall I-153 performance was satisfactory, some significant problems were revealed. Most troublesome was the absence of a firewall between the fuel tank mounted in front of the cockpit and the pilot. Combined with strong draft coming in through the wheel wells, fuel tank fires invariably resulted in rapid engulfment of the cockpit and severe burns to the pilot. In addition, the M-62 engine suffered from a service life of only 60–80 hours due to failures of the two-speed supercharger. The Polikarpov I-153 Chaika never flew with any Spanish Air Force units during or after the Spanish Civil War. Two earlier variants of this aircraft, the I-15 and the I-15bis, did fly with the Republican Air Force during the conflict and, later, captured examples of both types were used by the Fuerzas Aéreas till the early 1950s. Three I-153s are still flying.
Historical summary courtesy of Wikipedia
Well, we weren't expecting this in 1/32! ICM are rapidly becoming well known for their excellent choice of kit subject, coupled with some rather nice engineering and kit production standards. Some will hark to the old days when kit fit may have been less than stellar, but it's time for those to move on a little. ICM, as with many of their peers, now use CAD to assist them in design. I've partially constructed their 1:48 He 111 and mostly built their Ju 88C-6 kit with nothing to report on in terms of some of the mud I recently saw flung at them on one forum. Anyway, I digress.
This release is packaged into ICM's now familiar single-piece corrugated box that is extremely robust, and has a glossy product box top lid depicting a low-flying Chaika with all guns ablaze. Lifting the lid reveals a large, clear and resealable sleeve containing three large sprues of light grey styrene. Also in there is a single sprue of clear plastic, packed into another protective sleeve. In the bottom of the box lies the instruction manual and within this, a single decal sheet is tucked.
---
Sprue A
We're straight into the action with this sprue, containing the fuselage halves and three-part lower wings, amongst other components. Looking at the fuselage first, the external textures are nicely refined with a very realistic fabric and stringer representation of the rear fuselage, along with details such as the spring-loaded footstep cover plate, plus delicate panel lining at the forward half, including fastener and louvre detail. The latter aren't moulded as open slots, but they are so fine that a simple wash will be all that's needed here. To facilitate the upper wing fixture, the upper forward fuselage is an open area that will accept the full-span wing section. Note that the rudder is also moulded separately, therefore can be posed dynamically. Some cockpit sidewall detail is moulded within the fuselage, such as rib and stringer details, and this will of course be supplemented by the tubular cockpit tub.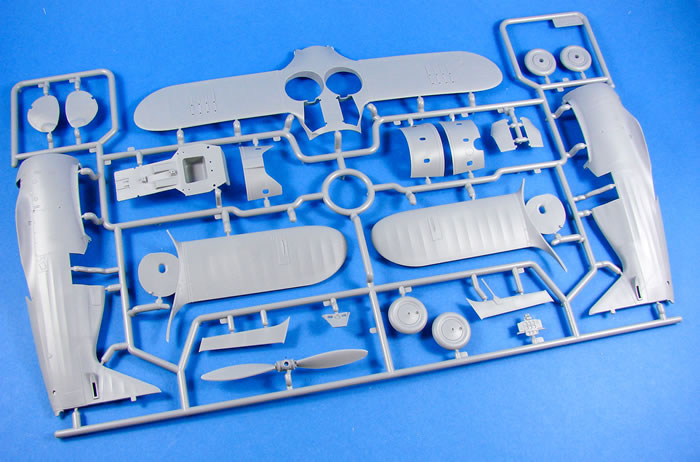 ICM has moulded the lower wing also as a full span unit, and all parts of this are to be found on this sprue. External wing surfaces are also resplendent in the same realistic and subtle fabric and rub textures as seen on the fuselage, with munition mounting hardpoints also present. The fuselage centre section is moulded with the openings for the main gear wells and retract channels. When it comes to the upper wing panels, recesses are moulded within the strut hardpoints, and should provide good, clean and positive strut placement. Those struts on the I-153 are broad, single units, and are delicately moulded on this sprue. Rigging points are also moulded, but I think these are best being drilled out before you reach that stage. Note that the main gear well ceilings are moulded onto the inboard edge of the upper wing panels.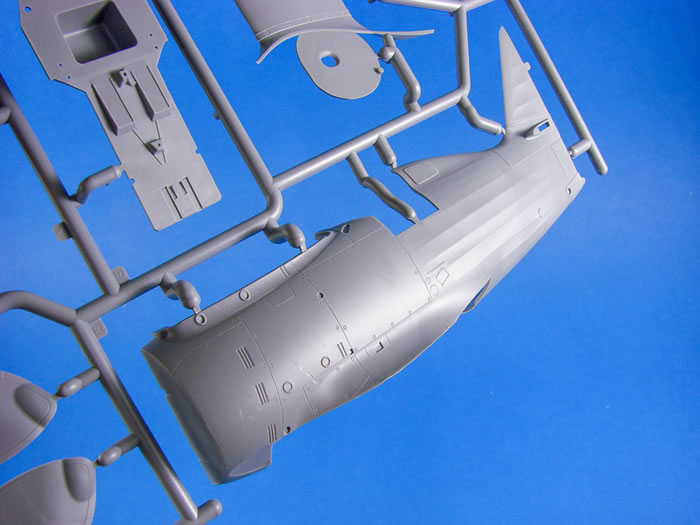 Also on this sprue are the cockpit floor, two-blade propeller, two-part wheels with integral hubs, a superbly defined instrument panel with empty gauges for affixing the instrument decals, multipart engine cowl panels, and landing gear doors with nicely detailed interiors. I note that some minor clean-up of seams will be required on some parts, but nothing at all onerous.
---
Sprue B
The second sprue holds the last of the major airframe parts, such as the three-part upper wing. As with the lower wing, the main panel is moulded full-span, sans ailerons. As well as the subtle rib and fabric detail, and external wing stiffening strip.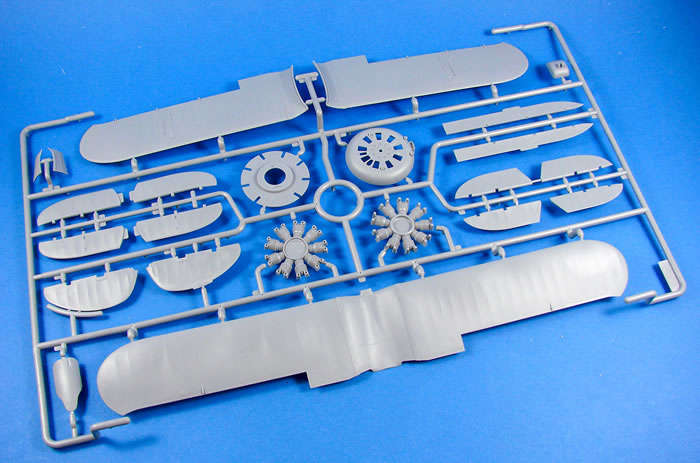 A separate full-span elevator is provided, and the construction of this and the stabilisers is quite traditional, with a tab to fit to the fuselage. Ailerons are moulded as one-part items, with a nice, thin trailing edge.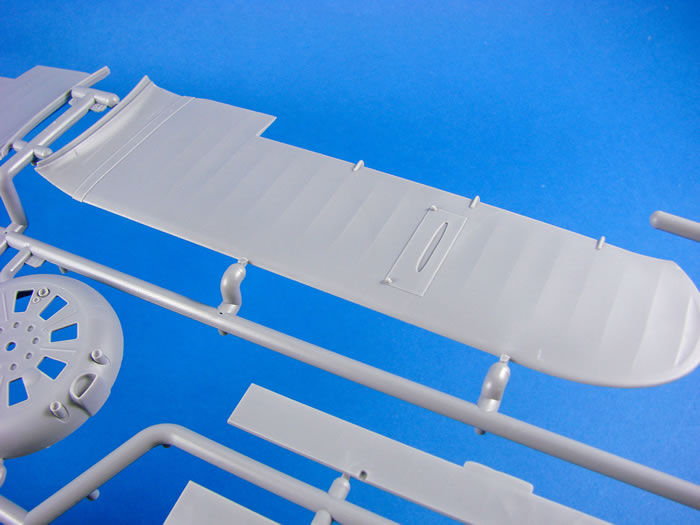 As with the previous I-16 kit, the Shvetsov M-62 radial engine is very nicely moulded as front and rear halves. Cooling fin detail is nicely defined, but of course, that seam runs right through it. If it's anything like the I-16 kit, you'll barely able to see the joint when assembled. Also remember that the engine is buried deep in the cowl, and unless you have a panel or so removed, you'll hardly see anything in there. The forward cowl and engine firewall are also moulded here, as is the pilot seat.
---
Sprue C
This really is the detail parts sprue, with components here for the tubular cockpit tub (seat brackets, two-part control stick, pistol, consoles and oxygen tank etc) There are a variety of underwing munitions choices, and this is where you'll find them. The engineering of the bombs is so that the fins remain thin, and the seams minimal. Also note in the exhaust parts in this photo. You will need to hollow out the ends though. A number of other engine parts are moulded here, but you will need to be super careful in cutting them from the sprue in some cases. Almost surgical precision will be needed.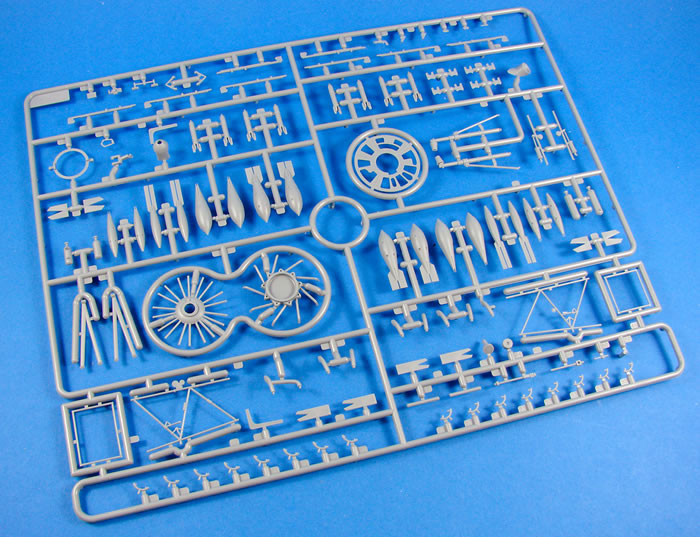 The munitions rails are also nice and sharp and have positive wing attachment points.
Some of the finer parts will still require a little paring of the seam lines, with the edge of a fresh scalpel, but the details are sharp. Just a little lead wire added to these cockpit frames, will be all that you really need, unless you want to go the further mile and utilise Eduard's new sets for this specific kit. I must admit that they do actually look very good.
Undercarriage struts are also nicely depicted and sharp in detail. The angled plunger axle will ensure a nice snug fit to the wheels.
---
Sprue D
A very small, clear sprue holds just 6 parts.
The main one of course being the windscreen. Other parts here include the wingtip and rudder lights, plus the windows in each of the main gear bays. Clarity of the parts is excellent, and no mould flaws are to be seen.
---
Marking Options and Decals
The decals for this model are a very simple but well-presented affair. A single sheet contains the markings for three machines, with these being no more than a variety of red stars, some with borders and circles, and the various numbers. No stencils are provided, but a single instrument decal is. I'm not actually too keen on that and would look at using something from an aftermarket sheet. At the very least, you would need to punch the dials out.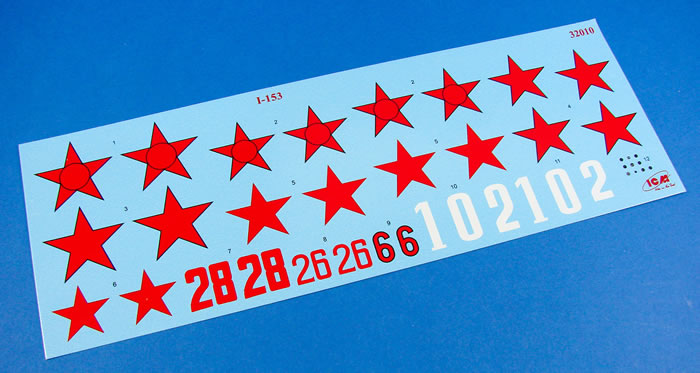 Printing is very good, being nice and thin, plus with minimal carrier film. Colour is also solid and registration is perfect. The four schemes are:
I-153, 70th IAP (Fighter Regiment), Khalhin-Gol, August 1939

I-153, 72nd SAP (Mixed Regiment) of Nord Fleet Air Force, Vaenga, 1941

I-153, 15th IAP (Fighter Regiment), Lithuania, June 1941

I-153, flown by Major P.I. Biskup, 71st IAP (Fighter Regiment) of Baltic Fleet Air Force, Lavansaari, Summer 1942.
---
Instructions

ICM's instructions style is unfussy and clear to follow. This A4-size manual has construction broken down into 55 stages with shaded line drawings and good reference to painting. Paint codes are given for Model Master paints, as well as the colour name so you can check your stash of other manufacturer's colours. A very small amount of rigging is needed, but this is so simple that it really shouldn't be a concern for those who would normally shy away from a biplane.

The last pages of the manual are taken over with the colour schemes, which are all reasonably different, and there should be something there to suit most modellers.

Whilst our hobby had been waiting for a new-tool I-16, perhaps we didn't know that we were equally waiting for the I-153 too! If you are into Soviet WW2 aviation, and even if you aren't, I think this is one of those releases that you'd seriously enjoy building and would look equally as good in your completed collection. Even though this is a biplane, this is no flimsy model. Both the upper and lower wings are secured firmly to the fuse, and the two struts are broad not particularly fragile. Rigging is also a cinch, with about 6 lines in total. Detail is also particularly good in terms of surface renderings and internal representation. At around £35, this should be one to consider. Build something a little different!

My sincere thanks to ICM Model Kits for the review kit seen here.
---
Review Text and Images Copyright © 2018 by James Hatch
Page Created 18 September, 2018
Last updated 19 September, 2018
Back to HyperScale Main Page
Back to Reviews Page