CF-188A
20 Years Service Marking 1982-2002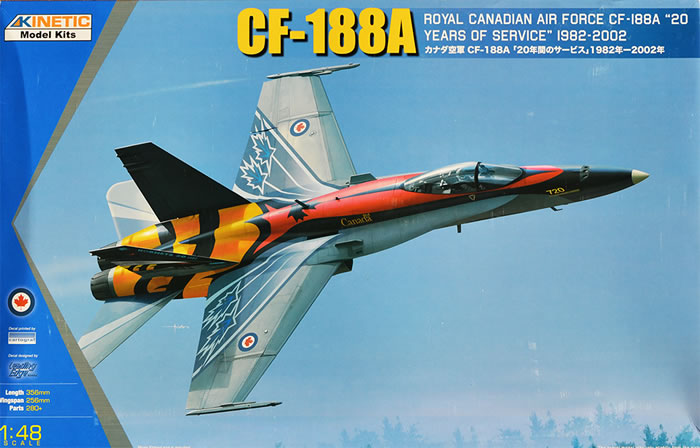 Kinetic, 1/48 scale
S u m m a r y

Item No.
Kinetic Model Kits Item No. K48079 - CF-188A - 20 years services marking 1982-2002
Contents and Media:
269 grey injected moulded parts, 16 clear parts, 19 photoetch parts, 2 sheets decals and instructions
Scale
1/48
Price:
Review Type:
FirstLook
Advantages:
A great Anniversary Canadian Hornet scheme as only they can do. A well moulded and details version of a legacy Hornet.
Disadvantages:
Instructions are clear but the painting guide is in B&W, whereas, Kinetic have a coloured pdf version of them on their web site. Also, upon cleaning up my raw photos I realise that there are extra sprue trees in the kit not mentioned in the instructions which many modellers may be confusing.
Recommendation:

To me as a lover of Tiger Meet and great anniversary schemes, this kit really does provide not only a great scheme but also a well detailed and moulded kit to really complete a great package. Highly Recommended.
Reviewed by David Couche

HyperScale is proudly supported by Squadron.com
The multi-role CF-188 (CF-18 as it is commonly known) is a versatile and combat- proven fighter aircraft. Able to carry a multitude of weapons in various configurations, the Hornet can engage both ground and aerial targets on the same mission. Its twin engines generate 32,000 pounds of thrust, and the Hornet is capable of supersonic flight and operating day or night in all weather conditions. It first entered the Royal Canadian Air Force service in 1982 and was modified to Canadian specifications with a night light in the portside nose which differentiates them from the US and other Hornets.
As the Royal Canadian Air Force's frontline multi-role fighter, the modernized CF-18 is used for air defense, air superiority, tactical support, training, aerobatic demonstration and aerospace testing and evaluation.
The Royal Canadian Air Force CF-188 Hornet 20 Anniversary Hornet of the operational use of the F-18 Hornet was the Demo bird for the 2002 Air show circuit. It is a tradition over the last few years with the CAF 410 Cougar Squadron coming up with ever more attractive paint schemes.
Upon opening the largish top opening box from Kinetic, you are greeted with a box full of plastic. Kinetic Models always give you plenty for your money. There are many sprue trees holding a large number of parts.
This will not be a quick build kit. There are a total of 269 grey injected moulded parts. These are moulded very cleanly with little or no flash or really prominent mould seams. More detail below.
There are 2 sprues of clear parts, a small photo-etch sheet of 19 parts, 2 sheets of decals, one of them larger than A4 and a B&W instruction booklet.
I'll now look at each section in more depth.
---
Sprue A
Sprue A has 12 parts on it, with the main part being the one piece upper fuselage and wing section. Along with this are the lower wing sections, tail planes, flaps and airbrake. The moulding is fine recessed lines with raised detail as is appropriate on the real aircraft.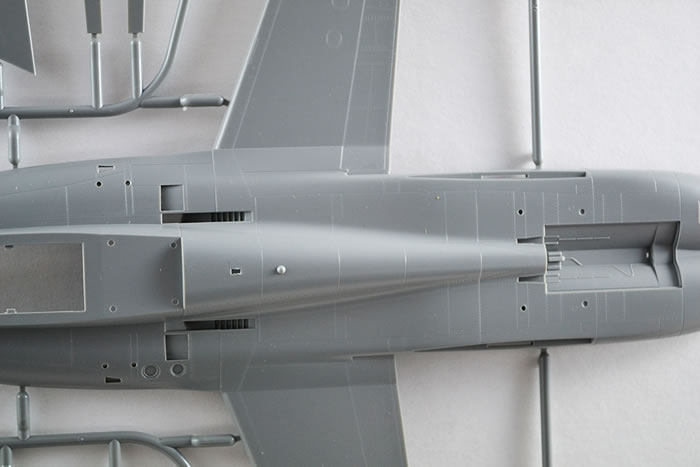 There is some restrained riveting which will add to the final look but certainly not smother the airframe as occasionally happens. There are no signs of warping on the fuselage part so this gives you and excellent base to allow correct wing alignment etc.
---
Sprue B
This is not exactly a sprue but just one part, being the lower fuselage section. This again is a large part with the large nose wheel bay, with excellent detail moulded into it, incorporated as part of the moulding. Further detail is added to this bay by the addition of a couple of wiring PE parts for the side walls.
---
Sprue C
This sprue has 27 parts on it. This aircraft can be constructed with its wings folded. This involves the cutting of the main wings and lower wings at the wing fold lines on the parts on the above sprues. Sprue C has replacement outer wing sections and fold detail to enable this to occur. It also has a choice of 4 different nose underside panels of which on one (C18) is used, cockpit coaming and the starboard side of the nose (a constant on all versions). Typical of Kinetic is their desire to not only let us create a detailed model but also to add a wealth of parts to our spares boxes. I will mention here, that the instructions have sprue layout diagrams but they do not mention what is not to be used, so please take care in reading your instructions to ensure you end up with the correct aircraft.
---
Sprue E
Sprue E has 106 parts on it. The main parts by size are the 2 piece engine section. On this sprue are a myriad of flap and ailerons actuators, wheels and tyres, in multi piece to help with the painting, wing pylons and a number of small doors.
---
Sprue F
Here we have the drop tanks and 2 piece pylons for those tanks. Also there are the intake sections and some more small parts like actuators to add for a grand total of 33 parts.
---
Sprues G and L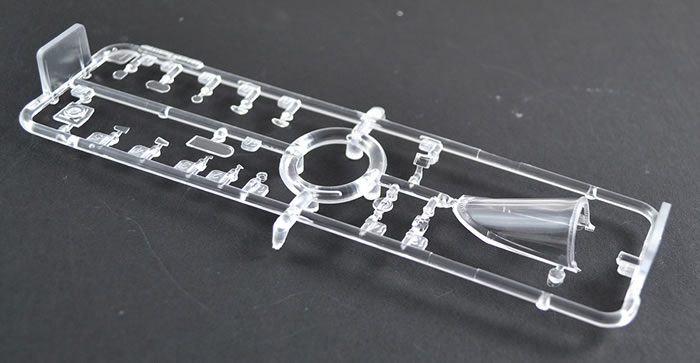 These are the clear sprues. G only has the canopy hood on it. Cast beautifully clear, it does have the small centreline mould seam needed to get the blown section correct. Nothing a few minutes with your Micromesh pads won't cure. Sprue L has the remaining clear parts including many light parts as well as the front of the canopy.
---
Sprue H
And on to sprue H. Here we meet the cockpit tub, instrument panels and other cockpit parts. Lovely raised instrument detail on all the parts that, with careful painting, will bring your cockpit to life. They remind me of the wonderful Monogram cockpits we used to get. Which brings me to the absolute gems of the wheel bays, some of the best injected moulded detail I've seen with all of the plumbing etc just waiting for the right wash and detailing. What I do like on the sprue are the fronts of the intakes. These are one piece moulds so no seams to clean up….a lovely bonus!
---
Sprue I
Sprue I has 5 parts on it. It has the cover for the rear cockpit position as this is a single seat aircraft, a large section of the top fuselage and the canopy frame section, which is nicely detailed.
---
Sprue N
And this brings us to the mystery of Sprue N. This sprue rates no mention at all in the instructions. Even a Do Not Use listing. A couple of pylons and other small parts you can add to the spares collection.
---
Sprue O
This sprue has the port side nose half which is used solely by the Canadians with the spotlight mounted in it and the tails which, again, are different for the RCAF. Which brings me to sprue D. This is the same sprue as Sprue O but for the standard US builds. Again the instructions mention nothing of this, so bring out the spares box again.
---
Sprue P
A large sprue tree with 28 parts on it, but after carefully going throught the instructions, it appears that only 2 small aerials are used for this. It seems to have the rear cockpit internals for a 2 seater on it. Dare I mention the spares box again!
---
Photo-Etch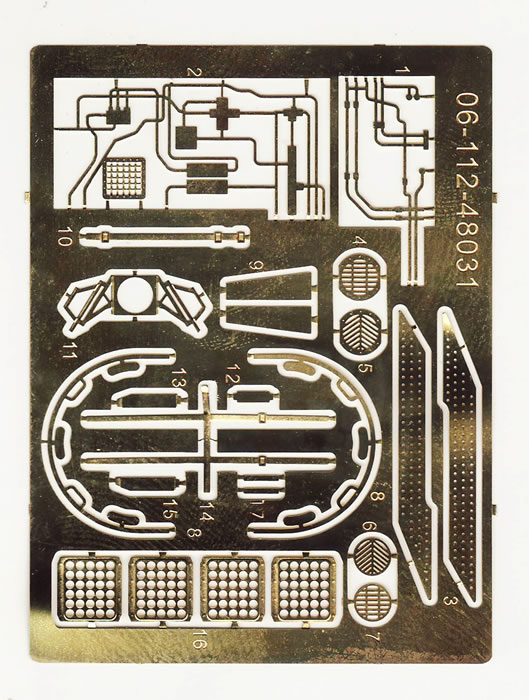 Kinetic has supplied a small photo-etched fret with chaff/flare faces, a couple of vent screens, a HUD frame and frames for the canopy front frame with mirrors, 2 plates for the tails and 2 wiring type sections to go onto the wall of the nose wheel bay to add further detail.
---
Markings
The decal sheets for this anniversary aircraft are comprehensive. The first large sheet, bigger than A4, has the majority of the decals, including what stencilling was applied on it. Kinetic also give you the option of using a decal for the orange/yellow and black striped Hornet section or just supplying the black stripes so you can paint the orange/yellow section. They are large decals so I wonder how they will sit down on application.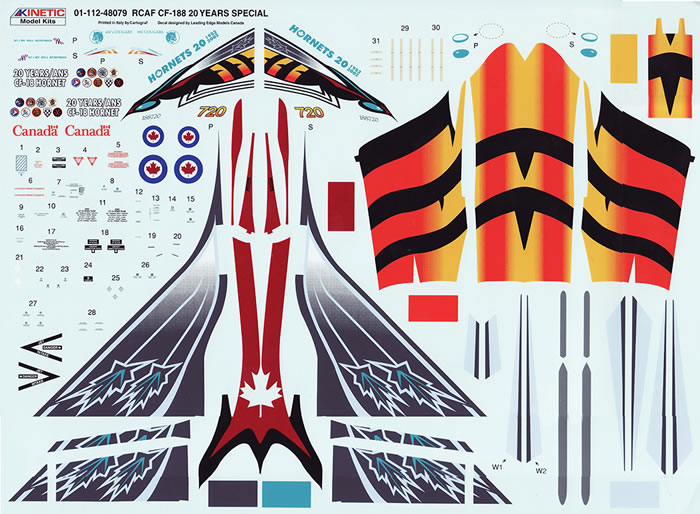 There is a smaller sheet, still just over A5 with more of the plain coloured decal markings.
The instruction sheet is an A4 booklet in B&W. The instructions are quite well laid out and labelled. Kinetic uses Mig paint call outs throughout the kit, but if you're not a Mig user I sure a quick conversion chart will get you to the right colours. My only problem with these instructions, as with all Kinetic kits, would be to have the painting and decaling instructions in colour, especially for such a complex scheme. It just needs to be a separate sheet which would be more than adequate. I have noticed that they now have a coloured PDF version on their web site, which is helpful, but you will need to print to take to the paint area.
This is a really good kit with great detail, well moulded of an incredibly interesting RCAF early Hornet in an Anniversary Scheme….how can you go wrong. This certainly has now gone to the must build pile for me. Highly Recommended.
Thanks to Lucky Model for the samples
---
Review Text and Images Copyright © 2018 by David Couche
Page Created 19 November, 2018
Last updated 20 November, 2018
Back to HyperScale Main Page
Back to Reviews Page