Mc Donnell Douglas F-4 Phantom 1958 Onwards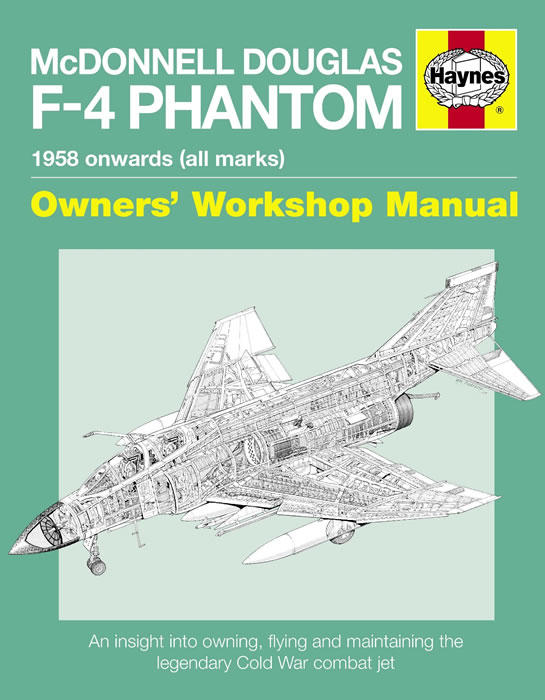 Owner's Workshop Manual
Haynes Publishing
S u m m a r y :

Title and ISBN:

Haynes Publishing
Mc Donnell Douglas F-4 Phantom 1958 Onwards
Owner's Workshop Manual
by Ian Black
ISBN 978 1 78521 194 2

Contents & Media:

Soft cover, 160 pages

Price:

Review Type:

First Read.

Advantages:

A fantastic treasure trove of information and images showing this magnificent aircraft, its deployments and operations worldwide as well as touching on the maintainers and crews.

Disadvantages:

Conclusion:

A thoroughly researched and high-quality reference.

Reviewed by Al Bowie
This is a first for me regarding the range of Haynes titles – an aircraft subject!
I could not resist purchasing a title from Haynes on the legendary Cold War Warrior the F-4 Phantom II particularly as the Author was renowned ex RAF Pilot and Photographer Ian Black! The ridiculously cheap price was a winner in the decision making process as well. It just sped it up.
The F-4 Phantom was one of the most produced and successful US fighters of the post WWII period with well over 5000 being manufactured and used by a vast number of Allies. It was highly successful in US and Foreign service in the number of conflicts it fought in. It has proven itself highly adaptable in the many roles it has served in from carrier based fighter to reconnaissance, defence suppression, fighter bomber etc.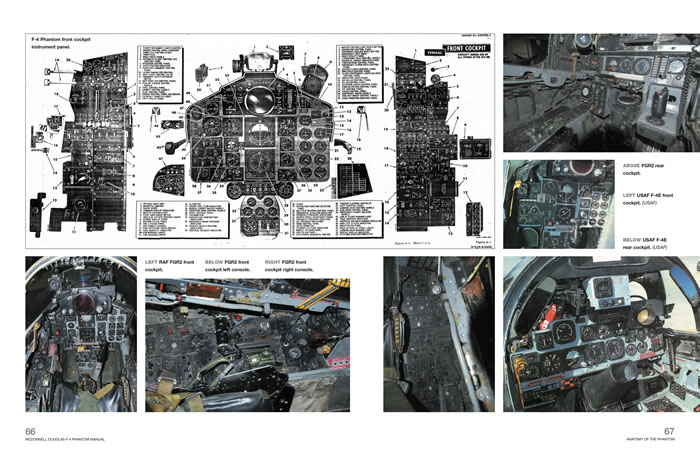 The Phantom was developed to a US Navy specification for a missile armed fighter to serve on US carriers.
It was also adopted by the US Air Force on seeing how adaptable and successful it was.
It quickly gained an excellent reputation in the fighter and attack roles over Vietnam although it was soon realised that the lack of an internal gun was a drawback in air-to-air combat. This was rectified with the F-4E adding a longer nose incorporating the ubiquitous M61 20mm Vulcan cannon and it became the most produced variant. The F-4 Phantom was exported widely and is still in service with a handful of users. It served in Vietnam, the Persian Gulf and the Arab Israeli Wars amongst others and is still fighting in the skies over Syria with the Turkish Air Force.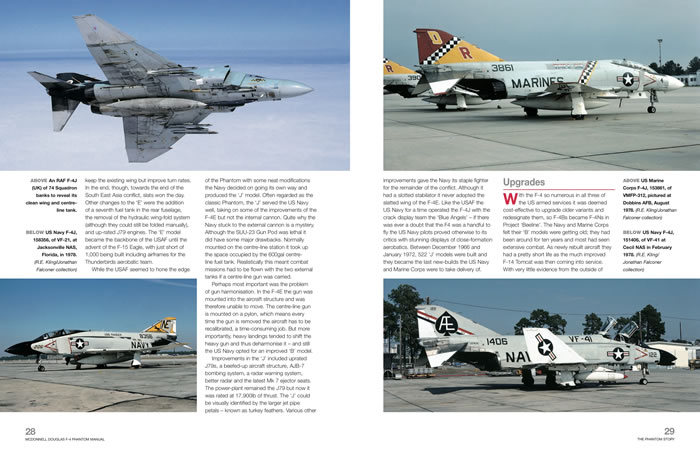 The Author is no stranger to the Phantom having flown in them during his long RAF career and many of his excellent photos of British and NATO Aircraft are within this book. He brings his knowledge and easy going writing skill to the reader in a well presented and easily readable reference well supported by excellent colour photos.
The book is 160 pages long, an A4 sized hard or softback printed on high quality glossy paper with numerous high-quality images in B&W and colour. The book has seven Chapters plus Appendixes and Foreword
Acknowledgements

Introduction

The Phantom Story

The Phantom at War

Anatomy of a Phantom

"Phlying" the Phantom – a Pilots view

Hunting "Bears" – RAF F-4s on Battle Flight and QRA

Phantom "Phixers" The Engineers view

Sageburner Phantom – a restoration

Index
This book is a fantastic treasure trove of information and images showing this magnificent aircraft, its deployments and operations worldwide as well as touching on the maintainers and crews.
There is a lot from a British Phantom point of view which is understandable given Ian Black flew them. This does not detract from it being an excellent introduction to the Phantom and I am sure it will be very popular with the modelling and aviation community.
For the modeller, this is a superb reference and it would equally appeal to the aircraft enthusiast, former crewman or even air warfare historians.
Do not be fooled by the novelty of it being an Owner's Manual, this is thoroughly researched and high-quality reference. I cannot recommend this enough due to the high quality of material within. I will be adding a lot more of this range to my library.
Available online from https://haynes.com/en-gb/mcdonnell-douglas-f-4-phantom-manual-paperback
---
Images and Text by Copyright © 2020 by Al Bowie
Page created 24 August, 2020
Last updated 24 August, 2020
Back to HyperScale Main Page
Back to Reviews Page