Uncovering the
McDonnell Douglas F-15A/B (MSIP) Eagle
by Danny Coremans, Peter Gordt
& Don Hinton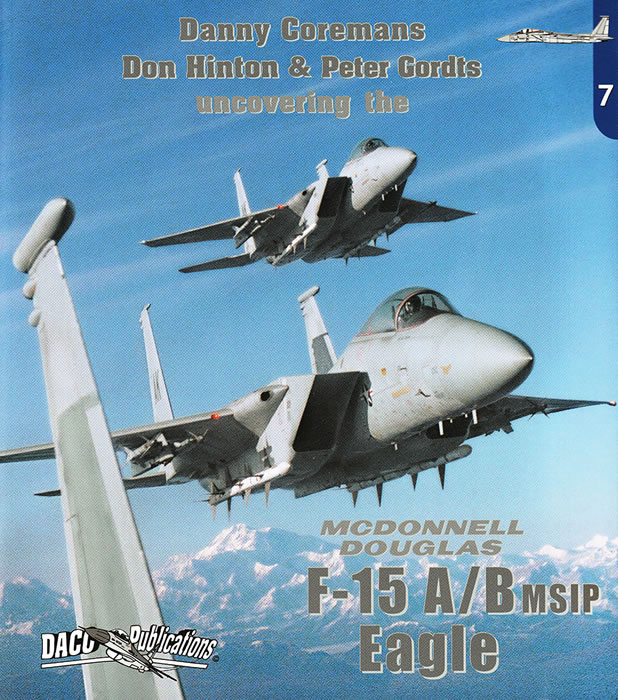 DACO Publications
S u m m a r y

Catalogue Number, Description and ISBN:

DCB007 - Uncovering the McDonnell Douglas F-15 A/B (MSIP) Eagle
by Danny Coremans, Peter Gordt & Don Hinton
DACO Publications

ISBN: 978908198039

Media and Contents:

160 pages in 21 x 24 cm (8.25 x 9.50 inch) mode, detailed walk around photographs, and fold out detailed drawings.

Price:

€34.75 available online from DACO's website

Review Type:
FirstRead
Advantages:

Detailed and comprehensive look at the F-15A/B (MSIP) Eagle. Great colour detail photos with excellent line drawings. .

Disadvantages:
Conclusion:

A great, should have, reference for modellers of all scales interested in the early F-15A/B Eagle aircraft.
Reviewed by David Couche

Originally DACO scheduled to do one "massive" book of all the F-15 variants, but during the selection of the thousands of detailed (Strike) Eagle pictures it turned out they had too many usable pictures to place them in just one book.
And to avoid the constant mentioning of 'top picture is of an A model, right of an E model', they decided to split up the whole publication into three individual books, each dedicated to its specific model (and its trainer).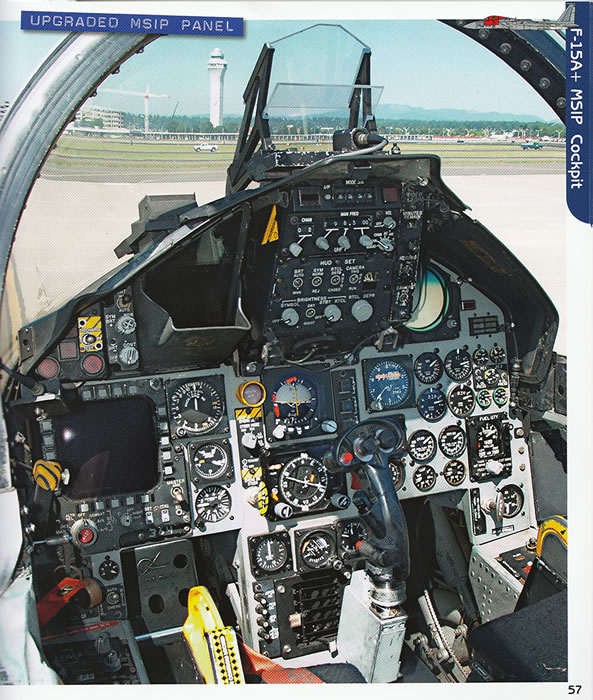 So DACO is very proud to announce the seventh book in their detailed range "Uncovering the..." in which the McDonnell Douglas F-15A/B (MSIP) Eagle are uncovered. This first part of three, uncovers the early models of the F-15 Eagle and their upgraded MSIP sisters (with their cockpits similar to the F-15C/D).
DACO Publications have again gone to the extra effort to give you a true bible by showing everything of the inside & outside of these famous jets.
Around 750 (all colour) detailed photos are given of various early Eagles. Many pictures show items and details that have never been published before, and not a single item has not been uncovered.
This book has the size of 21 x 24 cm (8.25 x 9.50 inch), contains of 160 pages and has additional 2 large foldouts (1 meter / 40" long) with highly accurate 1/72nd & 1/48th scale drawings (yes, they measured the Eagles completely for these drawings) and the various cockpit lay-out drawings.

The contents of the book covers the whole aircraft, starting at the pitot tube/radome with radar detail and working its way down the fuselage to the tail. The Vulcan gun is detailed as are the airframe panels, the exhaust nozzles, avionics bays, landing gear and respective bays. This book leaves nothing out in its photographic coverage. The first 53 pages cover the airframe in all its detail.
I should mention that there is a blue tab in the upper outer corner of each page explaining the section you are looking at. There is no contents section provided as such.
There is a section of 42 pages for the cockpit of all versions which is incredibly detailed and incorporates the ejection seat and computers in the aircraft. This section alone is worthwhile for the detail modeller.
A further section of 16 pages follows on, with all aspects of the undercarriage from all angles and in extreme close-up detail. Although the F-15 A's and B's were finally retired in 2009, you get numerous pages of maintenance pictures with open panels provided for those into detailing their model builds. The authors also cover the various specialised ground equipment used with the Eagle which is very useful to the diorama builder.
And finally, you have 16 pages are showing all missiles and external fuel tanks used with the Eagles. There is nothing not covered by this comprehensive book.
This book will supply inspiration to model builders with an interest in this venerable. Unfortunately there have been no new mouldings of the early versions so for the modeller, you're looking at the older 1/32 Revell A version, in 1/48 the Hasegawa, Italeri, Revell, Tamiya and Testors kits with the 1/72 kits by AMT/ERTL, Airfix, ESCI and the rare Gunze kit. Maybe one or more of the manufacturers may see their way into a modern moulding of this aircraft.
The drawing section at the rear of the book is so worthwhile if it was on its own. The 2 sections fold out to about 1metre in length with incredibly detailed drawings of all of the versions, and the dual seat trainer, covering all of the cockpit instrument panels, naming every instrument on them. As well there are a range of accurate drawings in both 1/48 and 1/72 of nearly every version of the F-15A/B and MSIP versions as well as drop tanks etc. I have supplied one scan and a photo of one side of one of the fold outs (apologies for the bends but they wouldn't straighten out), just to give you an idea of the contents. The scans I've given you give just a minute look at what is in this book.
This book has been deliberately produced for the modeller, providing an absolute wealth of reference photographs of incredible clarity and detail, as well as drawings that one could wish for to produce an accurate F-15A/B. I can't wait to get the other 2 parts of this series to do justice to some of the C version kits with many aftermarket extras. This is highly recommended to all wishing to build the F-15A/B in any scale.
Thanks to DACO Publications for the review sample.
---

Review Copyright © 2020 by David Couche
This Page Created on 1 September, 2020
Last updated 1 September, 2020
Back to HyperScale Main Page
Back to Reviews Page