Yakovlev Yak-1 "Aces"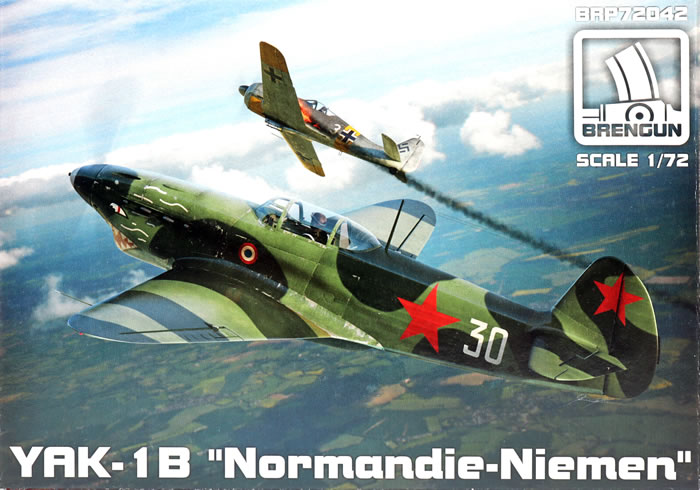 Brengun, 1/72 scale
S u m m a r y :

Description and Item No.:

Brengun Kit No. BRP72042 - Yakovlev Yak-1 "Normandie-Niemen"

Contents and Media:

50 parts in grey plastic; four parts in clear plastic; four grey resin parts; 17 photo-etched parts; markings for four aircraft.

Price:

€14.90 plus shipping available online at Brengun

£13.40 EU Price (£11.17 Export Price) Plus Shipping at Hannants

and hobby retailers worldwide

Scale:

1/72

Review Type:

First Look

Advantages:

Fine mouldings , well detailed parts, especially the cockpit and undercarriage. Good decal choices.

Disadvantages:

None noted except for a small amount of flash that will be easy to remove. The thick canopy would justify getting Brengun's own vacform #72201.

Recommendation:

Highly recommended to the modeller interested in Soviet aircraft or the French contribution to Allied success in WWII.
Reviewed by Graham Carter

Normandie-Niemen Regiment was a fighter squadron, later three squadrons of the French Air Force that served on the Easter Front in WWII. The regiment is notable for being one of only two air combat units from an Allied western European country to participate on the Eastern Front and the only one to fight together with the Soviets until the end of the war.
The unit originated during WWII at the suggestion of Charles de Gaulle, leader of the Free French Forces. After training on Yak-7s , the unit became operational in March 1943, flying Yak-1s and Yak-3s.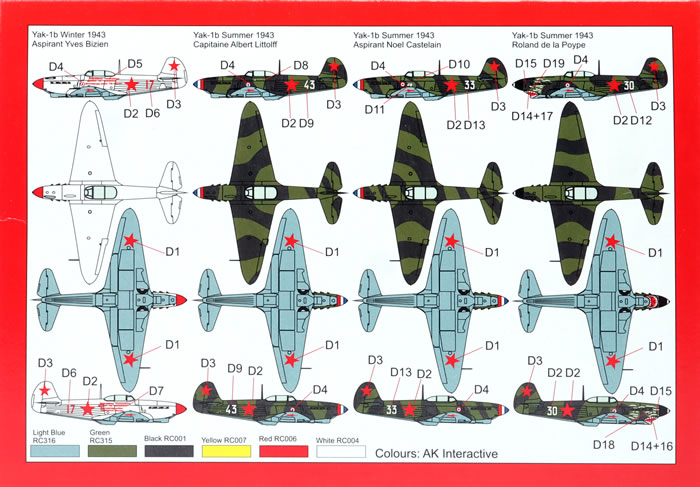 The unit was the GC3 "Normandie" (Groupe de Chasse 3 or 3rd Fighter Group) in the Free French Air Force. It fought in three campaigns on behalf of theSoviet Union between 22 March 1943, and 9 May 1945, during which time it destroyed 273 enemy aircraft and received numerous orders, citations and decorations from both France and the Soviet Union. All Yak-1s were flown in Russian colours and markings but had a small cocarde below the port windscreen. Yak-3 and Yak-7 had little to identify their French involvement although a few carried French squadron badges. The "Niemen" was added after Stalin rewarded the group for its action in that eponymous battle.
The Yak-1 was simple wooden and metal, fast, manoeuvrable, and heavily armed fighter, modified over time into the -3,-7 and -9 models, of which a total of over 35000 were built during and shortly after the war. Early models had a raised fuselage rear while the 1b and 1m versions had a bubble canopy on a lowered rear fuselage. Besides this French unit, the aircraft served with numerous Soviet satellite nations and states, some serving until the start of the 1950s. Its compatriots in the Eastern Front were the MiG-3 and LaGG-3, all three aircraft having strengths in different areas of combat.
(information drawn from Wikipedia and Wingmasters No.3 'L'Aviation Française Au Combat')
This is the seventh (!) iteration of this well-received Yak-1 kit from the Czech model company Brengun, but only the second release of the 1b variant with the bubble canopy.
It is a lovely kit with excellent surface and interior details. Decal choices are the only change from the earlier release kit #72038. There are a couple of signs that the moulds are getting a bit worn or maybe a wee bit out of alignment, as the review sample did have some areas of flash on the smaller parts. Hopefully this is just an issue with this particular kit.
The kit comes in Brengun's standard end-opening box which seems a bit stronger than those of other short-run manufacturers. A nice CG illustration of a White 30 downing an Fw190 adorns the top while the lower surface has colour illustrations and decal placements for the four decal choices. Inside is a single resealable clear sleeve containing three pale grey sprues comprising the flying surfaces, the fuselage and the smaller detailing pieces. It is that second fuselage sprue that is different from the high-back Yak-1 version of the five other releases. There is a small PE set covering the instrument panel, seat supports, but no seat belts.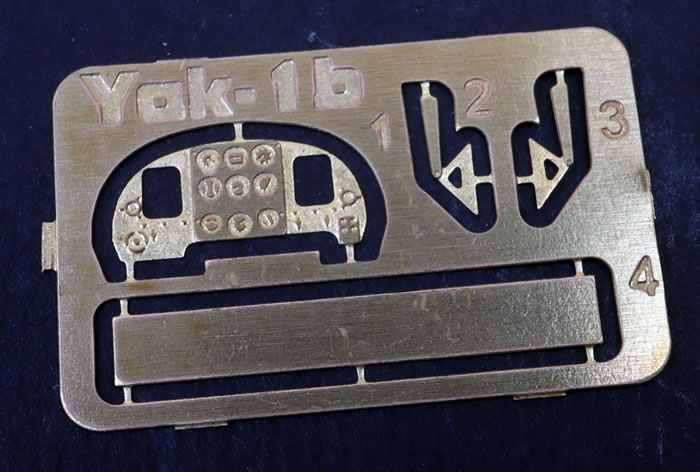 Curiously the PE sheet does not figure in the parts map. There is also a three-piece clear canopy.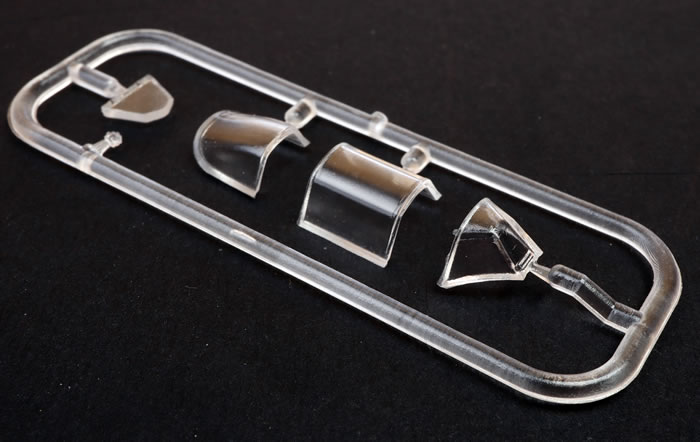 Instructions are clear and in B&W on both sides of an A4 sheet folded into an A5 booklet.
All parts are finely moulded and have lovely surface detail as well as structure moulded into the cockpit fuselage area and wheel wells. Some 15 parts make p the cockpit and the undercarriage is really nice. Trailing edges are commendably fine. The canopy is nice and clear, albeit a little thick, especially the sliding section which could be better replaced with a vacform one if you intend posing it open. In fact Brengun do produce one for you - BRL72201 is its catalogue number.
Colour details are called out in each step, although the key provides only generic names so we don't exactly know that shade is meant by 'light grey', 'red' or 'green'. Presumably the Soviet aircraft aficionado will know more.
---
Marking Options
Decals are for four aircraft and show excellent density, registration and colour with the red, white and black shark mouth on White 30 particularly nice.
It is funny that the white squiggles over the nose of this aircraft shown on the box top and colour guide, are not provided but will have to be painted on.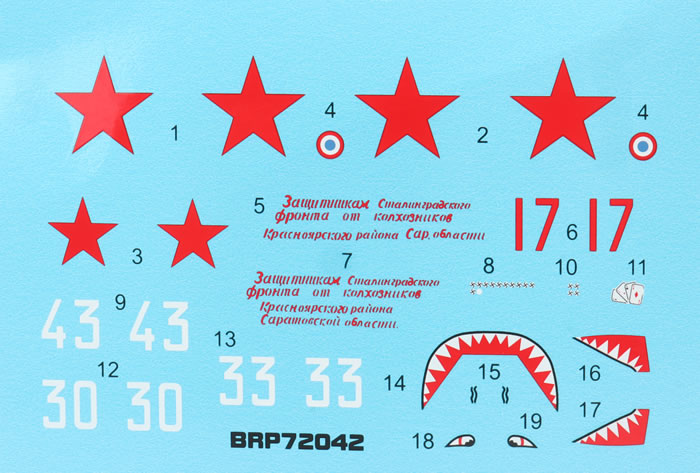 The choices are ;
Red 17 flown by Yves Bizien in winter 1943 in white uppers over pale blue,

White 43 flown by Alfred Littolff summer 1943 in the standard Soviet green/black over pale blue scheme,

White 33 flown by Noel Castelain , same time and scheme as above, and

White 30 flown by top scoring pilot Rolandde la Poype, same time and scheme as above but with the shark mouth nose adornment.
All in all a lovely little kit that commemorates a successful campaign by French pilots, certainly one they needed after the debacles of 1940.
Thanks to Brengun for the sample
---
Text Copyright © 2020 by Graham Carter
Images Copyright © 2020 by Brett Green
Page Created 8 September, 2020
Last updated 8 September, 2020
Back to HyperScale Main Page
Back to Reviews Page