Nieuport Ni.17
Profipack Edition
Eduard , 1/48 scale
S u m m a r y

Catalogue Number and Price:

Eduard Kit No. 8071 - Nieuport Ni.17 Profipack Edition

USD$26.95 plus shipping available online from Eduard

GBP£14.39 EU Price (£11.99 Export) plus shipping available online from Hannants


Scale:
1/48
Contents and Media:
3 grey injection moulded sprues containing 63 parts (17 not used), a clear windscreen, 1 sheet photo-etch of 31 parts, masks, 1 sheet of decals and a 12 page instruction booklet.
Review Type:
FirstLook
Advantages:
A kit with crisp yet subtle moulding with good level of detail, Eduard's usual high quality instructions. It has 4 colourful schemes offered.
Disadvantages:
Conclusion:
A chance to add a well detailed, yet fairly simple construction kit with colourful WWI Allied schemes. A nice kit!

Reviewed by David Couche
The Nieuport 17 C.1 (or Nieuport XVII C.1 in contemporary sources) was a French sesquiplane fighter designed and manufactured by the Nieuport company during World War I. An improvement over the Nieuport 11, it was a little larger than earlier Nieuports and better adapted to the more powerful engine than the interim Nieuport 16. Aside from early examples, it had the new Alkan-Hamy synchronization gear, permitting the use of a fuselage-mounted synchronised Vickers gun firing through the propeller disc.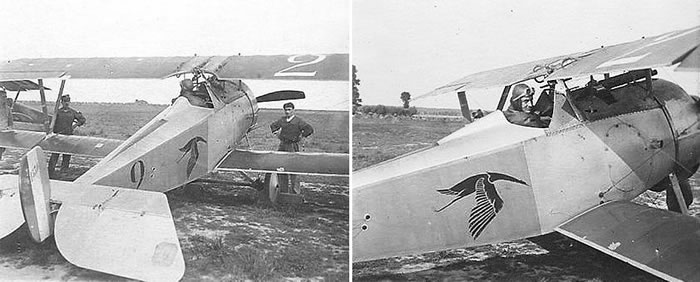 At the time of its introduction in March 1916, the type's outstanding manoeuvrability and excellent rate of climb gave it a significant advantage over fighters on both sides and was described as "the best pursuit plane of the day". It was used by many operators and entered service with every Allied power and copies were also operated by the Deutsche Luftstreitkräfte (German Air Service). Mass-produced by several French firms, the Nieuport 17 and its derivatives were built under licence in Italy by Nieuport-Macchi and in Russia by Dux. Unlicensed copies, notably the Siemens-Schuckert D.I and the Euler D.I, were produced in Germany.
When Gustave Delage was appointed as the chief designer of Nieuport, in January 1914, a series of sesquiplane designs followed. Nieuport had been famous for wire-braced monoplanes and these had reached the limit of their development. The sesquiplane configuration was adopted by Delage as a compromise between the low drag of a monoplane and the greater strength of a biplane. The first of Delage's sesquiplanes was the two-seat Nieuport 10 of 1914, which was followed the next year by the smaller Nieuport 11 single-seater, which in turn was supplemented by the Nieuport 16. The larger engine of the Nieuport 16 made it nose heavy and increased the wing loading, especially when armed with a synchronised Vickers gun.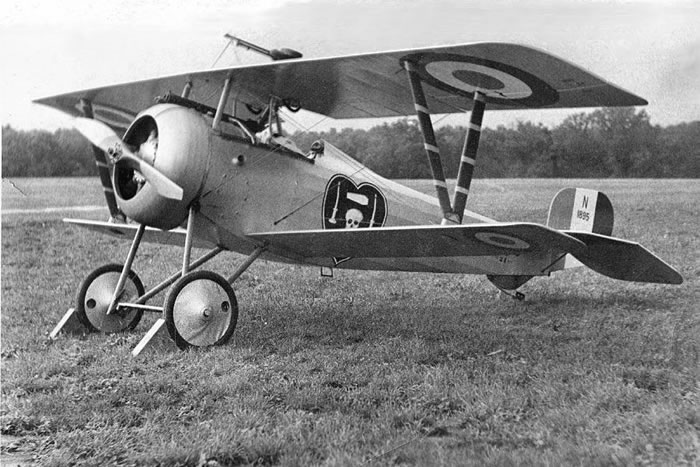 Developed in parallel with the conservative Nieuport 16, the Nieuport 17 was slightly larger with longer wings and fuselage, improved aerodynamic form and better balance. It was fitted with the 110 hp (82 kW) Le Rhône 9J engine and later examples used 120 hp (89 kW) motors.
During March 1916, the new Nieuport 17 reached the front to replace the earlier Nieuport 11 and 16 fighters that had been instrumental in ending the Fokker Scourge of 1915. On 2 May 1916, Escadrille N.57 became the first unit entirely equipped with the new model. During the late 1916 and into 1917, the Nieuport 17 equipped every fighter squadron of the Aéronautique Militaire. Almost all of the top French aces flew the nimble Nieuport during their flying careers, including Georges Guynemer, Charles Nungesser, Maurice Boyau, Armand Pinsard and René Dorme.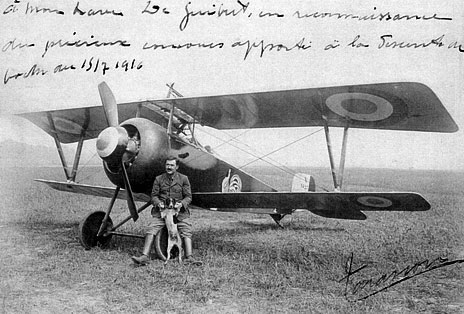 American volunteers of the Escadrille Lafayette, converted to the Nieuport 17 from Nieuport 11s and 16s, although only one achieved ace status, Raoul Lufberry.
The Nieuport 17 was ordered by the Royal Flying Corps and Royal Naval Air Service as it was markedly superior to British fighters. RFC squadrons that used Nieuport 17s and 23s as their main equipment included 1, 11, 29, 40 and 60 squadrons while 1, 3 and 4 Wings of the Royal Naval Air Service operated the 17 and the 17bis. Additional units in both services also had small numbers on strength.
Many British Empire air aces flew Nieuport fighters, including the top Canadian ace Billy Bishop, V.C. and Albert Ball, V.C. who often hunted alone in his Nieuport. Mick Mannock V.C. flew Nieuports early in his career with 40 Squadron. His VC award reflected his combat career – including his time on Nieuports. The top-scoring Nieuport ace was Captain Phillip Fletcher Fullard of No. 1 Squadron RFC, who scored 40 kills between May and October 1917, before breaking his leg in a football match.Italian aces, such as Francesco Baracca, Silvio Scaroni and Pier Piccio, achieved victories while flying Nieuport fighters. In Belgium, the 1st and 5th Belgian escadrilles were equipped with the Nieuport 17 and 23. Belgian aces flying the type included Andre de Meulemeester, Edmond Thieffry and Jan Olieslagers.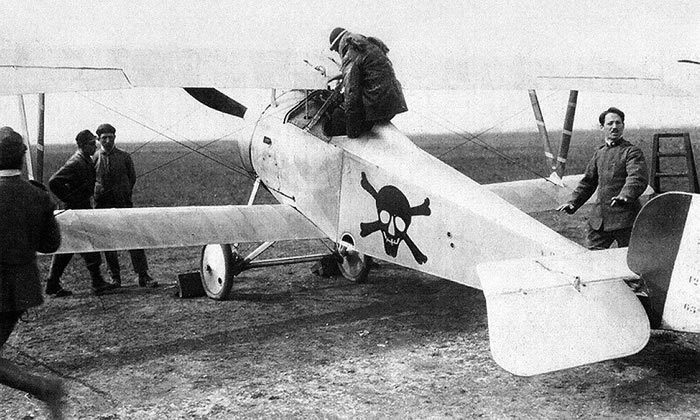 The Imperial Russian Air Service operated large numbers of Nieuports of all types, including the 17, 21 and 23. Being largely reliant on aircraft procured directly from France, there was pressure within Russia to establish the domestic manufacture of fighters and the type was produced under licence however inexperience and the limited availability of experts to assist limited quality.[ Many of these were operated on the Eastern Front and during the Russian Civil Wars. Russian Nieuport aces include Alexander Kazakov, who flew the type against the Germans and later against the Bolsheviks.

By mid-1917, the Nieuport fighters were outclassed by new German types such as the Albatros D.III so that the 150 hp (110 kW) SPAD S.VII had begun to replace the Nieuport fighters in French front line squadrons. The British continued to operate Nieuports until early 1918, when enough Royal Aircraft Factory S.E.5s became available to replace them.
Later in its service life, the 17 was operated in large numbers as an advanced trainer. The American Expeditionary Forces purchased 75 Nieuport 17s for training and the French operated a fleet of trainers. The French Aviation Maritime operated one Nieuport 21 for carrier training during 1920 and 1921 aboard Bapaume, a converted French Arras-class aviso, pending the delivery of carrier aircraft such as the Nieuport-Delage NiD.32RH.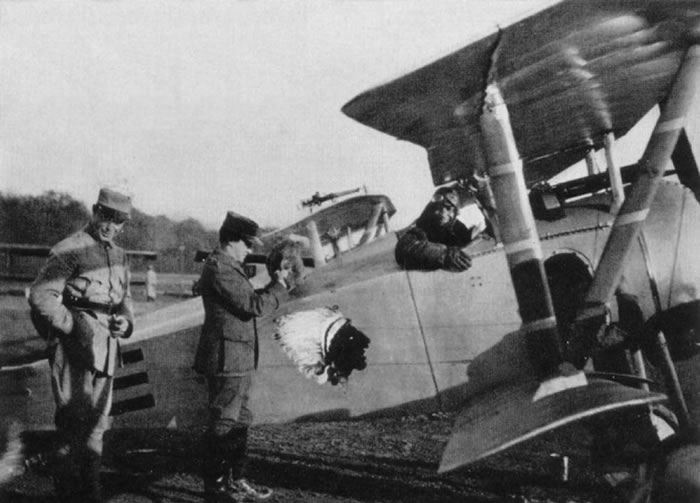 Following its retirement from the European theatre, many examples were exported in small numbers for new Air Forces being formed around the world, to be used through the 1920s.
*Text mostly from Wikipedia
This kit was originally released in 1998 and had a parts upgrade in 2002 and further development in 2004. It has been re-released in a number of different schemes as well as ProfiPack and Weekend Editions. This release has new schemes but the plastic is still from the original moulds, which I must say are still crisply moulded despite their age.
A sturdy Eduard box opens to 3 sprues of grey injected moulded, nicely detailed parts with only 63 parts on them which enables you build a very nicely detailed model. Also supplied with some nice photo-etch details on a smaller sheet as well as a set of masks. There is a near A5 sized sheet of decals and the usual comprehensive instruction booklet.
All sprues are cleanly moulded with very little flash evident, and have a mix of raised and recessed detail as is required. Whilst the part count is not high, this kit will require at least medium building skills with the need to complete the rigging and control lines.
Sprue A
Sprue A has 34 grey injected moulded parts of which 13 are not used, including the seat which has a photo-etch replacement, a number of small control balances (again replaced by PE ones).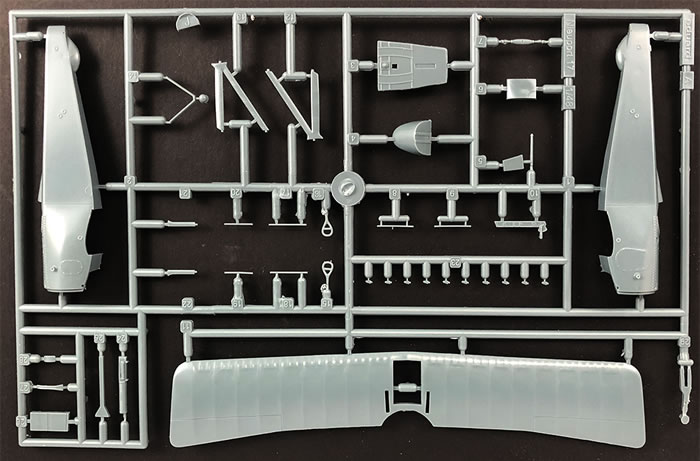 Found here is the detailed fuselage halves, one of the 2 options for the upper wings, cockpit floor, interplane struts for the wings, Vickers gun and other parts.
---

Sprue B
This sprue offers up 25 parts, 4 of which are not used, and which are the other upper wing option, the lower small wing, engine cowling, rudder and tailplane.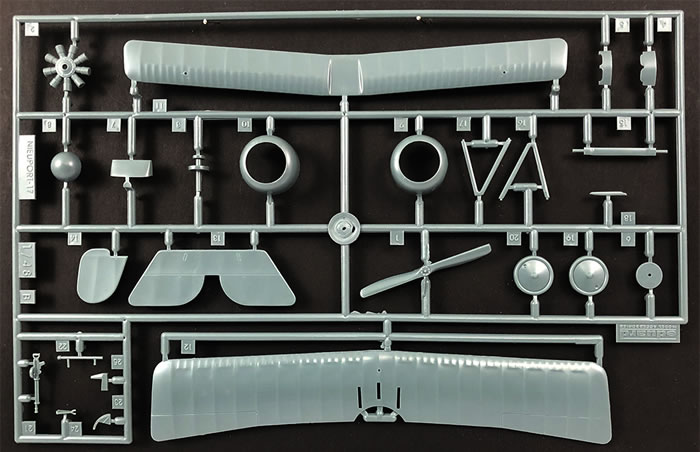 Parts also include the Lewis gun, propeller, fuselage struts and the wheels. All parts are cleanly moulded and have little to no flash or mould marks on the whole.
---
Sprue X
This is a small sprue with only 3 parts on it.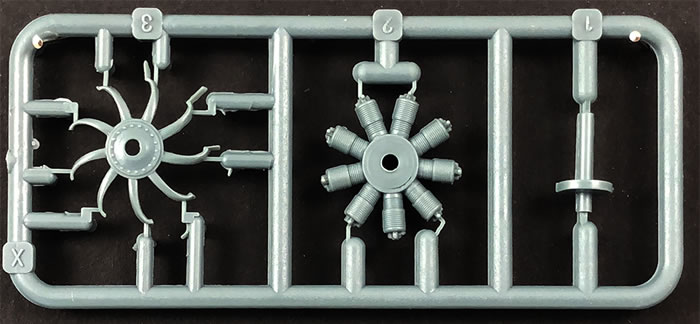 This is the engine sprue replacing the poorer version on sprue B. This has nice detail moulded into it.
---
Sprue C
This is a very small sprue with only 1 part on it. This is clear windscreen.
It is tiny, so make sure you don't lose it. Nice detail for its size and quite clear.
---
Instructions and Decals
The instructions for the kit are the usual Eduard, with a glossy booklet of 12 A5 pages of high quality detailed instructions, with copious colour call outs throughout, using the Gunze Aqueous, Mr Color as well as the Mission Models range. There is a set of masks provided for the wheels.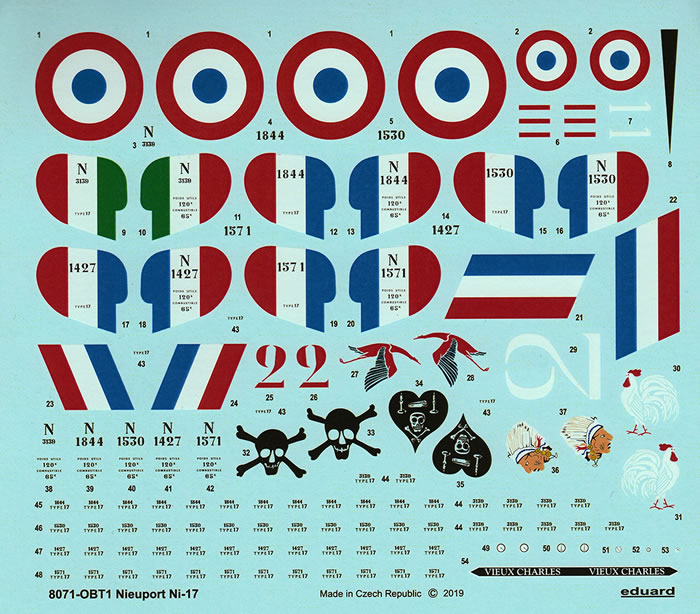 The decals are printed by Eduard and appear to be in perfect register giving the options for 4 different aircraft (photos above) and they are;
N1530, Lt. Georges Guynemer, Escadrille N 3, Cachy, France, August 1916

N1844, Cne. Raoul Lufbery, Lafayette Escadrille, Cachy, France, late 1917

N1427, Adj. Paul Tarascon, Escadrille N 62, Cachy, France, July 1916

N1571, S / Lt. Charles Nungesser, Escadrille N 65, Cachy, France, summer 1916

N3139, Ten. Fulco Ruffo di Calabria, 91a Squadriglia, Italy, spring 1917
Eduard has again re-released the old but the nicely detailed Nieuport 17 with new plumage. This kit will build into a very high quality model and certainly will bring some brightness to your model cabinet with the great colourful schemes. A highly recommended kit for the reasonably skilled or experienced WWI modeller.
Thanks to Eduard for the sample
---
Review Text Copyright © 2020 by David Couche
Page Created 7 September, 2020
Last updated 7 September, 2020
Back to HyperScale Main Page
Back to Reviews Page Woo!