SPAD XIII Early
Profipack Edition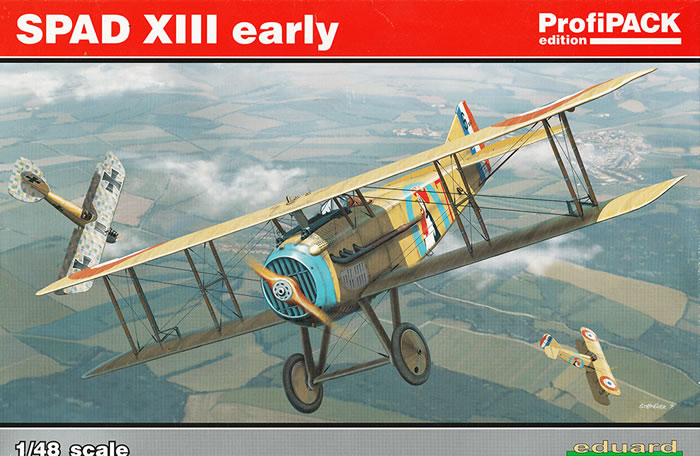 Eduard , 1/48 scale
S u m m a r y

Catalogue Number and Price:

Eduard Kit No. 8197 - SPAD XIII Early Profipack Edition

USD$29.95 plus shipping available online from Eduard

GBP£14.39 EU Price (£11.99 Export) plus shipping available online from Hannants


Scale:
1/48
Contents and Media:
Three grey injection moulded sprues containing 84 parts (6 not used), a clear sprue with 3 parts (1 not used), 1 sheet photo-etch of 25 parts, masks, 1 sheet of decals and a 14 page instruction booklet .
Review Type:
FirstLook
Advantages:
A kit with crisp yet subtle moulding with good level of detail, Eduard's usual high quality instructions. It has five colourful schemes offered.
Disadvantages:
Conclusion:
A chance to add a well detailed, yet fairly simple construction kit with colourful WWI Allied schemes. A nice kit!

Reviewed by David Couche
The SPAD S.XIII was a French biplane fighter aircraft of the First World War, developed by Société Pour L'Aviation et ses Dérivés (SPAD) from the earlier and highly successful SPAD S.VII.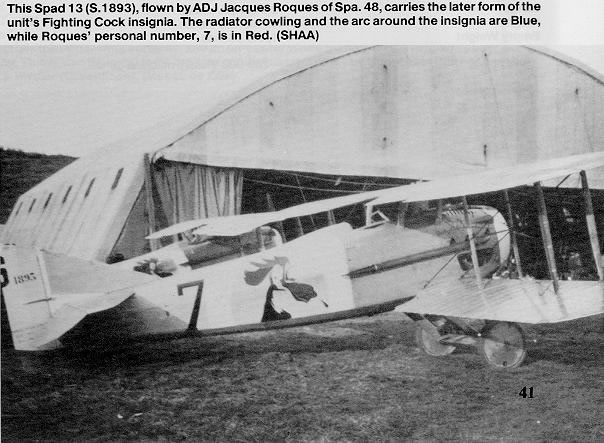 During early 1917, the French designer Louis Béchereau, spurred by the approaching obsolescence of the S.VII, decided to develop two new fighter aircraft, the S.XII and the S.XIII, both using a powerful new geared version of the successful Hispano-Suiza 8A engine. The cannon armament of the S.XII was unpopular with most pilots, but the S.XIII proved to be one of the most capable fighters of the war, as well as one of the most-produced, with 8,472 built and orders for around 10,000 more cancelled at the Armistice.
By the end of the First World War, the S.XIII had equipped virtually every fighter squadron of the Aéronautique Militaire. In addition, the United States Army Air Service also procured the type in bulk during the conflict, and some replaced or supplemented S.VIIs in the Royal Flying Corps (RFC), pending the arrival of Sopwith Dolphins. It proved popular with its pilots; numerous aces from various nations flew the S.XIII during their flying careers.
Following the signing of the Armistice of 11 November 1918, which effectively marked the end of the First World War, surplus S.XIIIs were sold in great numbers to both civil and military operators throughout the world.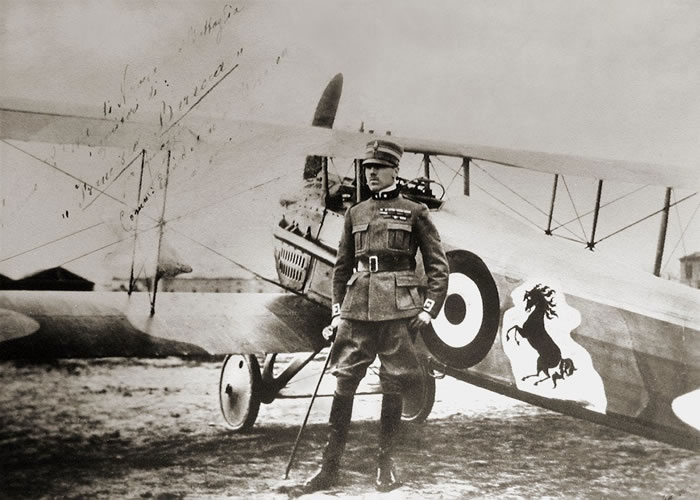 The origins of the SPAD S.XIII lies in the performance of its predecessor, the SPAD S.VII, a single-seat fighter aircraft powered by a 150-horsepower (110 kW) direct drive Hispano-Suiza 8A water-cooled V-8 engine and armed with a single synchronised Vickers machine gun. The type demonstrated excellent performance for the time, entering operational service with the French Aéronautique Militaire during August 1916. By early 1917, however, the S.VII had been surpassed by the latest German fighters such as the Albatros DIII.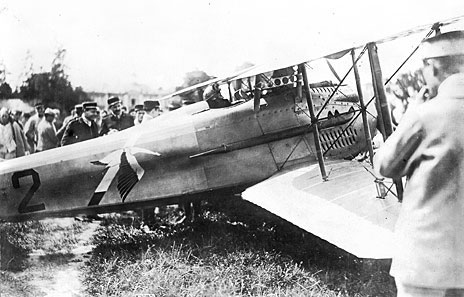 The emergence of increasingly capable German fighters, which soon resulted in a shift in aerial supremacy towards the Central Powers, led to calls for superior aircraft to be developed and procured. French flying ace Georges Guynemer personally lobbied for an improved version of the S.VII, telling the SPAD designer Louis Béchereau that "The 150 hp SPAD is not a match for the Halberstadt ... More speed is needed." An initial and quick solution to the problem was to increase the compression ratio of the Hispano-Suiza engine, which increased its power to 180 hp (130 kW) to provide for significantly improved performance, allowing the SPAD S.VII to remain competitive for the time being.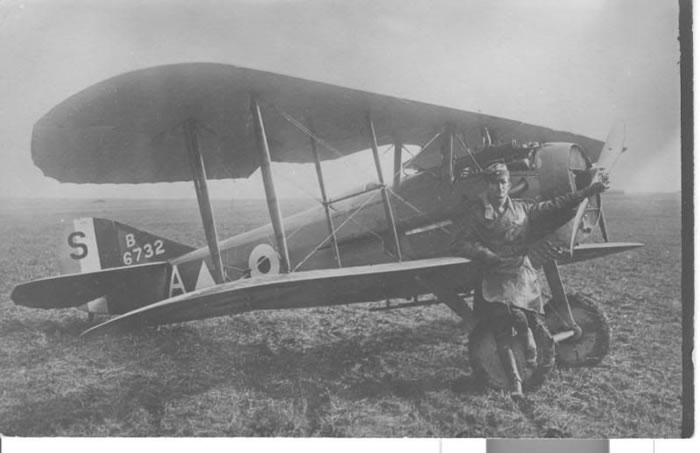 Spanish manufacturer Hispano-Suiza were already in the process of developing a more powerful geared version of the 8A engine, and this engine was unsurprisingly chosen by Béchereau to power two developed versions of the S.VII. The British S.E.5a and Sopwith Dolphin fighters would also be powered by the same engine.
The SPAD S.XIII was a single-engine biplane fighter aircraft. In terms of its construction, it shared a similar configuration and layout to the earlier S.VII, featuring a mainly wooden structure complete with a fabric covering; however, it was generally larger and heavier than its predecessor. Other changes included the tapered chord of its ailerons, the rounded tips of the tailplanes, bulkier cowling accommodating the gear-drive Hispano-Suiza 8B engine choice, and enlarged fin and rudder. The S.XIII was armed with a pair of forward-mounted Vickers machine guns with 400 rounds per gun, which took the place of the single gun that had been used on the earlier aircraft.
The S.XIII was flown by numerous famous French fighter pilots such as Rene Fonck (the highest scoring Allied ace, credited with 75 victories), Georges Guynemer (54 victories), and Charles Nungesser (45 victories), and also by the leading Italian ace Francesco Baracca (34 victories). Aces of the United States Army Air Service who flew the S.XIII include Eddie Rickenbacker (America's leading First World War ace with 26 confirmed victories) and Frank Luke (18 victories). Andrews attributes the S.XIII's natural stability, which lent itself to being a steady gun platform, as having been a key attribute for its success.
In total, 8,472 Spads of all variants were constructed.
*Text mostly from Wikipedia
This kit was originally released in 2008 and had a parts upgrade in 2011 and further development in 2015. It has been re-released in a number of different schemes as well as ProfiPack and Weekend Editions. This release has new schemes but the plastic is still from the original moulds, which I must say are still crisply moulded despite their age.
A sturdy Eduard box opens to 3 sprues of grey injected moulded, nicely detailed parts with only 84 parts on them which enables you build a very nicely detailed model. Also supplied with some nice photo-etch details, a mix of painted and plain nickel type, on a smaller sheet as well as a set of masks.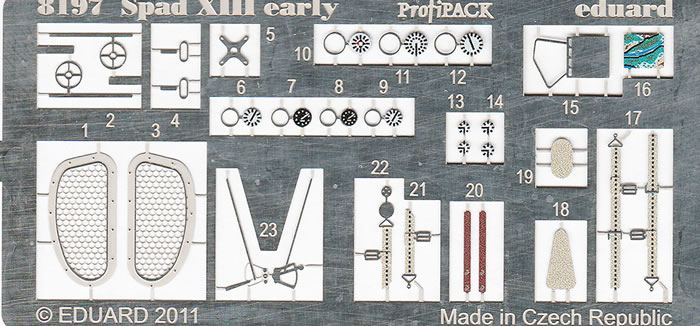 There is a near half portrait A4 sized sheet of decals and the usual comprehensive instruction booklet. All sprues are cleanly moulded with very little flash evident, and have a mix of raised and recessed detail as is required. Whilst the part count is not high, this kit will require at least medium building skills with the need to complete the rigging and control lines.
Sprue A
Sprue A has 11 grey injected moulded parts of which 2 are not used (being the late engine cowl and radiator section).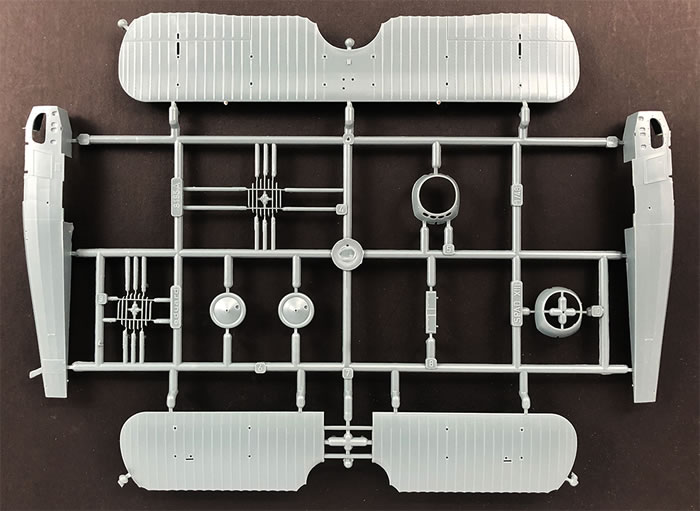 Found here are the detailed fuselage halves, the upper and lower wings, engine cowl, radiator insert for it and wheels. There is nice detail on the fuselage halves but note that the fuselages halves do not have any of the top surfaces moulded as part of them. This comes later as a one piece cover.
---

Sprue C
This sprue offers up 22 parts, only 1 of which is not used which is the late version propeller, and it is here you find the one piece upper fuselage panel. This totally removes the seam line along the top, a clever move from Eduard.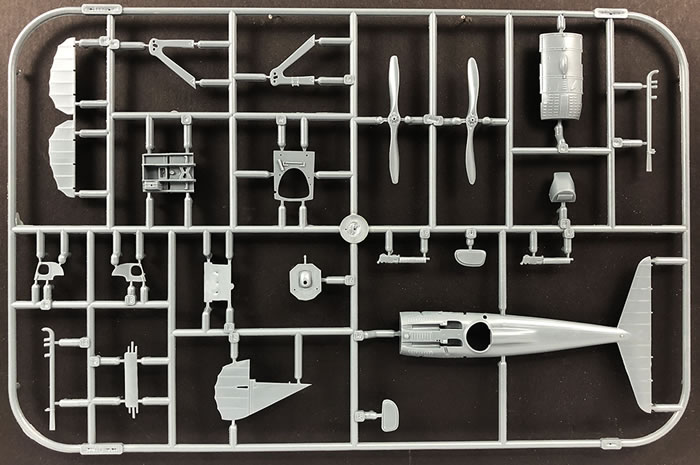 Also here you find the rudder and tailplanes, under nose engine cover, Vickers guns, cockpit floor, propeller, fuselage struts and other smaller parts. All parts are cleanly moulded and have little to no flash or mould marks on the whole.
---
Sprue D
Sprue D has 51 smaller parts of the kit on it, with only 3 parts not used. These are the many parts of the cockpit, around the engine and gun platform, as well as the many struts and control linkages on the Spad.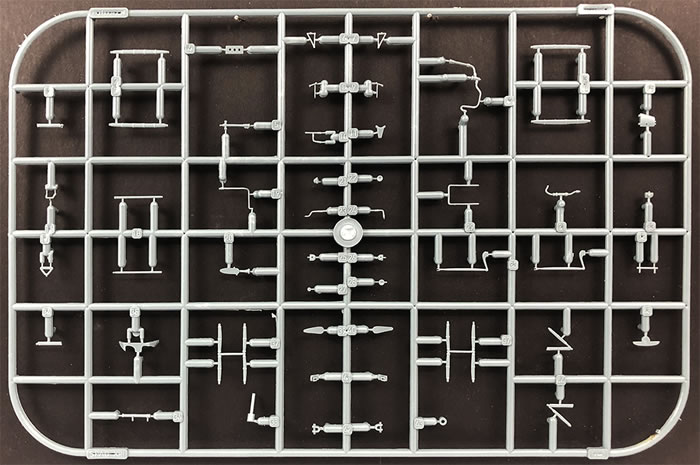 These parts have nice details moulded into them, and despite the age of the original moulds they exhibit very little in the way of flash or major mould lines.
---
Sprue E
This is a very small sprue with only 3 parts on it. These are the clear windscreens. One is for the late version so is not used.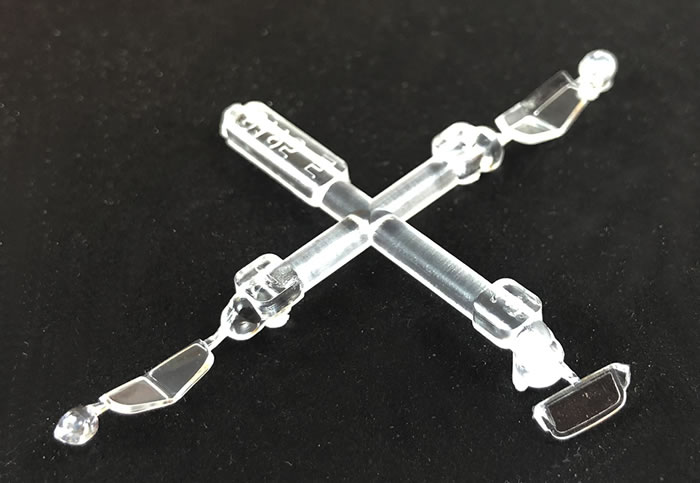 The other 2 are options for individual airframes from the schemes so make sure you do your research. They are tiny, so make sure you don't lose them. Nice detail for its size and quite clear.
---
Instructions and Decals
The instructions for the kit are the usual Eduard, with a glossy booklet of 14 A5 pages of high quality detailed instructions, with copious colour call outs throughout, using the Gunze Aqueous, Mr Color as well as the Mission Models range.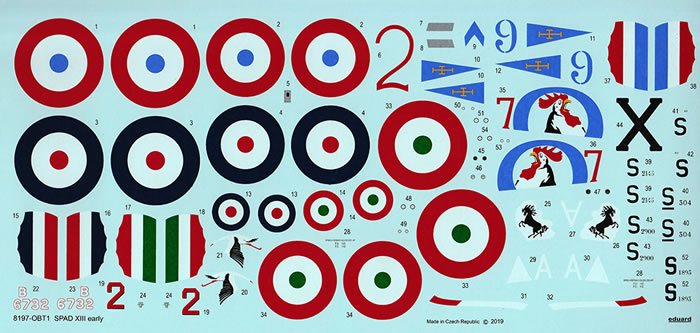 There is a set of masks provided for the wheels. The decals are printed by Eduard and appear to be in perfect register giving the options for 5 different aircraft (photos above) and they are;
Escadrille No. 48, flown by Adj. Jacques Roques, France, autumn 1917

Escadrille No. 3, flown by Cne. Georges Guynemer, France, September 1917

No. 23 Squadron, Royal Flying Corps, flown by Lt. JD Hewett, France, February 1918

91a Squadriglia, flown by Maj.Francesco Baracca, Italy, May 1918

Escadrille No. 77, flown by Lt. E. Maurice JP Boyau, France, March 1918
Eduard have again re-released the old but the nicely detailed Spad XIII Early version with new schemes. This kit will build into a very high quality model and certainly will bring some brightness to your model cabinet with the great colourful schemes. A highly recommended kit for the reasonably skilled or experienced WWI modeller
Thanks to Eduard for the sample
---
Review Text Copyright © 2020 by David Couche
Page Created 9 September, 2020
Last updated 14 September, 2020
Back to HyperScale Main Page
Back to Reviews Page Woo!