Cessna O-2A Skymaster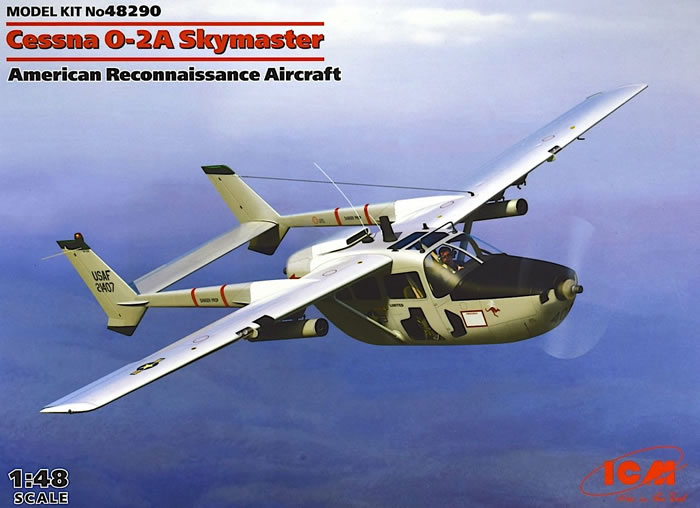 ICM, 1/48 scale
S u m m a r y :

Description and Item No.:

ICM Kit No. 48290 - Cessna O-2A Skymaster

Contents and Media:

109 parts in light grey styrene, 15 clear parts, and one decal sheet covering four airframes.

Price:

£25.99 EU Price (£21.66 Export Price) plus shipping at Hannants

Scale:

1/48

Review Type:

First Look

Advantages:

A new-tool, crisply molded kit with beautiful surface inscribing and sufficient detail right out of the box.

Disadvantages:

No seat harnesses or information on the aircraft covered by the decals are provided.

Recommendation:

This is a nice kit that's long overdue for such a historically significant aircraft, highly recommended!
Reviewed by John Miller

The Cessna O-2 Skymaster (nicknamed "Oscar Deuce") is a military version of the Cessna 337 Super Skymaster, used for forward air control (FAC) and psychological warfare operations (PSYOPS) by the US military between 1967 and 2010. In 1966 the United States Air Force (USAF) commissioned Cessna to build a replacement for the O-1 Bird Dog resulting in the O-2. As with the civilian version, the Skymaster was a low-cost twin-engine piston-powered aircraft, with one engine in the nose of the aircraft and a second engine in the rear of the fuselage. The push-pull configuration meant a simpler single-engine operating procedure due to centerline thrust compared to the common low-wing mounting of most twin engine light planes, and also allowed for a high wing, providing clear observation below and behind the aircraft.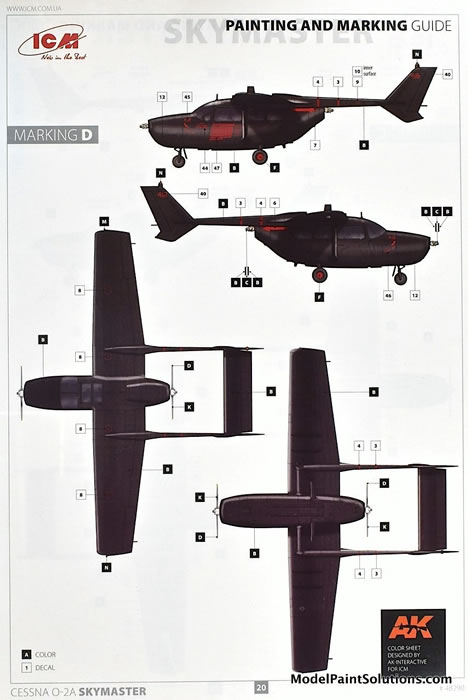 Modifications for the military version included installation of view panels in the doors (for improved ground observation), flame-retardant foam in the wing-mounted fuel tanks, and installation of military communication and navigation equipment, and wing hard points for ordinance. Due to the structural strengthening, required to support the increase in overall weight, the military version came in 1,000 lb heavier than it's 4,400 lb civilian cousin. The first O-2 flew in January 1967 with production starting shortly thereafter. Performance (especially at cruising altitudes) was degraded due to the added antennas and significant weight increase, but was considered sufficient for the anticipated low-level operation.
The kit comes in a heavy-duty, white, card board box with a tabbed lid. A separate box top (with art) fits over the white cardboard box providing ample protection for the kit therein. I love these sturdy, double boxes from ICM as they can be stacked with little-to-no concern of deformation; something other manufacturers should consider (hint, hint).
Upon opening the box you're greeted with two large, light grey, sprues with crisply molded parts and very little flash. Man, ICM has come a long way since I bought my first kit from this manufacturer ~10 years ago.

In addition to flash-free parts, the recessed surface details on the major components are beautifully restrained, even, and scale appropriate. Some kits look beautiful in the box and this kit is one of them. This is going to be a very nice looking model when assembled I have little doubt.
The build starts with the cockpit and sufficient detail is provided for a very convincing assembly right out of the box. Unfortunately, there is no option to pose the cockpit door open and doing so would require a bit of surgery. The ample communications gear carried by the O-2 is well represented right out of the box but and will serve as a good basis for super detailing by more motivated builders. Additional details include two M-16 rifles for mounting on the port fuselage side panels and nicely detailed multi-part seats. No seat harnesses are provided. The main instrument panel is nicely molded and the instrument faces are provided on a decal.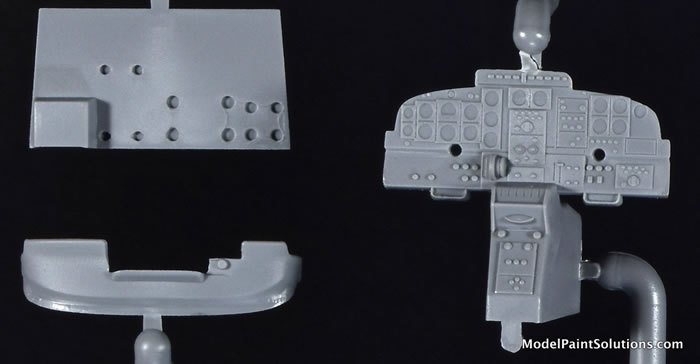 Of note is inclusion of the small gun sight situated on top of the panel combing in front of the pilot's seat. With the assembled cockpit and engine/nose gear assemblies trapped between the fuselage halves, addition of the rear engine cowl, propellors, single-piece main gear legs, and windscreen largely completes the fuselage.
The cabin windows and large, prominent windscreen are glued in place early in the assembly sequence and fortunately all of these parts are crystal clear with scale-appropriate framing.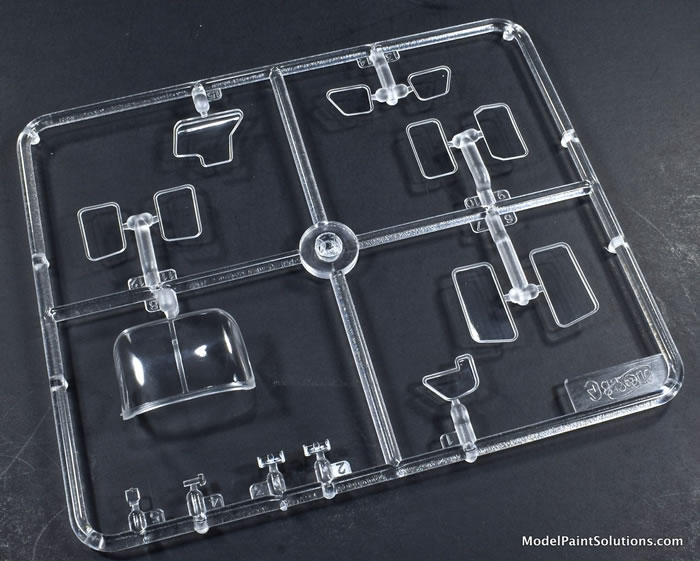 Next in sequence is the single-piece, full-span, upper wing, which is added to the fuselage followed by assembly of the tail booms and horizontal stabilizer/elevator. Both rudders are single-piece and poseable. The elevator is comprised of upper and lower halves and is also poseable. Addition of the empennage/booms to the upper wing is followed by the left and right, half-span lower wing panels. With the addition of the poseable, single-piece ailerons, wingtips, and the boom-to-fuselage flying struts, the model is mostly complete.
As with the nose wheel, the main wheels/tires are nicely molded and comprised of halves. Four hard points are provided along with nicely molded anti-sway braces for each. For underwing stores, LAU-59 rockets w/ launchers as well as bomblet dispensers, are included. Two load-out diagrams showing the correct placement of the stores are provided.
---
Markings
The decal sheet, by ICM, is crisply printed with good color density and registration.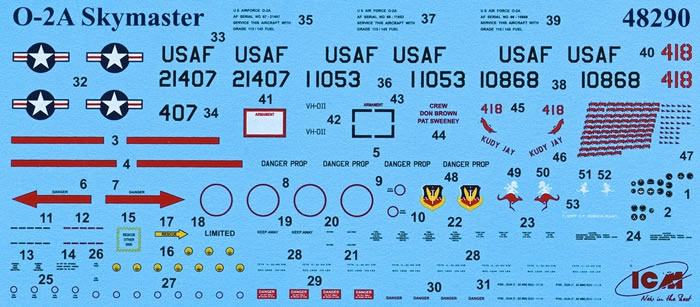 Markings are provided for four aircraft. Unfortunately, no information on any of the airframes is provided.
Cessna O-2A Skymaster, USAF, #21407; Overall white and light grey with a flat black anti-glare panel, and green on upper vertical stabilizer tip.

Cessna O-2A Skymaster, USAF, #10868; Overall white and light grey with a flat black anti-glare panel, small Kangaroo nose art, and green on upper and lower vertical stabilizer tips.

Cessna O-2A Skymaster, USAF, #11053; Overall white and light grey with a flat black anti-glare panel.

Cessna O-2A Skymaster, USAF, #418; Overall flat black with red airframe stencils and red, anti-truck convoy mission tally markings on port nose.
To my knowledge this is the only 1/48 Cessna O-2A available outside of the old Testors offering, which has been showing it's age for a while. Kudos to the folks at ICM for producing a long overdue new-mold Skymaster.
With it's twin-boom, twin-engine, in-line layout the O-2 is a very distinctive airplane. When assembled, this is going to be a very detailed model that will capture the distinctive shape of the airframe well.
Moreover, the inclusion of the underwing armaments, gun sight, and M16 rifles will allow the builder to produce an accurately configured O-2A right out of the box.
Highly Recommended!
For more on this review visit Modelpaintsolutions.com.
Review kit provided by my retirement fund, again.
---
Text and Images Copyright © 2020 by John Miller
Page Created 27 August, 2020
Last updated 27 August, 2020
Back to HyperScale Main Page
Back to Reviews Page