DeHavilland DH.82A
Tiger Moth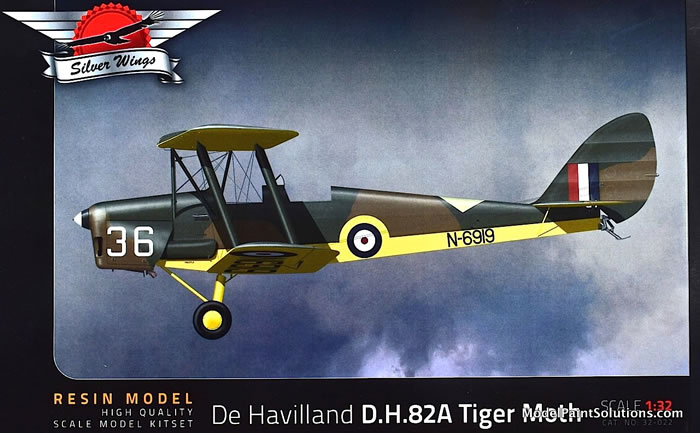 Silver Wings, 1/32 scale
S u m m a r y :

Description and Item No.:

Silver Wings Kit No. 32-022 - DeHavilland DH.82A Tiger Moth

Contents and Media:

107 parts in light grey resin, 2 in clear resin, one PE fret with 45 parts, and two decal sheets with markings for 6 airframes.

Price:

Scale:

1/72

Review Type:

First Look

Advantages:

A crisply cast, all-resin kit with ample detail, beautiful surface textures, and colorful decals: awesome.

Disadvantages:

The instructions could be clearer in some steps so additional references will come in handy during assembly.

Recommendation:

The fabric-covered surface textures are beautifully rendered, the fidelity of detail is top-notch, and for a resin kit, the smaller parts will require very little clean up. For those with a little prior experience with resin kits, highly recommended!
Reviewed by John Miller

I was fortunate to purchase a copy of the very first kit released by Silver Wings a little over 10 years ago; the 1/32 Heinkel He-51. I was immediately impressed with the covered fabric surfaces textures and the fidelity of detail in the smaller parts--simply beautiful.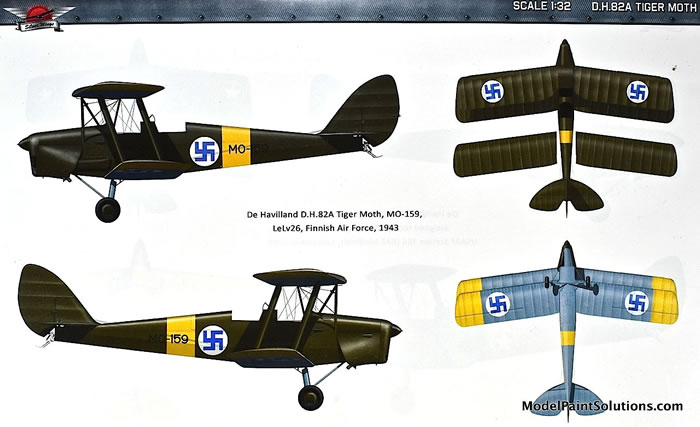 Since then, the master modelers behind Silver Wings have expanded the range but kept their focus on producing predominantly large scale (1/32) high quality resin kits of historically significant aircraft often overlooked by the larger manufacturers. Thank you, Silver Wings: Keep 'em coming!
---
Background
The de Havilland DH.82 Tiger Moth is a 1930s British biplane designed by Geoffrey de Havilland and built by the de Havilland Aircraft Company. It was operated by the Royal Air Force (RAF) and many other operators as a primary trainer aircraft. In addition to the type's principal use for ab-initio training, the Second World War saw RAF Tiger Moths operating in other capacities, including maritime surveillance and defensive anti-invasion preparations; some aircraft were even outfitted to function as armed light bombers.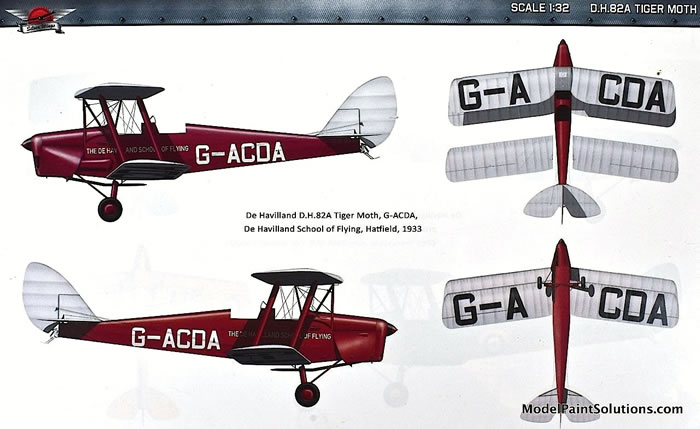 The Tiger Moth remained in service with the RAF until succeeded by the de Havilland Chipmunk during the early 1950s. Many military surplus Tiger Moths subsequently entered into civil operation and many nations have used the Tiger Moth in both military and civil applications. Moreover the type remains in widespread use as a recreational aircraft in several countries. It is still occasionally used as a primary trainer, particularly for those pilots wanting to gain
(Edited from Wikipedia)
In the sturdy lidded box we've come to expect from this manufacturer are multiple zip-lock bags separated by bubble packing. The grey, resin parts have no numbers so parts have to be identified by shape. This is facilitated by the very nice three-dimensional CAD drawings of each assembly step that are provided in the instruction booklet.
The casting blocks are reasonably sized and removal of parts with a small saw or similar tool should be straightforward.
Many of the parts have a very thin resin flash that easily breaks off with a little finger rubbing. After removal from the pouring blocks, prepping the parts will require little more than a fresh X-Acto blade and sanding sticks. Parts layout and engineering are conventional so assembly begins with the cockpit.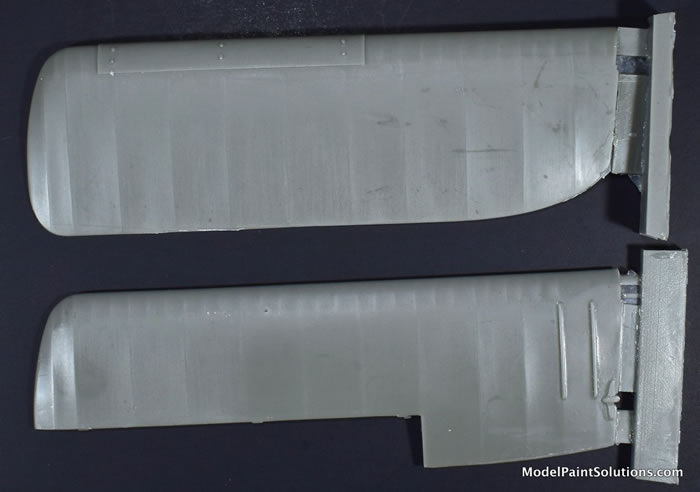 The instrument panel dial faces are provided on a piece of acetate film while the bezels are supplied in PE. This should look very convincing when complete.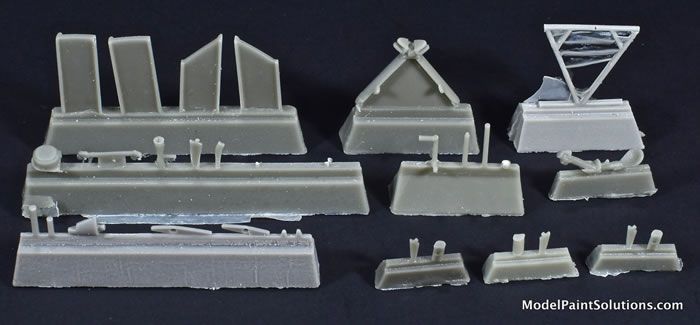 Both the front and rear cockpits are augmented with PE details that include Sutton seat harnesses, as well as throttle, and trim levers.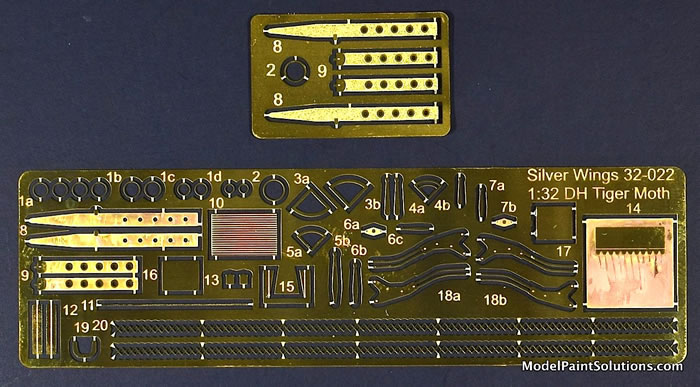 With the tube frame assembled and cockpits completed the builder is directed to assemble the nicely cast 4-cylinder, in-line Gypsy Major engine, exhausts, and engine mount. The instructions are a bit vague here with regards to installation so some trial fitting will be required. Many super-detailers will see an opportunity to turn this little resin engine into a focal point of the build. To that end separate and poseable nose cowls are provided: very nice.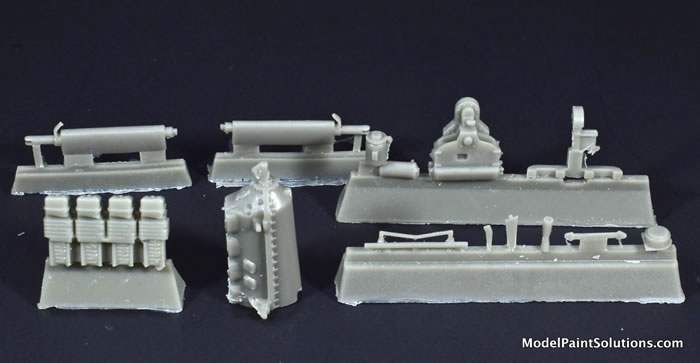 Once the assembled cockpits and engine are fitted into the fuselage halves, the empennage and main gear are next in sequence. At this point the builder has to make a decision on whether to apply the anti-spin strakes on each side of the dorsal fuselage just ahead of the horizontal stabilizers. These were added to some airframes to lessen the rotational velocity of a spin thereby enhancing recovery. Two of the six schemes covered by the decals are depicted with anti-spin strakes.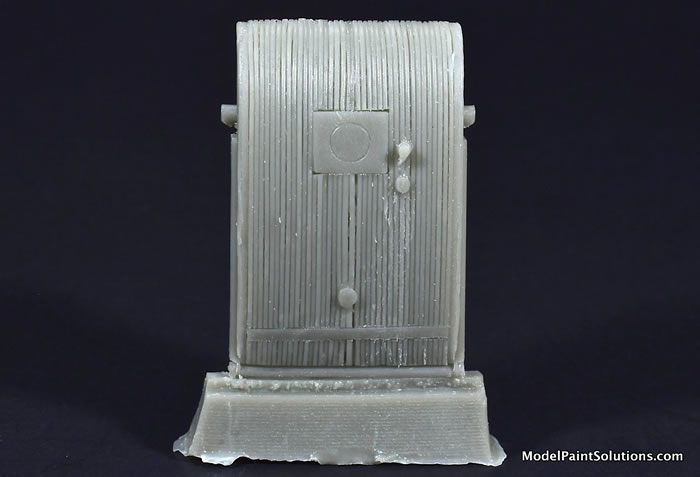 Addition of the main gear, comprised of nicely cast struts and main wheels/tires, is next up and largely completes the fuselage.
Assembly of the upper wing with its separate center section gas tank followed by the lower wings with poseable ailerons is next. Attachment of the lower wings to the fuselage is by tabs to assist alignment whereas mounting of the upper wing is facilitated by sturdy, wire-filled cabane and N-struts.
The windscreens, cast in resin, are crystal clear with scale appropriate framing that will look very convincing after painting.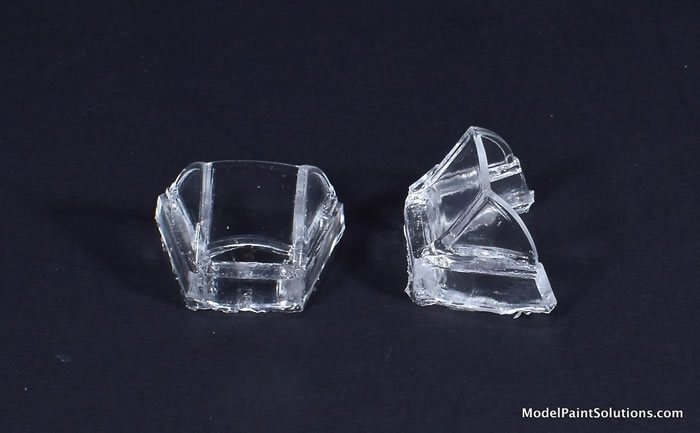 To facilitate the task of rigging, a basic diagram is provided. I suspect some additional references on both wing rigging and control surface cables would be very helpful to the average builder.
This is a beautifully cast kit. As with any resin model, time will be spent prepping parts and test fitting assemblies but the result will be worth it.
---
Markings
The decals, by Silver Wings, are crisply printed with good registration.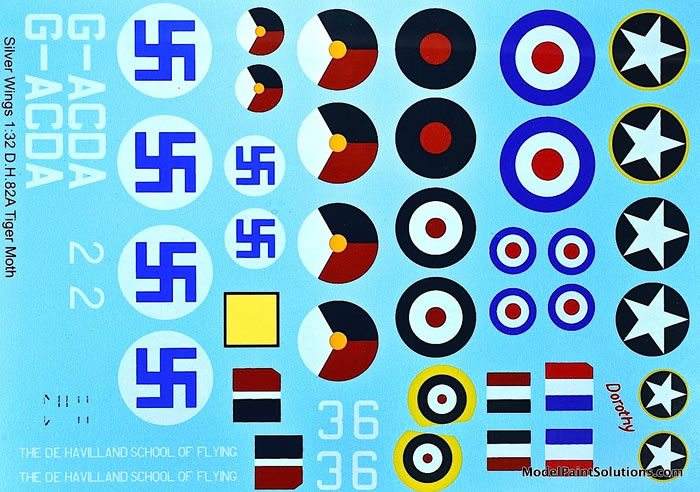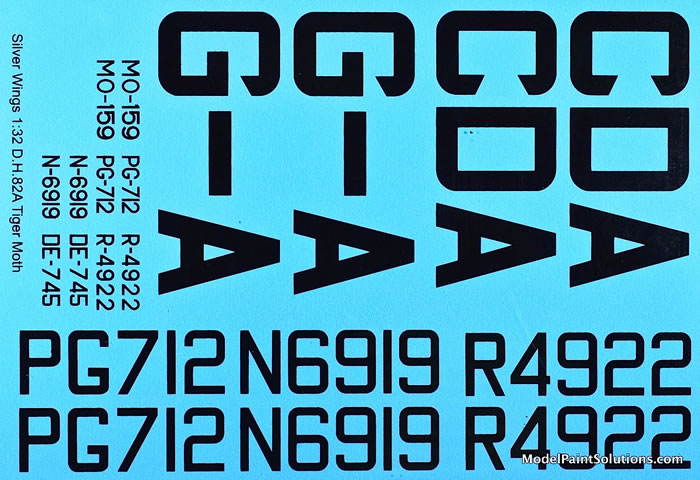 Airframe stencil data and markings for six airframes are provided as follows:
De Havilland DH.82A Tiger Moth, R4922, 7 Elementary Flying Training School, Desford and Braunstone, 1933-45.

De Havilland DH.82A Tiger Moth, G-ACDA, De Havilland Flying School, Hatfield, 1933.

De Havilland DH.82A Tiger Moth, N6919/36, probably of 1 Elementary Flying Training School, RAF, 1940.

De Havilland DH.82A Tiger Moth, DE745, assigned to the 353rd Fighter Group, USAAF Station 36 (RAF Metfield), September 1943.

De Havilland DH.82A Tiger Moth, MO-159, LeLv26, Finnish Air Force, 1943.

De Havilland DH.82A Tiger Moth, PG-712/2, Royal Netherlands Air Force, 1946.
As with all the kits in the Silver Wings stable, the fabric-covered surface textures are beautifully rendered, the fidelity of detail is top-notch, and for a resin kit, the smaller parts will require very little clean up. For those with a little prior experience with resin kits, highly recommended!
For more on this review visit Modelpaintsolutions.com.
Review kit provided by my retirement fund, again.
---
Text and Images Copyright © 2020 by John Miller
Page Created 18 August, 2020
Last updated 18 August, 2020
Back to HyperScale Main Page
Back to Reviews Page