Planet Models' 1/48 scale
Heinkel P.1077 Julia

by Brett Green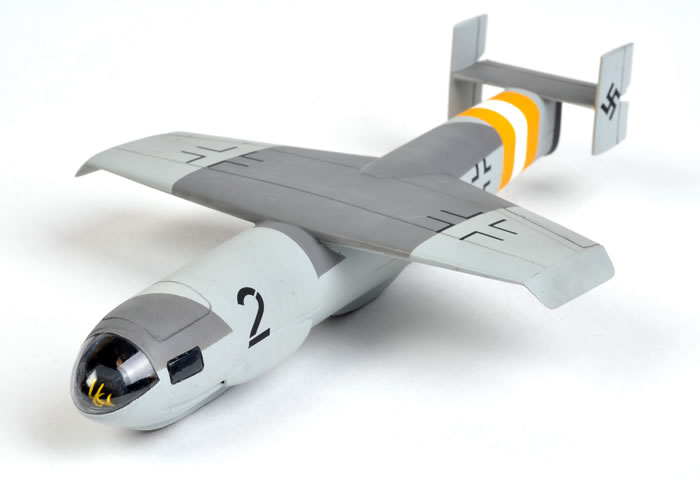 Heinkel P.1077 Julia

HyperScale is proudly supported by Squadron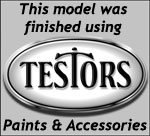 There is nothing like looming book and magazine deadlines to crank up the speed of the model production line.
March 2012 has proven to be even more productive than February, with four models being finished - although one was started more than ten years earlier.
I picked up three 1/48 scale Planet Models Luftwaffe '46 kits around 2002 - the Focke-Wulf Flitzer, the Blohm und Voss P.211 and the Heinkel P.1077 Julia.
This is the Julia. The kit comprises just ten parts in yellow coloured resin plus a single vacform canopy - no spare in case of slip-ups here!
I started working on this simple model last Thursday and had the entire project finished and painted by Sunday night. Preparing the parts took longer than assembling them, as there were a few stout and tricky casting blocks to contend with.
Detail in the cockpit comprised just two control tillers and a blocky instrument cluster. Although little would be visible through the semi-fishbowl canopy, I decided to add a cable loom to the rear of the instrument cluster, and a pilot lying on his belly.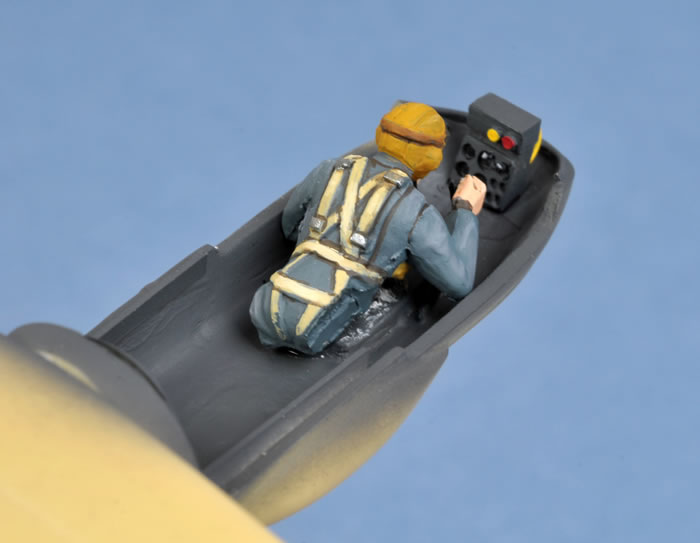 The pilot was sourced from an old Trimaster kit. His legs were moulded splayed and would not have fitted in the narrow confines of the Julia's cockpit, so I took the expedient route and cut them off. In retrospect, it might have been better to modify the legs, leaving them intact so I could have cut out the large top hatch, which would offer a good view of the prone pilot and the cramped interior. Ah well, maybe next time...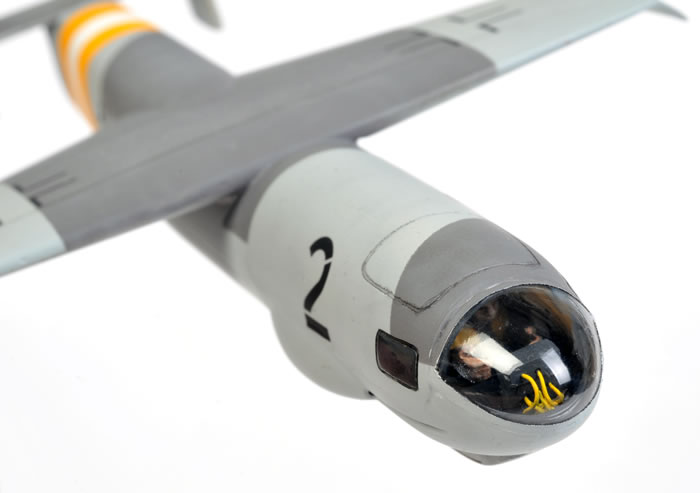 Fit of the major components was less than perfect, but that is not too surprising for a decade-old resin kit. White Milliput was the perfect cure for wide gaps between the main joins.
Markings possibilities for this paper project were limitless, so I chose a scheme that I hoped would be credible high-altitude camouflage for an interceptor attached to JG 2 some time in 1946.
The base colour is Gunze H417 RLM 76, while the disruptive colour is H69 RLM 75, masked with Tamiya tape.
The yellow-white-yellow RV band is masked, while decals were sourced from the spares box.
The flat finish is my favourite Testor's Model Master Flat Clear Lacquer - sprays well, dries fast, and is genuinely flat.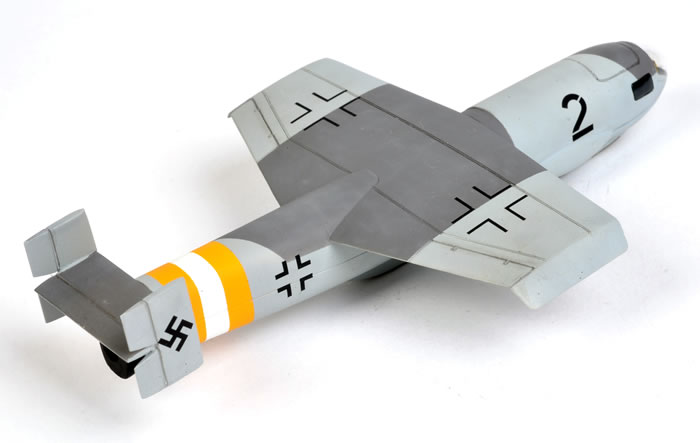 This model, along with two other Luft '46 subjects, will be the subject of a big Chapter in a forthcoming Osprey Masterclass book on Luftwaffe Jet and Rocket Aircraft.
More information will be available closer to release.