Monogram's 1/48 scale
Heinkel He 111

by Bill Cronk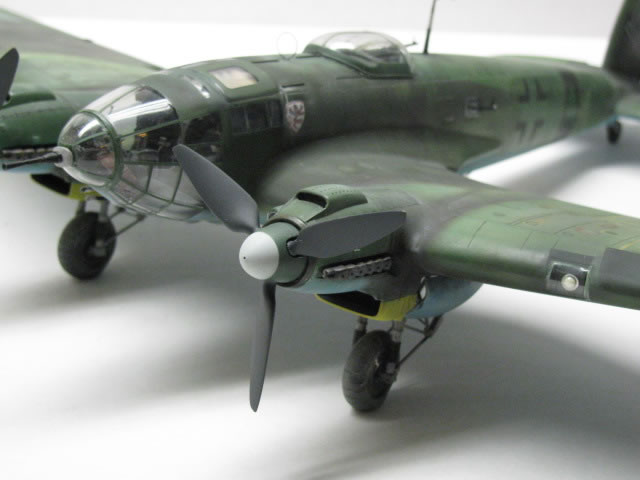 Heinkel He 111

Revell-Monogram's 1/48 scale He 111 is available online from Squadron for less than $25.00!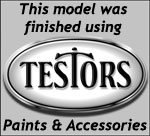 I ran across some pics of a He 111 with extra guns added to it. These pics peeked my ever interest especially because it would give me an opportunity to build something a bit different. I have always liked the the ole "Spade" and now I could build it and have something unique as well.
The He 111 Gunship "Kanonenboot" was built due to requests from RLM. The Russian's had armed supply trains and the Germans needed an attack plane with enough fire power to wreck havoc on them along with truck convoys. Heinkel built appox. two dozen with six 20mm MG 151/131 of which 18 went to KG 55. Extra armor was added for the pilot and fuel tanks. The bomb racks and related items were removed. The 111 was chosen because it was tough, fast and plentiful. The Kanonenboot would attack and then fly away and reload in mid air and then counter attack and run home before any fighters showed up! There is not many pics on these converted 111's so that means I had to use a bit of artistic license.
These Monogram kits fit great and that helps speed up any build. I added some armor for the pilot located in the logical areas below and in front. I used Testors acrylic paints mixed with Testors thinner. I used three different shades of each color for the top. I use the standard color and two lighter shades thinly mixed with white sprayed lightly over a white base coat. I think this helps give it "chromatic confusion" creating a more interesting finish. The only decals are the underside markings and the unit badge.
I used Future for the gloss coat and a standard wash thinned with mineral spirits. I used a silver pencil for chipping and some rivet details. I am not a fan of panel fade paint jobs, but I believe on some areas of the model it was called for esp. around the engine area and such. I used pin striping tape for that blasted nose. When using this tape precut the width and make sure what paint/weathering you do to the model do it to the strips as well.
I finished the model using Testors dull coat. Make sure you thin and mist it on or else you will get a unwanted white residue on you finished model. My goal was to create a 111 that was used,battle scared and repainted in areas. I also wanted the old unit codes painted over which helps give it that used look as well. I hope you enjoy my Kanonenboot I had fun building it.

---
Model, Images and Text Copyright © 2011 by Bill Cronk
Page Created 10 April, 2012
Last Updated 10 April, 2012
Back to HyperScale Main Page