Soviet / Russian Weapons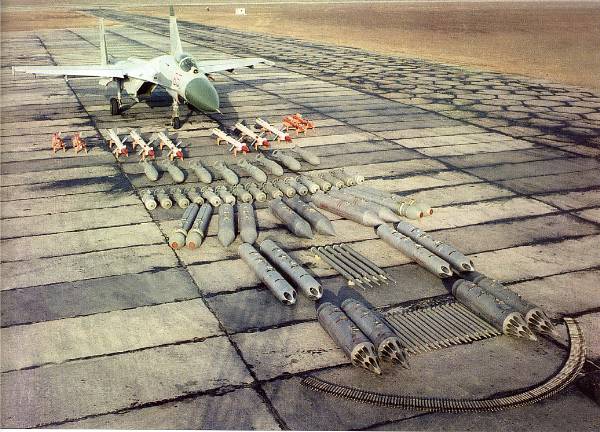 Eduard BRASSIN, 1/48 scale
S u m m a r y :

Catalogue Numbers:

64 – 025 Russian UB-16/UB32 Rocket Launchers ($19.95)

648 – 040 Russian AA-1 Alkali AAMs ($14.95)

648 – 041 Russian B-8M1 Rocket Launchers ($14.95)

Description:

Underwing stores for Russian aircraft

Price:

Scale:

1/48

Contents & Media

Resin, etched metal and masks

Review Type:

First Look

Advantages:

High quality replacements for kit parts, these sets fill a hole for long neglected Russian ordnance. Includes a range of pylons applicable to multiple types – a real plus

Disadvantages:

No decals provided for the weapons

Conclusions:

Given the recent kit release these items are applicable to, they will be very useful to the modeller.

Reviewed by Ken Bowes


Eduard's 1/48 scale MiG-21 Wheel Wells are available online from Squadron.com

In the last 12 months Eduard added to their already extensive product lines by deciding to introduce a new range of resin detail parts that complement their other ranges of brass detailing sets and full kits, as well as exploiting their new production capabilities to produce items that can be used to detail many mainstream models. Amongst other items in the range, Eduard has produced wheels, exhausts, ejection seats and weapons. This review looks at three items that have been passed to me, that being sets providing a range of Russian Air to Air and Air to Surface weapons that complement their recent MiG-21 kits as well as their re-boxed MiG-29 and Su-27 kits. The first provides AA-1 Alkali AAMs, the second B-8M1 80mm rocket pods and the third providing two UB-16 and two UB-32 Soviet/Russian 57mm rocket launchers.
Set 648 025 provides UB-16 and UB-32 rocket pods of the type that are almost ubiquitous on Russian fighters and attack helicopters.
Both pods were developed to fire the S-5 and S-5M 57mm air to ground rockets. Both pods consist of a body with a conical nose from which the five central launch tubes protrude. A quick scan of literature found many photos of both style of pod fitted to a range of aircraft whilst more recently ingenious use of these launchers mounted on technicals in Libya also adds a different option for the scratchbuilder albeit in the less popular armour modelling scale of 1/48.
Set 648 040 provides four AA-1 Alkali (Russian designation RS-2US) air to air missiles.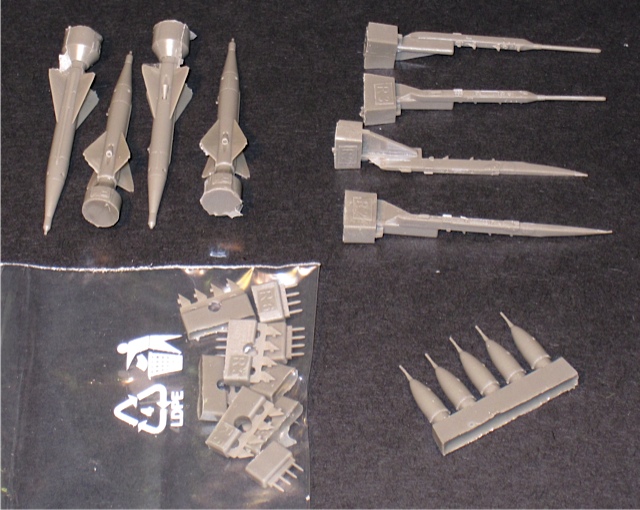 As would be obvious from their NATO designation the Alkali was the first generation of Russian air to air missiles, with development commencing in the 1950's. This missile relied on beam-rider guidance techniques and was most effective against a bomber size target. The Eduard set is very crisp and well detailed but looks like it will be a real challenge to assemble with each missile needing guidance fins and rear-reference antennas to be attached to complete, with some of these parts being very small and fragile. One thing I do like about this set through is that Eduard recognises that not only are the weapons needed but also the pylons and Eduard provides both the APU-4 associated with the MiG-17 and MiG-19 and the APU-7 for the MiG-21 and Su-9. Given that not only good Soviet weapons have been hard to find until recently, but the pylons that are required as well are also usually not provided in kits, this addition is very well received.
Set 648 041 provides four B-8M1 80mm rocket pods.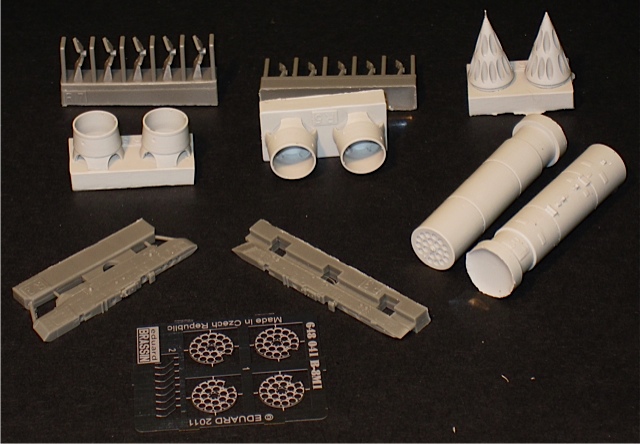 These are much more modern and significantly larger than the UB-16 and UB-32 pods, resembling somewhat the European Matra pods in design. Like all sets in this range the pod is assembled from a number of parts including some very nice etch brass details and are very crisply molded. Like the AA-1 set, two sets of pylons are provided in this set, four for the MiG-29 and four for the Su-27. Also included are some very small detailed sway braces which need additional detail to finish.
All three sets show some amazing attention to detail from Eduard, and the addition of appropriate pylons and adaptors is very welcome. Each set is of very high quality and are thoughtfully packaged to avoid shipping damage. Eduard is however not the first player in the Soviet weapons game with the Aires offshoot Aerobonus also doing UB-16/32 and B-8M1 pods. So which is better? Well both have strengths and weaknesses. Aerobonus tend to produce their sets in fewer parts which eases assembly but compromises the fine detail that Eduard provide in their sets. They also do not have the pylons and adaptors that are a real strength for Eduard. However Aerobonus do have nice decal sheets for warning and maintenance stencils to apply to their weapons. In the end it will be up to individual modellers to make their choice but for the detail orientated, the Eduard options will be hard to pass up.

Thanks to Eduard for the samples.
---
Review Text Copyright © 2012 by Ken Bowes
Page Created 9 May, 2012
Last updated 9 May, 2012
Back to HyperScale Main Page
Back to Reviews Page