Sino-French Naval War
1884-1885
by Piotr Olender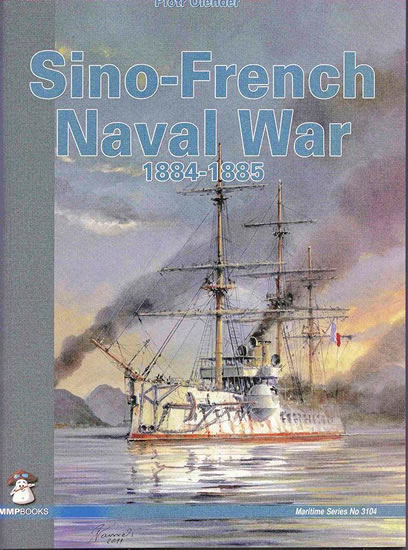 MMP Books
S u m m a r y

Publication Details:

Sino-French Naval War 1884-1885 B
by Piotr Olender
MMP Books
Maritime Series No. 3104

ISBN:

978-83-61421-53-5

Media and Contents:

132 pages of text, period photos (B&W of coarse), line drawings of both ships and actions.

Price:

Review Type:

FirstRead

Advantages:

Easy to read text relating to both the action drawings and the B&W photos.

Disadvantages:

It's implied on both the back cover and in the introduction that the ships of both navies are illustrated with profiles and I assumed full colour profiles as in other MMP books. The only profiles are line drawings which include most of the ships of both navies but not all. This is definitely better than nothing but still disappointing.

Conclusion:

Apart from the minor quibble above, this is an interesting and well written book on a subject I knew nothing about before reading it.
Reviewed by Glen Porter

HyperScale is proudly supported by Squadron
Sometimes, when you are reviewing a book like this, it can be an advantage to know absolutely nothing on the subject at all and just let the book teach you. From the title I knew it was about a Naval War between China and France that lasted only about a year. What I learnt was that this was how France got control of what was later called French Indochina (Vietnam).
The book begins with a considerable lead-up to the conflict to explain how and why. What was known as North and South Vietnam during the Vietnam War was then known as Tonkin, North Vietnam, hence the Gulf of Tonkin, and French Cochinchina, South Vietnam. France already had concessions and control of South Vietnam but of coarse wanted the North as well.
Although this was considered a Naval Conflict, after several fleet versus fleet battles, nowhere near as big as those in Japanese or European waters, most of the fighting was done on land between land Armies but with naval Gunboat support from the rivers.
What stands out is the total superiority of the French in both training and equipment and though lacking in numbers in most cases managed to whip the Chinese Armies well and good. The author quotes figures like 67 French dead and 125 wounded while from the other side 1500 Chinese dead and 3000 odd wounded.
However, although the French Government sanctioned the war which, by the way was never declared, it was a bit miserly in sending supplies, men and equipment to the point that France lost a couple of important battles which caused them to sue for piece. The fighting, on the other hand, had done so much damage to the Chinese Navy and Army that France was able to negotiate most of what she wanted anyway.
So, France got control of Tonkin (North Vietnam) and later added Cambodia and Laos to be known as French Indochina.
Some books like this are very dry and hard to read, all facts and figures. This one's not. What's more, it was informative and interesting and I learnt a bit of history that filled in a gap, and that can't be bad.

Thanks to MMP Books for the sample.
---
All MMP Publications books are available direct from the publishers, who now accept credit cards (Visa, MC, Amex, Switch)
North American distributors are MMD, Australian distributors are Platypus Publications. In Europe, the books are available from any good bookshop (via our UK distributors, Orca). Contact MMP direct in case of difficulties.
Thanks to Roger at MMP Books for the sample.
---
Review Copyright 2012 by Glen Porter
This Page Created on 16 October, 2012
Last updated 16 October, 2012
Back to HyperScale Main Page
Back to Reviews Page