MMP Books – White Series
Consolidated Mess
The Illustrated Guide to Nose-turreted B-24 Production Variants in USAAF Combat Service
by Alan Griffith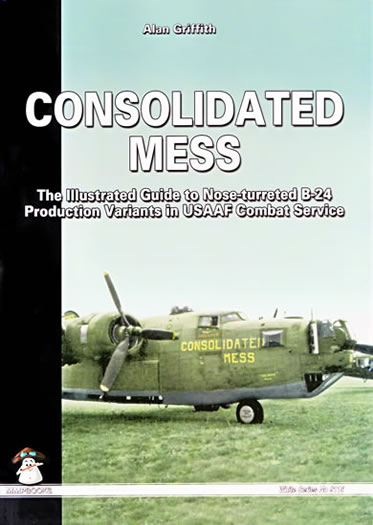 S u m m a r y

Publication Details:

Consolidated Mess - The Illustrated Guide to Nose-turreted B-24 Production Variants in USAAF Combat Service by Alan Griffith
MMP Books White Series #9116

ISBN:

978-83-61421-16-0

Media and Contents:

Softbound A4 (11.75" by 8.25"), 192 pages, 239 photographs

Price:

GBP£24.99 available online from Mushroom Model Publications' website

Review Type:

FirstRead

Advantages:

Clear, one-source treatment of detail variations for nose-turret B-24s

Disadvantages:

Conclusion:

Recommended for both modelers and aviation historians
Reviewed by Jim Maas

HyperScale is proudly supported by Squadron
MMP Books has a well-deserved reputation for bringing out well researched labors of love - like Alex Crawford's Gladiator books, and Morosanu and Melinte's work on Romanian fighter colors. Their new release, Consolidated Mess, is firmly in that tradition.
Built in five different plants, the 19,000 plus B-24's (all variants) were the most-produced U.S. military aircraft. It served in every theater with the USAAF, USN and Commonwealth air forces. With that many aircraft, and multiple manufacturers, detail differences inevitably occurred. This was particularly true after combat experience proved that a nose turret was vital for forward protection. The actual turret mounting was subject to several different solutions. Unfortunately, the nose turret added to existing visibility problems, requiring more fixes. These are the issues that Alan Griffith focuses on, and describes their resolution, in meticulous detail.
The author explains that this book does not address the early 'glass nose' versions (though happily he suggests these would be covered in an upcoming volume), it is not a combat history, nor (primarily) a camouflage and markings treatise. It focuses on USAAF versions with nose turrets. But within that compass, Griffith has provided a comprehensive examination, first of early nose turret installations done at Air Depot level, and then descriptions of detail variations in production aircraft, by manufacturer and production block. Drawings and photographs explain the several versions of the Consolidated A-6 turrets, the Emerson A-15 turret, and the Martin 250 top turret (clarifying the development of the Martin's glazing) as well as previously obscure hand-held tail gun installations. While hand-held ventral guns are illustrated, the Bendix ventral ball turret is not emphasized since ample coverage already exists. Other variables discussed and amply illustrated include:
progressive development of waist window gun stations including the eventual enclosed positions;

canopy window changes and the use of appliqué armor;

making sense of the many different window configurations on the nose area, as well as noting production blocks that omitted the lower rear fuselage windows;

changes in pitot installations, trim tabs and even tail skids;

inwardly retracting vs. outwardly retracting nose gear doors.
Several appendices cover related topics such as:
complete serial block listings in serial order and then cross referenced by manufacturer and block number;

a listing of known glass-nose aircraft to which forward turrets were added at the Air Depot level;

an explanation of the bomb-bay door structure;

illustrations of camouflage and, for natural metal aircraft, antiglare panel demarcations, which varied by production source (the drawing for camouflaged Ford B-24's was omitted due to a layout mistake, but is included with this review and is also available at the MMP website). Regretably, this section does not also include a discussion of related variations in the location of the fuselage national insignia.

a couple of "you just gotta include these" items, like the grafting of a B-17G nose onto a B-24J, and a private proposal for a twin fuselage Liberator (think B-24Z)
So what does this book do for modelers? Despite the author's note that the book "is not intended as a modeler's manual per se", it is an essential reference for anyone contemplating a B-24G through M model. Let's say you decide "I want to do one of those Zodiac B-24's". You settle on "Gemini" and, knowing the serial number is 252490, can easily determine that is a Ford-built B-24H-15-FO. Find the illustration for that version on page 89 and you know the nose configuration, type of nose, top and tail turrets, the fact that the rudder has 'long' trim tabs, and armored cockpit side windows and appliqué armor. Of course, due diligence research of your subject is still needed, because once in the field all sorts of interesting modifications could occur. And the author is refreshingly honest in identifying areas where details are still elusive.
Mr. Griffith is generous in his appreciation of the many other B-24 researchers who provided material for this book, and it represents an exceptional addition to the field of aviation research.
Long ago, the great Harry Woodman wrote of aviation research literature: " What is very apparent is that only a few hard workers have brought the coal up to the top whilst a myriad of others are carting it away in bucketsful on the surface."
Mr. Griffith has done some deep digging indeed.

Thanks to MMP Books for the sample.
---
All MMP Books are available direct from the publishers, who now accept credit cards (Visa, MC, Amex, Switch)
North American distributors are MMD, Australian distributors are Platypus Publications. In Europe, the books are available from any good bookshop (via our UK distributors, Orca). Contact MMP direct in case of difficulties.
Thanks to Roger at MMO Books for the sample.
---
Review Copyright 2011 by Jim Maas
This Page Created on 26 March, 2012
Last updated 26 March, 2012
Back to HyperScale Main Page
Back to Reviews Page