Korean War Mustangs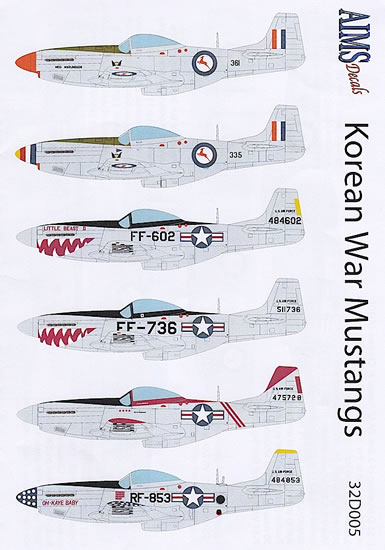 AIMS Decals, 1/32 scale
| | |
| --- | --- |
| Catalogue Number and Description | AIMS Decals Item No. 32D005 - Korean War Mustangs |
| Scale | 1/32 |
| Contents and Media: | 1 x waterslide decal sheets of national markings, code letters, unit badges and other aircraft specific markings; 1 x A4 full-colour instruction sheet featuring marking options for six aircraft |
| Price: | |
| Review Type: | First Look |
| Advantages: | Great choice of subject matter; high quality decals |
| Disadvantages: | Some information not included in the package. Would have been nice to have stars and bars too. |
| Conclusion: | Another excellent release from AIMS – there aren't many 1/32 decals out there for Korean War Mustangs, and this sheet really hits the mark - Highly Recommended. |

Reviewed by Brad Fallen


HyperScale is proudly supported by Squadron.com


Turning away from World War 2 German aircraft, for the moment at least, AIMS Decals has released this 1/32 sheet featuring six colourful Korean War Mustangs – four United States Air Force examples, and two ex-USAF aircraft flown by the South African Air Force. All are late model F-51D variants finished in natural metal and aluminium lacquer, with shrouded exhausts, underwing bomb/tank racks and rocket stubs, and (except where noted otherwise) Hamilton Standard uncuffed propeller blades.


The featured aircraft are:

F-51D-30-NA, 361 (ex-USAAF 44-74862 or 44-74863), "Miss Marunouchi" of 2 Squadron, South African Air Force, based at Chinhae, Korea, 1952. This aircraft, which was lost to enemy action in October 1952, carried SAAF roundels in six positions and the aircraft name on the port engine cowling beneath the exhausts. Photos of other 2 Squadron F-51Ds suggest that the squadron's "Flying Cheetahs" badge was carried on both sides of the fuselage just forward of the cockpit (only a port profile is provided in the kit instructions). Modelers depicting this aircraft will need to match the colour of the spinner and chin intake with the bright orange-red of the fin flash and the Springboks in the centre of the roundels.
F-51D-30-NA, 335 (ex-USAAF 44-74511), 2 Squadron, SAAF, Korea, 1952. This aircraft crashed on 23 July 1951 after being hit by ground fire, with pilot Captain Fred Bekker killed in action. Markings appear identical to those of "Miss Marunouchi" with the exception of the yellow/orange-red/white and blue spinner.

F-51D-30-NT, FF-736/45-11736, flown by Lt James Glessner, 12th Fighter-Bomber Squadron, 18th Fighter-Bomber Group, based at Pusan, Korea. The distinguishing feature of FF-736 is the very large shark-mouth on the front lower cowlings. Glessner shot down a Yak-9 in this aircraft on 2 November 1950. I have found photographs of FF-736 in a number of slightly different finishes: as depicted on this sheet; the same but with a natural metal rather than black rear canopy frame; and the same but with blue and yellow wing/fin/stabiliser tips and spinner, a black outline added to the shark-mouth and cuffed rather than uncuffed Hamilton Standard propeller blades. All of these schemes can be done using this sheet (none of the differences involve decals) but the subtlety of the marking changes mean you will need to check your references carefully.

F-51D-25-NT, FF-602/44-84602/"Little Beast II", 12th FBS, 18th FBG, based at Chinhae, Korea, between December 1950 and June 1952. I have found a good quality colour photograph of "Little Beast II" that suggests AIMS has nailed this scheme, including subtle differences between the shark-mouths on this aircraft and FF-736 (the latter has more teeth).

F-51D-30-NA, 44-75728, flown by Major Arnold 'Moon' Mullins, 67th FBS, 18th FBG, location not identified on the decal instructions. While this aircraft's red canopy frame, wingtips, fuselage bands, fin flash and trim tab will translate into a striking model, AIMS is careful to point out that the profile on the instruction sheet is based on other people's artwork rather than original photographs. I similarly couldn't locate any photos of 44-75728, although I did find lots of pictures of other 67th FBS F-51Ds. These suggest that the profile in the instructions is probably basically correct – but they also show a number of minor differences between aircraft, such as propeller type, stenciling variations and trim colours. Again, consult your references.

RF-51D-25-NT, RF-853/44-84853, "Oh-Kaye Baby", 45th Tactical Reconnaissance Squadron, 67th Tactical Reconnaissance Wing, Korea, 1952. While not mentioned in the instructions, this aircraft was flown by 100-mission veteran 2/Lt (later Lieutenant-Colonel) Dell C. Toedt. Photos of "Oh-Kaye Baby" and other aircraft in the 45th TRS show that they got extremely grubby and worn in service, with lots of grime and staining on the wings and fuselage, and chips and scratches on any painted areas. This aircraft had Hamilton Standard cuffed propeller blades.
The logical target of these decals is the Tamiya 1/32 P-51D, given the very high quality of this kit, and the inadequacies of other Mustang kits in this scale. However, any modeler using the Tamiya kit will either need to source their rockets and stubs from elsewhere – they aren't included in the current kit release – or wait until Tamiya releases a late series P-51D/F-51D boxing of the kit (flashed over holes in the lower wings suggest this will happen). Similarly, anyone tackling "Oh-Kaye Baby" will need to use the Dragon F-6D kit, convert the Tamiya kit, or wait – because flashed-over camera apertures inside the Tamiya fuselage suggest that an F-6D/RF-51D is also in the works.

Unlike AIMS' recent Ju 52 and He 177 decals, which were produced by Fantasy Printshop, this sheet has been printed by Cartograf. Decal quality on the sheet looks excellent, with crisp printing and a nice colour distinction between the true red of the USAF colours and the orange-red of the SAAF roundels. Enough roundels and fin flashes are provided for one SAAF aircraft, but only the red inserts are supplied for the USAAF insignia – modelers will have to source their stars-and-bars from another sheet. It would also have been nice to have the white dots on "Oh-Kaye Baby's" spinner and wingtips included as decals, because these will be fiddly to reproduce.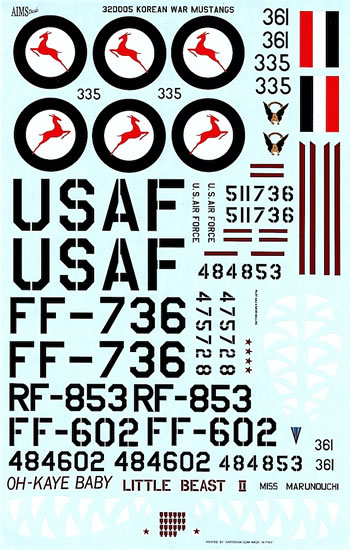 While AIMS has included a satisfactory A4 instruction sheet, I believe this is slightly under-done – given the changes over time and/or uncertainty to the finish of some of the subject aircraft, it would have been good to have a little more information included here. I strongly recommend that modelers undertake additional research in relation to their chosen aircraft, and this where AIMS comes through strongly, with specific references for those who want to find out more information.


---
Conclusion
This latest release by AIMS fills a perfect niche – while there are a lot of 1/32 Mustang decals on the market, there are very few for Korean War F-51s. All of the subject aircraft are interesting and colourful, and any one of them would stand out on the contest table. A couple of minor omissions notwithstanding, the overall package is of a very high quality, and highly recommended to anyone who wants a 1/32 Mustang that looks a little bit different.

Thanks to AIMS for the samples
---
AIMS' decals, kits and accessories are available online from AIMS website
---
Text and Images Copyright © 2012 by Brad Fallen
This Page Created on 17 May, 2012
Last updated 17 May, 2012
Back to HyperScale Main Page