RCAF Beaufighters
Canadians in Coastal Command #1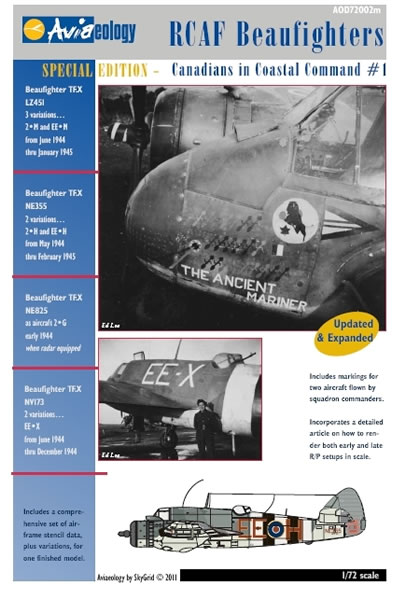 Aviaeology
available in 1/72, 1/48 and 1/32 scales
S u m m a r y :

Catalogue Number:

Aviaeology Decals Item No. AOD72002m - RCAF Beaufighters Canadians in Coastal Command #1

Scale:

1/72 (also available in 1/48 and 1/32)

Contents & Media:

Two sheets of waterslide decals, a nine page monochrome decal & painting guide/information pack that is also e-mailed to purchasers as a printable colour PDF.

Price:

Available on-line from:

Also available in other scales:

Review Type:

First Look.

Advantages:

Almost worth the price without the decals for the information on Coastal Command Beaufighters alone!

The most thoroughly researched notes on markings and airframe features I have encountered over the years reviewing and owning thousands of decal sheets and kits.

The scalable markings plans are fantastic, with a wealth of information covering stencilling, airframe fixtures, staining and weathering. The two-page article & plans on British aircraft rocket projectiles (RP's) is a great bonus.

Excellent decal production quality.

Disadvantages:

None – However, so much information needs a lot of attention paid to the supporting notes in order to fully exploit the opportunity being presented for a really accurate model.

Conclusion:

I have yet to see any other decal manufacturer equal the standard set here. The scalable graphics are a huge plus, as is the wealth of information regarding the Beaufighter TF.X and RP's. Decal quality looks to be superb. This package is simply tremendous value for money, an extremely interesting read, and a firm basis for stunningly accurate Beaufighter models – Definitely recommended!

Reviewed by Mark Davies


HyperScale is proudly supported by Squadron.com
This set is my introduction to Aviaeology's products. At first glance through the usual plastic zip-lock bag I saw what looked to be well printed decals and some rather ordinary-looking monochrome instructions. However once I looked at the instructions and visited Aviaeology's website I realised that they are far from being a run of the mill decal company. For this reason I have chosen to repeat part of their company intro below:
"SkyGrid Studio undertakes research and creates illustrations, model decal sets, full-sized markings replicas, and publications for a diverse community of aviation history enthusiasts. Our worldwide clientele includes scale model builders, R/C model builders, vintage aircraft restorers, museums, specialty publishers, model / hobby manufacturers, and historians (both "armchair" and professional.)
While SkyGrid Studio provides these services for clients on a contract basis, the Aviaeology imprint is exclusive to our own in-house product range. Currently this encompasses a growing line of books, model decals and profile prints."


The Painting & Markings Guide
I cannot help but mention some aspects related to the painting and markings guide. You get the simple monochrome copy I mentioned earlier with the decal pack. But a far superior colour copy is sent via e-mail to purchasers as a printable colour PDF. The documentation includes decal placement and painting instructions for all subject aircraft variations, reference photographs, an illustrated article on modelling Rocket Projectiles, as well as general decal application instructions.
The instructions are frankly almost worth the package price without the decals, so replete are they with interesting and useful information. This does not confine itself to aspects of individual aircraft histories as you might expect, but gives much more information concerning Coastal Command Beaufighters in general. Just a few examples are provided below. There is:

An almost "mini-article" about weathering patterns on Coastal Command Beaufighters and the causes of wear and various stains etc.

Information on how the invasion stripes were painted, touched up and over-painted.

A note about how the wing root fillets usually had doped fabric tape over them to prevent their screws coming lose whenever the cannons were fired. This was either painted in the upper surface colour or clear doped.

Mention made that the dingy hatch was re-sealed with tape and doped each time the dinghy was inspected, leading to prominent red dope outlines in this area of the wing.

A note indicating the dinghy release handle at the base of the tail-fin (those without a dorsal fillet) and mentions that a quick-fix decal is provided if you don't wish to make this.

All manner of diagrammatic detail pointers like radio altimeters antennae locations, windscreen de-icer glycol filler cap and fuel vent locations, etc.

Also a strong suggestion, yet to be confirmed by ongoing research, that the cannons in all but the early Beaufighters Mk.1's were arranged slightly asymmetrically.
And so it goes on. So if you want to know more buy the set!

"But wait there's more!" (And it's not a free set of steak knives...) – The instructions contain the best information and colour plans I have ever seen regarding the rocket armament used by Beaufighters and many other aircraft. The 1/24-scale plans show all manner of details from the three styles of saddle used to hold and guide the rocket on its rail, different rocket heads and their markings, blast-plate wing fairing profiles, rail styles, "pig-tail" colour details, and much more.

Well by now I suppose I should stop raving about the outstanding level of research that has gone into this set and take a look at the markings being offered. But before I do I've there's one more standout feature to the instructions – Many of the illustrations in PDF are originated as vector graphics. These are infinitely scalable on-screen, limited only by the capabilities of the viewing software. Using PDF-capable programs you can zoom in to see small details like stencil data decal orientation and technical feature positioning. I tested this feature to 6,400% enlargement in Adobe Reader with my copy and got a super-crisp image.
---
The Decals
So finally on to the markings: The decals enable any one of four different aircraft to be modelled, with several variations for three of them. There are enough common markings and comprehensive airframe stencil data markings for one complete model. This said, there will be a lot decals left over, so if you have at least spare national insignia you will be able to model some of the other choices offered.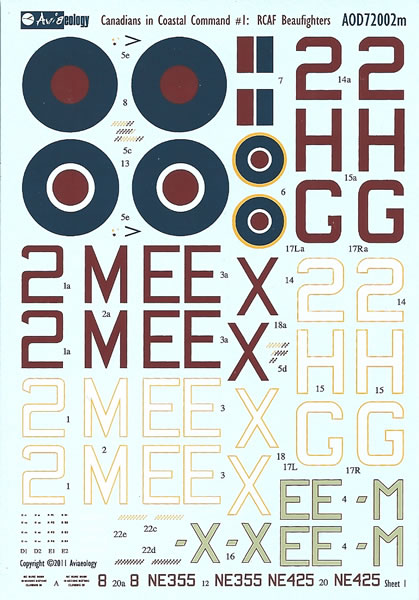 The subjects covered are all Beaufighter TF.X's of 404 Sqn:

NE825 or NE 425 - The notes advise that there is a case for this aircraft being NE425, but the evidence for NE825 is stronger (research is ongoing). Squadron code 2-G, early 1944 when radar equipped.

NE355 - Scheme options cover three periods, with squadron codes 2-H and EE-H, May 1944 through February 1945.

NV 173 - Scheme options cover two periods, with squadron code EE-X in two different styles, June 1944 through December 1944

LZ451 - Scheme options cover four periods, with squadron codes 2-M and EE-M (the latter in two different styles), June 1944 through January 1945.

The painting and markings guide provides considerable information on weathering, including four colour swatches of Extra Dark Sea Grey in fresh, "typical" in service, faded and extremely faded tones. The multi-view colour plans are as mentioned earlier scalable, which is incredibly handy for stencil locations (the decals provide for three stencil styles). The colour plans are supported by a wealth of information concerning each aircraft, often dealing with its configuration or appearance at various times. Here are just a few examples:

In regard to LZ451 the notes mention that for some time between June and at least October 1944, the factory-standard upper escape hatch was replaced by an earlier style one with an integral rear-view mirror.

And NE825's notes include a comment on the Mod 856 wingtips, for which the rear-facing transparent wingtip remained, but without formation lights installed inside. Instead small rear-facing resin air-to-air recognition lamps were mounted on bullet fairings.

The decals are printed on two sheets and look superb in terms of registration and opacity. There is also a page of instructions providing comprehensive guidance on applying decals. All I will draw attention to here if you plan to use decal solvent with Aviaeology decals apply milder solutions such as Micro Set, rather than more powerful ones like Solvaset.
I cannot praise the research thoroughness and supporting information highly enough, other than to say I have yet to see any other decal manufacturer equal the standard set here by Aviaeology.
The scalable graphics are a huge plus, as is the wealth of both general and specific information regarding the Beaufighter TF.X modifications, features and characteristics; be they airframe, avionics or weathering related. The rocket projectile information and plans is a real bonus and of much wider value than for just the Beaufighter.
Decal quality looks to be superb.
This package is simply tremendous value for money, an extremely interesting read, and a firm basis for stunningly accurate models of 404 Sqn Beaufighter TF.X's – Definitely recommended! (And don't forget this set is available in 1/48 and 1/32-scales too.)

Thanks to Aviaeology for this sample.
---
Text and Images Copyright © 2012 by Mark Davies
This Page Created on 10 April, 2012
Last updated 10 April, 2012
Back to HyperScale Main Page