Vought F6U-1 Pirate
Early & Late Versions
Admiral, 1/72 scale
S u m m a r y :

Catalogue Number:

Admiral Vought F6U-1 Pirate
ADM7211 (Early Version)
ADM7212 (Late Version)

Scale:

1/72

Contents & Media:

37 x grey styrene airframe parts, 1 x resin combined cockpit tub & seat, 1 x clear styrene canopy, 1 x PE fret of 6 parts, 1 x photo-foil of instrument dials, and decals for 2 or 3 subjects depending on boxing.

Price:

Available online from these stockists:

Review Type:

First Look.

Advantages:

A relatively simple limited run kit.

Disadvantages:

No tip-tank navigation-lights that should have been included as clear parts. Rather basic intake and wheel well treatment.

Conclusion:

If you want a fairly simple build that results in an eye-catching model of an interesting early jet then just build this kit virtually OOB. The shallow intakes and wheel wells will not be seen from a foot away when viewed on the display shelf. The absence of tip-tank navigation lights, is a real oversight, and should have been provided in my view. But these can be made without much difficult, so still recommended.
Reviewed by

Mark Davies

HyperScale is proudly sponsored by Squadron.com
The first American jet fighter, the Bell XP-59 Airacomet, first flew in October 1942 and the US Navy was amongst the air arms to test it. The US Navy then contracted with McDonnel to produce a jet fighter to investigate jet use aboard carriers, which resulted in the FH-1 Phantom that first flew in October 1944. The US Navy also developed composite powered fighters with both jet and reciprocating engines to mitigate some of the early jet engine weaknesses, in particular slow throttle response when landing. However before the end of WW2 it was clear that composite powered fighters like the Ryan FR-1 Fireball were a developmental dead-end, and that better jet fighter designs was where the future of naval aviation lay.
Four companies were invited to submit jet fighter designs that improved on the FH-1's capabilities and performance. Grumman's proposal was dropped to let them focus on producing critical existing as well as new piston-engined aircraft required to win the Pacific war (F6F Hellcat, TBM Avenger, F7F Tigercat, & F8F Bearcat). McDonnel were contracted to improve their FH-1, the result being the FH-2 Banshee. North American developed their Model 134 as the FJ-1 Fury (which of course led to the superlative F-86 Sabre and FJ Fury swept wing fighters) and Vought proposed their Model V-340 which was to become the F6U-1 Pirate.
The companies were directed to use the Navy-sponsored Westinghouse 24C (J34) engine in their designs. However North American had also submitted and alternate design using the slightly more powerful General Electric T180 (J35) engine. It was agreed by the Navy as that North American would use the J35 as an insurance against problems with the J34 used by the other designs.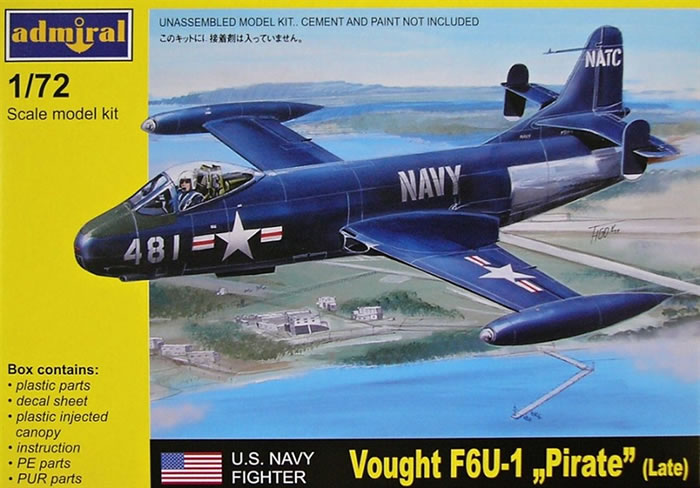 All three design proposals were essentially conventional for the time straight-winged jets. However the F6U-1 Pirate was unusual in its use of "Metalite" construction. This was a Vought developed construction system using balsawood sandwiched between aluminium alloy skins. This provided a very rigid and exceptionally smooth surface requiring fewer parts. This led to weight savings, reduced skin wrinkling and lowered parasitic drag. (Metalite had previously been used in the stabilisers of late production F4U Corsairs and the XF5U "Flying Flapjack".) Another Vought product called Fabrilite, which was a balsawood and fibreglass sandwich, was used for the vertical stabiliser and rudder. The aircraft's wingspan was small enough to forgo wing-folding, and it could be knelt on its front undercarriage to permit another kneeling Pirate's nose to be parked under its raised tail within a carrier's hangar deck.
The XF6U Pirate first flew In October 1946 at Muroc since Vought's own runway was rather short for testing early jet fighters. This was fortunate because 24 minutes into its first flight the Pirate's engine failed, and so Muroc's dry lake bed reduced the risks associated with the subsequent dead-stick landing. The XF6U suffered from severe aerodynamic problems mostly associated with its airfoil section. A number of changes were introduced including a change to the horizontal and vertical stabilisers, the addition of dive-brakes and the replacement of some rearmost Metalite panels with stainless-steel in order to cope with engine temperatures. The third prototype was modified to include an afterburner, raising engine thrust from 3,150 to 4,100 pounds of thrust. This was the first US Navy aircraft to have an after-burner.
The US Navy ordered 30 F6U-1's with afterburning engines from Vought before prototype testing was completed. The first production F6U-1 flew at the end of June 1949, and 20 aircraft went to VX-3 which was an operational evaluation squadron. A little over year later in October 1950, Vought was advised that the Navy considered the F6U-1 Pirate "had proven so sub-marginal in performance that combat utilization is not feasible". Some aircraft ended up being used to develop arresting gear and barriers, and it seems at least one USN reserve squadron used them to transition to flying jets, The 30 Pirates logged a mere 945 hours of total flight time, some having only six or so acceptance flight hours logged before they were disposed of.
---
Previous 1/72 Pirate Kits
I'm aware of three previous 1/72-scale F6U kits, these being a vac-from by Airmodel, Pavla's limited run multi-media kit, and Meikraft's limited run kit. All are now out of production, and no doubt there have been others (Pegasus springs to mind as a possibility). Regardless of what has gone before, an up to date limited run kit of the Pirate is most welcome. Admiral is a brand from the AZ Model/Legato stable. To all intents as far as I can see Admiral kits are the same as AZ Model's in terms production style and quality.
The two kits reviewed here are identical aside from markings and box-art, so from hereon I shall generally refer to the singular "kit".
The kit comes boxed in a typical end-opening box with looks like slightly budget-conscious box-art, whilst the painting & decaling guides on its rear face. Colours have generic names and are not cross-referenced to any colour system or model paint codes. The instructions have a brief aircraft history, parts map and simple but adequately clear assembly diagrams. These include specific measurements from reference points to guide the positioning of parts that would otherwise be unclear. The last page has plans that serve to guide stencil locations and note the stencilling differences between early and late variants.
The kit is a typical of many Czech limited run kits with all parts in a re-sealable cellophane bag, whilst the PE parts have their own small plastic zip-lock bag and backing card. The parts are predominantly styrene without locating pegs and have reasonably fine attachment points to the sprues. There is a one-piece resin cockpit tub consisting of floor, side consoles and ejector-seat. This should look more than adequate when painted.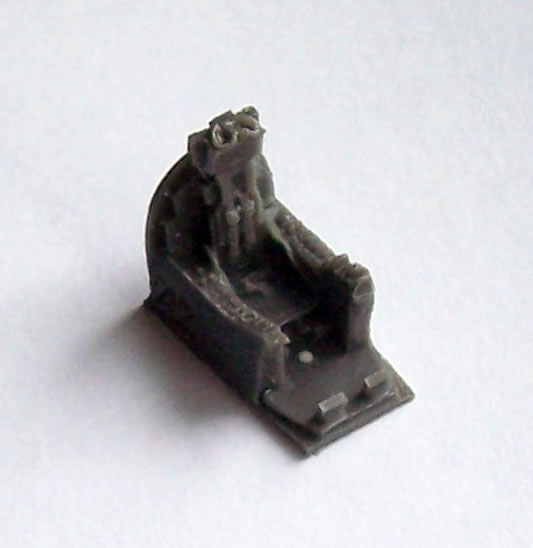 The control column is styrene and the instrument panel is PE with photo-foil instruments. Other small PE items include a boarding step, pitot (this is rather one-dimensional), antenna and two inverted "T" objects that are mounted on the undersides of the horizontal stabiliser.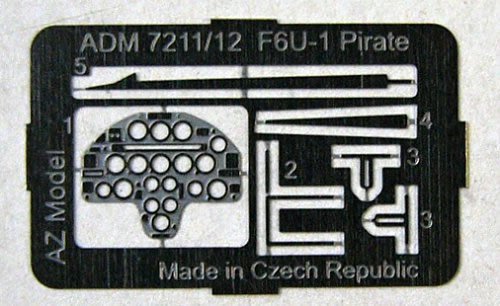 The styrene canopy is clear although with some unavoidable optical distortion.
Airframe parts are generally cleanly moulded with quite fine engraved panel lines. The real aircraft were so smooth thanks to their Metalite construction, and so clean due to their short usage, that I cannot help but think even these fine lines may appear to be too prominent for the scale. I'd be tempted to reduce their appearance with Mr Surfacer. However, please don't be left with the impression that the panel lines are any heavier than the fine lines found on most limited run Czech kits, it's just that images of this aircraft show it looking very smooth indeed.
Assembly is conventional for the type, and it goes without saying that some clean-up and probably fit adjustment will be needed in places. It also should come as no surprise with a kit like this that some small scratch-built parts are indicated in the instructions, in this case just a couple of bracing rods for the nose undercarriage. The two sprues are other parts are common to both kits and include the additional vertical stabiliser plates that distinguish the late from the early version. Now here are some more critical points that I noted:
There is no jet pipe as such, just a blanking plate with turbine face detail to fit in the rear fuselage. But with such a small exhaust this will hardly be noticeable.

The air intakes are blanked off a few mm in from the leading edge, which is possibly less acceptable than the exhaust situation above. But their small size, dark blue colour and plenty of shade will hopefully mitigate the lack of ducting.

The wheel wells have no sides to enclose them. This won't be all that noticeable with the wings given their small openings and shallowness. However the cockpit floor appears to serve as the roof of the nose-wheel bay which looks noticeably shallow. Regardless of these observations, builders should give some thought to the position of the cockpit tub given its dual purpose, as the seat will need to be at the right height and the nose-wheel needs to give the right stance to the finished model.

The wingtip tanks can fitted or left off according to preference, but if fitted will need the tip navigation-lights scratch-built from clear styrene. Admiral should have included these lights on the clear sprue in my opinion. Yes, they can be made easily enough if you have a suitably large chunk of clear styrene handy, but such obvious external features should really come ahead of resin cockpit tubs and PE instrument panels in terms of importance.
Decal options for the two kits are generally similar as they all wear overall dark sea blue.

The "Late" boxing does offer markings for an aircraft with a NASA fin flash.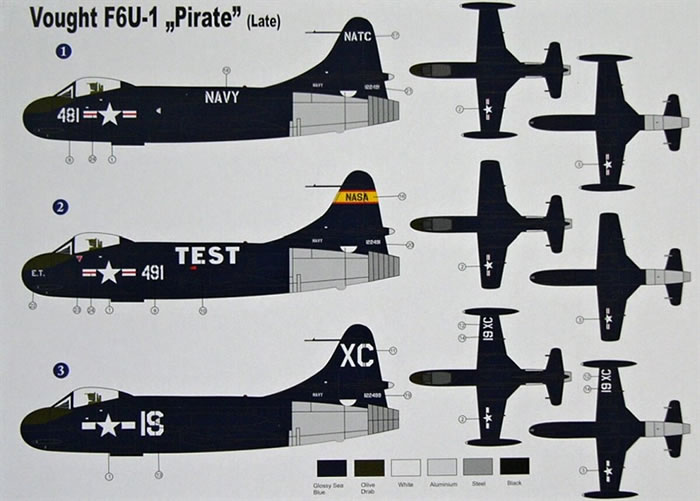 The decals appear to be well printed with good registration.
This is an honest unsophisticated limited run kit. A couple of areas like the intake ducting and undercarriage bays could probably be done a bit better in terms of appearance and detail, but these are comparatively minor matters. They can probably be ignored without detracting from the finished model too much as they will not be seen from a foot away when viewed on the display shelf. The lack of tip-tank navigation-lights is a less forgivable omission, as these are a very noticeable external feature of the Pirate, and should have been provided as kit parts in my view.
To give some sense of perspective, this kit falls a little short of the standards set by the latest Special Hobby kits using similar technology, and is more akin to their efforts of about five or so years ago. But if you want a fairly simple build that results in a nice model of an interesting early jet then just build this OOB (but make tip-tank lights if you fit the tanks) – Recommended.
Thanks to Admiral for the review samples.
---
Review Text & Images Copyright © 2012 by Mark Davies
Page Created 12 March, 2012
Last updated 12 March, 2012
Back to HyperScale Main Page