Supermarine Spitfire
Mk.VII & VIII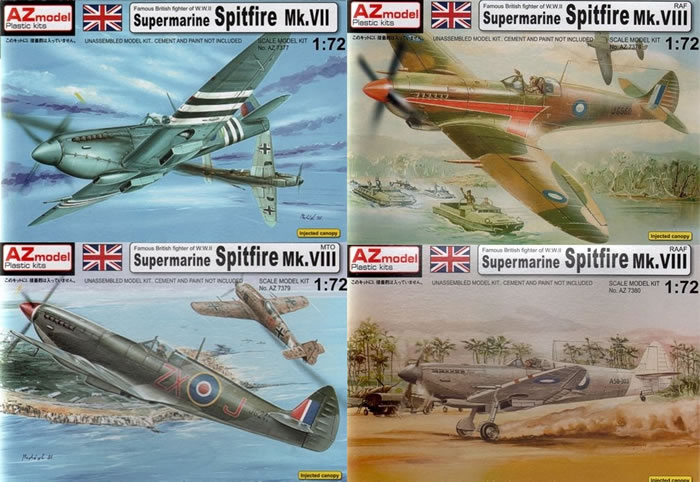 A.Z. Model, 1/72 scale
S u m m a r y :

Catalogue Number:

AZ7377 Supermarine Spitfire Mk.VII

AZ7378 Supermarine Spitfire Mk.VIII "RAF"

AZ7379 Supermarine Spitfire Mk.VIII "MTO"

AZ7380 Supermarine Spitfire Mk.VIII "RAAF"

Scale:

1/72

Contents & Media

All kits have 1 clear and 50 grey styrene parts, and 3 or 4 decal options depending on boxing.

Price:

Available from these on-line stockists:

Stockist

Mk.VII

Mk.VIII

"RAF"

Mk.VIII

"MTO"

Mk.VIII

"RAAF"

Hannants

Modelimex

Click here for currency conversion.

Review Type:

First Look.

Advantages:

Accurate lines, fine surface detail, good cockpit detail, clear canopy, clean and crisp moulding for a limited run epoxy tool, and the choice of three wingtips and two rudder styles covers all Mk VII & VIII configurations.

Disadvantages:

The wings have clipped tips moulded in place, yet they will usually require removal in order to fit standard or extended tips. The MK.VII & VIII used both the early flat-sided canopy and later more blown type of sliding hood, the kit only supplies the latter. The Mk.VII instructions fail to mention the need to fill in panel lines denoting the pilot's side entry hatch.

Less serious for the MK.VII is the absence of a solid rear bulkhead for the Mk.VII cockpit, and or sliding canopy pressurization seal. (The failure to depict the slightly different canopy rails of the Mk.VII is probably forgivable).

Conclusions:

These kits conform dimensionally and in shape to CMR's Spitfire Mk.VII & VIII kits that I use as a benchmark for accuracy, and so I rate them as very good in this respect. The moulding of the kits is clean and crisp for a limited run kit from an epoxy mould, and better than some other AZ Model kits I have seen (This may deteriorate as the moulds wear, so buy early releases to get good examples). Cockpit detail is also good for an injected kit. AZ model have covered all of the wingtip and rudder options for the two marks concerned, but moulding the clipped tips with the wings is a nuisance. Accuracy fanatics will need to do some work detailing the Mk.VII's canopy and its rails. To build either an early Mk.VII or VIII will require a flat-sided canopy replacement.

I recommend these as the best injected kits of the Spitfire Mk.VII & VIII in 1/72-scale I have seen.
Reviewed by

Mark Davies

HyperScale is proudly sponsored by Squadron.com
The Supermarine Spitfire needs no introduction because most aviation enthusiasts and modellers will at least know its outline history. I will therefore make only brief mention of some features applicable to the subjects of this first look review.
The Spitfire Mk VII and VIII were planned developments to replace the high altitude Mk.VI and the medium to low altitude Mk.V respectively. They used versions of the Merlin engine with two-stage supercharger that gave a significant boost in performance (Merlin 61, 63, 66, 70 & 71). They had strengthened airframes with some aerodynamic refinements compared to earlier Spitfires like retractable tail-wheels, flush fuselage rivets, short-span ailerons, and extended elevator horn balances. An enlarged pointed rudder (on all but the first few Mk.VIII's) compensated for the increase in nose side area due to the Merlin 61 installation. These Spitfires introduced two equal-sized radiators under the wings to cater for the supercharger's intercooler as well as engine cooling, and they had a larger fuel capacity thanks to 14-gallon tanks in each wing leading edge and an enlarged fuselage tank of 96 gallons. They also used a four-blade prop to absorb the extra power now available. The Mk.VII had cockpit pressurisation and usually extended wingtips to suit its high altitude role. The Mk.VIII was not pressurised, and whilst early ones tended to have extended wingtips, the later built ones usually had the standard kind.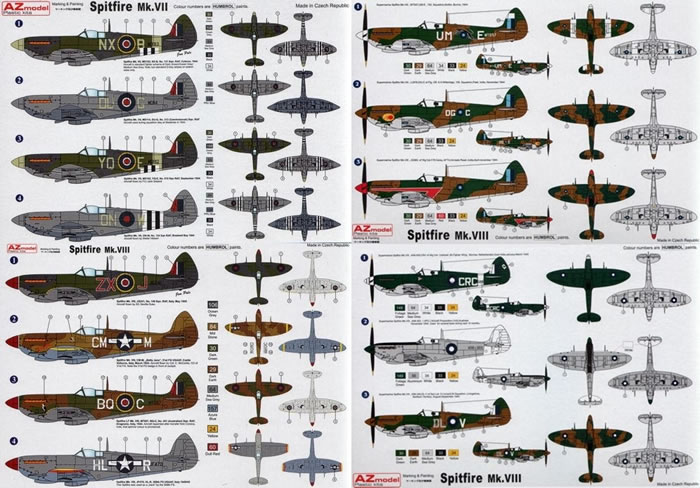 Meanwhile, during the Mk.VII's & VII's development, the Luftwaffe unleashed their superlative Fw 190 and immediately outclassed the RAF's Spitfire Mk.V. A solution to the Fw 190 threat was needed, and quickly. Supermarine adopted a stopgap solution by mating the Merlin 61 to a Mk.V airframe. Named the Spitfire Mk.IX, this lash-up worked superbly well and countered the Fw 190 on better than equal terms, and so it entered squadron service ahead of the Mk.VII and VIII. Moreover, Mk.IX became the most produced Spitfire version. The Mk.IX gained some of the Mk.VII & VIII airframe refinements over time, but they always retained their fixed tail-wheel; this being an easy recognition feature.
Ironically, lightened Mk.IX's with extended wingtips proved equal to the Mk.VII's as high altitude interceptors. The latter having been less successful than expected in this role, sometimes they had their cannons removed to improve performance. Mk.VII production totalled only 140, and most served with UK-based units. By comparison, Mk.VIII production was 1,658, most of them serving in the Mediterranean and Far East theatres.
---
Previous 1/72-Scale Spitfire Mk.VII & VIII Kits
Frog released a reasonably accurate Mk.VIII/IX kit in 1974, and MIR, Remus and Korpak re-boxed it later. It is obviously now very dated and has characteristics typical of its time. Hasegawa has kitted both a Mk VII with extended tips and a MK.VIII with the standard tipped C-wing. They have generally good lines and nice execution, but it suffers from some relatively minor dimensional and shape issues. Ventura kitted a Mk.VII & VIII too. All of Ventura's Spitfires have very accurate lines, but demand a lot of clean up and preparation, a bit like extracting a fossil from a plastic rock! Ventura sold their moulds to Jays Models who have released the re-branded Ventura Spitfire VII & VIII kits along with others in the range. CMR has done several boxings of the Mk.VII & VIII that I believe to be very accurate; they include many options, have coloured PE details and come with paint masks.
I think it better to keep the Frog kit or any of its re-boxes for nostalgia's sake if you can find one. The Jays Models kits are about half CMR's price, but have a tenth of the detail and take more than ten times the effort to build. They remain the province of spendthrift accuracy masochists unwilling to pay for a CMR kit. The CMR kits top my list for accuracy, multi-media detail and range of options, but they do cost more than the other options. Hasegawa's kits are generally good despite some minor accuracy faults, and exhibit the brand's usual positive characteristics. I think that many would regard these to be the best injected kits Spitfire Mk.VII & VIII to 1/72-scale; at least until now maybe...
Overview
The kits reviewed here are typical of the AZ Model brand family, being limited-run injected styrene kits with clear styrene canopies and several decal options. They do not include resin or PE parts, unlike some kits by AZ Model and its associated brands. An end-opening box contains what is in effect the bottom-half of a top-opening box. It serves as a handy drawer for the kit components, and leaves the outer box free to look at the painting and markings guide on its reverse side. It also lends some extra rigidity to the closed box and so reduces the chances of crushing. A re-sealable cellophane bag contains the kit parts and instructions, with the canopy further protected by its own zip-lock bag.
---
The Contents
The folded A-4 sized instructions contain a parts map and diagrammatic assembly stages as you would expect. I would describe them as just adequate for their purpose, which with a 1/72-scale Spitfire kit is simple enough. They at least appear better done those with the AZ Model and Legato Hurricane kits I recently reviewed here on Hyperscale. Paint call-outs use generic names and Humbrol paint numbers. Written instructions are in English and Czech, and used sparingly.
The kit parts come moulded in a matt-finish plastic on one clear and two grey sprues with reasonably fine gates. There is a little flash in several places, but they are far crisper and cleaner than the AZ Model Hurricanes I mentioned before (Please keep in mind that the enlargement of the accompanying images makes the flash look a bit worse than it is).
All of the kits reviewed share the same sprues. The parts are typically limited run in that they lack locating lugs, and the mould engineering avoids deep draws. Interestingly, the instructions contain a "Warning" which explains that the kits are made using short run epoxy moulds and are more laborious to build as a result, and ask not to compare them with kits produced from metal moulds due to technology limitations. They also advise to clean and test fit all mating surfaces before cementing. I think that this is commendable, even if it does tell most of us what we already know.
---
The Airframe
Surface detail is generally very good with delicate recessed panel lines that are uninterrupted and of a consistent depth, unlike some short run kits that need re-scribing in places.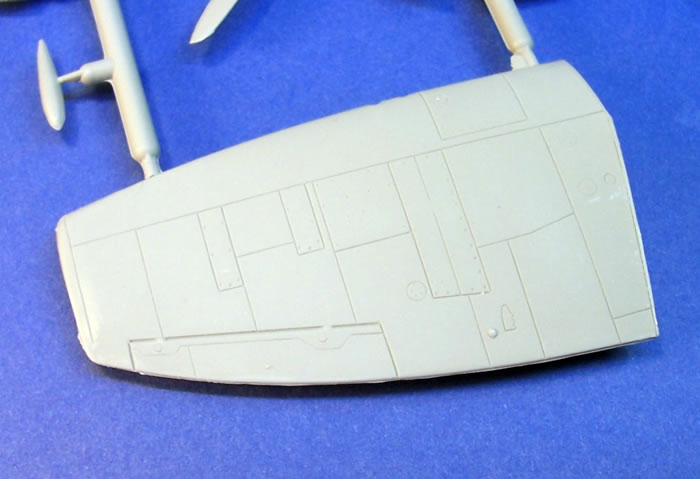 The cockpit has sidewall detail moulded inside the fuselage halves, a rear frame with separate seat armour, headrest and a voltage regulator. There is a solid floor that simulates the real plane's open structure along with rudder actuator rods and pedals.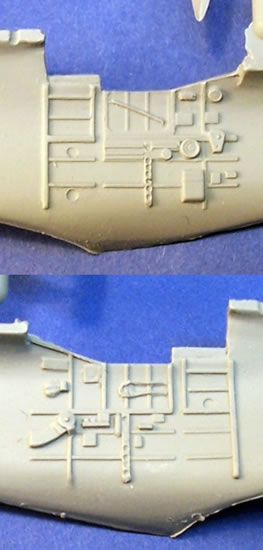 The instrument panel looks good complete with its compass repeater. The seat is good, but there is no moulded harness, unlike the ones provided with some AZ kits. Perhaps this is because an accurate harness needs to attach to an inertia reel behind the seat. A good control column, oxygen bottles and a nice gun-sight complete the cockpit. The one-piece canopy is thin and clear with a small mirror to mount on the windscreen. Missing is the strengthening bar between the headrest and rear bulkhead, something most noticeable through the rear canopy, but this is easily scratch-built. The cockpit detail would stand muster if you chose to have an open canopy, although adding a seat harness is necessary in my view. You will need a vacform replacement for an open canopy because the kit hood is too thick to sit correctly after separation. The kit only supplies one canopy style that looks like the later blown type although both early Mk.VII &VIII's featured older flat-sided sliding style hood.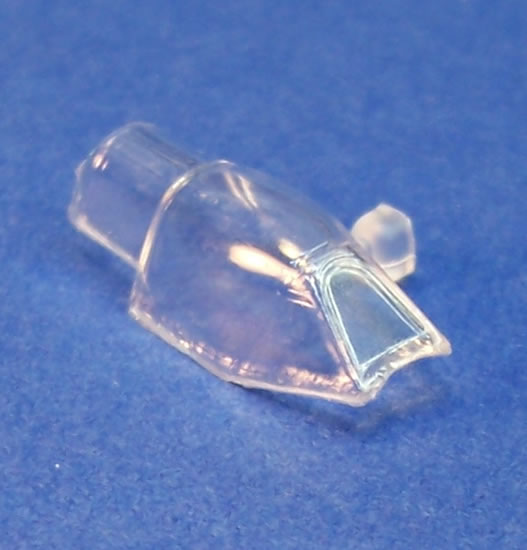 The instructions do indicate the option of displaying pilot's access hatch open by cutting it out and replacing with the separate door provided. This is incorrect for the Mk.VII however, which deleted the hatch in the interests of simplifying cockpit sealing for pressurization. In fact, it is necessary to fill the engraved lines denoting the closed hatch if building the Mk.VII. This is something that the instructions fail to mention.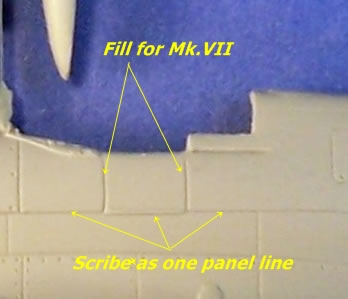 Also incorrect for the Mk.VII is the absence of a solid bulkhead behind the cockpit also required for pressurization. The kit does correctly feature the Mk.VII's elongated inlet below the starboard exhaust to feed the Marshall air-compressor that pressurized the cockpit. I have seen photos of Mk.VII's with a hinged clear vision panel in the port side windscreen, which is missing from the kit's one. Careful scribing or applying a very thin clear film cut to shape could fix this.
As mentioned earlier, the Mk.VII used two styles of sliding canopy, the early flat-sided one and the later more blown Lobelle style. The first had different rails to normal Spitfires with four locking catches, whilst the Lobelle style had rails similar to normal ones but slightly bulkier. The sliding portion of the Lobelle canopy also had a rubber tube seal under a flange that forms a slight second line behind the rear framing of the hood, for which painted decal strip is an easy fix.
Airframe construction for both marks is conventional and essentially the same. The trailing edges of wings are commendably fine, conforming more to the general limits of long than short-run injection moulding. Some will still wish to refine these further however. The radiator/intercooler housings have two separate matrix faces and the underside of the wing has the correctly shaped trough to allow for the full depth of these. The elevators and rudders have nicely done fabric areas.
The upper wing surfaces come with the clipped tips moulded in place, with the standard and high altitude wingtips supplied as separate parts. I think it a fair bet that most finished models of the Mk.VII will have the extended wingtips fitted, whilst the majority of the Mk.VIII's will have the standard ones. Therefore, in almost every case the slender clipped tips will need removing from the upper wing halves. I should have thought tooling them with the standard wingtip in place, or alternately no wingtip fitted, would have made much more sense. This is simply a potential annoyance rather than a major design flaw, but a nice neat cut is necessary as the join coincides with a panel line location. I suggest using superglue for filling if needed so that the joint can be re-scribed.
I have seen several sets of plans showing Mk VII's & VIII's with bulges in the top of the wing above the wheel wells. All of the images of MK.VII's & VIII's where I could see the applicable area of wing lacked the bulges however. In the case of Mk.IX's & XVI's these bulges featured on some late production machines, and so they may apply to later Mk.VII's & VIII's too. Suffice to say that AZ Model's wings do not feature them as an option, which seems fine to me. If you can shed any light on this or any other issue related to this review please contact me.
The simple and small main wheel wells have adequate detail for the scale, whilst a roof-piece and the fuselage sides form the well for the tail-wheel, of which little is visible with the wheel and doors in place. The crisply moulded undercarriage legs have separate scissors links. These plus the doors and wheels all appear fine, except for a mould flaw on both tyres that is easily fixable with a smidgen of filler.
The cannons and the blanking domes are often a weak point with injected Spitfire kits. The review kits' cannons are better than I expected, but like many injected kits, be they short or long run, they are not perfectly round in section. Cleaned up I think they will be acceptable, or you could consider some brass ones by Master. The instructions show that it is necessary to drill holes for the two cannons, blanking domes and the four .303 machineguns in the wings' leading edges, yet the cannon holes are already present. The separate cannon bulges for the upper wing are the slender style and fix to the upper wing.
The prop and spinner look the part with the blades having a reasonable shape and adequate chord, although they have more flash than most of the other parts. The exhausts look surprisingly crisp for a limited run kit and have the correct appearance. The kit has both short and long styles of carburetor intake. Two halves form the long one whilst the short on is moulded as one piece. The kit provides a separate finely moulded lip to fit to the mouth of these intakes. An under-wing pitot, antenna mast, and cannons complete the assembly. I was a little surprised to find no optional external fuel tanks offered with the kits, but the absence is of no great consequence.
Modern limited run kits like these demand more cleaning up prep than their mainstream brand equivalents, and possibly a bit more fit adjustment, but generally, that is about it. I do not think that they will present any real difficulties however; as these are some of the best parts I have seen from an epoxy mould. Despite this, I am a firm believer in buying early where limited run kits are concerned because their moulds can become tired and sometimes damaged as production takes its toll on them.
---
Colours & Markings
All of the kits reviewed here have the same parts other than the decals provided with each boxing. There is sheet of stencils and walkway lines common to each kit; a small four-view guide in the instructions details their locations. Titled "Spitfire Mk.I/II", these obviously derive from earlier AZ Model Spitfire kits, and may not fully reflect the correct stenciling for later marks (I have no idea, so they may be fine!). The Mk.VII has four markings choices, whilst each Mk.VIII kit has either three or four options that conform to a broad theme apparent from the box sub-titles of RAF, MTO, and RAAF (MTO, in case you are wondering, stands for Mediterranean Theatre of Operations).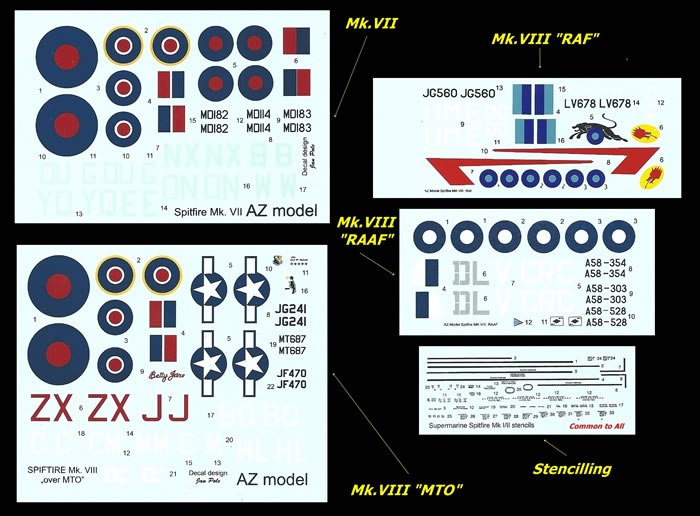 The markings options provided by Spitfire version, box number in brackets, and subtitle where applicable are:
Mk.VII (AZ7377):
MD183 / NX-B, No.131 Sqn RAF, Colerne, 1944. (Dark green & ocean grey over medium sea grey with invasion stripes on under-surfaces, plus sky spinner and fuselage band).

MD114 / DU-G, No.312 (Czechoslovak) Sqn RAF, Skeabrae, 1944. (Medium sea grey over PRU blue with a medium sea grey spinner).

MD182 / YQ-E, No.616 Sqn RAF, September 1944. (Dark green & ocean grey over medium sea grey with invasion stripes on under-surfaces, plus a sky spinner and fuselage band).

ON-W, No.124 Sqn RAF, Bradwell Bay, 1944. (Medium sea grey over PRU blue with invasion stripes and a medium sea grey spinner).
Mk.VIII (AZ7378) "RAF":
MT557 / UM-E, No.152 Sqn RAF, Sinithe, Burma, 1944. (Dark green & dark earth over medium sea grey, with white recognition stripes and spinner).

LV678 / DG-C, No.155 Sqn RAF, Palel, India, November 1944. (Dark green & dark earth over medium sea grey with a dark earth Spinner).

JG560, Wg Cdr Carey, AFTU, Armada Road, India, April-November 1944. (

Dark green & dark earth over medium sea grey, with a large red flash on forward fuselage and red spinner).
Mk.VIII (AZ7379) "MTO":
JG241 / ZX-J, No.145 Sqn RAF, Italy, May 1945. (Dark green & ocean grey over medium sea grey with a red spinner).

CM-M, "Betty Jane", 31st FG USAAF, Castle Volturno, Italy, March 1944 (Dark earth & mid-stone over azure blue with a red spinner).

MT687 / BQ-C, No.451 (Australian) Sqn RAF, Gragnano, Italy, May 1945. (Dark green & dark earth over medium sea grey with a red spinner).

JF470 / HL-R, 380th FS USAAF, Italy, March 19454 (Medium sea grey overall with a red spinner and red & yellow clipped wingtips).
A58-528 / CRC, Wg Cdr Caldwell, 80th Fighter Wing RAAF, Morotai, Netherlands East Indies, January-March 1945. (Foliage green over medium sea grey with a white spinner).

A58-303, No.1 Aircraft Preparation Unit RAAF, Australia, November 1944. (Aluminum overall with white tail-planes, fin and rudder, plus a black anti-glare panel and spinner).

A58-354 / DL-V, Sqn Ldr Linnard, No.54 Sqn RAAF, Livingstone, Northern Territory, Australia, August-September 1944. (Dark green & dark earth over medium sea grey with a dark earth spinner).
The coloured painting and markings guides are on the reverse face of the kit boxes. They provide colour call-outs using Humbrol's colour names and numbers. The decals look to be good quality and registration is sharp.
---
Accuracy & Comparisons
The Mk.VII & VIII kits look good in terms of general accuracy when compared to walk-arounds and in-service images. I have not made a detailed comparison to plans, as there are no assurances regarding the accuracy of those available to me. I do however think it useful to compare the review subjects to those kits that have gone before and remain their rivals for purchase.
I compared the review kits to what I consider are the best 1/72 Spitfire Mk.VII & VIII kits available, these both being CMR kits. These are relatively expensive resin multi-media offerings, so I also compared the Hasegawa's Mk.VIII kit as many regard this and their Mk.VII to be the best mainstream injected kits available of these marks. I only had Hasegawa's Mk.VIII to hand, but the essentials are the same for both kits, with the Mk.VII offering extended wingtips. The Ventura Kits, now branded Jays Models, deserve a mention because of their very accurate shape and fine panel lines. Their retail price is essentially the same as AZ Model, but I consider them not worth comparing any further because they are so demanding to build and require some replacement detail parts. Of course, it is also possible to convert any Mk.IXc kit to a Mk.VII or VIII configuration, but I shall restrict myself to existing Mk.VII & VIII kit comparisons.
Ignoring Jays Models then, I shall quickly compare the AZ Model, CMR and Hasegawa kits. The flying surfaces are essentially the same for all three brands (I have assumed that Hasegawa's Mk.VII extended wing tips conform to CMR's as well). The AZ Model fuselage is a perfect match for CMR's, whilst Hasegawa's is approximately 1.5-mm shorter between the rear of the cowl panels and the cockpit opening. Hasegawa's cowl is flatter on top than both AZ Model and CMR, and its fin has less chord compared to both these brands. The AZ Model kits have far better cockpit detail than Hasegawa's does.
So taking a snapshot, AZ Model's kits are in my view very good in terms of shape and accuracy because they correspond so well to CMR's lines. In fact, there are a considerable number of matches between the CMR and AZ Model kits, including some detail aspects, although there are some unique if subtle differences as well. The AZ Model's level of cockpit detail is very good too for an injected kit. Whilst AZ Model may not match CMR's range of options, coloured PE, pre-cut paint masks etc, it does equal their accuracy and has good detail for the scale. The price difference is likely to tempt some CMR fans towards the AZ Model kits.
AZ Model's Mk.VII and VIII kits are more accurate and better detailed than Hasegawa's kits. I would also wager AZ would beat them on price if you can find any; and that is the challenge, as I have not seen a Hasegawa Spitfire Mk.VII or VII for retail sale in a long time.
(Sword recently released very good kits of the Spitfire Mk.IXe & XVIe in 1/72-scale that I reviewed here on HyperScale. The quality of Sword kits is I think a bit better than the AZ Model's overall. So keep a lookout for their future Spitfire releases because I would be surprised if they forgo offering Mk.VII & VIII kits as well.)
---
A Small Diversion - Mk.IX Possibities
There is nothing on the sprues pointing directly towards a Mk.IX being due from AZ Models, although it would be surprising if they did not offer one. A things stand, the parts seem quite focused on the Mk.VII & VIII because the kit supplies late style elevators, reduced span ailerons, C-wing with slender cannon bulges, and no blanking piece for the tail-wheel. However, you could easily make a later Mk.IXc from any of these kits if you blanked off the tail-wheel well using the doors and some filler. The kit has both the early and later pointed rudders plus both short and long carburetor intakes, but to make an early Mk.IXb or c from these kits requires a visit to the spares box and some re-scribing. (Converting to a Mk.IXe makes no sense when an excellent one is available from Sword).
These kits conform precisely in outline to CMR's Spitfire VII & VIII which I like to use as a benchmark for 1/72 Spitfire accuracy, and so I think that they are very good in terms of shape and dimensional accuracy.
The moulding of the kits is very clean and crisp for a limited run epoxy mould, and better than some other AZ Model kits I own. This quality may deteriorate as the moulds wear over time however, so buy early releases to get good examples. Cockpit detail is also very good for an injected kit. AZ model have covered all of the wingtip and rudder options for the two marks concerned, but moulding the clipped tips with the wings is a nuisance. There were two styles of canopy used, the early flats-sided one and the later more blown Lobelle style.
As with Sword's Spitfires, AZ Models has I believe been "strongly influenced" by CMR's kits, but it is a pity they did not do some more research into the marks they were kitting and pay closer attention to some small but important details. This means that in my view CMR's kits remain the best Mk.VII & VIII kits in 1/72-scale, but I highly recommend AZ Model's as the best injected kits of these marks in this scale I have seen.
Thanks to AZ Model for these review samples.
---
Review Text & Images Copyright © 2012 by Mark Davies
Page Created 31 May, 2012
Last updated 31 May, 2012
Back to HyperScale Main Page