De Havilland Sea Venom FAW.21/22/53
and Sea Venom "Folding Wings"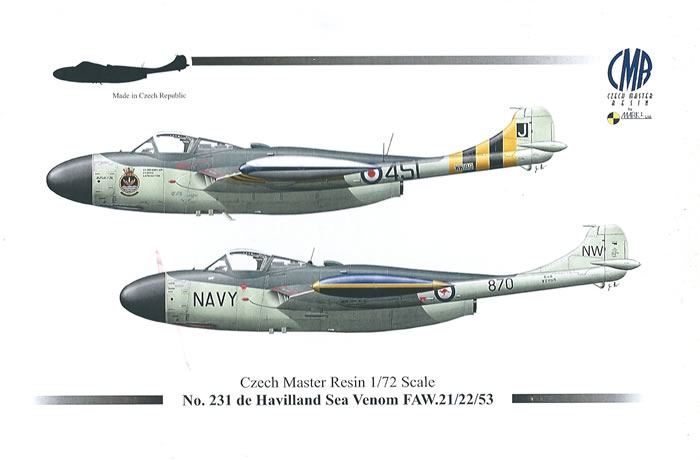 Czech Master Resin, 1/72 scale
S u m m a r y :

Catalogue Number:

CMR 231 De Havilland Sea Venom FAW.21/22/53

CMR DS7207 De Havilland Sea Venom FAW.21/22/53 "Folding Wings"

Scale:

1/72

Contents & Media:

Sea Venom Kit: 98 resin parts, 1 pre-coloured PE Fret of 33 parts, 1 plain PE fret of 116 parts, 2 vac-form canopies, 1 pre-cut canopy paint mask, and decal sheet covering 5 options.

Wing-fold Set: 23 resin parts.

Price:

Available online from these on-line stockists:

Catalogue Number

Hannants

West Coast Hobbys

Aviation Megastore

CMR 231

CMR DS7207

Click here for currency conversion, and here for CMR distributors.

Review Type:

First Look

Advantages:

Accurate, thoroughly researched, highly detailed, produced to very high standards, superb instructions, good blend of different media, good payload selection, has a canopy & wheel mask. It is just an extremely complete package in every way.

Disadvantages:

The separate wing-fold option is an understandable approach to keep the aircraft kit cost down, but choosing to have folded wings does carry a price premium at 50% of the kit's cost.

Conclusion:

This is the definitive Sea Venom kit in any scale; reflecting thorough research combined with excellent production quality. I think it is well worth the 14% price premium over the recently released Cyber Hobby kit, not only because it is accurate where the former is not, but also because it has superior detail and is just simply better overall. I do not hesitate in highly recommending this kit, or the separate wing-fold set for those who really want to save on deck space.
Reviewed by Mark Davies

HyperScale is proudly supported by Squadron.com
Referred to as the Vampire FB.8 during its development but renamed the Venom because of the significant engine and wing changes made when compared to the Vampire family. The Venom filled the capability gap between the in-service Vampires and the introduction of the Hawker Hunter and Supermarine Swift.
The Venom prototype first flew in September 1949. Whilst adhering to the Vampire's layout it had a more powerful Ghost engine and a much thinner wing enabling the achievement of higher Mach numbers. Unrestricted combat maneuvering was possible with full tip-tanks that were non-jettisonable, although they were removable on the ground if required. The Venom went on to prove to be an outstanding fighter-bomber, being unsurpassed in this role within the RAF until the Hunter FGA.9 arrived in service. It was also relatively successful as an export, with land-based Venoms equipping the air forces of New Zealand, Sweden, Switzerland, Iraq, and Venezuela (Italy also received two with a view to production but did not proceed with the idea).
The Venom built on the success of the Vampire, and likewise the development of a two-seat night and all-weather fighter followed the single-seat version, although as a private venture initially. The prototype all-weather fighter version first flew in August 1950 and the RAF evaluated it the following year. The RAF criticized the inadequate roll rate and absence of ejection seats, as well as a number of lesser issues. Nevertheless, the RAF ordered 90 Venom NF.Mk2's with the first machine flying in March 1952 with squadron service commencing in May 1953. Sweden produced the Venom NF.51 as a license-built version of the NF.2. The Venom NF.3 followed the NF.2 with improvements that included a slightly more powerful engine, US radar, and various detail changes including a more powerful canopy jettison mechanism; but it still lacked ejector seats.
The RAF's all-weather Venom interested the Royal Navy as an interim all-weather fighter type intended to bridge the gap between the in-service Sea Hornet and the introduction of the much more capable Sea Vixen (both of course being de Havilland products). Obvious changes required were an arrester hook, catapult points and folding wings. Initially designated NF.20 then FAW.20, the first Sea Venoms were in effect navalised NF.2's (although the tip-tanks were permanently fixed and of a slightly different shape). The FAW.20 still lacked ejection seats that were an even more critical requirement for maritime operations. The Sea Venom proved lacking in power when undertaking carrier trials in 1952 and suffered from poor tail-hook damping, restricted control movements and inadequate provision for the crew to escape the aircraft. Various other suggestions for improvement also resulted from the trials. Despite these issues, de Havilland produced 50 FAW.20's with squadron service commencing in March 1954.
The FAW Mk.21 followed, paralleling some of the RAF's NF.3 changes like the more powerful engine and US radar, but also incorporating a number of changes to tackle the various weaknesses of the FAW.20. Not the least of these included the introduction of ejection seats at last, a jettisonable clear-view canopy, a longer stroke undercarriage to cope better with deck landings, and power-operated ailerons. The FAW Mk.21 entered service in May 1955 and saw combat in the Suez Crisis of 1956, carrying out a number of strikes during that brief conflict. Production totaled 167, with six converted in 1957 to unarmed Electronic Counter Measures (ECM) aircraft known as ECM.21's.
The last FAA version was the FAW.22 with a more powerful engine that improved high altitude performance, and some were capable of carrying the Firestreak air-to-air missile. In a similar manner to the ECM.21s, the ECM role claimed a few for modification to ECM.22's.
The Sea Venom enjoyed a degree of export success. The Royal Australian Navy operated 39 as the FAW.53 that was derivative the FAW.21. The French license-built several versions named Aquilon. The first 29 Aquilon 20's built were based on the FAW.20. The Aquilon 201 was a one-off prototype, whereas 20 Aquilon 202's were essentially the same as the FAW.21. The conversion of an Aquilon 202 served as the prototype for a single-seat missile-carrying version using US radar. Production of 40 more followed as the Aquilon 203. Finally, a conversion of the Aquilon 20 resulted in the Aquilon 204 trainer. Six of these conversions were completed.
---
Previous 1/72 Sea Venom kits
I am aware of two previous Sea Venom kits in 1/72 scale. The first is the ubiquitous Frog kit re-boxed numerous times by several companies including Novo, Eastern Express, Pioneer, Skat, Toko, Premier and Tasman. This last company's re-box being the best in my view as it came with good Aeroclub white metal ejection seats, instrument panel and wheels, a Falcon vac-from canopy, decals for several options, a photo walk-around and detail sketches covering several areas of the airframe.
Of course most recently, and just in advance of the CMR release, Cyber Hobby released a new injected kit. This has the appearance of being a modern, well-fitting and detailed kit; all of which various reviews suggest it is. Sadly, Cyber Hobby forgot that accuracy is also a good ingredient to include in the design mix. Considerable criticism of the kit for being inaccurate both dimensionally and in shape is evident on several modeling forums.
HyperScaler Danielle Lang provided a very good synopsis of the Cyber Hobby kit's faults here in HyperScale's Plane Talking forum. Her wealth of knowledge regarding the type stems in part from years of hands on time assisting her father with restoring and maintaining FAW.53's, so the reader can be confident in accepting her opinions.
Glen Porter also reviewed the Cyber Hobby kit under the "First Look Format" here on HyperScale.
---
Approach
I will address CMR's Sea Venom kit first and their wing-fold set afterwards. I will also make some comparisons to the very recently released Cyber Hobby Sea Venom kit, as I believe this will be of interest to those who have waited a long time for an alternative to Frog's old kit.
CMR 231 - The Sea Venom Kit
Overview
The kit reviewed here is typical of CMR's products released over the last few years. It is a multi-media offering with highly detailed resin airframe, clear vac-form canopies, complimented by Eduard plain and pre-coloured PE parts, plus pre-cut paint masks. A very sturdy top-opening box contains all of the above media, plus two sheets of water-slide decals and several sheets of A4-sized instructions and images.
The instructions acknowledge the assistance of several Sea Venom experts (Danielle's father Steve Long among them). This global network of experts and enthusiasts is a major strength that underpins much of CMR's quest for accuracy and high levels of detail
---
Contents
As you would expect, the instructions contain a parts map and diagrammatic assembly stages, but what is immediately apparent is just how crisp and well drawn the graphics are. I rate the constructional diagrams some of the best I have seen, mainstream kit brands included, and in fact Tamiya is the only company that I can think of that would rival them.
Written instructions are in English, and generally confine themselves to colour call-outs and simple clarifying statements where diagrams alone will not suffice. Where appropriate notes indentify features specific to the colour schemes offered with the kits. The colour scheme guides are five pages of monochrome shaded diagrams, and there is a two-page stencil placement guide. Colour call-outs use standard British military colour names and cross-referenced to FS-595 numbers. Eight more pages provide various walk-around details in-service photographic images of the aircraft.
The kit parts come packed in CMR's usual heat-sealed plastic pouches that separate the various resin parts broadly by size and fragility. PE parts, paint masks and canopies are further sealed and protected, as are the decals.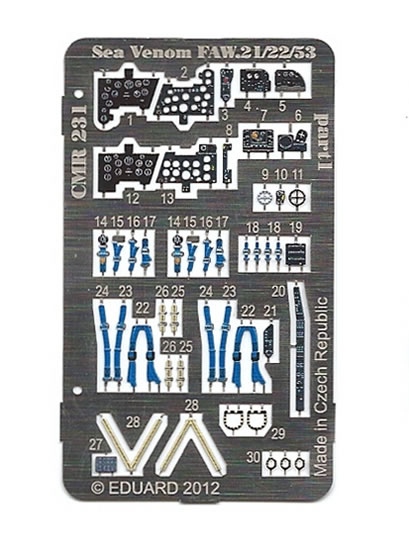 An all-encompassing bag then encloses the entire kit parts and paperwork, so there is little chance of anything going missing until the kit is unpacked. However, I do advise care when opening the pouches containing resin, just in case some small parts have broken off their casting blocks or been damaged.
The resin parts are green, with the exception of the undercarriage legs that are black. CMR changed to green resin last year as it reveals fine detail better than their previous cream-coloured resin. Easily removed casting blocks have thin attachment points, leaving only minimal cleanup afterwards. Detail levels are superb, with some incredibly fine and faultless casting (hopefully my photography does this detail justice). Stronger black resin forms the undercarriage, as is common to most weight bearing parts in CMR kits. The trade-off is that this resin sometimes has a little flash that needs cleaning away (although my sample's undercarriage had almost none). The regular and colour PE frets are produced to Eduard's usual high standards, as is the paint mask. The kit includes two vac-form canopies, meaning you get to practice cutting it out or have an insurance copy depending on how you look at it. The canopies are very clear and well formed.
---
The Airframe
I know that it is obvious, but it is worth checking the various parts options that go with the markings options provided, as there are a few features specific to one scheme or another. A few small items also need to be scratch-built, but this normally amounts to little more than cutting short length of plastic rod or stretched sprue. Nevertheless, these are probably worth identifying in advance as well.
The resin ejector seats have nice frame, pack and cushion detail, but somewhat unusually come cast with the cockpit floor. I suspect that this caters for the very tight fit inside this cockpit. Having built a CMR's Sea Vampire and Jet Provost, both with separate side by side seats, I can confirm that things end up being a real squeeze; such are the scale limits with these subjects. The solution used here no doubt ensures everything fits within the scale confines that are probably a tad tight due to the thickness needed for the fuselage walls.
Various coloured PE harnesses and straps, along with back & yellow firing handles, garnish the two seats. I have completed similar seats for my CMR Jet Provost, and can attest that the finished result of this resin and coloured PE combo is very pleasing. The seats sit surrounded by resin cockpit detail and is further enhanced by various small coloured PE items including a trim wheel. A very convincing multi-piece coloured PE instrument panel attaches to the resin backing-piece, and should look fantastic.
The fuselage halves are ready for joining once fitted out with the cockpit and exhaust ducting, as the instructions indicate to fix the nose wheel-well later (some may do so at the fuselage closing stage to arrange nose ballast around it).
It is fair to say that most of the constructional work is with the wings and their payloads (if you choose to add stores). The air-intakes are separate items with PE braces to fit in their mouths before joining to the wings. The inlet ducting is convincing, and ends in a hollow with the fuselage, which if painted mat black should provide a convincing degree of shadow within their depths.
A wing tab and fuselage slot, as well as the outline of the wing root, guides the wing to fuselage fit. Some regard twin boom aircraft as a bit of challenge to build correctly aligned. However, CMR's combination of tab and slot, plus crisply cast faces where the booms join the wings should ease this aspect as far as is practicable; and of course the square fit of the tail-plane also aids alignment. The kit provides a choice of two tail-planes, one having mass balances for the FAW.22 option, so take care to select the correct one (this being the type of thing where I at least tend to "drop the ball").
The wings incorporate highly detailed wheel and flap bays, both with authentic and delicate undercuts. The wheel door interiors are also most convincing. The black undercarriage legs and green resin wheels will look good as well, with PE scissor-links that add to the scale refinement in this area.
Closed or deployed airbrakes are an option, and other remaining items include leading-edge slats, wing-tip tank fins (choice of resin or PE), optional R.A.T.O.G. bottles and of course an arrester hook. The wing fences are PE ensuring a realistically thin appearance to these parts.
The very nice vac-form canopy is dressed up with an interior strengthening rib and PE windscreen wiper. As mentioned earlier, CMR provides an Eduard pre-cut mask for the canopy (and wheels) which is a nice feature of their kits. A few more small resin and PE details will need adding to the airframe towards the end of assembly.
---
Payloads
The under-wing stores account for much of the parts count, all that is really left to attend to decide which under-wing stores, if any, to use, but given that some are specific to one or more colour schemes so you will probably have selected them in advance. Payloads include:
Rocket Projector Rails

60lb. S.A.P./H.E. Shell, No.1, Mk.1 Rocket Projectiles

60lb. Concrete Practice Shell, Rocket Projectiles

25lb. Shot, Practice (Concrete) Rocket Projectiles

1,000lb. H.E.M.C. Bombs

500lb. G.P. Bombs

250lb. G.P. Bombs

100 Gallon Drop Tanks
The rockets and drop tanks have separate PE fins, and there is a PE jig to assist with rocket fin alignment. Another tricky PE challenge is the stirrups that suspend the rocket projectiles beneath their rails and each other, but once folded these will add considerable scale finesse. The rocket fins and stirrups account for the majority of the plain PE fret parts count. The instructions provide a separate section dealing with payload colours.
---
Colours & Markings
All but one markings option feature Extra Dark Sea Grey over Sky, the exception being Extra Dark Sea Grey over White! There are two Operation Musketeer choices with black and yellow stripes to liven things up however, and there is some variation in tip-tank colours too. The painting and markings guides provide colour call-outs using the colour name and equivalent FS-595 number, they also indicate that a gloss finish as applicable to the machines (which I suggest adjusting and reducing down for scale effect).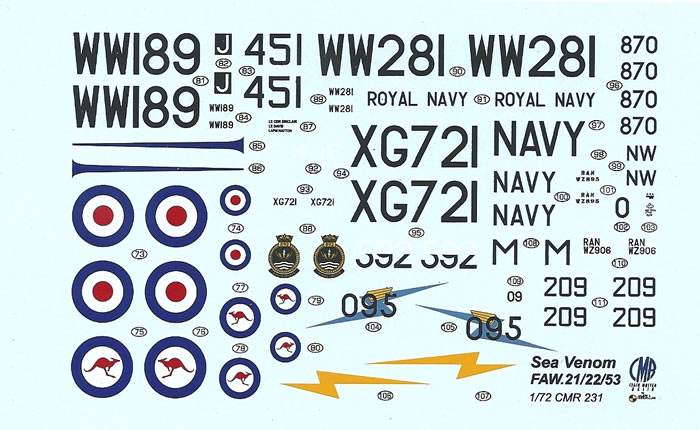 A very thorough two-page guide covers stencil placement and where appropriate mentions the text orientation to be used or if the marking was optional or specific to one scheme. The markings options provided are:
FAW.21 - WW189 - 451/J, No.892 NAS, HMS Eagle, Suez Crisis, 5th-11th November 1956

FAW.21 - WW281 - 095, No.893 NAS, HMS Eagle, Suez Crisis, 5th-11th November 1956

FAW.22 - XG721 - 582/HF, No.750 NAS, Hal Far, Malta, 1965

FAW.53 - WZ895 - 870/NW, No.724 Squadron RAN, NAS Nowra, Summer 1959

FAW.53 - WZ906 - 209/M, No.724 Squadron RAN, HMS Melbourne, 1964

The decals look to be very good quality. Registration is sharp, and my prior experience using CMR's decals would suggest that they have good colour density as well.
---
Accuracy
The kit looks to be very good in terms of accuracy when compared to walk-arounds and in-service images. I have not made a comparison to plans, as I have no assurances regarding the accuracy of those to which I have access. I do have confidence in the thoroughness CMR put into their projects, so I will be surprised if there are any glaring errors. I am aware from a Plane Talking post that Danielle Lang is preparing a review of the new CMR kit. I hope she discusses the kit from more of an accuracy standpoint than I have using the "First Look" review format, as she is far more qualified to do so than me.
CMR-DS06 - The Wing-Fold Set
Creating additional interest in a naval aircraft model is often achievable by simply folding its wings. Some modelers also like the fact that a model with folded wings needs less display space. CMR has provided a separate wing-fold set with this in mind.
Obviously a separate wing-fold set serves to keep the cost of the standard Sea Venom kit lower than would be the case if these extra parts were included as standard. Conversely, completing a model with folded wings becomes more expensive than it would be had the parts been included with the kit because of extra packaging, inventory and distribution costs.
Some may wonder why CMR engineered the kit with fixed wings rather than ones that are positionable folded up or down as is the case with some injected naval aircraft kits. I suspect that the reason for this is the need in this scale to cast the hinge detail integrally with the wing, thus ensuring realistic undercuts and the thin edges. This requirement in turn does not lend itself to a providing a perfect join along the wing's chord should unfolded wings be desired. I have found that even in modern injected kits this approach compromises the wing join because it optimizes the kit's engineering towards folded wings (as with Cyber Hobby's Sea Vixen that I am currently building). CMR's approach ensures optimal results for both choices by providing both one-piece extended and two-piece folded wings.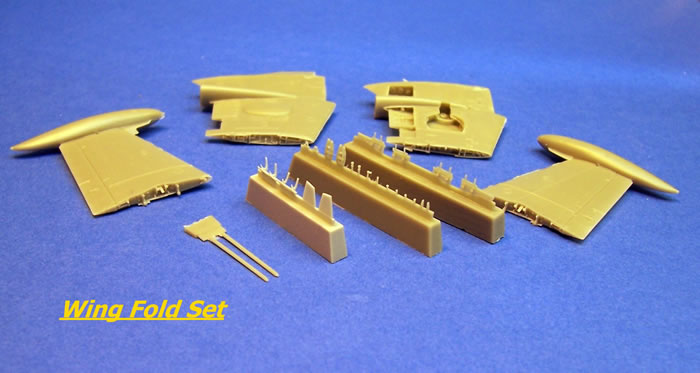 The folding wing set comes packaged in CMR's standard manner in sturdy top-opening box, and the instructions provide a parts map and excellent assembly graphics. Colour call-outs use British names and are cross-referenced FS-595. The standard of the resin parts is the same as for the Sea Venom kit.
The wings are in four resin parts as would be expected, and the delicate casting captures the internal detail of the fold mechanism very nicely. A few small parts also need adding to the hinge area, including two small panels in the upper surface of each inner wing skin, along with wing-tip leading edge slats which are included with both the set and kit.
Separate packaging has no doubt served to increase the cost of the wing-fold somewhat compared to its inclusion with the kit. At 50% of the Sea Venom kit's price modelers will need to be keen on saving deck space. I sure that some will view the money as well spent when it comes to the extra interest they will add to their model however.
This Sea Venom kit is a fine example of just how good resin multimedia kits can be. The kit's detail and casting are excellent, as is the packaging, instructional graphics and additional information, all adding to the enjoyment of the kit and hopefully the finished results.
CMR obviously undertakes considerable research using wide-ranging network of people who volunteer their expertise to ensure a highly detailed and accurate kit results. The benefit of is amply illustrated when the CMR kit is compared to the virtually concurrent release of the Cyber Hobby injected kit which is disappointingly inaccurate in outline, dimensions and details. Of course, it also represents a giant leap forward from the old Frog kit in all its iterations.
Resin kit manufacture is a very labour-intensive undertaking, and the nature of the multi-media contents means that this type of kit will never be at the bargain-basement end of the modeling budget. However, if you want what for now is surely the definitive Sea Venom kit then look no further than this latest release from CMR. The timing of its release should also save many tempted by the Cyber Hobby kit from disappointment, as it provides a considerably superior alternative for just a little more outlay (from Hannants £4.17 or 14% more).
You can purchase the wing-fold set as an additional item if having folded wings appeals. This of course adds quite a lot more to the cost and therefore the value proposition suffers a bit in comparison. Add the kit and wing-fold set together and the price difference becomes more in keeping with the norm between a mainstream injected and hi-tech resin kit. The wing-fold set is very nice and will add interest to the model, so if folded wings are your thing I think it is well worth digging a bit deeper into your wallet and buying it.
It should come as no surprise that I highly recommend this kit and its separate wing-fold set.

Thanks to CMR by Mark 1 Ltd for the review samples.
---

Review Text and Blue Background Images Copyright © 2012 by Mark Davies
Page Created 23 April, 2012
Last updated 23 April, 2012
Back to HyperScale Main Page
Back to Reviews Page