I-16 Type 10 over Spain
Limited Edition Dual Combo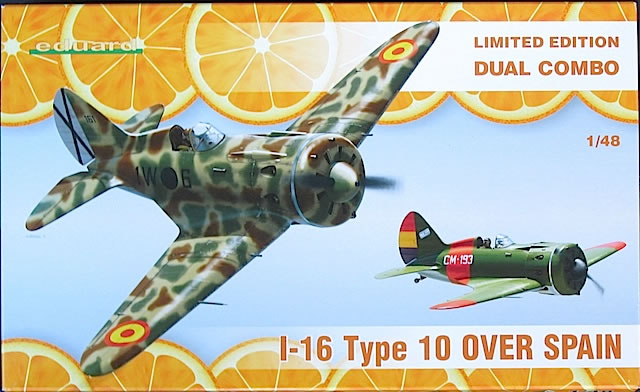 Eduard, 1/48 scale
S u m m a r y :

Catalogue Number:

Eduard Kit. No.1160 – I-16 Type 10 over Spain – Limited Edition Dual Combo

Contents and Media:

Two full kits, each consisting of approximately 93 olive coloured plastic pieces, 2 clear plastic pieces, 60 + photo-etched pieces (many in colour), and canopy and wheel hub masks; comprehensive 16-page A4 instruction booklet with full colour marking guides; decals for eight I-16s flown by Republican and Nationalist forces during and in the decade following the Spanish Civil War.

Scale:

1/48

Price:

Review Type:

First Look.

Advantages:

Excellent base kit supplemented by comprehensive photo-etched details; interesting marking choices.

Disadvantages:

None noted.

Recommendation:

Another excellent Dual Combo release by Eduard, with all the usual trimmings. Highly recommended.

Reviewed by Brad Fallen


Eduard's 1/48 scale I-16 Dual Combo is available online from Squadron.com

Revolutionary at the time of its first flight in 1933, the Polikarpov I-16 made an immediate impact when introduced to the Spanish Civil War in late 1936. The Republican's I-16 Type 5s and 6s outflew anything the Nationalists could put in the air, and were a major factor in Germany's decision to equip the Condor Legion with Messerschmitt Bf 109s.
The Polikarpov engineers also drew on combat lessons from Spain, with refinements such as increased armament and engine power incorporated into the next version of the aircraft, the Type 10, which the Republicans began receiving in 1937. But while the Type 10s were more competitive against the Bf 109s, they were still outclassed, and ultimately contributed only marginally to a losing cause.
Of the nearly 280 I-16s operated by the Republicans, more than 50 were retained in Spanish service after the Nationalist victory.
Like other Spanish-operated aircraft such as the Bf 109 and Heinkel He 111, the I-16s remained operational long after they had been withdrawn from service in their country of origin, with the last I-16s not retired until 1953.


Launched back in 2006, Eduard's 1/48 I-16 series remains the benchmark kit of this aircraft in any scale. As Brett Green noted in his review of the initial boxing of the Type 10, the kit set high standards in terms of moulding quality, detail and accuracy. The only niggle with the early Eduard I-16s was a slightly too squared-off cowl ring, which once pointed out the company quickly corrected.

Eduard has subsequently tweaked the base kit to accurately represent different versions of the I-16 – such as the Type 17, Type 24 and Type 29 – and released it in Weekend and Royal Editions as well as the standard Profipak boxings. Until now, however, to the best of my knowledge, the kit hasn't received either the Limited Edition or Dual Combo treatment. This boxing delivers both in one comprehensive package, providing two I-16 Type 10 kits with all the usual Eduard trimmings – photo-etch, multiple interesting decal options and wheel hub and canopy masks (yes, that tiny windscreen does have framing!).
This is the first time I have looked at the plastic parts of Eduard's I-16, and I can see why earlier reviewers were impressed. Surface detail is subtle and convincing, with the representation of fabric on wings and control surfaces particularly effective. The smaller parts are also finely moulded – for example the individual, hollowed out exhaust pipes, and the nicely detailed gear doors. A test assembly of the major components suggests that fit will be good, including between all wing and fuselage joins.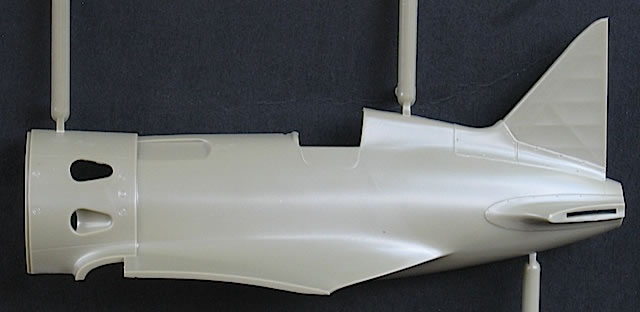 The engine provided is minimalist, with only the front half of the cylinder bank represented. However, while more detailed aftermarket replacements are available, not much will be seen through the small cowling slots (if you even decide to open them), so personally I wouldn't bother. A number of optional parts are included, such as two types of cowling and propeller and three styles of spinner, but these are for other versions of the I-16, and not used on the aircraft represented by this kit.

The plastic parts are thoroughly supplemented by two sheets of photo-etch, one pre-painted for dressing up the open cockpit, and one unpainted for detailing the undercarriage, engine and other parts of the airframe. While I probably won't use every piece of photo-etch offered here by Eduard – a few bits look just too tiny – if applied carefully, it will deliver a beautifully detailed I-16.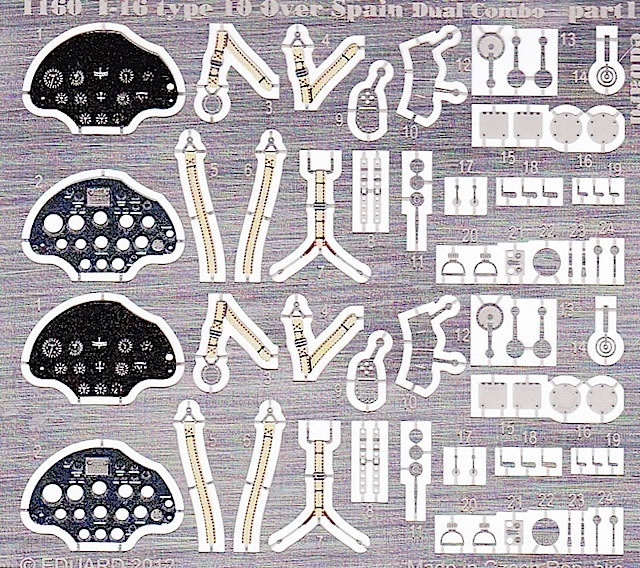 Finally, the 16-page A4 instruction booklet is up to Eduard's usual high standard, with sensible, clearly illustrated assembly sequences and comprehensive, full colour painting and marking guides for each of the featured aircraft.

For an example of how good Eduard's I-16 looks when built by a skilled modeler, have a look at this earlier Hyperscale feature by Fernando Rolandelli of a Type 10 in Republican colours.
Marking options

As usual for an Eduard special release, a number of varied marking options are supplied – four Republican and four post-civil war Spanish Air Force (Nationalist) machines. Individual aircraft details are as follows:
I-W-30, 26th Grupo de Caza, Spanish Air Force, Tablada Airfield, Seville, 1944-45. This aircraft sports an interesting hybrid paint scheme, with what appears to be the original green delivery colour partially and quite stylishly overpainted with aluminium. It also has a combination of war-time Nationalist and post-war Spanish national markings – an altogether striking aircraft.

IW-6/161, Morón Fighter School, Spanish Air Force, Morón Airbase, 1940-41. Marking options B and D feature a mottled camouflage, which according to Eduard was created by overpainting the original green colour with sandy-yellow paint – and which on option B was somewhat unusually extended to the spinner and propeller blades. This aircraft also has a combination of Nationalist and post-war markings.

"No Somos Naide", Spanish Air Force, Reus Airbase, 1940s. Alone of the post-war options, this aircraft seems to have retained its original green paint scheme, albeit with another interesting combination of national markings.

C8-25, Morón Fighter School, Spanish Air Force, Morón Airbase, 1949. Judging by this example, the hybrid marking schemes that characterized I-16s in the immediate post-war period were gone by the late 1940s, replaced with standardized red-and-yellow roundels on the wings and fuselage. The St Andrew's Cross was, however, retained on the rudder.

CM-193, flown by Jose-Maria Bravo and Francisco Tarazona, Commanding Officers of 3rd Escuadrilla, Spanish Republican Air Force, Vilajuiga Airbase, February 1939. Marking options E, F and H feature standard but colourful Republican schemes, with the green and light blue delivery scheme nicely contrasted by the tricolour rudder and red wingtips and fuselage band.

CM-158, 1st Escuadrilla, Spanish Republican Air Force, Liria Airbase, April 1938.

CM 225, 7th Escuadrilla, Spanish Republican Air Force, Pachs Airbase, Autumn 1938. This aircraft is in the same overall scheme as options E, F and H, but with the added splash of a black spinner, cowling and forward fuselage.

CM-170, flown by Pedro Rueda, 4th Escuadrilla, Spanish Republican Air Force, date and location not specified.
The decal sheet – surprisingly compact for such a large number of interestingly-marked aircraft – appears to be an Eduard in-house production.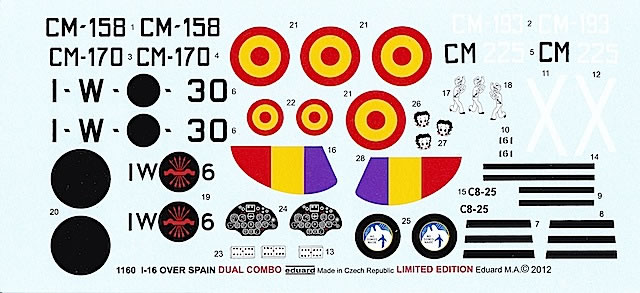 As such, it looks to be of much better quality than some earlier examples I have seen, with crisp printing, thin and minimal carrier film, and overall good production quality control.
This is another of Eduard's excellent themed repackaging efforts, which combines a sound kit from its back catalogue (in this case, two of them) with plenty of photo-etched details and other extras, and caps it all off a great range of marking choices. If you haven't picked up Eduard's I-16 kit yet, this is a great way in which to do it – highly recommended!
Thanks to Eduard for the sample
---

Review Text & Images Copyright © 2012 by Brad Fallen
Page Created 15 May, 2012
Last updated 15 May, 2012
Back to HyperScale Main Page
Back to Reviews Page