Su-27 Flanker B
Limited Edition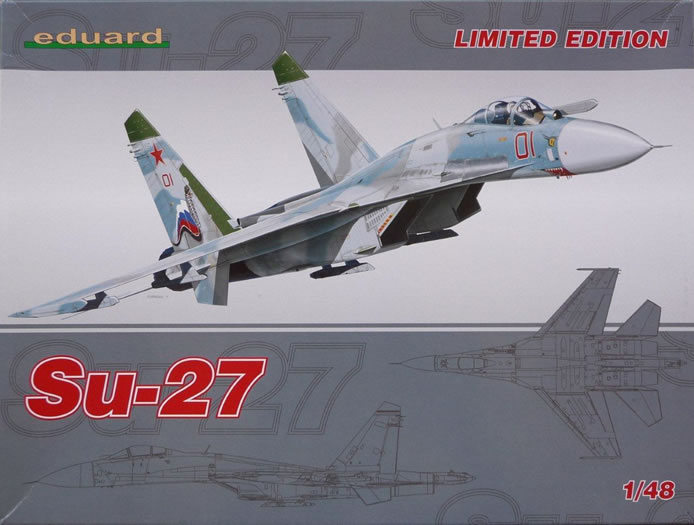 Eduard, 1/48 scale
S u m m a r y

Catalogue Number

Eduard Limited Edition Kit No. 1167 - Sukhoi Su-27 Flanker B

Contents and Media:

4 x blue/grey sprues, 1 x clear sprue, 2 x Photo Etch sheets, 1 x Acetate film, 1 x Canopy mask, 12 x resin parts, 1 x A4 Decals sheet and 1 x 16 page colour instructions.

Scale

1/48

Price

Review Type

First Look.

Advantages:

Updates the old Academy kit with a full replacement cockpit, numerous Interior and exterior PE additions combined with an excellent choice of high quality decals and painting options.

Disadvantages:

The kit still is undersized in length and the profile of the nose and canopy could all do with updating.

Conclusion:

Despite the negatives that I will highlight, this is still the only 1/48 Su-27 on the market. What Eduard has done is to fix many areas and combine it into one package. You are the winner here as your aftermarket resin and decals are included in this one limited edition Flanker package.

Reviewed by Phil Parsons


Eduard's 1/48 scale Su-27 Flanker Limited Edition is available online from Squadron.com

Background
Those that have been eagerly awaiting this release will be aware that Eduard announced a delay due to Academy "updating the moulds", that is a good thing, as those who own or have researched the Academy Su-27 series will be aware that the original kit has some shortcomings', literally! The biggest and by far the most difficult error to correct is the fuselage length, which is ~16mm short overall, width and height are correct though; now I don't work for a manufacturer, so I cannot say what this would cost to rectify, but my guess is a lot. I feel it will take an entirely new tooled Flanker to see this error corrected.
The Academy Flanker has also been criticised for its nose and canopy profiles however, there are aftermarket corrections currently available. Overall the original Academy offering was lacking in detail, hence why I assume Academy decided to update the moulds. Unfortunately this update was limited to wheels and cockpit detail (based on a comparison with my older Su-27 Flanker C). Now, in steps Eduard who announce that they will release a limited edition 1/48 Flanker B using the Academy kit as its base. I was and am not privy to any discussions between the two manufacturers however; most of what Academy upgraded has been superseded by the Eduard Brassin/PE included in this limited edition release.
You will see in the instructions, Eduard has used the parts list of the original kit sprues, including the rubber tyres. This is carried through to the assembly that calls for parts not provided in this boxing. Attached to the back of the stencil guide is a parts and construction Errata which details the new Academy sprue A (which contains solid plastic main and nosewheels). Given some of the duplication in effort of the respective manufacturers it's a pity that a collaborative effort could not provide the modeller with a new nose, canopy or exhausts.
First impression, the box is smaller than the original offering, so much so that sprue B is chopped in half. All sprues come bagged, the two fuselage halves are held together by rudder bands, the resin is in small zip locked bags and the PE is at the bottom stored flat. The one disappointment is that the decals are unbagged on the bottom of the box, so if you don't intend to build yours soon, to keep the decals away from moisture you will need to bag them yourself.
Construction begins with the cockpit; there is a minor amount of surgery prior to fitting the various PE and resin replacement parts.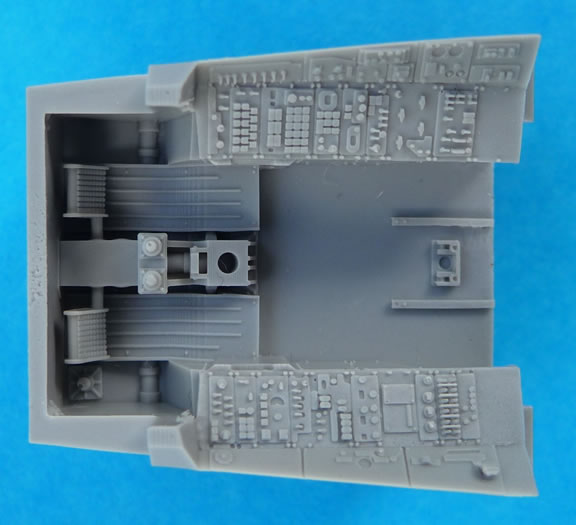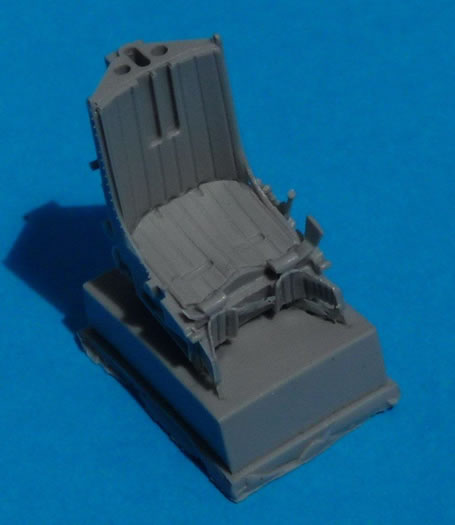 The cockpit contains only two Academy parts, one of which is the stick.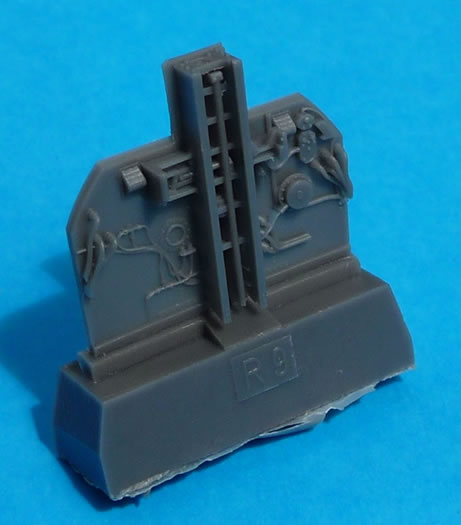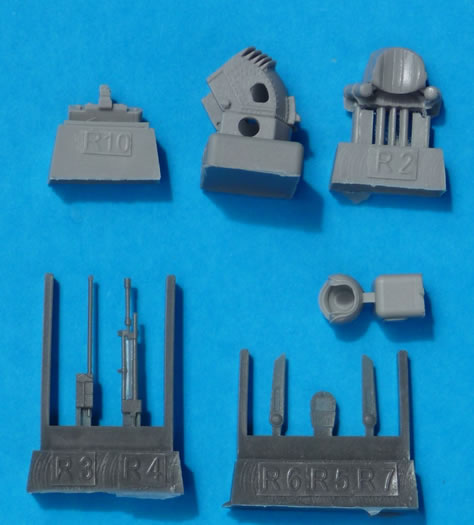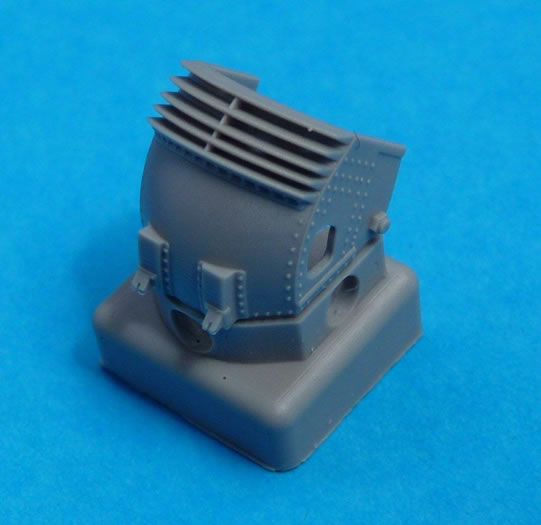 When built up with the colour PE and resin the cockpit will look very impressive.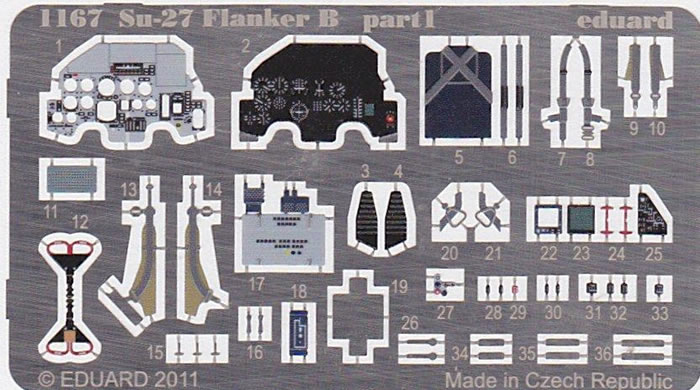 From here we move onto fuselage and engine construction. As you can see in the images some work will be required fixing seam at the forward and rear of the fuselage. There are numerous exterior PE items that spruce up the wheel wells and intakes. An oft commented omission with the Academy kit is that the lower fuselage moulding would not allow the main wheels to retract into the fuselage and some cutting is required to replicate the actual aircraft. It appears that Eduard are aware of this, but have not pointed it out in the instructions. You will notice that any original plastic that requires removal in the instruction sheet is coloured red however, you will notice the insert on the instructions, and you can see the removed area adjacent to where PE43/44 is shown.
While the flight controls are unchanged from original, the landing gear comes in for a major face lift. Here Academy has redone the wheels in plastic vice the original rubber with plastic hubs. The new offerings are later model main wheels that are nicely detailed with vents for the main brakes and writing the tyre sidewalls. The only pity with the wheels is that because they are now moulded tyre and wheel together that there were no painting masks provided. Eduard has added PE lines, resin nose wheel guards and the nose wheel doors have had PE hinges added. All antennas have been replaced with PE. The final step is back to completing the cockpit, the amazing Resin and PE ejection seat is a work of art on its own, with the canopy getting a PE makeover and you are done.
---
Weapons
This sprue (D) is unchanged, now I thought I knew my Air-Air missiles but there are two here that elude me. The AA-8 Aphid, part 7, I would not bother with (esp if I was flying a Flanker, they would not be my choice of weapon). Part 6, while they look like they are from the AA-10 Alamo family they are too short, these are the ones that have me stumped. Part 5 are your AA-10 Alphas, these are close in length however, the fins are oversized. Part 4 are the AA-10 Bravos, these are too long ( by a few mm) and fins too wide. Part 3 are the AA-10 Chucks, okay for length, but with oversized fins and are lacking the increase in body diameter( at the rear of the missile) that make this the long range missile. In 1/48 this equates to a 1mm increase in diameter however this is not present. The AA-11's are reasonable but the fins are thick and there are two different heads. So as far as weapons go you could get a reasonable loadout however, have a look at the Eduard Brassin reviews here on the AA-10 family, the Eduard missiles are far superior in detail. One part of this sprue I would use is the Pylons. You need to check your references as the APU/AKU-470 pylons come in different shapes depending upon their location.
---
Painting Guide and Decals
The Limited Edition kit come with five decals options on a single sheet printed by Cartograf. The decals are all in register and there is a minimum of carrier film. As always Eduard provides you with stencils that are clear and well defined.
Compared to the Eduard MiG21 family the Flankers have a lot less stencils to apply.
Su-27, 689th GIAP, Chkalovsk Air Base, Russia, May, 2003

Su-27, 54th GvIAP / 148th Combat and Training Centre, Savasleyka AB, Russia, 1998

Su-27, Uzbek Air Force, 62nd Fighter Regiment, Karshi Air Base, 2010

Su-27SK, Indonesian Air Force, 11th Sqdn, Hasanuddin Air Base, August, 2003

Su-27, Ukrainian Air Force, 831st Tactical Aviation Brigade, Mirgorod Air Base, 2009
---
Value
This is a hot topic on many sites and needs to be addressed. The Limited edition kit retails for 1800Kc on the Eduard Website, which currently equates to ~ 100AUD + Delivery. If you were to purchase the Academy kit (original with rubber tyres) to bring your kit up to the Eduard Limited edition you will need to purchase a resin cockpit, applicable PE, resin replacement wheels. To upgrade the decals though, I have not found many that do both stencils and unit marking on one sheet, so two decal sheets are required. Now all these additions are not produced by the one manufacturer. Unless your local hobby shop stocks all these items you are looking at lots of individual postage costs.
Get to the point you say, for me living in the Antipodes I think this is value for money; you purchase the kit, resin, PE and quality decals all in one box. Have a quick look around the web and there are some great prices for this kit. Doing a quick search on an online auction site, I found it hard to purchase the individual items with all the associated postage costs to come up with a better offer. How many kits do you own that are unbuilt as you are waiting to purchase aftermarket part XYZ?
A message to the manufacturers, we are not there yet, we still lack an accurate Su-27/30/30MKI_MKM in 1/48. Whoever bites the bullet first and creates a new fuselage that allows the subsequent release of all the subtypes will, in my opinion, make a killing and relegate all previous attempts into history. Please someone produce a correct Flanker in all aspects.
Till then, this is the best 1/48 kit currently available and I recommend it to those who want a 1/48 Flanker on their shelves.
Thanks to Eduard for the sample
---

Review Text & Images Copyright © 2012 by Phil Parsons
Page Created 28 March, 2012
Last updated 28 March, 2012
Back to HyperScale Main Page
Back to Reviews Page