Messerschmitt Bf 109 E-4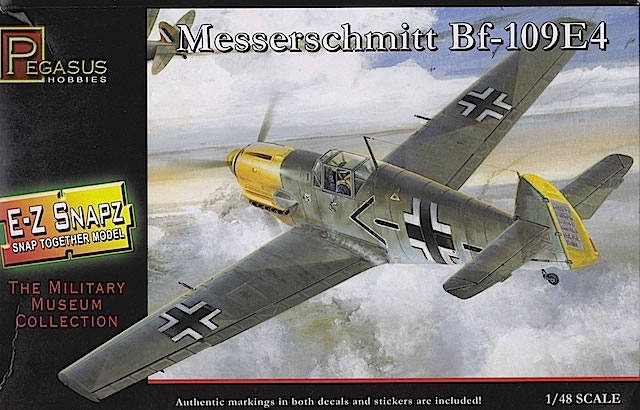 Pegasus Hobbies, 1/48 scale
S u m m a r y :

Catalogue Number:

Pegasus Hobbies kit no.8412 – Messerschmitt Bf 109 E-4

Scale:

1/48

Contents and Media:

30 dark grey plastic parts; 1 clear plastic part; 1 decal sheet containing markings for 1 aircraft.

Price:

Around AUD$10.00. Distributed in Australia by J.B. Wholesalers.

Review Type:

First Look

Advantages:

Easy assembly

Disadvantages:

Limited detail and some accuracy issues

Conclusion:

A kit aimed at younger and/or beginner modelers that is very easy to like – Pegasus Hobbies should bring out more kits in this series.

Reviewed by Brad Fallen


Eduard's 1/48 scale I-16 Dual Combo is available online from Squadron.com

Hasegawa, Tamiya and Academy's longstanding dominance of the 1/48 Messerschmitt Bf 109 E kit market has been challenged in recent years, with both Airfix and Eduard releasing highly-regarded kits that reflect each of these manufacturer's different design philosophies and markets. But while all of these 1/48 Emil kits are regarded as straightforward builds, they don't necessarily fall together – even the Tamiya kit has its quirks. So with the Bf 109's popularity as a modeling subject showing no sign of waning, California-based company Pegasus Hobbies has decided there is room in the market for a simpler kit of the aircraft – one aimed squarely at younger and or beginner modelers who want an Emil in their collection, but without breaking the bank or tying themselves in modeling knots.

Pegasus Hobbies markets an interesting variety of models, games and toys, including a range of 1/48 'EZ-Snapz' plastic aircraft kits which are moulded for them in China. As the name suggests, these can be quickly clicked together to allow the builder to focus on other things such as painting and finishing…or dogfighting the opposition. This is certainly what my 7 and 10-year sons have done with the EZ-Snapz kits they have built – during the past year they have happily finished the Me 262 A, P-51B, Bf 109 G-6 and V-2 models, most of which are still intact. While I've been impressed with these kits in terms of their buildability for kids, I haven't examined any of the range closely until now.


Pegasus Hobbies' 1/48 Bf 109 E-4 comes in 30 parts moulded on two sprues of dark grey plastic. The parts are comparable to those found in a well-moulded limited-run kit. They look a bit chunky on the sprues, but the gates aren't too big and are generally well positioned. The surface of the plastic is slightly rough apart from some of the detail parts and the control surfaces, which are very shiny. There is no flash and only one or two very minor sink marks. Panel lines are crisp and more refined than I was expecting. The fabric effect on the control surfaces is overdone, but could easily be improved with a little sanding. The depiction of rivets is restrained, and limited to a couple of panels under the wings and on the vertical stabiliser. Finally, a single clear piece is provided for the canopy, which while thick is very clear.
Detail-wise, the kit doesn't challenge any of the other 1/48 Emils on the market. In the cockpit, the sidewalls feature basic representations of features such as the map case, oxygen bottle, fuse board, and flap wheel. The poorly shaped seat is moulded integrally with the floor and rudder pedals, with the control column provided as a separate item.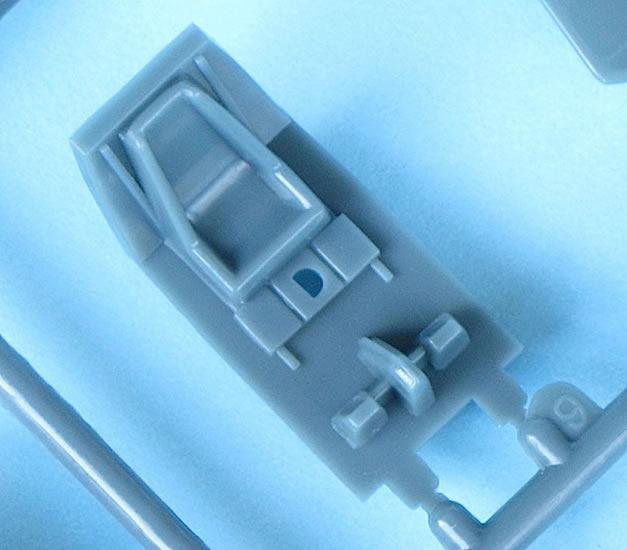 The instrument panel is rudimentary, but features a reasonably accurate layout of dials.

Elsewhere, the fuselage machine guns and wing-mounted cannons are moulded as part of the lower wing and upper engine cowling respectively, with an associated loss of detail. Notwithstanding this, the single-piece lower wing is a highlight of the kit, with its boxed-in and well-detailed wheel wells particularly impressive. Also nicely detailed is the tail wheel, moulded as part of the port fuselage half. The main wheels are less convincing, with poor hub detail and exaggerated tread, although alternative pieces are provided which allow a 'wheels up' finish, which is welcome.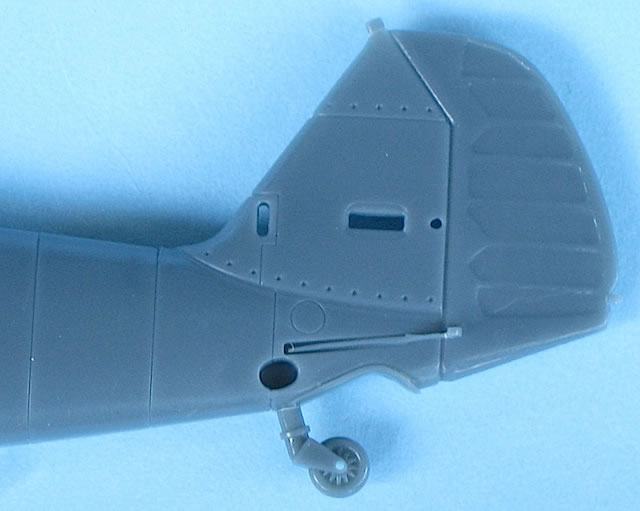 The kit's overall accuracy appears to be reasonable, at best. While fuselage dimensions almost exactly match the 1/48 Emil plans provided in Part 1 of Lynn Ritger's Bf 109 Modellers Datafile, the wings seem to be about 3 mm too long, with all of the extra length outboard of the cannons. The wings also look to be about 2 mm too narrow in chord at the tip, and the aileron trim tabs are too far outboard.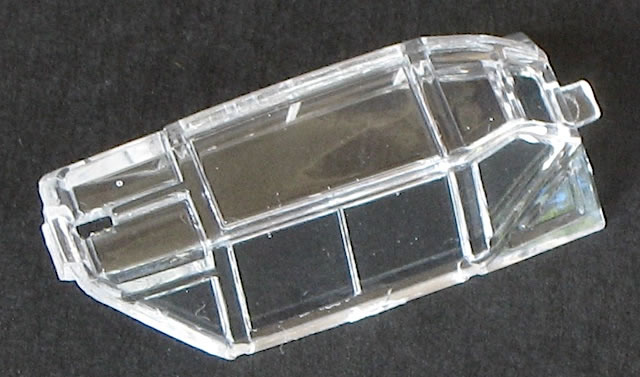 The fuselage appears to be slightly too squared off at the top, and the shape of the forward cowlings also looks suspect – although this could just be because of the oddly engineered upper cowling insert, which doesn't coincide with any panel lines. The propeller and spinner are poorly shaped, although Pegasus is not the only company to have struggled with representing these parts. Most of the main hatches, latches and access panels seem to be present, and in the correct locations.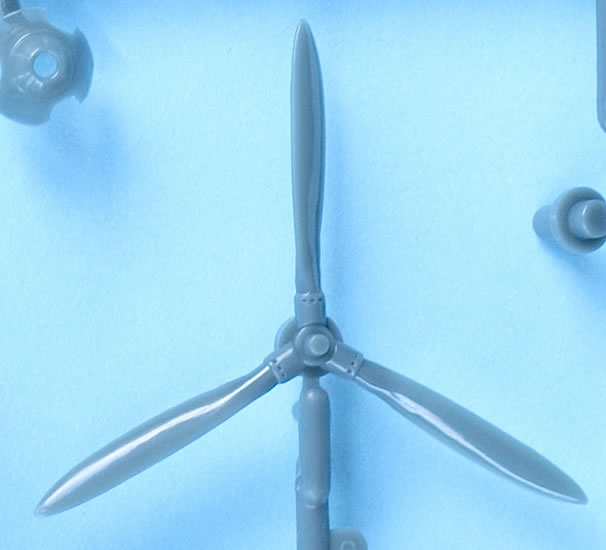 Where the kit does excel is in its buildability. Its snap-together design means there are plenty of very robust locating pins, and when the major pieces are pushed together, they really don't want to come apart. That said, based on other Pegasus kits I have built with my boys, I would still recommend locking everything together with at least a little liquid cement. This is especially the case with many of the smaller pieces, some of which are simply press-fit. Overall fit is impressive, with the wing-fuselage join better than that of many more expensive kits I have built. If you really wanted, you could have a finished Emil standing on its undercarriage and ready for the paint shop in about 20 minutes – try doing that with the competition!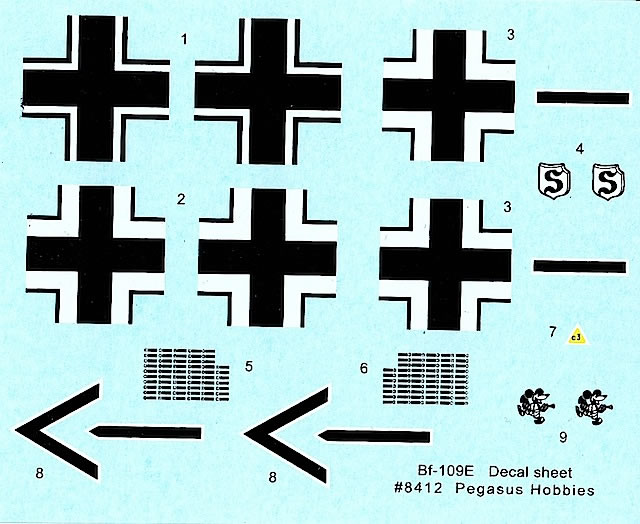 A single marking option is provided, for the E-4/N flown by Adolf Galland in late 1940. The colour call outs in the instructions are unfortunately incorrect, directing the modeler to finish the upper surfaces in RLM 70 Black Green and RLM 71 Dark Green splinter camouflage, when this should be RLM 71 and RLM 02 Gray. A small decal sheet supplies all key national, unit and individual markings for Galland's aircraft, but no stenciling. The decals are crisply printed, but appear to be slightly thick, on the sheet at least.
Pegasus Hobbies' Bf 109 E-4 kit fills a unique niche in the crowded 1/48 Emil market. Clearly aimed at the younger or beginner modeler, the kit doesn't compete with, and can't be compared directly to, the more sophisticated products of other companies. Its snap-together engineering and comparatively low-budget production have led the kit's designers to make some compromises on detail and accuracy – but not as many as you might have thought at first glance. There is a lot to like about this kit, both as the basis of a model in its own right, and as a vehicle for getting kids involved in the hobby. Pegasus is definitely on the right track in this regard. When I walked into our local toy and hobby shop with my eldest son yesterday, he went straight to the model section looking for Pegasus kits – but was disappointed to find that they had all been sold!
---

References
Lynn Ritger, The Messerschmitt Bf 109: A Comprehensive Guide for the Modeller, Part 1: Prototype to 'E' Variants (Sam Publications, 2005)
Thanks to J.B. Wholesalers for the sample
---

Review Text & Images Copyright © 2012 by Brad Fallen
Page Created 23 May, 2012
Last updated 23 May, 2012
Back to HyperScale Main Page
Back to Reviews Page