T-33 Shooting Star
+ Colour Photo-Etch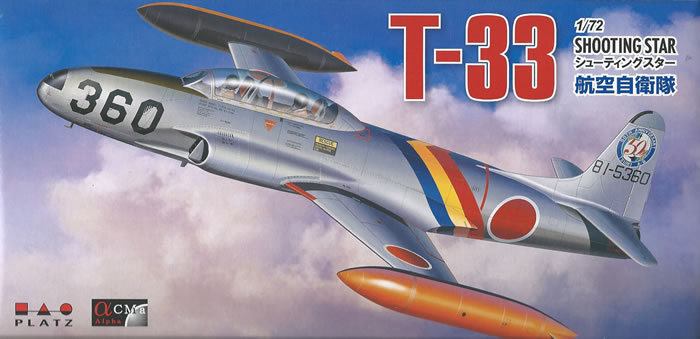 Platz, 1/72 scale
S u m m a r y :

Catalogue Number:

Platz
AC-6 (Lockheed T-33 kit)
M-72 023 (Coloured PE Set for the above)

Scale:

1/72

Contents & Media

Kit: 1 clear styrene and 55 grey styrene parts, plus decals for 4 subjects.

PE Set: 1 Coloured fret of 42 parts.

Price:

Available online from:

Item

Platz Models

Hobby Link Japan

Kit

PE Detail Set

Not Listed

Review Type:

First Look.

Advantages:

The Kit - Quality packaging and moulding, nice surface detail, innovative tackling of the T-33's intakes, and excellently printed decals.

The PE Set – Good quality, made by Eduard.

Disadvantages:

The Kit – Decals pitched mainly at Japanese domestic market with only similar JASDF schemes offered.

The PE Detail Set – An unbelievable absence of seatbelts. Some Assembly symbols are unclear due to a lack of an English translation.

Conclusions:

The Kit - This is a nice kit with good surface detail and adequate internal detail for the scale. The separate after-market PE set is capable of lifting detail levels, but fails to provide seatbelts and some other pertinent features. It also raises the cost of the finished model considerably. Platz's T-33 kit should be a slightly easier build than the competing Sword kits. However, aside from this it has nothing to challenge the Czech kit with in terms of detail and value.


The PE Detail Set - I would expect more from a detail set costing around 64% of the kit's price. I would spend the money on some resin seats and more interesting decals instead.


Overall - I recommend Platz's kit mainly to those who dislike limited-run kits with resin.
Reviewed by Mark Davies

HyperScale is proudly supported by Squadron.com
The first US jet aircraft was the Bell P-59, but an altogether better design that flew just a little later was the Lockheed P-80. It was the product of a brilliant Lockheed "Skunk Works" design team led by "Kelly" Johnson. The first airframe was developed and delivered within a staggering 143 days, and the prototype first flew in January 1944. Just missing combat in WW2, the P-80, later to be redesignated F-80, was to see active service as a fighter, fighter-bomber and photoreconnaissance platform in the Korean War. Although the superlative F-86 Sabre already soon overshadowed it in the fighter role.
Early on Lockheed had suggested the development of a two-seat P-80 to the USAF, but the air force brass did not appreciate the need for a jet trainer at the time. However, as the difficulties in transitioning from piston-engined types to jets became more apparent there was a change in official thinking by 1947.
Developed form the P-80C, the TF-80C (soon to be redesignated T-33) introduced tandem seating and a long canopy. A 26" plug was inserted in the cockpit area, and the mid-fuselage was extended by a further 12". An armament reduction from six to two .50" M3 machineguns occurred (although many T-33's had no guns fitted). It first flew in March 1948.
The T-33 was an outstanding success and widely exported to over 30 countries, as well as being licence-produced in Canada and Japan. Light attack and photoreconnaissance variants were also developed. The design was further developed and highly modified for US Navy use, and known as the T2V –1/T-1A Seastar. This had a raised cockpit line, leading-edge slats, tail hook for carrier landings, and was the first US aircraft to have boundary layer control using engine bleed-air. Lockheed also developed a radar-equipped after-burning all-weather interceptor derived from the T-33; called the F-94 Starfire.
T-33 production reached almost 6,600, and several are still flying in private hands as warbirds.
---
Previous 1/72 T-33 Shooting Stars
I am aware of three previous T-33 kits in 1/72 scale. Hasegawa's was the first. It an old kit with fine raised panel lines, rather basic detail levels, and offered in several different boxings over the years. Heller produced a very nice kit some time after Hasegawa. This also has raised panel lines, but offers superior levels of detail and I have read that it is the more accurate of the two. Around about mid-2010 Sword released a modern limited-run multi-media kit, which I reviewed here on Hyperscale. This is a very good kit with high levels of detail and comes in at least two boxings with a range of decals options. This last kit is generally readily available from a number of on-line shops.
I will initially describe the kit aside from its coloured PE detail set, which sells separately.
It comes in a typical Japanese top-opening box made from good quality glossy card. Written instructions are predominantly in Japanese, although it provides the aircraft's history in English. The instructions are easy enough to follow with simple but clear diagrammatic assembly stages. Colour call-outs are I suspect related to the Gunze Sangyo and Mr Color paint ranges, but most useful is that they provide FS-595.codes as well. The parts come enclosed in a plastic bag, with the clear parts and decals further protected in their own bags.
As with other Platz kits I have reviewed, I found crisply moulded parts with delicate engraved panel detail. However the undercarriage doors have sink marks present, but these should be easy to deal with. Cockpit detail is reasonable for the scale with crisp raised detail on the instrument panels and consoles, and there are decals for these parts as well. The seats are an acceptable facsimile of the real thing, although moulding the footrests with the floor does fails to capture their true appearance. The clear canopy is also well done, but is a single piece. This is something that those who choose to buy the extra PE detail set may regret, as they will have to cut the canopy to show off the interior to best advantage.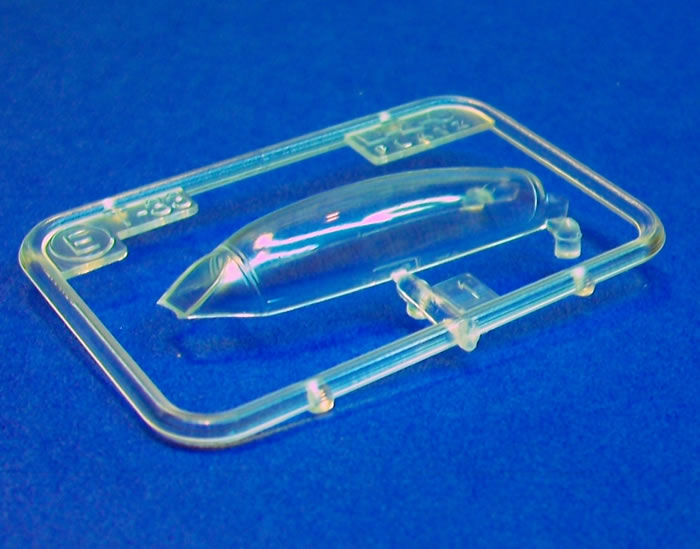 Parts breakdown is a little unconventional for this subject. Other T-33, and for that matter P-80, kits such as Sword's split the air intakes from mouth to duct horizontally, incorporating the top part with the fuselage and the bottom with lower the wing halves. This in turn makes for some awkward joints and filling issues. Platz has a very simple and effective solution that avoids joins in the intake mouth area. They mould the mouth and first part of the intake duct as one piece that is deep enough to provide the internal ducting as well. The intakes attach to the fuselage and wings along simple straight join lines that I doubt will need any filling, but if they do will be easy to access. The other unusual feature of the kit's parts breakdown is the separation of the fuselage at the break-line for engine removal. There is internal structure detail inside the rear fuselage and a bulkhead with holes for intake ducting just behind the cockpit. This all suggests that an engine was to have been included, or will be in a future edition. The kit provides instead just a long exhaust duct and nozzle. I hope that the added complexity of the additional fuselage join will not present any problems.
In all other respects the parts breakdown and constructional sequence is conventional. There are separate air brakes and acceptably detailed undercarriage parts, but there is nothing out of the ordinary in terms of detail or finesse.
Markings options are all for four Japanese Self Defence Force machines.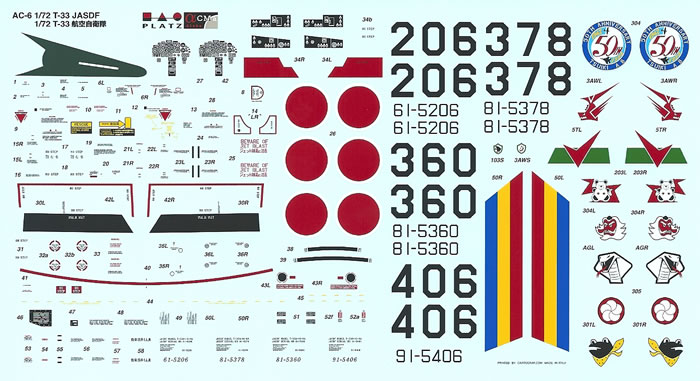 All wear essentially the same bare metal with orange and black tip-tanks. The variation between the schemes being the aircraft number and unit emblem worn, although the one featured on the box-art has three diagonal coloured stripes on the fuselage rear. The decals look excellent, with very good registration, suggest good opacity, and include a fair amount of stencilling. The inclusion of the anti-glare panel and wing walks is also a nice touch. The painting and markings guide is thorough.
---
The PE Detail Set
Supplied in a small cellophane pack with header, the coloured PE fret comes with a folded A-4 page of instructions. These are diagrammatic and have a couple of words in English. However, the assembly symbols lack an English translation key. Therefore, whilst the blade, file and question mark symbols are obvious, the Ying/Yang and letter R in a circle are not (to me at least). This complaint aside, the instructions are otherwise very clear.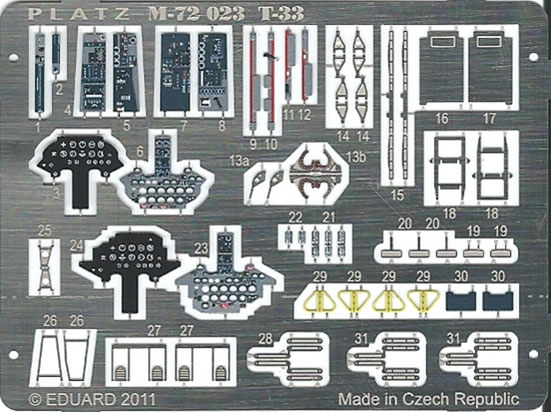 Made by Eduard, the pre-coloured set provides some nice instrument panels, consol facings and placards, but throttles or other cockpit levers are absent. Included are nice yellow firing handles for the seats but amazingly, and unforgivably in my view, there are no seat belts! Nor are more realistic replacement ejector seat footrests catered for. A few other parts include canopy locking mechanisms and mirrors, and replacement rudder pedals. The remainder of the set provides replacement torque links, undercarriage retraction struts and other small details for the undercarriage. I regard this set as a disappointment because of failure to detail the two ejector seats adequately.
I would expect more from a detail set costing around 64% of the kit's price. I would spend the money on some resin seats by Pavla and decals that are more interesting than the kit's instead.
---
Quick Comparison to Sword's T-33
Platz's T-33 release is less than two years after Swords. It is tempting therefore to compare the two briefly, especially as they represent a contrast in approach to kit manufacture.
I will not address at length the accuracy of the two kits as I am no T-33 expert and it generally lies outside the first look format I follow. I did however overlay the parts and found that all aspects of the airframe, tip-tanks included, conform so closely to each other that their outlines are essentially identical. Except that is for the fin and rudder. Platz's interpretation is both a little taller and more pointed than Sword's. I think Sword is slightly closer to the real thing, although it would only take a couple of file swipes to alter the Platz kit if my observation is correct. Other very small differences include the size of the grills above and below the intakes, and I think here Platz may have a slight edge. In fact, I tend to favour the surface detail subtleties of the Platz kit, but my preference is marginal.
The Sword kit is good but being limited-run technology the parts have some flash, are not always crisp (mainly the wheels), and lack alignment pins. Thanks to its resin content the Sword kit does offer considerably higher levels of internal detail out of the box, although much of the resin is related to the wheel well and air-brake bays, and frequently will not be seen much. It almost certainly will not build as easily as the Platz kit, but this is not to say it will be very difficult either. It offers decal options across at least two editions with a wider appeal than the JASDF option Platz provides (although I have see at least one other Platz boxing featuring box-art of the Thunderbirds aerobatic display team.) Finally, Sword offers a two-part canopy for those who wish to have it raised.
Platz's T-33 is a simple and honest kit with adequate detail levels. Moulded well, it should assemble easily, especially given its clever intake parts design. Although I hope the separate rear fuselage will not cause any assembly problems. It has adequate detail levels for the scale, but these represent no advancement over what mainstream brands offered 20 years ago. I had hoped that the PE set would add the missing "sparkle", and in terms of the instrument panels, consoles and canopy it does. Nevertheless, it does nothing about the seats other than some nice handles. It is amazing that a PE detail set primarily dedicated to the T-33's cockpit would leave out seat harnesses and the prominent ejector-seat footrests.
As things stand, Platz may look to be an easier build than Sword, but if detail is your thing then Sword looks to be a better bet for the money, especially when you consider that the Platz PE set alone costs 70% of the Sword kit's price. Put another way, you can buy two Sword kits for just 13% more than the price of one Platz kit with the PE set (these figures use the cheaper of the two sources listed above, and a Sword T-33 price of ¥1,633 converted from Hannants' list price in £). However, if detail is not your thing and a trouble-free build is, and you like the JASDF markings, then just buy the Platz kit without PE. You will still pay at least 8% over the Sword price, but you should be happy.
This is a nicely engineered kit produced to high standards. The design of the intakes is simple but clever, and superior in my view to the way previous kits have addressed this aspect of the T-33's airframe. The decal options are frankly a bit boring given the range of international possibilities the T-33 offers.
Detail levels are adequate but unimpressive. For those prepared spend extra money (64% of the kit's cost) the PE set goes some way to dress up the cockpit, and to a lesser extent the wheel-wells. However not providing seatbelts is simply a gross oversight. It is better to spend any extra funds on Pavla resin seats and some after-market decals in my view (unless you wish to build a JASDF machine).
No doubt others more qualified than I am will be able to assess any accuracy merits that may accrue to Platz over Sword, or vice versa, but I am confident that any edge will be truly marginal.
This kit has the potential to produce a very good model of the T-33, the PE set will help appearances, but you will need either some Pavla seats or suitable seatbelts to do your model full justice. If only Hasegawa's and Heller's kits existed to compare this to I would be lauding it most highly. However, on this quick analysis it struggles in terms of detail when compared to Sword's T-33 kits. The likelihood that it will build more easily, although not by much I think, does not seem to offer enough for it to be a better value proposition.
I like this kit. If it equalled say a Tamiya kit's internal detail, it would easily justify its price against Sword's, but unfortunately, it does not. In addition, I cannot reconcile the cost of the PE set with what it offers. For now, you would have to detest limited-run kits with resin detail and perhaps have more money than sense to opt for Platz over Sword. Accordingly, I recommend the Platz kit this group of modellers.
Thanks to Platz Hobby for the review sample.
---
Review Text and Images Copyright © 2012 by Mark Davies
Page Created 2 April, 2012
Last updated 2 April, 2012
Back to HyperScale Main Page
Back to Reviews Page