Republic P-47N Thunderbolt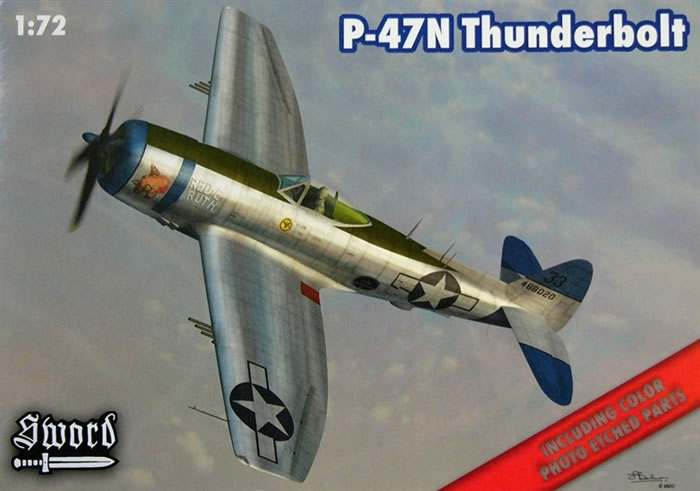 Sword, 1/72 scale
S u m m a r y :

Catalogue Number:

Sword Kit No. SW72046 - Republic P-47N Thunderbolt

Scale:

1/72

Contents & Media:

68 grey styrene, 3 clear styrene, 9 resin, and 15 pre-coloured PE parts, plus decals for 3 subjects.

Price:

Available online from Hannants for £12.49, Squadron for UDS$23.99, and Modelimex for €14.58

Review Type:

First Look.

Advantages:

Good quality mouldings, fine panel lines (plus acceptable rivets), and good detail levels for the scale. Looks to be a generally straight-forward build.

Disadvantages:

Some underwing weapons would have been nice to have.

Conclusion:

An excellent kit of an attractive subject, and surely the best P-47N kit in 1/72-scale. This boxing is boosted by the inclusion of pre-coloured PE fret to dress the cockpit and engine up - Definitely recommended.
Reviewed by

Mark Davies

HyperScale is proudly sponsored by Squadron.com
I was surprised to read that the P-47N was developed by Republic in order to keep manufacturing P-47s, as the type's ongoing production in 1944 came under threat (Source: Motor Books International P-47 Thunderbolt). This was despite the P-47 having been the most numerous US escort fighter in Europe during 1943, and its success as a fighter bomber. The threat was presumably linked to P-47's inadequate range when compared to the exceptionally long legs of the P-51 of which more were coming on stream in 1944.
It was fortuitous then that the requirement for a B-29 long range escort fighter remained with the need conquer Japan. And it is to this B-29 escort requirement that the origins of the P-47N are usually attributed. It was the P-47N's promise of longer legs than the P-51 which stimulated USAAF interest in the type because of this need for B-29 escorts. So perhaps the B-29 escort role did not lead to the P-47's initial development, but it certainly led to its manufacture because the war in Europe was all but over by the time the P-47N was in production. .
The P-47N had an extended span wing accommodating four fuel tanks near the roots, larger flaps and ailerons, squared wing tips to improve roll rate, and a beefed up undercarriage to cope with higher takeoff weights. It also had an automatic pilot and more automated engine controls than previous P-47's, both serving to reduce pilot workload on long-range missions. The prototype XP-47N first flew in July 1944.
The P-47N was the longest ranged, highest flying and heaviest load lifter of the P-47 variants. It saw operational service against Japan late in WW2 both as an escort and fighter bomber. It continued to serve with the Air National Guard post war but, unlike the P-47D, was not supplied to other nations.
---
Previous 1/72 P-47Ns
Rareplanes offered a quite nice vac-form P-47N in the seventies. Since then there has been the Heller kit which was simply dreadful with shape error galore, including an inverted airfoil section to the wing! Highplanes produced a limited run kit which I haven't seen. I gather it needs a fair amount of work but a good model can result (this would seem a fair assessment based on Highplanes kits I do own). Italeri released a mainstream kit that has been criticised for some shape issues, awkward fit and heavy panel lines. Suffice to say it was not the answer most 1/72 P-47N fans were waiting for. So it was very pleasing when Sword released their P-47N around May 2011 as its quality surpassed all that have gone before.
The kit reviewed here is the same as that released previously, but with the addition of a pre-coloured PE fret and different decals. It comes in a typically Czech end-opening box with indifferent computer-generated artwork on the front. The instructions provide a parts map and have an easy to follow diagrammatic assembly format. The diagrams are well drawn, and in fact far better than some mainstream brands. There is also a brief history of the aircraft. Paint colours are given in Czech and English, with all other text in English. The painting and decal guide is quite adequate black & white shaded 4-view drawings with colour profiles on the rear of the box (more on this later). Generic colour call outs are provided for detail parts and colours are cross-referenced to FS595 in the painting and markings guide. The parts are enclosed in a zip-lock bag, with the clear, resin and PE parts each in small bags of their own.
This is a typical Sword kit in that the plastic has a more shiny finish than many other Czech kit brands. All parts are cleanly moulded with very good surface detail, including very fine rivet lines. These are well done, but I remain unconvinced of the merit of rivet detail in this scale. Some no doubt will love them, but they will need a delicate hand to replicate when removed by seam filling and sanding. Parts break down is largely conventional for the type, although the wing has a short spar to aid alignment, However I have read some comments in forums saying a satisfactory wing fit is tricky to achieve. The sprue gates are narrow, and there is barely a hint of flash in places (most noticeable on the prop), but this will be easily dealt with. The resin parts are also produced to high standards.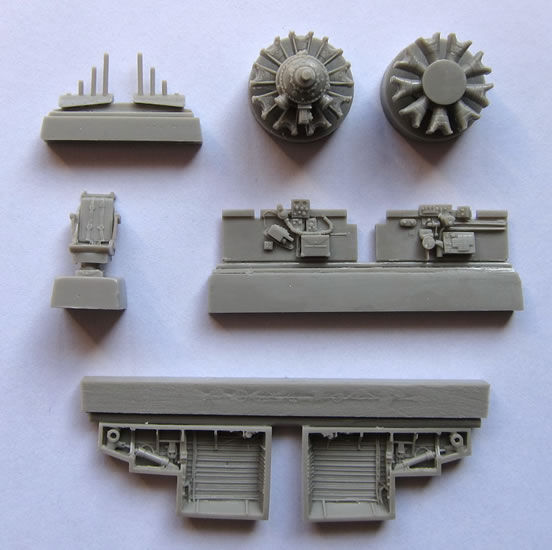 Internal cockpit detail combines a plastic floor, front & rear bulkheads (the latter with armoured headrest), rudder pedals, control column and instrument panel plus resin sidewalls and seat. The seat has a harness cast in place, but this does not sit particularly proud of the seat surfaces. The detail in this area is rounded out with a clear gun-sight part (the reflector has to be scratch-built). Where this kit differs from the original boxing is that pre-coloured PE fret provides an instrument panel and seat harness, plus some levers for the sidewall. Although the instructions do not advise to, I think that the raised detail on the instrument panel would best be removed before affixing the PE parts. The instructions also direct to overlay the cast seat harness with its PE replacement, which I think will probably be okay (although some may still be inclined to scrape the resin detail away first).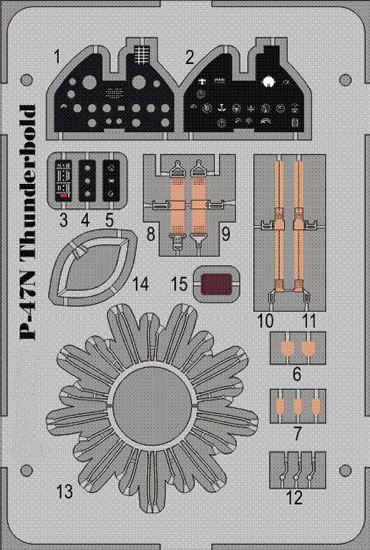 The PE fret also provides a headrest and canopy brace. Overall the cockpit detail is good for the scale, and the canopy can be modelled in the open position leaving a quite large cockpit opening to view all the fruity bits.
The rear fuselage interior includes some structural detail around the tail wheel-well, to which are added front and rear bulkheads. There is a choice of exposed strut and brace or a canvas boot-type enclosure. Before the fuselage halves can be joined you must fit the inside faces of the intercooler vents, ventral exhaust outlet, the abbreviated wing spar mentioned earlier, firewall and engine air-intake ducting. This just leaves the nice resin engine to be inserted.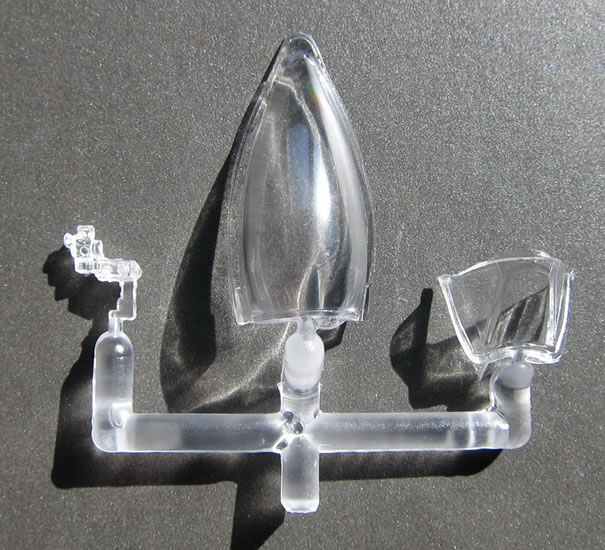 The engine a two-piece affair that's better than most injected 1/72-scale radial engines, but not as detailed (or complex) as some after-market resin ones. However with this boxing there is a PE ignition harness to dress it up a bit. Of course this is a little two-dimensional, but once painted should round out and thicken a bit. I'm sure it will look fine in this scale. The engine cowl is completed with its front ring and separate cowl flaps moulded in the closed position.
The resin parts include main wheel-well inserts, gun barrels and their associated portion of wing leading edge. Both add to the refinement of the wing detail. The wheels come with a choice of separate hub styles and the undercarriage in general looks nicely moulded. There are two wing pylons and drop tanks plus a belly tank also. No underwings weapons options are provided for.
There's not much left for assembly that hasn't been mentioned. There are the oil-cooler vents just ahead of the turbocharger waste-gates, the horizontal stabiliser, some antennae, a nicely thin prop, and in my case two canopies with separate windscreens (just a packing error I think). The last items are acceptably thin and clear.
Three decal options are offered, these being:
"Red-E-Ruth" of 19th FS, 328 FG, le Shima 1945

"Little Girl Yip" of the 21st FS, 413 FG, 1945

"Little Joe" of the 73rd FS, 318 FG, 1945
However I noticed that only two of these three are featured amongst the three colour profiles on the rear of the box. One choice on the box profiles is for Pris 'n Prissy" of the 414 FG on Iwo Jima 1945. This aircraft features an appealing full-frontal nude (always a bonus!) for nose art, but sadly she did not make it to the decal sheet. I hope it was a technical reason rather than political correctness that led to "Priss 'n Prissy" being left out. The decals include quite a lot of stencilling, and their placement is guided by separate stencil placement drawings. The decals look to be well registered with good opacity.
This is a nicely engineered kit that is produced to high standards. It looks to be a generally straightforward build with the potential to produce a very attractive P-47N model. More payload options would have been nice, but I confess to being happy with what's on offer. The absence of the markings for "Priss 'n Prissy" from the decal sheet is a pity, and I for one hope this doesn't herald some trend to avoid offering nude nose-art.
I have to agree with the general consensus I've observed in other reviews and forums that Sword's P-47N is the best we have seen so far in 1/72-scale. The addition of the pre-coloured PE fret simply serves to give the kit an additional lift that many will appreciate, whilst leaving the other boxing without PE for those who don't like it - Highly recommended.
Thanks to Sword Models for this review sample.
---
Review Text & Images Copyright © 2012 by Mark Davies
Page Created 20 March, 2012
Last updated 20 March, 2012
Back to HyperScale Main Page