Nakajima Ki 44-II Shoki (Tojo)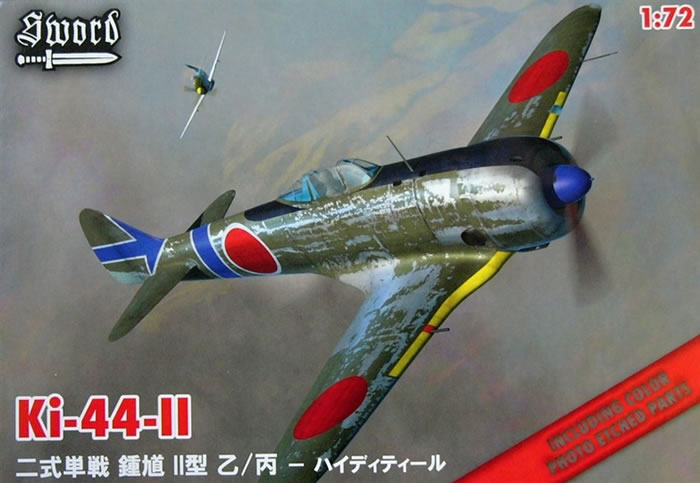 Sword, 1/72 scale
S u m m a r y :

Catalogue Number:

Sword Kit No. 72047 - Nakajima Ki 44-II Shoki (Tojo)

Scale:

1/72

Contents & Media:

63 grey styrene, 3 clear styrene, and 2 resin parts, 1 PE fret of 29 parts (some coloured), and decals for 3 options.

Price:

Available online from Hannants for £12.49, Squadron for UDS$29.69, and Modelimex for €14.58

Review Type:

First Look.

Advantages:

Good quality mouldings, fine panel lines and good detail levels for the scale. Looks to be a very straight-forward build.

Disadvantages:

The resin engine is lacking in detail and refinement, and the instructions could be more helpful with matching assembly options to decal schemes.

Conclusion:

The engine aside, this is an excellent kit of an attractive subject. I think that it's the best 1/72 Ki 44-II kit currently available. Recommended.
Reviewed by

Mark Davies

Sword's 1/72 scale Ki-44 is available online from Squadron.com
The Ki 44 Shoki (Allied code-name Tojo) was conceived as a point defence fighter for the Imperial Japanese Army Air Force. The design emphasis was on rapid climb and speed, rather than the more traditional Japanese characteristics of exceptional manoeuvrability and light weight. This requirement was released only a short time after the one that led to the Ki 43 Hayabusa (code-name Oscar). The Ki 43 adhered very much to traditional Japanese design tenets, and after its early successes would suffer when encountering mid-war US fighter designs.
The prototype Ki 44 first flew in August 1940, but its speed and rate of climb were well below performance targets, largely due to exceeding its design weight. Quite a number of detail and design changes were made, and seven pre-production airframes were completed by August 1941. Their best speed of 360 mph was still 13 mph below target, but was accepted none the less. The 47th Independent Air Company was formed to evaluate these seven aircraft plus two prototypes. The unit served in to the Canton region manned by pilots who were experienced and successful veterans from the fighting in China.
Evaluation experience with the type led the army to order the Ki 44 into production with a 1,250-hp Nakajima Ha-41 engine as the Ki 44-1. After the first few Ki 44 I's were built the two 7.7mm guns in the nose were replaced with 12.7mm guns, giving the aircraft four in total as it already had two of this calibre in the wings.
The next version was the Ki 44-II which gained a more powerful Ha-109 1,520-hp engine, some armour and fuel tank protection, plus a stronger undercarriage. Early in 1943 a few Ki 44-II's were equipped with four 20mm cannons in place f the 12.7mm machineguns, and there were also versions that retained the 12.7's in the nose but had two wing-mounted 37mm or 40mm cannons in place of the machine guns. Some late Ki 44-II's had ejector exhaust stubs to provide some thrust augmentation.
A Ki 44-III with a 2,000-hp Ha-145 engine, larger wings was developed. It was armed with four cannon, either all 20mm, or two each of 20mm and 37mm calibre. But such was the promise of Nakajima's next fighter that production was not proceeded with the. This next design was the Ki 84 Hayate (Frank).
Despite high expectations the Ki 44 proved unable to deal effectively with the first B-29 raids mounted from China, and production ceased in December 1944. Small numbers of Ki 44's also saw service with Manchukuo, whilst captured examples were used by the Republic of China Air Force (Nationalist) and also by the Red Army, later People's Liberation Army, Air Force (communist Chinese).
---
Previous 1/72 Ki-44 Kits
Tamiya released a Ki 44 kit in the 1970s, although I think it may actually have been 1/75-scale. The far more readily available kit is by Hasegawa, and it has been around since the 1980's. This kit is like many of their earlier efforts with quite fine engraved panel lines, low parts count, basic interior detail and simple assembly. Typically for Hasegawa it has been re-boxed with different markings many times. So all in all the Ki 44 is a rather overlooked subject in 1/72-scale, which makes Sword's new release all the more welcome.
The kit reviewed here has essentially the same parts as Sword' other s Ki 44's kit (SW7242), but with the addition of a pre-coloured PE fret and different decal options. It comes in a typically Czech end-opening box with computer generated artwork on the front. The instructions provide a parts map and easy to follow diagrammatic assembly format. The diagrams are well drawn, and in fact far better than some mainstream brands. There is also a brief history of the aircraft. Paint colours are given in Czech and English, with all other text in English. The painting and decal guide is quite adequate black & white shaded 4-view drawings with colour profiles on the rear of the box. Only generic colour call outs are provided for detail parts. However the painting and markings guide does give cross-references to the Gunze Aqueous, Mr Colour and Humbrol paint ranges. The parts are enclosed in a zip-lock bag, with the clear, resin and PE parts each in small bags of their own.
This is a typical Sword kit in that the plastic has a more shiny finish than many other Czech limited run brands. All parts are cleanly moulded with very fine surface detail, and parts break down is largely conventional for the type. The sprue gates are narrow, and there is just a little flash in places, but this will be easily dealt with. The resin parts are also well cast, and the coloured PE looks very good.
Cockpit detail combines a plastic floor, front bulkhead with gun breeches, rudder pedals, control column, integral sidewall detail and instrument panel to which is fitted coloured PE panels. The seat is resin to which a coloured PE harness is added.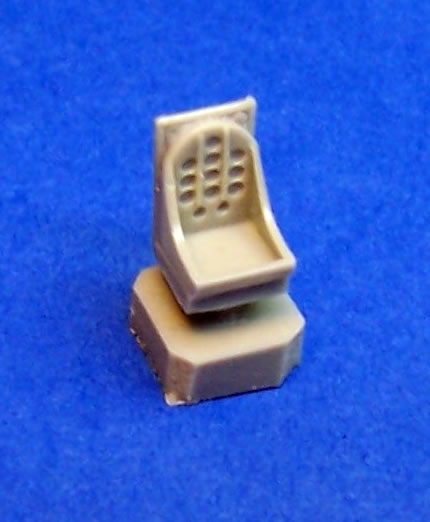 PE also provides heel-boards for the cockpit floor, rudder pedal straps, sidewall instrumentation and several levers. Detail in the cockpit area is rounded out with a choice of reflector or telescopic gun-sights. The Ki 44 was intended to use a reflector sight, but shortages of these meant that many used the older telescopic type No advice matching sight type to decal schemes is given.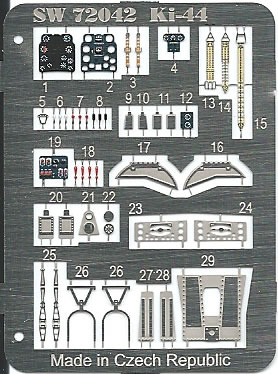 Unsurprisingly for Sword the radial engine is cast in resin. However what is surprising is that it's a very lack-lustre representation of the Ha-109 fitted to the Ki 44-II. The shape is uninspiring and there are no push-rods, nor is there any mention to scratch-build them. The very prominent ignition harness is also absent. This was a tubular ring encompassing the reduction gear housing with straight tubes radiating out to the cylinder heads. If there's any saving grace it's that not a lot will be seen as it's a closely cowled engine, although the ignition harness stands out on the real plane because of its thickness and colour contrast.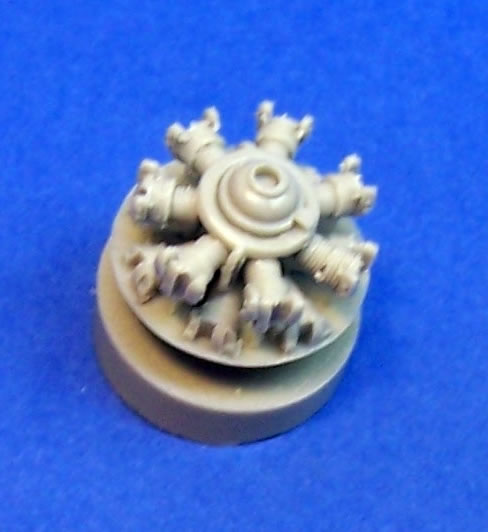 Like some other Sword kits this one has separate cowl flaps, although these are moulded closed. I think they may be engineered this way to offer a finer undercut trailing edge to the flaps than would be the case were they moulded with the fuselage.
The wheel wells have some nice detail moulded within, and the undercarriage looks good too. There are some fairly delicate retraction links for the small inner undercarriage doors, but the PE fret replaces these and a number of other styrene parts associated with the undercarriage. The tail wheel well also includes fuselage structural members within and bracing etc. A pair of drop tanks with plumbing and fine separate sway braces completes the underside.
There's not much left to describe. The prop is acceptably fine, as are the wing machinegun and cannon barrels.
A decision must be made for either machineguns or cannon, but the instructions do not provide guidance regarding which weapon fit goes with which decal scheme. All three decal & markings guides seem to suggest cannon, but some reference checking is still needed. There is a choice of clear windscreens to suit the different gun-sight options. The canopy can be modelled open and the clear parts looks very good.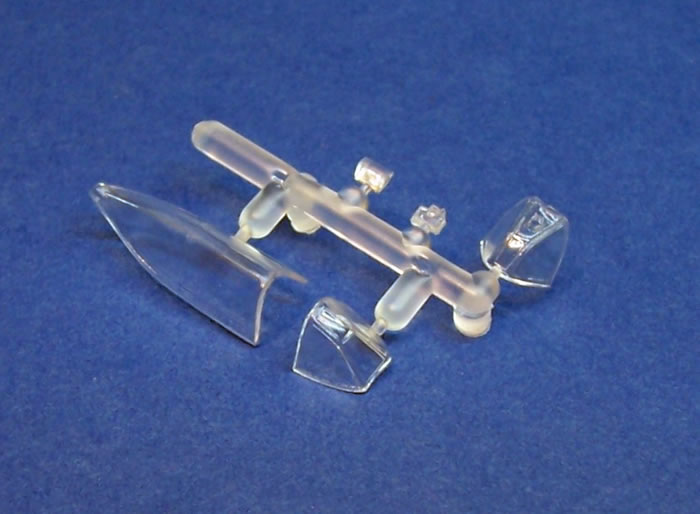 Overall I should think that this kit will be a simple and enjoyable build.
The Ki 44 is one of those subjects with a plethora of different colour schemes. Some have very complex camouflage patterns; others are simple, whilst still more offer some very colourful combinations of white Home Island defence markings and at times gaudy unit markings.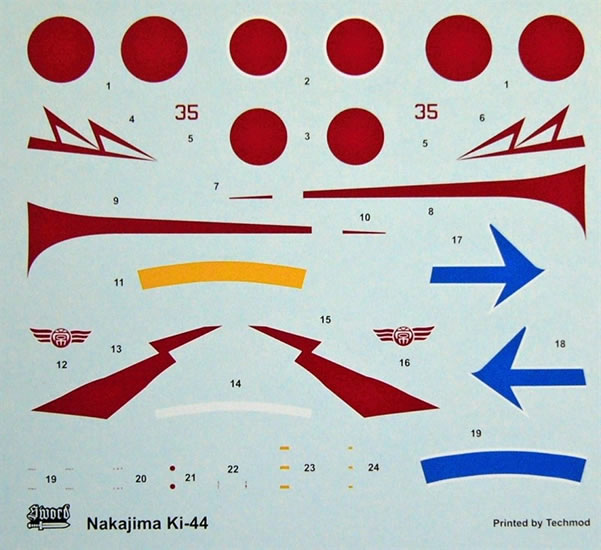 The kit has three decal options, these being:
47th Sentai, Narimasu Air Base, Japan 1943/44.

Major Togo Saito, CO of the 85th Sentai, Canton, China, summer 1945.

Major Horose Hitachi Kyodo Hikoshidan, 1st Hikotai, Mito Air Base, November 1944.
The decals look to be well registered with good opacity.
This is a nicely engineered kit that is produced to high standards with the exception of the engine. It looks to be a nice straightforward build with the potential to produce a very attractive Ki 44-II Shoki model. The instructions could be more helpful with matching assembly options to decal schemes. It's a step up from Hasegawa's admittedly nice old kit, mainly because it offers considerably more internal detail.
Recommended.
Thanks to Sword Models for this review sample.
---
Review Text & Images Copyright © 2012 by Mark Davies
Page Created 22 March, 2012
Last updated 23 March, 2012
Back to HyperScale Main Page