Curtiss SO3C Seamew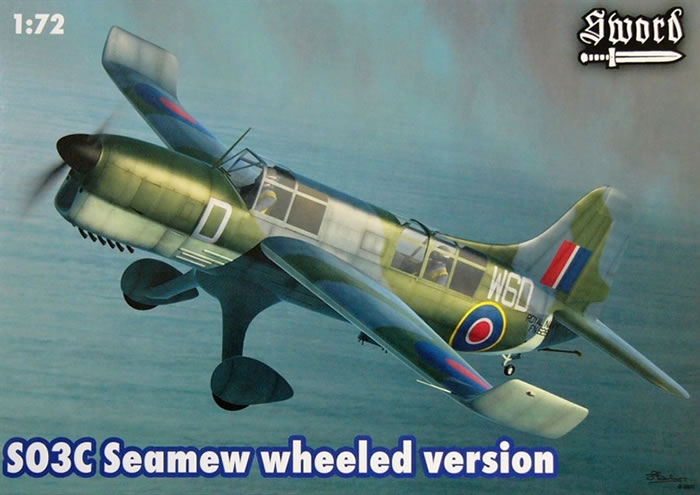 Sword, 1/72 scale
S u m m a r y :

Catalogue Number:

72048 (Floats)
72049 (Wheels)

Scale:

1/72

Contents & Media:

41 grey styrene, 2 clear styrene, and 7 resin parts, plus decals for 3 subjects in each case.

Price:

Available online from these stockists:

Item

Hannants

Squadron

Modelimex

72048
72049

Review Type:

First Look.

Advantages:

Has good moulding for a limited-run kit, with fine panel lines and good detail levels for the scale. It looks to be a straightforward build.

Disadvantages:

No arrestor hook included for the FAA wheeled version. No seats with belts despite the swag of resin detail parts provided.

Conclusion:

These are good quality and nicely executed limited kits offering plenty of detail, but why no seatbelts? - Recommended.
Reviewed by

Mark Davies

Sword's 1/72 scale Seamews are available online from Squadron.com
The old adage "If it looks right it probably is" was certainly inversely applicable to Curtis's lamentable SO3C. It had looks that even its mother would struggle to love. I'm not suggesting that ugly always equals useless, far from it as aircraft like Fairey's Gannet have proven. However, hideous lines do often portend poor performance.
The SO3C was a response to a USN requirement to replace another Curtis product, the SOC Seagull, aboard battleships and cruisers. The latter's hangars dictated the aircraft's maximum dimensions. Another USN dictate largely condemned it to appalling mediocrity however. This was the requirement to use the Ranger V-770 inverted V-12 air-cooled engine. This troublesome motor was plagued with overheating problems and was barely powerful enough for the aircraft's specification. The prototype SO3C first flew in October 1939.
I have used three main sources of information on the SO3C, Steve Ginter's Naval Fighters #47 "The Reluctant Dragon", Putnam's Curtis Aircraft 1907-1947, and Squadron/Signal US Navy Floatplanes In Action. I found that the first two agree broadly on production figures, whereas Squadron/Signal is at variance in some cases. So the first figure I give will be based on Ginter and Putnam, and the second figure noted in brackets from Squadron/Signal. Where only one production figure is given, the two references agree. Interestingly all references quote total production as 795. The Ginter book is by far the best overall reference of the three used.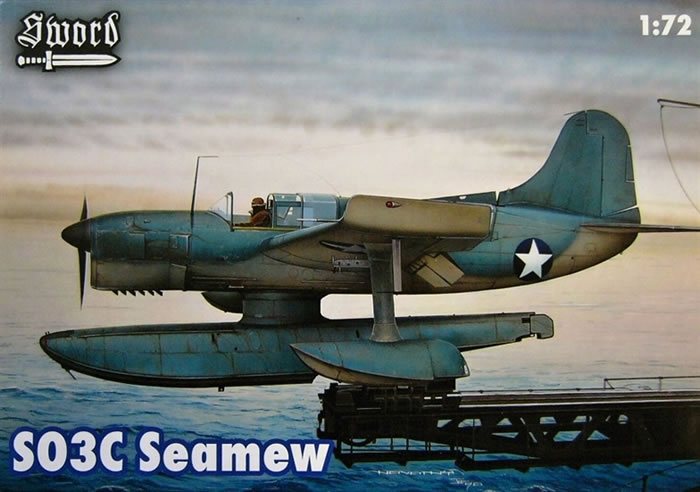 The first production SO3C-1 Seagull production aircraft had several changes from the prototype to try to resolve stability and overheating issues. These included upturned wingtips, an enlarged dorsal fin offset from the centreline, and an altered cowling. Indicative of its poor performance was the removal of a fuselage fuel tank and the pilot's armour to save weight. Suffice to say many from the first production batch of 141 were quickly retired, whilst some ended their lives as target drones.
The USN had two hundred SO3C-2's were built. It had a slightly more powerful engine, but still possessed a very lacklustre performance. In fact, it could not take off from water fully loaded.
The Royal Navy had 250 SO3C-2C's built (or alternatively 259 with 200 cancelled). The British name for the SO3C was Seamew, which is a type of seagull. The SO3C was the third Curtis design named Seagull, so I wonder why the Brits bothered changing it. Although funnily enough, the USN then adopted the British name! The British machines had the more powerful engine, 24-volt electrics, plus arrestor gear and catapult spools for carrier operations when fitted with a fixed undercarriage. Without floats, the aircraft could carry a single 500-lb bomb. I cannot help but ask, "Why would you want to?" Surely, the FAA was already suffering with enough mediocre aircraft without going to war in a hopeless one. The Canadians received seventy of this production batch. The Royal Navy obtained thirty Queen Seamew target drones from the USN. (Squadron/Signal makes no mention of these Canadian and Queen Seamew figures).
The SO3C-3 was essentially an attempt at reducing weight of the SO3C-2 to improve performance. Production was 150 (or just 69 from an order of 699). The average time an SO3C-3 spent onboard an assigned ship was just two months! A recall of refurbished SOC's, the obsolescent type it had succeeded, then replaced the SO3C-1on many ships!
The story was not quite over as the US Coastguard used 48 bailed Seamew landplanes during 1943 and '44. They met with limited success as patrol aircraft.
Obviously, the Seamew was not an endearing aircraft then, either to its crew or admirers of aerodynamic beauty. However for modellers I'm sure it has an irresistible attraction simply because it borders on the hideous, and if you disagree with that verdict I am sure you would at least agree it is quirky in appearance. I have several mates who have all been compelled to buy the Seamew kits reviewed primarily due to the original's appearance rather than historical significance (or lack thereof).
---
Previous 1/72 Scale Seamew Kits
Griffin offered a vac-form in the 1970's, VAMI models a resin kit in the early 1990's, Sword a short run injected multi-media kit in the late 1990's, and FE Resin & Co a resin kit more recently but now out of production. Reading old reviews it seems that the Vami and Sword kits were good kits, but would probably fall below the standards being set for their respective kit types today. I have no information on the Griffin and FE Resin kits.
The two kits are essentially the same sharing a common sprue, although the main float is missing from the wheeled example. They come in typically Czech end-opening boxes with computer-generated artwork on the front for the wheeled version, and the superior artwork from the original 1990's Sword kit for the float version.
The instructions provide a parts map and easy to follow diagrammatic assembly format. The diagrams are well drawn, and in fact far better than some mainstream brands. There is also a brief history of the aircraft. The guide gives paint colours in Czech and English, with all other text in English. The painting and decal guide has quite adequate black & white shaded 4-view drawings with colour profiles on the rear of the box. It provides only generic colour call outs for detail parts, whereas for the airframe it uses British colour names like Dark Slate Sea Grey, or US names such as Blue-Gray with an FS595 reference. A zip-lock bag encloses the parts, with the clear and resin parts each in small bags of their own.
These are typical Sword kits in that their plastic has a more shiny finish than many other Czech limited-run brands. Moulded crisply, all parts have very fine surface detail, and the parts break down is conventional for the type. The sprue gates are narrow, and there is a bit of flash in many places, but dealing with this should be easy.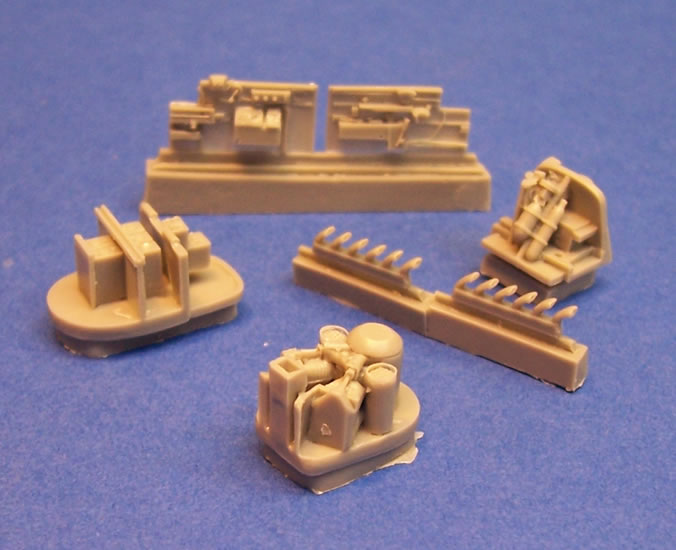 Nicely cast resin parts round the package out along with good clear transparencies.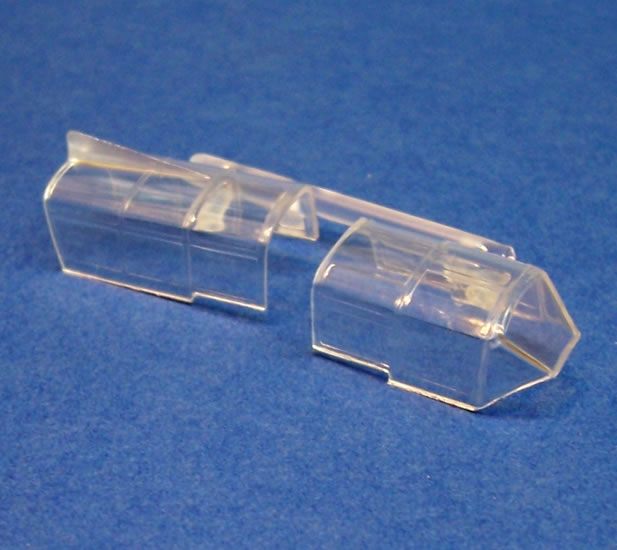 Cockpit detail is a thorough combination of styrene and resin. The resin parts in particular provide a lot of detail as expected. The surprise is the styrene seats and absence of seat belts; moreover, it is a real pity. I cannot understand why resin seats with integral harnesses were not included when so much resin is already present.
Included amongst the resin parts is a very nice front end of the Ranger inverted V-12 air-cooled engine, along with two good sets of exhaust stacks.
A reasonably good prop, bomb racks, pitot and antenna-mast account for the remaining small parts. Wings and horizontal stabilizer aside there is not a lot left to either kit. For the floatplane: main and outrigger floats for the floatplane plus beaching gear, and for the wheeled version: spatted wheels and a bulged under-fuselage fairing where the legs join the fuselage, plus of course a tail-wheel. What is missing from the wheeled version, despite it featuring in the box-art and markings guides, is the arrestor-hook. Sword obviously knew it should be included, but it seems they could not be bothered to include it (I suspect it was absent from their original kit as I am only aware of this being offered as a floatplane).
Overall, I should think that these kits would be generally simple and enjoyable builds.
Each of the kits reviewed has two decal options, these being:
Floatplane:
SO3C-1, assigned to USS Denver, USN, January 1943.

SO3C-1, assigned to USS Biloxi, USN, 1944.
Wheeled Version:
SO3C, USS Colombia, USN, summer 1942.

Seamew I, FN628 of 755 Sqn, FAA, April 1944.
The decal registration is excellent and opacity looks good.
These are nicely engineered kits, sharing virtually all the same parts, and are of good quality. They should be nice straightforward builds, with the potential to produce a very attractive, err no, let's call that appealing, or maybe interesting, Seamew model.
The lack of an arrestor-hook for the FAA wheeled version is a surprising oversight, but not a major obstacle. Nor is the absence of resin seats with harnesses, this being more of a missed opportunity than a failure.
Is this an ugly subject? Yes undoubtedly! Just as certain is that these Sword kits are very good examples of the limited run kit art.
Definitely recommended.
Thanks to Sword Models for this review sample.
---
Review Text & Blue Background Images Copyright © 2012 by Mark Davies
Page Created 22 March, 2012
Last updated 27 March, 2012
Back to HyperScale Main Page