Supermarine Spitfire
LF Mk.IXe, LF Mk.XVIe
& LF Mk.XVIe Bubble-Top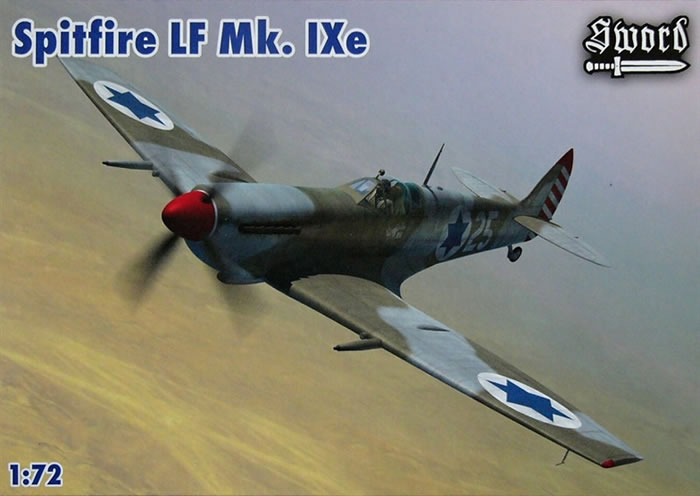 Sword, 1/72 scale
S u m m a r y :

Catalogue Number:

Sword Supermarine Spitfires:
Kit No. 72050 (LF Mk.IXe)
Kit No. 72051 (LF Mk.XVIe)
Kit No. 72052 (LF Mk.XVIe low-back)

Scale:

1/72

Contents & Media;

72 grey styrene, 4 clear styrene (5 for the low back), and 6 resin parts, plus decals for 3 subjects and 4 for the low back.

Price:

Available online from these stockists:

Item

Hannants

Squadron

Modelimex

72050
72051
72052

Review Type:

First Look.

Advantages:

Good quality mouldings, fine panel lines and good detail levels for the scale. Looks to be a very straight forward build.

Disadvantages:

More guidance regarding options would be helpful.

Conclusion:

Good quality, nicely executed kits. The low back in particular is welcome as it easily surpasses the old Heller kit in terms of accuracy and appearance. I think that these are the best 1/72-scale injected kits of the Spitfire Mk.IXe & Mk.XVIe (both regular and low-back versions). Recommended.
Reviewed by

Mark Davies

Sword's 1/72 scale Spitfires are available online from Squadron.com
The Spitfire needs no introduction, so I won't provide one. I will however just reiterate the fact that the Mk IX and Mk XVI were externally identical. The former used a Merlin 66 engine built in the UK by Rolls Royce, and the latter a licence-built version by Packard in the USA. The two engines provided the same performance but did not have interchangeable parts, as the Packard had been americanised with different tolerances, bolt threads and so on.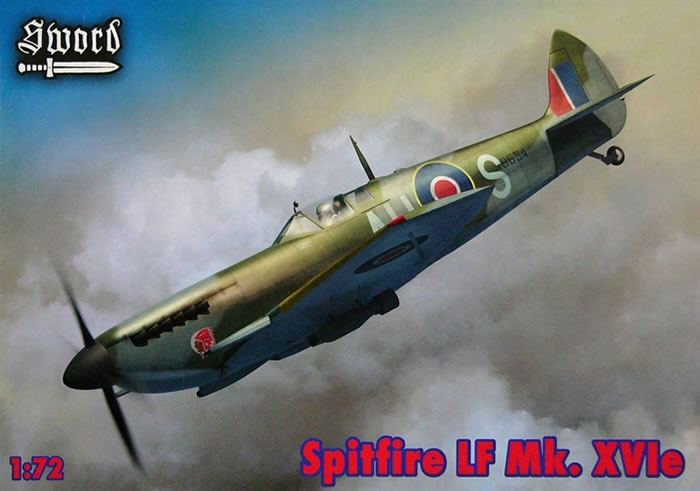 There were low back versions of both these marks. They had the same airframe as the conventional Spitfire, but with a cut-down rear fuselage and new bubble canopy. Low backs began to enter service early in 1945, and most were Mk.XVIe's.
---
Previous 1/72 Scale Spitfire Mk.IX & Mk.XVI Kits
I will ignore the very few TR.9 and other two-seat Mk.IX kits and focus on single-seaters. There has been quite been a lot of 1/72 Spitfire Mk.IX kits over the years (although few were boxed as Mk.XVI's). Only Heller & CMR offered low backs. All are injected kits unless otherwise noted. The first was by Airfix in 1960 or possibly Lindberg, followed in no particular order by Frog (re-boxed by Intech), Matchbox, KP (re-boxed by Mastercraft Models), Esoteric (resin), Ventura, Heller (low back), Hasegawa, Italeri, CMR (resin with various conventional and low-back boxings). I've also read of the existence of a Mk.IX by Monogram, but have no other information about it.
Avoid the Airfix, Lindberg, Matchbox, Frog and KP kits unless you are a collector or nostalgia-builder. To be fair, KP's kit was for some time one of the better ones available, but it has some fit and accuracy issues and is very long in the tooth now.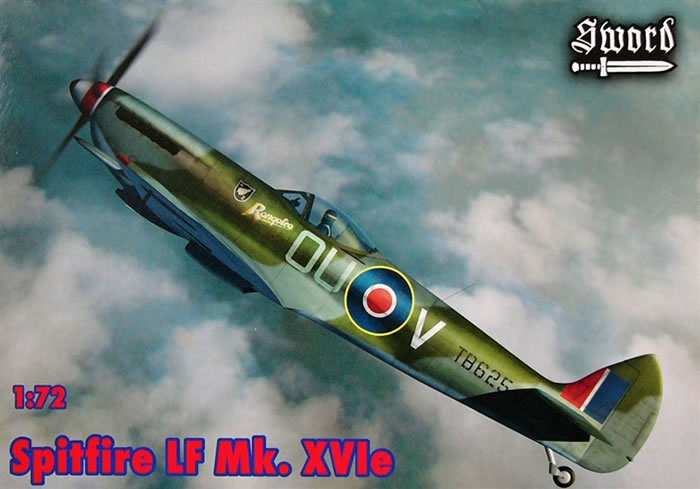 Also, avoid Esoteric, as this is essentially an over-priced resin version of KP's kit.
Ventura's kit has good accurate lines and can build into a very nice model, but it's also very demanding to build due extremely thick sprue gates, plenty of flash and other challenges. Italeri's Mk.IX has some detail shape issues plus rather heavy panel lines.
Heller made the only injected kit of a low back with fine raised surface detail, but it has several dimensional and shape inaccuracies. The CMR kits top my list for accuracy, multi-media detail and range of options that include a low-back version. However, they cost more than some wish to pay. Hasegawa's kit is generally good with all of that brand's usual characteristics. Obviously Spitfire buffs can still find faults, the most noticeable being an overly flat line to the upper cowl and an undersized propeller. Despite this, many regard it to be the best of the 1/72-scale injected kits; at least until now maybe...
The three Sword kits are essentially the same sharing a common sprue that appears designed to cater for other alternatives beyond the three boxings reviewed here. The only difference is the low back boxing obviously has a different canopy and fuselage halves to the other two.
The kits come in typically Czech end-opening boxes with computer-generated artwork on the front. The instructions provide a parts map and easy to follow diagrammatic assembly format. The diagrams are well drawn, and in fact far better than some mainstream brands. There is also a brief history of the aircraft. The guide gives paint colours in Czech and English, with all other text in English. The painting and decal guide has quite adequate black & white shaded 4-view drawings with colour profiles on the rear of the box. It provides only generic colour call outs for detail parts, but uses British colour names like Medium Sea Grey etc for the airframe. A zip-lock bag encloses the parts, with the clear and resin parts each in small bags of their own.
These are typical Sword kits in that their plastic has a more shiny finish than many other Czech limited run brands. Moulded crisply, all parts have very fine surface detail, and the parts break down is conventional for the type. The sprue gates are narrow, and there is a little flash on most parts, but dealing with this should be easy enough. Nicely cast resin parts round the package out along with good clear transparencies.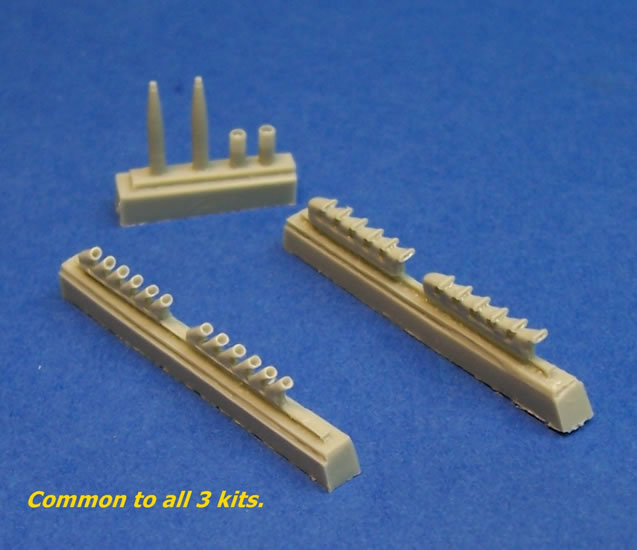 The clear parts also include two styles of gun-sight and a rear-view mirror.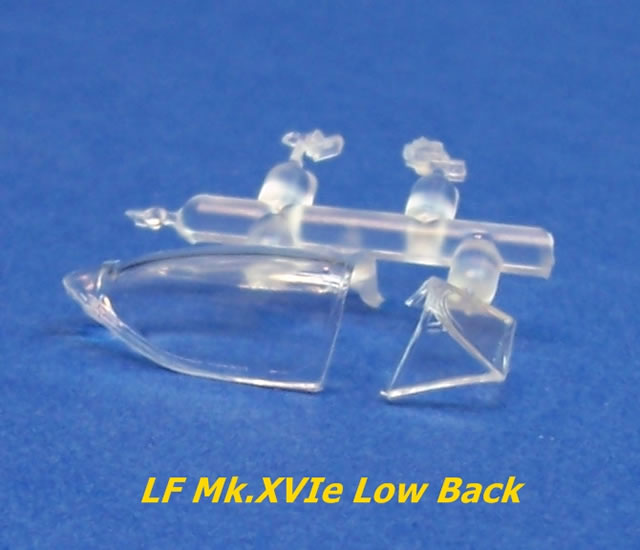 Cockpit detail combines a plastic floor with integral rudder pedals, instrument panel, control column, seat, armour, rear frame and headrest (remove the headrest for the low back), integral sidewall detail and oxygen bottles. There is a voltage regulator to go behind the headrest, but I have a feeling this may be a Mk.V hangover and not applicable to later Mk.IX's & XVI's. A reflector gun-sight finishes the detail in the cockpit area, but sadly, no seatbelts are included. This last aspect is a pity as some Sword 1/72-scale fighter kits have resin seats with a harness cast in place.
The wings are low-level clipped versions, although regular wing tips are included on the sprue. The wings as supplied are E-Wing type as they lack barrel holes and spent case ejection slots for four .303 guns of the Universal Wing. In addition, the kit supplies as resin parts two cannon and two .50 barrels with their shrouds. However the instructions are drawn with the rounded cap used when no cannon is fitted rather than the open shroud enclosing the .50 barrel as supplied, so it would seem a Mk.IXc kit is planned as well.
The wheel wells have appropriate walls and an acceptable level of detail for the scale. The undercarriage and wheels look fine. There is a choice of large or small diameter wheels with three or four- spoke rims respectively. The instructions do not indicate which to fit for each decal option. They do however direct that the two Mk.XVI's be fitted with "turtle back" wing bulges and two very slender streamlined reinforcing ribs that fit just outboard of these. These are separate items and their fitment varies across both Mk.IX's and XVI's. So check references if possible before fitting them.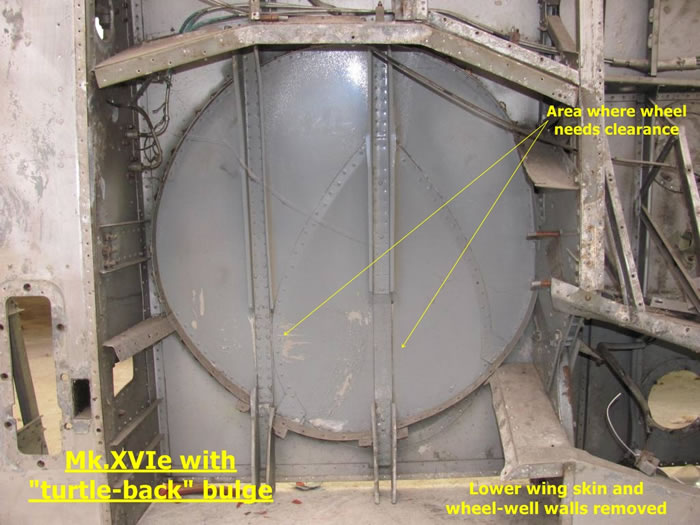 I'm unsure as to why some Spitfires have "turtle back" bulges in their wings when others of the same mark and wing type do not. It may be that the late-war Spitfires were fitted with "straight" axles (they look to be at right angles to the leg but were actually 4° off perpendicular). These were best for operating from sealed runways unlike the usual angled axes that were optimised for grass strips. It could be that the wheels when fitted to "straight" axles just fouled the internal wheel-well structure on the standard wing because the angle they sat at in the well had changed when the leg was stowed. Introducing the "turtle-back" bulge presumably provided the required clearance. But this is speculation, and unfortunately it does not clarify whether or not only one wheel type should be used. If anyone can shed light on this issue please contact me about it.
The combined radiators and intercoolers sit within with a recessed channel in the lower wing, giving a good authentic appearance. The propeller with its separate spinner and looks fine as well. The canopies for both the regular and low-back kits look very good, but only the low back offers an open option.
Each kit has fishtail and round exhaust styles provided in resin, although the round exhausts are absent from the parts map and constructional diagrams. There are also two 250-lb bombs with racks and sway braces, which the instructions show fitted to all three decal options of all three kits (best treated as an optional fitment I think). The kits include 30 and 90-Gallon slipper tanks. However, as with the wheel choice, there is no particular guidance regarding which options to use with which decal schemes.
Overall, I should think that these kits would be a simple and enjoyable builds.
---
Marking Options
The low back has four decal options and the other two three each:
SW72050 – LF MkIXe:
SL650 / DU-D, Czechoslovak Air Force (ex-312 Sqn RAF) after its arrival in Czechoslovakia in August 1945.

MH712 / WX-D, 302(Polish) Sqn, 1944.

"Virginia XII" 2010 / 25, 101 Sqn Israeli Air Force, 1949.
SW72051 – LF Mk.XVIe:
"TANKY" TB634 / AU-S, 421 Sqn, Petit Brogel, 1945.

TB520 / DGA, 453(RAAF) Sqn, UK, March 1945.

SM471 / NI-N, 451(RAAF) Sqn, Lympne, Kent, UK, May 1945
SW72052 – LF Mk.XVIe (low back):
"RONGOTEA" TB625 / OU-V, 485 Sqn, Fassberg, Germany, April 1945.

"DOROTHY" TB886 / AU-J, 421 Sqn, Reinsehlen, May 1945.

"JANETKA" TD240 / WX-V, 320(Polish) Sqn, 1945.

TD317 / ZF-P, 308 Sqn, Nordhorn, 1945.
The decal sheets include a number of stencils and a separate page in the instructions guides the placement. The decal registration is excellent and opacity looks good.
---
Accuracy
Because this is a Spitfire review, I know some will want to know how the kits stack up in terms of shape and accuracy. Rather than resort to plans which are always of questionable accuracy, I elected to compare shapes to what I consider to be the best 1/72 Spitfire Mk.IXe & XVIe kits. These are CMR's regular and low back kits. Nevertheless, as they are expensive resin kits I also compared the Hasegawa Mk.IX because most regard it as the best of the injected kits available.
The flying surfaces are essentially the same for all three brands. The Sword fuselages are a perfect match for both CMR's regular and low back parts.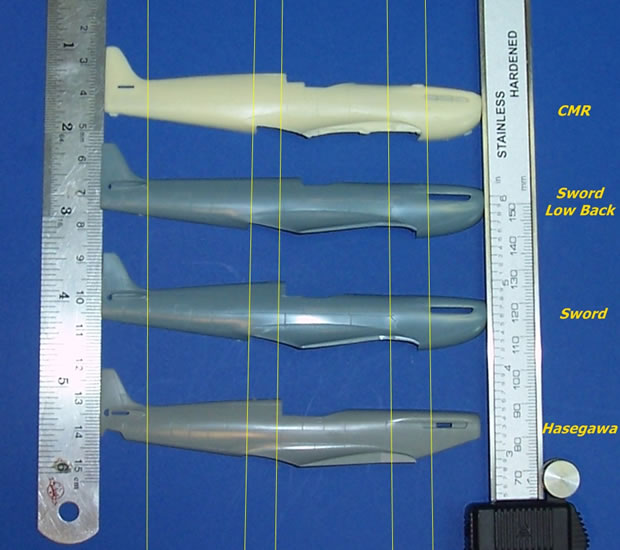 However, the Hasegawa fuselage is approximately 1.5-mm shorter between the rear of the cowl panels and the cockpit opening and the fin has less chord compared to CMR and Sword (please see comparison images accompanying this review). As I alluded to earlier, Hasegawa's cowl is flatter on top than both Sword and CMR. So taking a snapshot, Sword's kits are in my view very good in terms of shape and accuracy.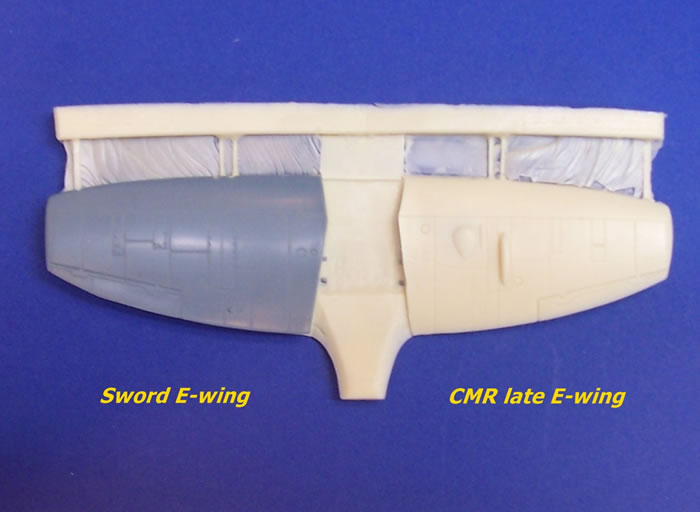 Sword's kits are great value for money, generally beating the Hasegawa on price, although to be fair I cannot comment on ease of assembly, which is a feature of Hasegawa's kit, and there is essentially no flash to remove. Whilst Sword may not match the CMR's range of options, coloured PE, pre-cut paint masks and more decal choices, it does equal their quality of airframe parts. The big price differential is likely to tempt some CMR fans towards Sword (Although if you want all the extras CMR offers the price advantage will fade).
These are nicely engineered kits, sharing virtually all the same good quality parts. They should all be a nice straightforward build with the potential to produce a very attractive Spitfire LF Mk.IXe or XVIe model. The instructions could be more helpful by matching assembly options to decal schemes however.
They are a step up from Hasegawa's admittedly nice but now aging kit, mainly because they offer considerably more internal detail along with a better cowl shape and better overall accuracy in my view, yet generally undercutting the Japanese product on price. Those wanting something more accurate than the Heller kit and cheaper than CMR's will welcome the low-back boxing in particular.
I can see Sword's Mk.IXe & XVIe Spitfires gaining quite a following, as they seem to tick most of the required boxes. Theses are the best 1/72-scale Mk.IXe and Mk.XVIe injected kits in my view, and potentially the best C-wing version if Sword chooses to release one; and why would they not? (Especially as AZ Model have recently announced a Mk.IXc as well).
Definitely recommended.
Thanks to Sword Models for this review sample.
---
Review Text & Blue Background Images Copyright © 2012 by Mark Davies
Page Created 22 March, 2012
Last updated 27 March, 2012
Back to HyperScale Main Page